Rishten yeh banae hai pyaar ki rang mein (Chapter-34)

Warning: A non-numeric value encountered in /home/ftpusers/tellyu/public_html/wp-content/themes/publisher/includes/func-review-rating.php on line 212

Warning: A non-numeric value encountered in /home/ftpusers/tellyu/public_html/wp-content/themes/publisher/includes/func-review-rating.php on line 213

LUTHRA MANSION..
Anshuman is checking some files and pakhi is besides him
Pakhi : Anshuman Aayan will be here tomarrow..
Anshuman : Don't worry i have askes dirver to pick him up..
Pakhi : What.. no.. tomarrow we both will go and pic him up..
Anshuman : Tomarrow I have an important meeting and i really can't help it
Pakhi : Its ok.. i will go alone.. I asked you because his teacher called me and insisted we both should be there
Anshuman : I am so sorry but i really can't
Pakhi : Its okay and i can understand
MALL
Its all starts in a mall where Twinkle is celebrating at her friends birthday party.. They are dancing in a pub..
Two hands holds ragini and another person closes her mouth.. They drag her out of the pub..
Ragini : What are you two doing..
Yuvi : Treat.. now call twinkle..
Ragini : Iys not possible to call her all of sudden
lucky : and why is that so??
Ragini : Because ahe is soon shifting to US
Yuvi : What!!! Are you serious.. oh no..
Lucky (oders): Call her Ragini..
Ragini gives a glare to Lucky
Lucky : Please..
Ragini calls twinkle and she also agrees to come
LUTHRA MANSION..
Gitu looks at the jewellery and her earing A tear escapes from her eye.. She wipes out it suddenly.. Pakhi enters her room
Pakhi : Day dreamer your coffee..
Gitu : Thanks bhabhi..
Pakhi :(teasing) : Don't get used to your day dreames it will not work..
Gitu : And why that..!!
Pakhi : When my parents decided to get me married to Anshuman . I thought he will unite sky and earth for me.. He will help me in everything.. but your bhai.. he needs a help even to find his wallet..
Gitu smiles and sibgals pakhi to look backwards pakhi sees Anshuman..
MALL
Twinkle enters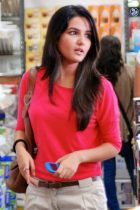 Ragini and twinkle hugs eachother.. And they was about to go to a resturant..
Lucky : Wait..
Ragini : What now??
Lucky : You were not wearing this we you came home ..
Ragini : That.. i… changed you know i can't wear salwars in Mall.
Lucky : Its okay.. i was just casually asking..
Yuvi : Now that your nok jok is over lets party..
Twinkle : Anyone can explain why we are having a paty..
Yuvi : Its lucky's birthday..
Twinkle congrats Lucky.. Lucky and Ragini gives a werid look to yuvi.
RATHORE MANSION..
Maya's room..
Maya is remembering Jhanvi's words and confused about the things..Jhanvi's words echos in her ears..
Just then someone enters her room by window..
Maya goes and sees it was Arjun.. Maya helps Arjun get into the room
Arjun hugs Maya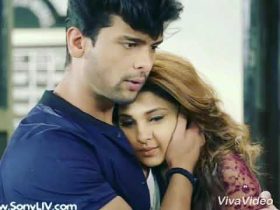 Warning: A non-numeric value encountered in /home/ftpusers/tellyu/public_html/wp-content/themes/publisher/includes/func-review-rating.php on line 212

Warning: A non-numeric value encountered in /home/ftpusers/tellyu/public_html/wp-content/themes/publisher/includes/func-review-rating.php on line 213