Riansh (the saga of truth unfolds) #episode 75
Hello peppies aagyi me..
Keep commenting.. surely give double update if u will do 40 comments before 4 pm.. ( one comment from one user will count only but u can do multiple..apki shrddha bhakti hai😆)
Let's start
Scene 1
Vansh (shocked) – Whattt!!
Doctor – Yes!! I am sorry but she is not responding to our treatment..
She already loss so much blood..
We need to arrange the blood otherwise we won't be able to save her..
Vansh (holding doc collar) – If you want to live more..then arrange the blood…
Doc (scared) – Her blood group is rare.. it's O- And we are ran out it right now..(lame excuses in every serial 🙄)
You can arrange a donar..fast..
Doctor leaves..
Ishani (crying) – Bhai and me are having different blood groups..
Who will be donar now..
"Me" A voice came from behind..
Riddhima (happy) – Yes..vyom you can be a donar .your blood group is also O-..
Vansh hugs vyom in happiness…
Vansh- Thnk you so much..i will be indebted to you forever..
Vyom – No vansh..siya is my friend also.. moreover what she did for me..i have to do this for her .
He rushes to donate blood..
Scene 2
In car
Rehan and tarini is heading towards hospital after arresting shwetlana..
Rehan – Are you ok?
Tarini – Hmm!!
Rehan – Seems not!!
You can just pour your heart out..
We shouldn't keep things concealed in our heart..
I know you are facing emotional breakdown right now .
Tarini (smiling sadly) – It's been three years i didn't share my pain with myself even..
Ab is dard me jeene ki adat si ho gyi hai.. (i am habitual of this pain)
Rehan – As you wish but whenever you will feel that you need a shoulder to lean..i am just a call away..
Tarini looks at rehan with affection..
Scene 3
Doctor comes out from OT
Doc – congratulations..she is out of danger now..(stop expecting congratulations she is going to be mother..or bhi chize hai congratulate krne k liye,🙄)
We will keep her under observation for 24 hours then you can head back to india ..
Everyone hugs each other in happiness..
Riddhima (to vyom) – I told you na..she is strong .
Vyom (hugging her) – Thnk you so much for being with me Shivanya..
This hug didn't go well with a person..
Vansh (agitated) – Riddhiimmma!!!!
Riddhima rushes to vansh
Riddhima- What happened why you shouted..
Vansh (angry like a kid) – You forgot your husband na..why were you hugging vyom..
Riddhima ( facepalming herself)- God!vansh you are getting jealous even in this serious situation…
Vansh (pulling her by waist) – you are mine!! Only mine!! Only i have right to touch you hug you..get that..
Riddhima silently nods in yes..
Before she could say anything vansh drags her with him..
Riddhima – Van..vansh.. where are we going…leave me .
Vansh – Keep your mouth shut for few minutes…
I am not kidnapping you..dumbo..
Riddhima sits quite like an obident child keeping her finger on her lips..
Vansh smiles looking at her antics..
Scene 4
At Burj Khalifa ( my dream place to visit🙈)
Riansh is standing at top of Burj Khalifa..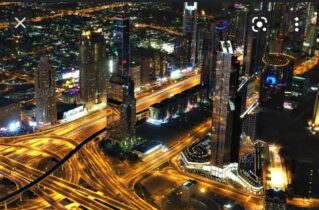 Riddhima – why you took me here vansh..
Vansh (smiling sadly) – Do you remember today's date sweetheart..
We completed one month of our marriage..means the last day of our deal..
You will choose today ..do you want to continue this relationship or not..
But before you make any decision i wanna pour my heart out..
You very well know me sweetheart i am poor in expressing myself but if today i won't do this and you will leave me..i will be in guilt for my whole damn life..
Today I won't force you to choose me..you made me realise love is not something which we can get forcefully..
It will be wholely your choose to make decision..
But i wanna say..i want you to choose me..you are ray of light in my dark world sweetheart..
Before you and after you no one can make me smile ..
I may sound selfish but this poor heart can't beat without it's heartbeat and that heartbeat is you..
I have done so many mistakes in past..but we are humans we tend to do mistakes but i want you at my side for teaching me what is wrong and what is right..
I want to walk holding your hand till my last breath..
I want to cry in your embrace and i want to cherish my happiness in your arms..
No relationship is perfect but this imperfect man wants this perfect woman for rest of his life..
I will probably die without you..if you ever feel that i loved you even a bit..then plz don't leave me..
If you want to go I won't stop you..but I won't be able to see you going ..i promise if u leave without uttering a single word I won't turn back to stop you..
You are free to go but my poor heart will always caged in your love..
I am done..rest is your decision..
Riddhima without uttering anything leaves ..besides him..
Vansh closes his eyes in disappointment..
A lone tear escape from his eyes..
Vansh (whispering) – I love you riddhima!! You can't snatch the right from me to love you..
Done done dana done ✅
Precap : India!!!
Comments tapka dena…
Lob u all