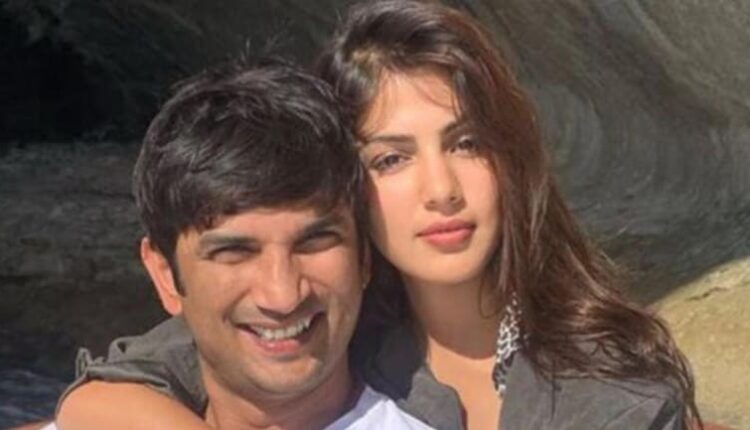 Rhea Chakraborty has been the prime accused in Sushant Singh Rajput's death case. Till now Rhea didn't face the media and had only shared a clip of hers on her social media account saying that she is too much in pain as media trials against her are going on. The late actor's family levelled several serious allegations against her and her family. Sushant's father K K Singh also filed an FIR against 6 people including Rhea Chakraborty, Indrajit Chakraborty, Sandhya Chakraborty, Showik Chakraborty, Samuel Miranda, Shruti Modi, and others for abetment of suicide and criminal conspiracy.
Now a media house got in touch with her and Rhea agreed to give an interview. In the interview Rhea revealed many things which were her clarifications to what is being said about her. As Rhea was living with Sushant at his Bandra house, she was the one taking care of him. However, she left on June 08 2020 and Sushant was found dead in his house on 14 June.
While speaking on the texts by Rhea to Mahesh Bhatt reads, "Aisha moves on…sir…with a heavy heart and a sense of relief. Our last call was a wakeup call. You are my angel You were then And you are now."
In response to this, the text allegedly sent by Mahesh Bhatt read, "Don't look back. Make it possible what is inevitable. My love to your father. He will be a happy man." Rhea's next response to his message read, "Have found some courage sir and what you said about my dad tht day on the phone pushed me to be strong for him. He sends you love and thanks you for always being so special."
Rhea has also denied the reports of 8 hard drives being destroyed at Sushant's house. She said "This is a baseless allegation, there was no hard drive that I know of, no one came while I was there. Perhaps, after I left, his sister may have called someone, but I am not aware of it. I don't even think Siddharth Pithani said something like that, I believe this is a concocted story, much like several others doing the rounds."
When asked when Rhea Chakraborty realised that Sushant was suffering from some kind of mental illness, the actress said, "When we were leaving for Europe, Sushant said that he feels claustrophobic in a flight. He took a medicine, Modafinil, without any prescription. When we reached Paris, he didn't leave his room for three days. Before the trip, he said that he was very happy. He had told me that he is very excited for the trip as he will show me his true side during our Europe stay. He will walk on the streets and have fun with me which he couldn't do in India. We were really happy. I was wondering what happened."
She added, "In Switzerland, he was fine. He was energetic. When we reached Italy, we stayed at a Gothic hotel, which we didn't know at the time of booking. In our room there was a dome-like structure, which I didn't like. I asked him that we should change our hotel, but he insisted on staying there. He told me that there was something. I told him that it's a bad dream as I thought people get such ideas in such place. But he insisted on living in that hotel despite me telling him to change it. His health deteriorated there and he started having anxiety attacks. When I asked him what is happening, he told me that in 2013, he had a depressive episode and met a psychiatrist called Haresh Shetty. He told me that the same doctor advised him to take Modafinil, [the medicine that] he took on the flight. He told me that he was fine after that. After that, now he was feeling more depressed and anxious. Then we cut short the trip and returned."
Rhea Chakraborty's brother Showik Chakraborty also accompanied the couple to Europe. Talking about it, Rhea said, "Showik had a great bonding with Sushant. Even we used to joke that Showik is my "sautan". Sushant, Showik and I were partners in a company called Rhealityx, which dealt with artificial intelligence. It was Sushant who named the company after me. To be a partner in the company, one has to pay Rs 33,000. I paid for Showik as he couldn't pay because he didn't have a job. Showik was preparing for CAT exams and was skeptical if he should join us. Sushant insisted Showik to join us on our Europe trip."
On the allegation that Rhea Chakraborty was living off Sushant Singh Rajput's money, she said, "I had a fashion shoot by the clothing brand Shein in Paris. The company sent me the tickets. Sushant thought it was a great idea to make a Euro trip out of this, so he cancelled those tickets — I have those tickets, in case I now have to prove everything — and booked first-class tickets, and the rest of the trip he paid for the hotels. He wanted to, and I didn't have a problem with that. I had a problem with how much he was spending. I thought it was a very expensive trip, but that was how he was. Who was I to question that? Even before this trip, he went to Thailand with six of his male friends. He booked a private jet for that trip and spent Rs 70 lakh. So, it was not like he spent the money just on me. He was like that as a person. He loved living like a star. I was not living off Sushant Singh Rajput's money. We were living like a couple."
What do you think about Rhea's story?