RAGSAN : TERE ISHQ MEIN (part 10)

Warning: A non-numeric value encountered in /home/ftpusers/tellyu/public_html/wp-content/themes/publisher/includes/func-review-rating.php on line 212

Warning: A non-numeric value encountered in /home/ftpusers/tellyu/public_html/wp-content/themes/publisher/includes/func-review-rating.php on line 213

YHi guys , sorry because I didn't update but I was studying because my tests are starting from tomorrow ? I hope you are liking the story ?
SECOND CHANCE????
It was morning & Ragini opens her eyes ? and eyes Sanskar who was still sleeping? she was covered with a blanket & she understood everything ❤? she blushes & kisses him on his cheek ?…
RAGINI: We are one soul now ?
Then on her phone arrives a message ? she see it & she was Kritika ?…
" Ragini mom is coming home , plz come here … she will be happy if you will be here ☺come fast "
Ragini gets happy ☺..
RAGINI: Wow but Sanskar ?? hmm I will call him but now I have to ready ?..
After some time Sanskar gets up ? he see that he was  ?? and scream "omg"?.
SANSKAR: Ragini , Ragini! Omg she left the house ?? ? Why I did this ?…Kritika!?
Sanskar gets up ? and dress up himself meanwhile Anika arrives ? and see the messy room ?….
ANIKA:Wow Sanky ,I think something wild happened here ? poor Ragini ?That's why she went to her parents house ?…
Sanskar was ??…
SANSKAR: Di she really left ?? oh god ?…
Anika laughs ? meanwhile Sanskar was confused ?…
ANIKA :My naughty brother , she went there because Ishita aunts is coming home ? they also intuited you ? go bro ??… (she leaves)..


Sanskar was relief ?..
SANSKAR: I need to say sorry to Ragini & talks with Kritika about this ?
Ragini & Raman takes Ishita home ?? she was happy because she see Ragini smiling after ages ❤..
ISHITA:My baccha is so happy ? that why I am fine now  ☺ kisi ki nazar na lage ?..
Ragini hugs her ? 
RAGINI: I love you mom ❤..
Kritika arrives with flowers for Ishita but she ignore her ?..
ISHITA:Lets ho Raman , It's time for my medicine?..
She leaves with Raman leaving Kritika sad ??…Ragini was feeling bad for her ?
Then Sanskar arrives & a big smile come on Ragini's  face ☺☺..she runs to him ? & hugs him ❤ he hugs her back & smiles  ?..
RAGINI: Happy that you arrive❤️ I prepared something for you ….wait ?..
She goes before Sanskar can say anything ? Kritika leaves from there angrily ?Sanskar follows her ? but Ishita stops him ? leaving Sanskar shocked ?..
ISHITA:Sanskar don't go ? You should go to Ragini plz don't snatch her smile ?? She is very innocent ? don't break her heart ?I can see now that you also start liking her nah? Plz listen your heart ❤ mind is not always right! ❤(she cars his face & leaves)…
Sanskar was thinking about her words ? ..
SANSKAR: That's means I don't love Kritika now? I like ve Ragini now?❤ No this can't be true?..
He turns & see Ragini with a glass ? but he imagine that she came like an angel in red dress ? & his heart beat came fast ❤❤ he was just staring her ? …
Tujme raab diktha he yaara me kya karu ❤…
Laksh:Ragini! !!
Ragini  see him ?? and the glass fall from her hand ?..
RAGINI: Laksh?? What the hell are you doing here ? I don't want to see your face after what you did on our wedding day!!? …
Laksh comes to her & holds her hand ? meanwhile she looks on teary eyes ?..
LAKSH: Ragini I am sorry ? leaving you in our wedding day .. was my biggest mistake  ? but I want a second chance ❤…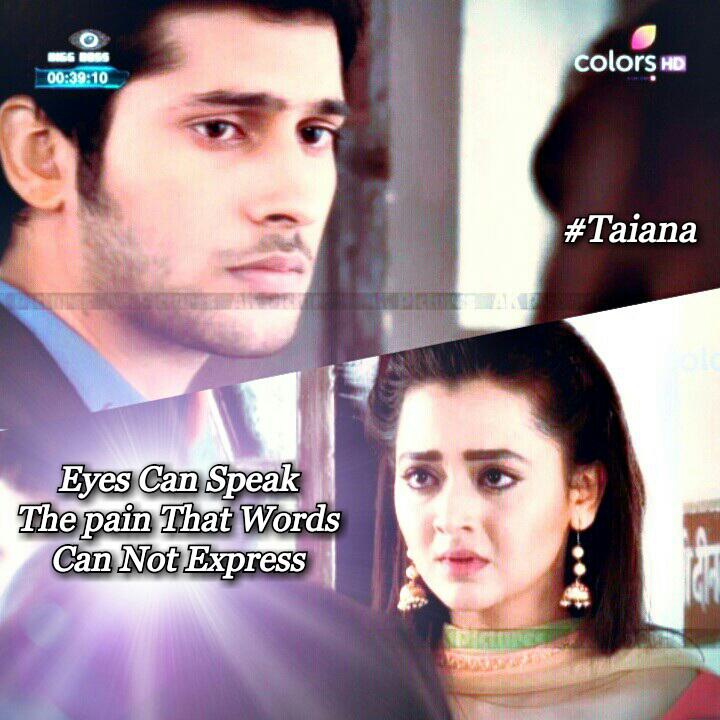 Sanskar see Laksh & gets angry ? he holds him from the coller ?& push him on the wall ?…
SANSKAR:How dare you ????I fired you from your kid long time ago ! Get lost because Ragini is my wife now ❤ She won't give you a second chance?…
He pushes shoched Laksh? out of the house & closes his door on his face ?…Ragini was crying ? & Sanskar immediately hugs her ?..
RAGINI: Why he came now that I am married?? Now I don't have feelings for him ? but now I have feelings for you in my heart  ❤ many feelings that I never felt ❤…
Sanskar interrupt the hug ? & they look at eachother ?? their eyes were speak up ? Ragini was expressing her love ❤ meanwhile Sanskar was in  confusion ? he interrupt the eyelock & goes ? leaving Ragini without her answer ☹️
Omg why now what will happen ??? Plz wish me luck for my tests ?

Warning: A non-numeric value encountered in /home/ftpusers/tellyu/public_html/wp-content/themes/publisher/includes/func-review-rating.php on line 212

Warning: A non-numeric value encountered in /home/ftpusers/tellyu/public_html/wp-content/themes/publisher/includes/func-review-rating.php on line 213