RAB SE SONA ISHQ: TWINJ- EPISODE 45

Warning: A non-numeric value encountered in /home/ftpusers/tellyu/public_html/wp-content/themes/publisher/includes/func-review-rating.php on line 212

Warning: A non-numeric value encountered in /home/ftpusers/tellyu/public_html/wp-content/themes/publisher/includes/func-review-rating.php on line 213

Episode:45:
????????????????????????????
Episode started.
Men's left for office while rudra and Priyanka to college.Avni and Anjali or twinkle sitting in living room they doing their work Anjali making embroidery designs on handkerchief twinkle and Avni learning from her.
Avni:hehe di how much you teased Kunj bro.
Anjali:haa. Look at twinkle.Both looking at her in naughty way.What's going on??
Twinkle:why not you ask this to your brother he knows better than me.Aap bhi na same to same like jiju..
At office Kunj doing his work along with Rahul.
Kunj:di become mad she behaves like you.
Rahul:after all wife Meri hai ??.You should be alert.
Kunj:acha biwi Meri hai and I'll be alert because of you all hatt.tej get call from rudra principal. He pick up and talk to principal.
Tej:sir I'll come and talk to you personally. Tej immediately left for rudra college soon he reached his college.He went inside principal cabin.Principal see him they both shake hands with each other bad dog.
Principal: hi Mr Sarna.
Tej:hi..
Principal: I try to call you son kunj.He didn't answer my calls.
Tej:he isn't here.
Principal:so finally I call you.
Tej:good tell me.principal talk to Tej in mute he tell him about rudra.Tej Listen each and everything he feels so ashamed control on his anger.Principal give him papers related to rudra.thanks don't worry next time you'll not get chance to complain.
Principal:I hope so.
Lata calls Luthra's and Taneja's at her place.They come and all ladies sit and chit chatting with each other's Natasha come first time twinkle showing her house to Natasha she loved it.Tej leave from college in anger he directly went home in anger.Soon he reached went inside avantika See Tej face expression.Tej calling rudra and Priyanka.
Avantika:Tej you are here at this time what happened he didn't said anything his forehead drenched in sweat.Omkara come out of his room and see tej he get
confused.
Tej:where is this boy..
Anjali:today bade seemed in anger.
Twinkle: why??
Anjali:don't know kesh ki shamat aai hai Kunj aur Rahul and rudra.
Kunj asking about tej he come to know Tej went to Rudra college that time only Kunj understand today rudra gone.Kunj call rudra principal and talk to him and get to know about rudra.
Rudra and Priyanka reached together they get scared why so suddenly tej call them they went inside entered in hall their eyes went on tej who just waiting for them only.
Tej:finally come great come.rudra look at Tej and his body shivering.While rest of people get confused.Avantika understand today rudra gone. Rahul and Manohar together left for Sarna Mansion they went inside and see them didn't understand anything.
Tej:where are you.. rudra.
Rudra:college me pa:.
Tej:acha college me.Really and you Priyanka.
Priyanka:same pa.both blowing down their heads.
Lata:kya hua Tej.
Tej:Maa please today don't.Kunj run from office before tej do anything with rudra. Tej take step near rudra he get scared and going in backwards.What happened why are you so scared of me.Rudra looking at omkara with helpless eyes.Tej held rudra collar Omkara run and stand beside him.
Om:bade Papa.
Tej:om not today please.
Om:bade papa please leave na.
Tej:today you are gone rudra in stern voice.Where are you I need a answer rudra.He making me fool haa.This all happening because of your bhaiya na he save you from me not today.Now he started Lying with us.Rudra looking here and there hold omkara hand tightly.
Manohar:bhai shab calm down what he have done.Tej closed his eyes and principal words echoing in his ears he about to raise his hand on rudra before kunj entered there he rushed toward them side rudra.All get shocked their eyes popped out.Tej look and see kunj.
Kunj:pa…
Tej:kunjj.Kunj make him stand rudra behind him.what nonsense is this.Finally you come.
Kunj:pa please don't.
Tej:acha every time you just saying this pa leave him.What I'll do haa.Asked your brother what have done in your absence. Omkara and Kunj covered rudra.Today I went to his college what his principal tell me do you know haa.see this he throw paper to kunj.Your great baby brother rudra didn't attend any class of his after you.Everyone shocked.I don't want to listen anything omkara please leave him let me handle.Without any mistakes you will prey of my anger.
Om:no bade Papa.
Tej:last time I'm saying. Rudra cuddles Omkara tightly.He take me granted now he'll see my real face.This both make you like this every time they come and save you.Avantika gestured Omkara to leave rudra.Tej look at Priyanka with anger eyes she scared of this.Om Leave rudra.
Rudra:O.Tej moved towards him meanwhile kunj hold his hand and covered him.
Kunj:please please pa.
Tej:I said leave him.
Kunj:no.Tej try to bring him front kunj didn't let him.
Tej:and you Priyanka come here she stand behind kunj and started crying before tej say anything.Kunjj don't increase my anger.You three of them gone.Tej moving towards them while they together going in backwards.They stop due to pillar.
Everyone just looking at them those don't know about tej they get shocked.
Prithviraj:Tej calm down you three of them go from there.They didn't moved little.
Tej:you asked your brother why he didn't attend his classes he didn't understand me nothing.And you Priyanka didn't tell me why.Where he is if he didn't went to college.
Avantika:Tej I'll talk to him.
Tej:what you'll talk to him haa don't blamed me.He raise his hand they covered their face with their hands it's
looking funny at that same moment.You go Priyanka she went towards her mother and cuddles her while now kunj and rudra left.
Rudra: pa sorry.
Tej:really sorry. I'll let not you play with your future what type of boy you are haa.He never speak for himself for you don't know from where he get guts.Last time kunj nicely went from here.
Kunj:no I'll not leave my Brother.
Tej:you know me I'll raise my hands.
Kunj:leave him give me punishment.Give him last chance please I'll see him.
Lata: Tej listen to kunj.
Tej:what listen to him just because of him I leave rudra till now I'll send him away from him.Kunj gestured rudra say sorry to him.
He held his both ears.
Rudra:sorry pa.Tej turned his face.Kunj gestured Omkara take rudra from here with his hands omkara hold his hand before tej turned from back he take him from there kunj take out the papers.Tej turned and see rudra wasn't there. He look at Kunj.
Tej: great kunj.TodY also you save him but remember one thing I'll not leave him and you too. Itself give me his responsibilities handover him to me.
Kunj:no Pa I can't he is my brother not any things so I'll back off.While looking down he said
Tej:acha this fear I have seen in your eyes that I never seen your brother eyes.
Kunj:sorry pa but I can't I'll talk to him.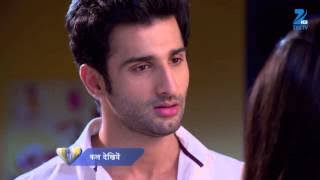 Tej:leave in front of my eyes.Tej went from there in anger.Kunj look at his mother with wet eyes.He went from there rest of them sits.Omkara take rudra in his room.He wiped his tears.
Omkara:shh rudra.Kunj standing in anger while Avantika went in her room she rest her hand on tej who standing in anger.
Avantika:Tej.He look at avantika with anger eyes.Please don't take tension look at yourself. Kunj was standing near their room window and looking at his parents.
Tej:please avantika right now my mood wasn't good your kids making me angry.
Avantika:they are your kids as well Tej. Don't worry na kunj is here for rudra I'll talk to him.
Tej:please leave me alone.
Avantika:don't take tension na see yourself so much sweat coming on your face.You sit down he sit.Tej hold his head to see this kunj feeling so bad.He get anger on rudra.All siblings went in rudra room.
Anjali:Priyanka don't cry.Bade papa didn't said you anything.
Malika:haa See rudra how he smiling ?.
Rudra:I'm used too.Kabir and yuvi get shocked to see rudra.
Rahul:seriously rudra at down you shaking like fish.
Kabir:yeah.Kunj wiped his tears and talk to rudra teacher.
Kunj:yeah he'll submit his project tomorrow.He went in rudra room and see him to see him his anger boil like anything. To see kunj rudra hide behind omkara. Really rudra did you see we are mad here haa.He look at Priyanka who sobbing in side.You come here.He didn't listen to him. I said something rudra in stern voice.All closed their eyes.Rudra get up he went towards him.Now give me answer why you didn't went to your college and you Priyanka come here.She too come and stand beside rudra.Now fastly without wasting my time and yours speak up.If anyone lied with him than you know me.I know you know he didn't attend his class because you both are in same classes . She nodded her head in yes.
Om:leave na kunj. Kunj show him his hand.
Kunj:please Om not now.if they thinking they will save from me now like down in front of pa.That's their huge mistake.So Priyanka you know past from 2months he didn't attend his single classes you know this very well you didn't bothered to in formed us haa.She closed her eyes.And tu shameless creature don't you have shame here you smiling like a brazen.Rudra looking down.He still smiling that everyone see whoever is in room their mouth got opened it.Kunj closed his fist he grab his shirt with his one hand and bring him closer.Listen carefully today if because of you I saw tears in my mummy and pa eyes than both fit in your mind that was yours last day of your life's.And you tell where are you if not in college.Bol Priyanka.Nahi dono ke dono jago ke yeha se.She look at rudra bol in loud voice. She started crying.
Priyanka:??bhaiya I didn't know I told him that I'll tell pa and you about him ask mahi kunj look at mahi she nodded her head in yes.But Rudra bhaiya ne mujhe mana kardiya ta.
Kunj:and you listen him pinku..
Mahi:sorry for interpreted jiju rudra was in college only he didn't went in classes.
Kunj:aur bhai shab ne project bhi nahi banaya.
Rudra:haa.Avantika and Usha come there and see Priyanka crying avantika went near her.
Avantika:what happened why she crying.
Priyanka:mummy I did do anything ?.
Avantika: kunjjjj why you scolding her.
Kunj:mummy I didn't scold your daughter. Kuch bolo nahi she started crying without any reasons.
Avantika:acha say this to your brother.
Kunj:this is your last chance rudra today i save you from pa not next time.If I get to know about you than forget your bhaiya will come to save you.And one more thing showing them his finger if I get to know from anywhere you both in bad accompaniment that time only hang you both on this fan only.
Rudra: O..
Kunj: kya O HE will save you from me not at all. Twinkle gets surprised to see kunj today.Right now only go and say sorry to pa because of you rudra I speak in front of him.Still no use of this all things.Tujhe toh aaj padni chahiye ti.He snap his finger.
Now go from here.!They both went from there.Kunj went from there to bring Aayat back from her playing school along with Rahul.
Rudra and Priyanka went near to tej room they see him.They went in kitchen and make tea for him in his style.They take
and went in his room.Tej was sitting on couch looking at outside from window. Quietly they went ahead and stand behind him.They went in front of him place tray on table.Tej look at them than down he see tea and cookies on that sorry written. They both hold their earlobe and together in very cute voice.
Rudra/Priyanka:PA we are sorry.please forgive us this is last time.They started doing sit-ups.Tej show them his hand they stop and get up and making puppy faces.
Tej:stop..
Rudra:pa please it's all my mistakes bhaiya and pinku didn't do anything.I'm sorry na.Priyanka started crying tej hold his head he went near her and give her hug she hugged him back and crying.
Tej:shhh don't cry.He cupped her face and wiped her tears.My good daughter.Rudra hug him from back.
Rudra:what about me pa..
Priyanka:pa even you scold me bhaiya too.
Tej:hoo acha.He scold my pinku.he kissed on her forehead.She cuddles tej while Rudra come and he too cuddles tej.Than they sit together on couch.
Rudra:pa we Make this for you.Both feed him cookies with their hands.Avantika entered in room and see this she get so happy.Her kids know their mistakes they can realised.
Avantika:what's going on here.Ho now daughter and son or father become friends again.
Rudra:haa.she went and sit with them they cherish their moments.
At down twinkle and Anjali make tea for each and everyone and take for them in living room.Just than Rahul and Kunj come back with Aayat she is in kunj Arms.
Aayat:uff bhaiya today I get tired.They went towards couch and sit.
Lata:finally Aayat baby come.
Aayat:haa dadi See this she saw her chocolate.Twinkle come and give tea to Rahul and Kunj.
Twinkle:kunjj.
Kunj:hm she kept in table.Kunj take out his handkerchief and wiped Aayat face.
Aayat:bhaiya where is mamma.
Kunj:yeha hi hai.Kunj give voice to servant.
Twinkle:you want anything??
Kunj:no I'll do.Sit here I'll bring here only.
Aayat:okay.He went in kitchen make milkshakes for her than he bring her clothes he went towards Aayat.He give her bottle.Aayat get happy Hoo strawberry shake thanks bhaiya.Kunj
changing her uniform.She sit on kunj
Lap and making faces while drinking milkshake.Kunj take sip of his tea.Just than tej and Priyanka or rudra come down together happily.Kunj see his father immediately get up.Tej see Aayat get happy.Rudra went to kunj.
Rudra:see bhaiya pa forgive me.?.
Kunj:good don't fly to much.
Leela:okay now we should go.
Lata:Arey please go na after sometimes.
Kabir:haa.
Leela:I have some work this kids is here let's go Anita ji.
Anita:yes Leela we have to go for shopping.Leela and Anita left. Kunj went in his room.
Omkara and Mahi sitting near poolside both talking with each other's.
Mahi:I get scared to see tej uncle.
Om:Arey don't worry it's Normal this is normal for rudra because of him we too get scold. ?..
Mahi:Time first I saw jiju in anger.
Om:Till now you didn't see your jiju Anger. Malika and Rahul having chocolates and looking omkara and Mahi.
Malika:even you thinking same which I.
Rahul:since starting baby ??.After sometimes later.
Youngsters sitting together at poolside Yuvi teasing Avni openly Rahul laughing at him.While Omkara and Mahi talking with each other's through their eyes sight.Kunj sitting in side reading book.
Rahul:kunj Leave this.Yaar why you reading this boring book.He didn't give him anger back. Anjali smirked at Rahul.
Anjali:aaj kal toh kunj just busy in twinkle.
Twinkle look at Anjali. While rest of them get curious.
Yuvi:how??.Rahul snatch his book. Kunj give him death glares.
Kunj:kya problem hai tujhe.twinkle get up she understands before Anjali started its great to escape from here Anjali pulled her hand and Make her sit on kunj lap.Kunj hold her.
Malika:haa where are you running from here.Twinkle sit beside kunj.
Anjali:kunj you didn't give answer of my questions at morning I ask???. Twinkle adjusting her duppta.
Avni:don't worry twinkle we'll not say anything no need to hide from us.
Malika:hoo??.twinkle drenched in shyness Kunj hiding his laugh.She gets up run from there.
Anjali:Arey Twinkle.
Kunj:di aap bhi na.
Rahul:go behind your biwi ??..
Twinkle went in her room.And went towards dressing table she keeps her duppta on chair and see love bites marks.
Twinkle:this all happened because of kunj that's why everyone teasing me.she take out concealer.And coverage her marks but it still seeing out. Ahaha she get irritated with this.Kunj get up and went to his room. He entered in his room and see twinkle. He went towards her and give her backhugged lock his hands around her waist. Rest his chin on her shoulder she look at him through mirror.
Kunj:what happened. Look at yourself you become tomato ??. She turned and hit on his chest Kunj nuzzling his face in her neck twinkle push him.
Twinkle:kunjj please because of you
In front of everyone Meri izzat ji lassi bangi.
Kunj:what I have done it.
Twinkle:Acha what you have done it this all you give me.Because of this love bites Di teasing me. See how everyone teasing me whole day I just try to hiding this all.
Kunj:haa so what okay sorry.He pulled her towards himself.Her hair stands coming on her face kunj tucked her hairs stands behind her ears.Slightly cupped her face. Twinkle playing with kunj collar.
Twinkle:what happened to you.Are you still angry with rudra.
Kunj:na Arey aise hi feeling low. She get worried about him as soon as she heard this.
Twinkle: in concern voice. What happened to you haa are you okay na she checking his neck. Kunj laugh out.
Kunj:haa Meri Maa I'm fine absolutely break down on your Amritsar express.Itni parwaha Meri.
Twinkle:keshi nahi.
Kunj:acha ji.He rubbing his nose on her cheeks.Just than Natasha entered in room.
Natasha: Arey Twinkle.They heard and composed themselves.
Natasha:sorry.
Twinkle: haa Natasha.
Natasha: we are going bye.
Twinkle: Arey wait na.
Natasha:nah enjoy your romance she run from there while Kunj and twinkle giggles out.
Kunj:acha twinkle please give me night clothes.
Twinkle:hmm you go I'll take out.Kunj went in washroom while twinkle went towards wardrobe and take out kunj night dress.
She kept in side table went downstairs her siblings and yuvi and all's went to their house while twinkle went in kitchen she check dinner kunj come out of the washroom and wear his night clothes.
After sometimes later Anjali and Priyanka or twinkle they arrange dinner and call everyone.Everyone come down for dinner they all sit kunj don't know how he sit. Somehow he sit and looking down only didn't raise his eyes. Anjali and twinkle served everyone and they too sit and they all having their food Aayat blabbering funnily Prithviraj laughing with her.
Aayat: pa.
Tej: haa.
Aayat:pa you promise me na you take me out but you didn't take me anywhere.This time this India is so boring ?.
Tej:Acha what my doll what.
Aayat:pa lets go Paris like last time.
Rahul:paris.
Avni:she knows name also.
Aayat:yes I went on my bhaiya talent like him sharp mind?..
Tej: not on your ru bro. Aayat nodded her head in no. Why??
Aayat:he has low brain ??.All laugh out.
Om:Hell True.while having food kunj chocked baldy he started coughing very badly.
Avantika:kunjj.She get up and went near him patting on his back.Twinkle give him water glass.
Tej:have slowly Kunj.He drink water.
Kunj:I'm fine.
Avantika:kunjj.She sit beside him.Aaram se.
Kunj:haa.mera hogaya mummy. He get up and went from there they all understand and knows when he is in tension he can't have his food and easily get chocked.
Lata:Tej you Itself talk to him na.
Tej:what I have done Maa.
Avantika:Leave please have food.
Kunj went in his room he call rudra one of friend and asked him about his project and he get details and sit and making his project.Everyone finished their dinner and went in their respective rooms Kunj finished rudra project and keep the file aside he get busy in his office work. While twinkle finished her all work of kitchen she make coffee for kunj.She take coffee and went in Their room.
Twinj [email protected]
She entered in room and see kunj. She closed the door and went towards bed and sit beside kunj who busy in his work she forward coffee mug to him. He see mug and look at her.
Twinkle: coffee??. He give smile and take the mug. Twinkle straight her legs fully and rest her head on backboard. What you doing it kunj.
Kunj:nothing much just my office work checking out.
Twinkle: acha. You go I'll go and get changed my clothes twinkle get up and take her night clothes went in washroom. She changed and come and lay down.
Kunj:after time I have your coffee.
Twinkle:Acha what you doing there.
Kunj: just missing your coffee.
Twinkle:hatt liar.
Kunj:seriously you make world best coffee.
He take her hand in his hand and kissed on her knuckle.Twinkle get shy and pulled her hand.
Twinkle: you become naughty after come back.
Kunj:Acha ji.She covered herself and Kunj doing his work in laptop twinkle admiring him.She getting sleepy twinkle see the time.
Twinkle:Kunj please leave na this boring work do in your office let's sleep.
Kunj:haa you sleep na..
Twinkle: no you too come na. Off this she get up and take his laptop and off and keep in side.
Kunj:Arey.
Twinkle:bas.Kunj giggles to see her.
Kunj:acha Okay.He off the lights and both lay down twinkle rest her head on kunj one hand she hold his T-shirt from chest. Goodnight.
Twinkle:goodnight.They cuddles each other's now it's very hard to stay away from each other twinkle get confused why she going so closer to kunj. They sleep.
At omkara [email protected]
Rudra and omkara try to sleep omkara caressing rudra hairs he wake up.
Rudra: O.
Om: haa.
Rudra: o I should go and apologise to bhaiya than only I'll get sleep.
Om: at this time they must be sleep rudra.
Rudra: so what O for us bhaiya is always wakes  up.
Om: haa rudra But now he isn't alone he get married na.
Rudra:I don't care I'll go right now only and say sorry to him. I'll come.
Om: okay all the best.He get up and run for kunj room he reached see door.
Rudra:let's do it he knocks at door. Bhaiya. He giving voice to kunj. Firstly Kunj didn't listen due to knock sound twinkle sleep getting disturb.
Twinkle: hmm kunjj. In sleep
Kunj: in sleep. Haa.
Twinkle:see na kaun hai. I'll not wake up.
Kunj: hmm. He wake up and see the time. Who is at this time. He get up and went towards door and open the door and see rudra folding his hands and closing his eyes.,RUDRA' Rudra jumped in his arms
Rudra: Bhaiya. Kunj get shocked and confused. Bhaiya please forgive me my beauty sleep get angry with me.
Kunj: what he break the hug. Rudra what nonsense is this. See the time twinkle sleeping.
Rudra:I know please forgive me na he fold his hand I know today I hurt you. He hold his ears kunj see him he get melt he held his hand.
Kunj:acha Leave this doesnot do this.
Rudra: you forgive me na.
Kunj:na you know na i can't angry with you than forgive karne ka koi sawal hi nahi hota hai. He pat on his cheeks next time don't my baby brother.
Rudra: haa.He kissed on his cheeks. Kunj make faces.
Kunj: eww.
Rudra: now you will do this didn't do when bhabhi did. ??..
Kunj:acha ?. Pulled his cheeks.
Rudra:okay I'm sleepy my beauty sleep get happy bye good night.
Kunj:goodnight.He went kunj closed the door and went back to bed.He lay down beside twinkle look at her face she look so cute while in sleep kunj give smile and caress her cheeks.To see her like this I felt so happy don't know why I m getting attract towards her like anything completely I am falling for her.Without her I can't think my day. There is something about you and no matter how many times I hear your voice whisper my name or feel your hands on my skin. I will always want more of you.Kunj lay down twinkle slightly open her eyes.
Twinkle: in sleep kunjjj..
Kunj:hmm.
Twinkle:where are you.She moving her hand.
Kunj:here only.She moved towards him and pulling him in herself.
Twinkle: I'm feeling cold.
Kunj: why so suddenly.
Twinkle:don't know.My teddy bear.
Kunj:I'm here na.Kunj cocoon twinkle fully in his embrace. He kissed on her jaw and he sleep.
Next [email protected]
In morning omkara sleeping sunlight
flashing on his face his sleep get disturb.
He rubbed his eyes and open her eyes. Omkara look at Rudra who sleeping like a wild animal.!
Om:look at this idiot man.He pulled his cheeks om get up and went towards window he closed the window and he tie his hairs look at morning fresh view.He closed his eyes and see mahi face.She is so cute her talks really beautiful.Rudra blabbering in sleep om turned and see him and laugh out.He went in washroom.
Scene turned.
Twinkle and Kunj sleeping kunj holding twinkle in firmly style while twinkle hair stands resting on kunj face.She resting her head on his chest.Twinkle wake up she opens her eyes and see kunj and her position.She give smile and pinch on his nose.She see the time slowly she come out of kunj grip.Stretch her arms uff last night I sleep so beautifully.She covered Kunj with blanket.And get up went towards wardrobe she open and finding what she wear.
Twinkle:hmm what should I wear today. She rest her finger on her chin and thinking.She turned and look at Kunj Than her eyes went on saree she immediately took it.This is perfect she went in washroom.And take bath after she come out of the washroom she went near dressing table removed her towel which covering her wet hairs she kept in side and drying her hairs that water sprinkle on kunj face she dry her hairs with hair dryer. And soon she get ready did her light makeup with her lips highlighted with her red bold lipstick color.Let him sleep.She shut half door and went downstairs.
Twinkle see dadi and Anjali sitting in mandir and preparing for morning aarti.
She went near them.
Twinkle:good morning.Anjali see her.
Anjali:good morning bhabhi ji.
Twinkle:you do this I'll come.she went in kitchen and get busy in breakfast preparations.After sometimes later twinkle done with breakfast she went in living room everyone wake up. And come down.
Avantika:let's start the aarti.
Rahul:where is kunjj.
Lata:we'll do already it's too late even Rudra and Priyanka didn't wake up.
Rahul:right.They all went towards mandir and twinkle take the aarti tali and started the aarti she sang the bhajan.Everyone fold their hands and closed the eyes lost in twinkle voice.While her melody voice echoed in whole mansion due to her voice Kunj wake up.He open his eyes with a smile.
Kunj:waha every morning should be like this.She had so beautiful voice I'm so lucky my wife is so talented beauty with less brain ??.he stretch his arms.And take yawn. He get up and went in washroom.Meanwhile twinkle finished the aarti and give everyone aarti and parshad.
Tej:you are best twinkle beta..
Twinkle:even you too papa ji.she kept the aarti tali in front of god.
Anjali:today we'll have breakfast in garden see the weather is so romantic what's say Tej and Manohar give her side hug.
Tej:yes my daughter is absolutely right.
Avantika:you arrange I'll see rudra and others.She went upstairs goes in omkara room.
Anjali:come.
Twinkle:you go I'll come I have to see kunj he wake up or not.She went in kitchen make coffee for him and went in her room. Se entered in room and see kunj wasn't on bed. Where he went she turned her eyes and see washroom light is on.She understands she keep coffee in table and went towards wardrobe take out kunj clothes.Just than Kunj phone ringing. Twinkle see this she take his phone in her hand see the caller id it's Lavanya.She make face.Kunjjjj giving voice. Kunj take the bath warped towel around his waist.
Kunj:from Washroom only. Haa.
Twinkle:phone..
Kunj:I'm coming.Kunj went out of the washroom.Twinkle turned and see him. Water droplets slipping down.Twinkle went near him handover his phone to him. Twinkle making weird face kunj get confused he see caller id and understands Slightly laugh.He received the call and talking with Lavanya about business.Kunj gestured her for his clothes she give him his pant.Twinkle admiring Kunj biceps his six pack abs.Kunj raised his eyes.While talking his wear his pant and end the call. Twinkle holding his shirt. He went near mirror.Twinkle see red marks on his back
Twinkle:what is this.She touch.
Kunj:ask yourself cut your nails.She remembers and bite her tongue. Kunj ruffles his hairs water falls on twinkle face.
Twinkle:kunjj.Wait she bring lotion.You
Sit na already you are so tall.
Kunj:it's your mistakes.He sit on table. Twinkle take lotion in her hands and apply on kunj back.
Twinkle:it's tit for tat.
Kunj:acha ji.She feeling current while applying lotion on his back.Well Kunj feel so good he see twinkle expressions through mirror.Kunj get up and applied lotion drop on twinkle nose.Jhali.He wear his shirt twinkle closing his shirt buttons. Kunj adoring twinkle face.Look at her she looking beautiful in this saree.:
Twinkle wear saree with cape blouse and make messy hair bun looking beautiful and her beauty appealing Kunj heart.She busy in his buttons.Today without me aarti.
Twinkle: haa so what you didn't wake up so we'll wait for you haa.Now get ready fast everyone waiting for breakfast kunj. He ticking on her nape.kunjj don't be.Kunj get ready fully and drink his coffee.they went downstairs goes outside in
garden.Everyone was sitting for breakfast kunj went and take his seat omkara wish him good morning while avantika bring her two small babies rudra and Aayat who still in sleep.Servant served them breakfast they all having their breakfast happily.Kunj seeing twinkle while having breakfast while Aayat didn't have anything she making crying faces.
Manohar:what happened to our princess today .
Avantika:nothing today princess upset
With his pa.
Prithviraj:why.. how this happens.
Tej:acha Aayat pa sorry na have your breakfast.
Aayat:huhu.
Rudra:you are so lucky man.see dadu and dadi pa is so Partial with me and pinku or bhaiya he just love his Aayat.!
Avni:now you get jealous with Aayat too hehe.
Tej:why you worry Rudra you have your bhaiya and Omkara.This two always get ready to fight for you.
Manohar:haa see Kunj he can't speak for himself for his brothers get can.While Omkara and Kunj slightly look at each other's both didn't said anything ignore them.While Avantika and Usha gestured
their husbands.
Lata:why you both behind my both grand sons.Mere Jigar Da Tukda.
Anjali:see papa and bade papa they have their universe with them.
Tej:haa even our parents too partial.?.
Rudra:because they are our Dadu and dadi.They finished their breakfast.They went inside today is Sunday.Kunj went in his room.While twinkle behind him.He entered in his room keeping his files in his office bag twinkle come and see him.
Twinkle:Kunj.
Kunj: haa.
Twinkle:what you doing it.
Kunj:kuch nahi Just my worK.
Twinkle:you going office today also.
Kunj:haa I have meeting that's why. Kunj get up and look at twinkle who looking him in gloomy way.What happened.
Twinkle:even on Sunday you going office what is this haa.
Kunj: haa.What to do I have na that's why.
Twinkle:this isn't fair whole week you went office even today also I didn't like.
Kunj:acha last time.He cuddles from her waist while twinkle hands resting on his chest. Both face is just inch apart, what happened why your smile went away.
Twinkle:leave me you go your office.Your Lavanya waiting for you. Kunj rolled his eyes with laugh.
Kunj:ho ho Why she'll wait for me. For me toh you'll wait na.Moved his nose on her nose.Looking beautiful today just feels like just seeing you.
Twinkle:I know I'm look always beautiful. But no use of anything.Here I get ready for you kunj raise his eyes.And you toh wanted to go boring office.
Kunj:for me you get ready why???. Twinkle stuck now.
Twinkle:woh woh,. Kunj moved his finger on her face.
Kunj: how many Layers of makeup you applied ??.
Twinkle:huhu there is no value of someone hard work sadu. Every husband wanted to see Their wifes they get ready for them.And see my unique sadu husband.
Kunj:hoo hoo.But why you get ready this much I already can't control on myself don't blame me afterwards.About to bite her cheeks twinkle moved her face become red.
Twinkle:hatt. Don't go na.
Kunj:Arey baba I'll come back before lunch time.Spend my Sunday with my beautiful wifey.Who spend time for me. Kunj cupped her face and kissed on her forehead.She give smile.And hugged him.
Now can I go twinkle.
Twinkle:hmm.Kunj take his bag and went down while twinkle see kunj forget his wallet she get and run behind him.
At downstairs.
Kunj went toward Rudra who watching cartoons with Aayat.
Kunj:oyye bhai shab. Twinkle come down and stand beside Priyanka. Kunj throw file on rudra.
Rudra:what is this.
Kunj:submit this tomorrow it's your project.Rudra get confused he open the file and see and get hell happy his project Kunj make.
Rudra:waha bhaiya you are the best. Thanks for this.
Kunj:haa last you know me.
Rudra:yeah.
Omkara:today also you going office.
Kunj:hmm.
Twinkle:Kunj your wallet she give him.Kunj take and left for office along with Rahul. Soon they reached office and get busy in work kunj didn't feel good to speak in front of his father.
Rahul:what happened.
Kunj:nothing yaar you know what I have done yesterday.Feeling bad how I apologise to my pa.
Rahul:haa But you didn't do anything.It's Rudra mistakes na..
Kunj:what to do if I'll not Save him na pa will red his cheeks.
Rahul:he didn't do good kunj whatever is it.
Kunj:this last time both brother and sister is very master mind.But I'm their big brother.Kunj call his body guard. He come.
Guard: yes sir.
Kunj: haa siraj.Listen to me from now you have to keep your eyes on Priyanka specially on rudra leave me from morning to night your eyes just on them.In formed me about them everything what they doing it where they go.
Siraj:okay sir I'll do.
Kunj: but don't let them get to know it's just for normally.
Siraj:I know. He went.
Rahul:why this??
Kunj:who will run behind them Rahul he'll spy on them.I don't want they get in any bad company you know here atmosphere we all know very well if anything happened wrong my pa will hang me with them.
Rahul:that's also hell true.They get busy in work.Other side twinkle murmured on kunj he went.She went in her room and arranged her room and than she went down and get busy in her house chores while Aayat and Priyanka aur rudra playing ghar ghar with Aayat.
Avni went out she waiting for taxi no taxi stopped.Just than Yuvi was passing from there he saw Avni.
Yuvi:waha today avni my Sunday become funday. He moved his car toward her and stop in front of her press horn and open widow. Avni look at Yuvi. Hi baby.
Avni: what.
Yuvi:come I'll give you lift.
Avni: no I can manage.
Yuvi:hello lady love come here you'll not get any taxi.Avni Make faces and moved ahead while Yuvi too.She try to stop taxi no taxi stop Yuvi enjoying it.Avni get tired Yuvi open door for her she see him and sit without saying anything.Yuvi starts the car.Why you girls throwing so much tantrums.
Avni:whatever now don't eat my head. Look on road not on me.
Yuvi:??. What to do in front of you I can't see anything.Yuvi stop the car in front of cafe. Avni look at him.See itself you didn't get any so I bring you Itself. Now you can't deny. She smile.
Avni: okay.They both come out of the car and went inside the cafe.Yuvi take out chair for her. She sit he too.
Yuvi:which coffee you will drink tell me.
Avni:today your favourite.
Yuvi:wow he call waiter and give coffee oder.Both chit chatting with each other's normally. What you have think about me.
Avni:what I'll think about you. Last time you eat my head. Not today.
Yuvi:ho at least think about me.He ruffles his hairs.Soon their coffees come they take and enjoying coffee Yuvi admiring avni eyes.
Scene3.
Omkara busy in his sculpture he making it. Mahi come there.She come to meet with Priyanka due to college work.She see omkara who is in garden Mahi see him she went near him and admiring Omkara he looking more cute with his eyes glasses.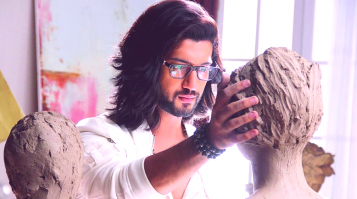 Mahi:in heart how beautiful he make this sculpture he hand magic in his hands. Omkara eyes falls on mahi he get confused first he thought he imagine her. But she waving to him he removed his glasses and see mahi. Hii.
Omkara:mahi..
Mahi:yes.Than he believe she is here in real.
Omkara:hi..
Mahi:beautiful.
Omkara: not more than you.
Mahi: what.
Omkara:nahi.Thanks. You here.
Mahi:haa I have work with Priyanka I'll meet with her.She went inside while Omkara see mahi payal falls on grasses. He went bend down and take out and see mahi Payal.Kept in his pocket.Mahi meet with Priyanka and do her work and went back.After sometimes later.Kunj and Rahul left for Sarna Mansion.While in the way. Kunj eyes went on Pastry shop he Remembered how much Twinkle lover pastry.He stop the car Rahul look at him.
Rahul:why you stop the car??
Kunj:see pastry shop.
Rahul: so what? You can't eat because you are Diabetic patient.
Kunj:I'm na but not my wifey.
Rahul: ho..
Kunj:you sit I'll bring for her. Kunj come out of the car and went inside the pastry shop.He buy twinkle favourite pastries for others as well. And Kunj see flower man he but red rose bouquet for her and went back to his car and kept all things in back seat Rahul see red rose. Kunj sit and start the car.
Rahul: red rose for whom bhai.
Kunj:for my rose ?. Rahul closed his eyes.
Rahul:waha aaj kal kya baath silent Kunj Sarna and shy become timid now what happening babaji miracle happened ?.
Kunj:haa what to do.Have to vanished my shyness na whole life can't for my wife I'm still same for others just open up for my wife. ?
Rahul:go go going well tell me need any help.
Kunj:haa first tell your wife don't teased my wife.
Rahul:that I can't you should control on yourself ???. Tu toh bada aage nikal gaya man. Didn't in formed me shit make crying faces.
Kunj:hatt what I have done nothing till now still we are same just now we can share everything with each other still twinkle hesitated she run if i get closer to her. While talking don't know when they reached they park the car went inside. Kunj give their pasties to them and twinkle in their room.He places in side and kept red rose on dressing table. He finding twinkle. He went in his father room.Tej resting while Aayat in his lap. He knock the door and went inside tej open his eyes and look at him. Paa.
Tej: yes.
Kunj: woh I want to say something to you.
Tej: Tell me. Kunj take deep breath he look at his father.
Kunj:pa I'm really sorry for yesterday whatever I said please forgive me. He held his ears tej smile.
Tej: it's okay don't be sorry come here kunj get scared.Don't worry I'll not kill you. I'm your father he went near him and tej hugged him kunj give smile he too hugged him back.Aayat looking at him and pulled kunj hairs.They break the hug. How's your meeting?
Kunj:superb.
Tej:great.Kunj get up and went out of the room.Kunj went in rudra room see rudra and omkara sleeping kunj went inside.
Kunj:see this two sleeping beauty of our house he throw cushion on their face they open their eyes.
Rudra:Bhaiya what is this.
Kunj:get up.And you omkara.
Om:let us sleep he turned his face.Rudra too kunj went out of the room he search his wifey twinkle was in kitchen. He went inside the kitchen and see twinkle busy in work he went near and give her back hugged lock his hands around her waist. She get shocked.
Twinkle:kaun. She turned her face and see kunj.
Kunj:kya hua Dar gai..
Twinkle: haa. Tum
Kunj:haa me who else than me who will touch you like this expect than me. Rubbing his nose on her neck .
Twinkle:Kunj you come back.
Kunj:yes you wanted na.
Twinkle:acha good now leave me.He tight his grip more and more. Kunj leave na someone will see us here it's not our room it's kitchen.
Kunj:haa so what if anyone see us than they'll not put us in jail. I'm your husband. Leave this work come with me.
Twinkle:I'll not go anywhere you go I have work.
Kunj:yaar twinkle what is this.
Twinkle:see choti maa give me this let me do.She take the vessel of flour. Go from here.
Kunj:acha suna lets go out today.
Twinkle:no need of this.Last time you get me bored with you did you forget. When I went with you for shopping.
Kunj:not this time. She fly her hairs due to this flour apply on her face kunj see and control on his laugh.
Kunj:acha ji.. wait he going near her while twinkle going in backwards. Twinkle stop.
He about to touch her.
Twinkle:please kunj mene kya tumpe Ek kiss karne de diya now you getting closer to me haa. Kunj giggling. Stay away from me mr Kunj Sarna she push him with her finger. Stay in your limits. Aap toh mujhe touch wotch kare ne bahane dundne lage hai.
Kunj: me toh tumhara new face pack admire kar raha ta he take the plate and show her. Her face twinkle see and get shocked. Jaldi se utar lo kahi rotiya nahi pak jaye Kyu ki aap itni hot jo.
Twinkle: aha she try to wipe kunj held her hand and stop her.
Kunj:wait aaram se kahi itne pretty se chehare pe nishan nahi pad jaye.He went closer to her and wiped flour carefully caressing her cheek. I stay in my limits really what you have done that night I just want kiss on here but you. She blushed and turned. Kunj pulled her toward himself and Make her turn. Aata laga na.
Twinkle:okay she apply on kunj cheek he act like any angry she wiped with her palu Kunj give smile he cuddles her tightly and try to give her kisses.She giggling just than Rahul and Anjali entered in kitchen they coughing. Twinkle and Kunj heard and see them and leave each other's twinkle get embarrassed again she looking here and there while Anjali and Rahul giggling.
Anjali:what happened.She come near kunj my dear brother this is kitchen you have room for your romance ??.Anyone will see you both. Look at twinkle she blushing Anjali push her in kunj.He hold her from her waist.She looking down still.
Kunj:di stop teasing us.Twinkle hide her face under kunj chest Rahul and Anjali teasing them like anything.Kunj just giggling.
Twinkle:di aap bhi Please. She push kunj. He went out of the kitchen with Rahul while Avni come back they three of them sit together and chit chatting with each other's twinkle finished her work she went upstairs about entered in room.Hope sadu isn't in room.He just know his romance irritates me uff didn't let me sit because of him I scared to entered in room.Now toh don't know which romance magic happens on him. She went in washroom get freshen up and come out of the room Twinkle eyes went on side and see red rose she get so happy take in her hands and smell roses kunj entered in room and see twinkle. Who brought this here.
Kunj:me.Twinkle heard and turned and look at Kunj.
Twinkle:means.
Kunj:I'll tell you. He went near her. Kunj take out one red rose from bouquet.This bouquet I brought for you. He forward rose to her she see and smile happily twinkle take rose from kunj and kissed on rose.
Twinkle:thanks in cute voice.You know I love red roses lot.Today from where you think about me.
Kunj:what today I toh every second I think about you. She look at him. And playing with rose.I have one more thing for you. He bring pastry box from side and open and show she see her all favourite pastries get hell happy that kunj can see on her face.
Twinkle:my this all for me.
Kunj:yes for you without no doubts.Kunj take in his hand pastry twinkle open her mouth he feed her pastry with his hands. She take and feed Kunj he eat slightly.
Twinkle:yummy thanks kunj. Wow.
Kunj:are you happy.
Twinkle: yes. ?.
Kunj:what else I wanted more than this. Now what for me.
Twinkle:what. You want now.
Kunj:yeh bhi batana padega kya.He smirked she understands and blush slightly.Now don't blush.Acha twinkle me kya soch raha ta.Twinkle stand on her toes cupped Kunj face with one hand and kissed on his cheek. Kunj closed his eyes and act like he'll fall down twinkle giggles to him.He touch where twinkle kiss him. Hayyee?.Twinkle turned and breathtaking heavily Kunj hold her hand pulled from waist near him. She covered her face with her palu Kunj See this throw mirror Make her turn and removed her palu see her face become cherry red. She didn't look up kunj held her chin.Till now I'm thinking and calling you siyappa queen now I think I should kept your new name. Blushing queen now you becoming blushing queen day by day.Make her look at him.She slowly raise her eyes and look at Kunj.You become red tomato.Pulled her eyes feels like red these tomatoes.He take her both hands in his and kissed on twinkle hands he tucked her hairs behind her ears and caress her cheeks bones sajan ve play in background.He moved his finger on her lips and look at her juicy lips smudge her lipstick slightly. Kunj Pinned her towards side wall held her hand pinned on wall. She looking at him.While Kunj look at twinkle with desired.He moving his nose on her face Their breaths hitting with each other's breaths.Both look at each other's Kunj smirked twinkle understands his intentions she push him . Kunj falls down on floor.
Kunj:ouchh.She get shocked.
Twinkle:sorry sorry I push you slowly lagi toh nahi na.
Kunj:aaha my back.Twinkle yaar..
Twinkle:come get up she help him make him stand jada dard ho raha ha kya Kunj hold his back.
Kunj:uff.Itni energy..
Twinkle:sorry you sit here.
Kunj:do something na he smirked.
Twinkle:what I'll do.
Kunj: don't know. Twinkle think.
Twinkle:wait I have something. She went and bring massage oil bottle.
Kunj: what is this??
Twinkle:I'll apply this oil your pain vanish. Removed your shirt.
Kunj: kya.
Kunj: kya nahi she open his buttons and take out his shirt.
Twinkle: lay down on bed. Kunj lay down on bed on his stomach.Twinkle sit take oil in her hands she apply oil on kunj back. Kunj closed his eyes. Her hands went on his lower back kunj feel different.
Kunj: you are very bad.
Twinkle:acha you should think.She giving him massage kunj enjoying it. Kunj pulled twinkle and rolled down her take under beneath him she get shocked for sudden.
Twinkle: kunjjj.
Kunj:kya kunjj aise koi apne pati ko push kar ta hai kya.
Twinkle:I didn't do purposely.
Kunj:acha ji. Why you running.Dar lag raha hai kya.. he pinch her nose.
Twinkle:why I'll. Side please.
Kunj:nope. I'm hungry twinkle.
Twinkle:acha go and have your food na.
Kunj:I don't want food feeling like eat you. Bite her cheek bones. She moaned his name.
Twinkle:you just get chance to do romance.
Kunj:any Doubt.?.
Twinkle:I get irritated that's why I didn't wanted to go in room. As soon as I entered you started. He rubbed his cheeks on her cheeks his stubble pricks on her cheeks. Aaha kunj.
Kunj:kya Aaha.
Twinkle:tumhara stubble chubti Hai. Kunj linked his fingers with her. Bending down. Kunj please not now this isn't time.. don't think now. She take pillow and couch her face and push him in side and get up run in washroom while Kunj just see her.
Kunj:Twinkleeee shit. Kab tak bhagegi mujhe se dure..
After sometimes later at [email protected]
Kunj demand to have his favourite dish so twinkle making for him.She fry chicken. She thinking about kunj and touch cheek bones smiled.While others sitting in living room.Just than oil falls on twinkle hand and few drops of hot oil on her cheeks she winked in pain and screamed her voice went in living room.
Kunj:Twinkleeee.
Rudra:bhabhi they run in kitchen. Kunj rushes towards her.
Kunj: Twinkle what happened
twinkle: aha kunj tears coming from her eyes. Anjali see oil drops falls on her.
Kunj:what is this why you do when you don't know.
Avantika: kunj take her out. Kunj hold her hand bring her in living room make her sit on couch.
Kunj: Twinkle you are mad.
twinkle:mistakenly this happened kunj. Rudra and Priyanka bring ice pack. Kunj see her tears feels bad itself tears come in his eyes too.
Lata:aaram se Twinkle puttar See now you burn yourself. Kunj take her in room.
Kunj:hmm. Come now.He holds her carefully from her shoulder take her in their room.
Avantika:see your son tej.
Tej:hmm good to see him he cared about his wife. Kunj and twinkle went in room. He take inside and make her sit on bed. He bring ointment. And sit beside her. See her cheek.
Kunj: jada jal raha hai kya.
Twinkle: hmm.
Kunj: tu Ek number ki siyappa Queen hai. He blow on her wound.Wiped her tears don't cry.Now don't entered in kitchen. Kunj apply ointment on her cheek.She hold kunj hand.Kunj caress her cheeks give her wet kiss on her wound. Abhi jal raha hai?? She nodded in no. Pagal.She rest her head on his shoulder. Rudra and omkara come and went in room.
Rudra: hoo. Waha. Bhaiya and bhabhi. Kunj didn't break the hug.
Kunj:acha.Apni soch.You rest twinkle here now I'll get medicine for you.
Twinkle:Kunj I'm fine no need of medicine.
Kunj: really.
Twinkle: yes I'm absolutely fine now let me go na.
Kunj: no means no. Rest here. Twinkle lay down while kunj went in balcony twinkle watching him she slightly get up and went down goes in kitchen Resume her cooking.
Kunj come in room Didn't find him.This twinkle manegi nahi.He went down and goes in kitchen see twinkle from window making food. Kunj give smile he went from there. He went in Anjali room there Usha and Avantika too there diii.
Anjali: haa.
Kunj: di please go in kitchen and help twinkle.
Anjali: hoo.
Kunj:she is very Zidhi. Help her.
Anjali: see badi MAA and MAA how much your son caring about his patini ji.
Kunj: go na.
Anjali: ha. She went Usha and Avantika caress Kunj face.
Usha: happy to see you.
Avantika: haa Usha walking on his Dadu and fathers foot steps.Kunj hugged them.
Anjali help twinkle they finished the cooking. After sometimes later they all sit for dinner twinkle served them food.
Anjali:first kunj will taste after all his wife make for him specially.Twinkle and Kunj get shy.
Rahul:haa kunj have na we all hungry. Kunj taste the dish.
Rudra:how's it??
Kunj:nice.
Avni:he is shy I know it's delicious he'll praise her dish later ??. They all taste and praise twinkle lot.Twinkle and Kunj sitting opposite to each other's.They share eyes locks.Twinkle see kunj he winked at her she get shocked and make pouty lips she closed her mouth she turned her eyes ?. Kunj smile.They all finished their dinner after dinner they back to their room.Kunj was in balcony while twinkle watching her wedding photos in tv. And talking with Natasha on phone.Kunj come back and closed the door. He went towards bed and lay down beside in sitting position see twinkle seeing their wedding photos.
Kunj:always busy with Natasha huhu. Kunj moved near her.He tickling on her neck side her hairs try to kiss on her neck. Twinkle closed her eyes and give look to kunj.
Twinkle: haa Natasha you check dresses I'll help you na. He bite her earlobe and sucking too.Kunjj she try to push but he come more closer to her. She can't talk to Natasha. Uff
Natasha: kya hua.
Kunj: leave na this phone twinkle in low voice.
Twinkle:side the phone kunj let me talk na.
Natasha I'll talk to you later.
Natasha: kyu kya hua tera pati nahi karne de raha hai kya.Twinkle put the call on speaker.
Twinkle: you ask him.
Natasha: haa hi kunj. He stop and look at twinkle. Please Leave your wife sometime till my wedding let me talk to you.You can do your romance later. Twinkle giggles.
Twinkle:chal Natasha bye.
Natasha:haa bye they end the call. Twinkle laughing out.
Kunj:don't show me your teeth.
Twinkle:whatever.Let me see.She seeing her photos kunj see too see. Hold her from her shoulders.See kunj.Their wedding day photos come.
Kunj:looking beautiful.
Twinkle:you not look less. Natasha wanted her wedding happened like us.
Kunj: by the way twinkle how many rituals happened in wedding tell me na.
Twinkle:I know first.Roka than engagement or Kunj looking at her only.
Pooja before marriage haldi mehndi sangeet chude ki rasam.
Kunj:aur bata. I don't know ??.
Twinkle: than shadi.
Kunj: shadi ke baad.
Twinkle:bidaai grah Pravesh Than. Kunj
Waiting for next only. Suhaag raat.
Kunj: yes suhaag raat. ?. We did everything na.
Twinkle: ha.
Kunj: only not celebrate our suhaag raat. ?. She get shocked. All rituals should be done na she nodded in yes.Than we should too we done all rituals expect than our suhaag raat. Twinkle shocked.Let's celebrate it ???winked at her.She cursing herself why she said this.
Twinkle:kya bol rahe ho.kunj laugh out. Twinkle hitting on his chest. Shameless.
They see their photos. And than lay down in each other's embrace. Twinkle making circle on kunj chest.While he combing in hairs with his fingers. Kunjj we fight so much na before our marriage.
Kunj:hmm.
Twinkle: before you I rejected so many boy alliance.
Kunj: same.
Twinkle: can I asked you something.
Kunj: haa. Ask na.
Twinkle: why you didn't get ready to marry Lavanya. He look at her face. I mean rudra told me everyone ready.
Kunj: haa they are ready but I'm not na. She is not my type.
Twinkle: means??
Kunj:I don't wanted to marry to anyone. My family behind my marriage.Lavanya is cheapku. I'm not interested in her. My family wanted I'll find girl for myself they just wanted to see me groom.Lastly your alliance come and my dadu and family become mad behind you.
Twinkle:you get ready for me. Why you didn't interest in any girl.
Kunj: I never see life like this just busy in my work that's it.
Twinkle: ab.
Kunj:ab nothing important more than you for me.Find myself lucky to got wife like you.Great my dadu and dadi force me to get marry you. If not than how I'll get you.
Twinkle:same kunj.Even I find myself lucky to get husband like you.He kissed on her temple she cuddles him more tightly. Don't dare to think about any girl.
Kunj: kyu?.
Twinkle:because I'm one and last girl in your life.Why this Lavanya calling you.
Kunj:jalkukdi???.Their face is very near. Kunj caress her lips.
Twinkle:sleep now. Don't dare to think this. You'll not get ?.
Kunj:acha let See how much time you'll take.She covered her face with blanket. Both turned and sleep took over them.
__________________________________________
Ufff how was the episode?
Thanks for your comments I'm overwhelmed to see your lovely words amazing everyone make me so happy. 
Thanks again. 
Take the episode I post specially your all. And I wanted to fulfilled your dreams both ffs together don't have time guys still try ?. No proof ?????.. 
Bye love you alla do share your views. 
Next Natasha and purab wedding bells.. 
Allahafiz.

Warning: A non-numeric value encountered in /home/ftpusers/tellyu/public_html/wp-content/themes/publisher/includes/func-review-rating.php on line 212

Warning: A non-numeric value encountered in /home/ftpusers/tellyu/public_html/wp-content/themes/publisher/includes/func-review-rating.php on line 213