Preetan FF : Truth of life (Sequel) Part 2
St Xaviers school 
Pari : di, you are coming to see my match right, hurry up
Khushi : of course you go I will join you in few minutes okay
Pari : sure (leaves happily)
Dev walks in corridor after his class when one young girl with curly hair is running. He is not able to able to see her face properly with hair coming in between them.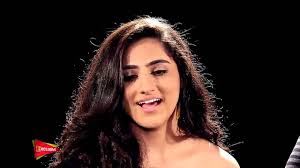 She pushes all her hair back showing face finally. Dev is lost in her glamorous face.
Girl : I am so sorry, your books (helps him pick up the book)
Dev does not let his eyes move from her
Girl : hello (waves her hand)
Dev : sorry, thank you, I never saw you before in this school
Girl : no I came for another school to meet dean can you tell me where is office
Dev : sure come, this way
Girl : by the way I am Zara Khan
"Dev Luthra" shakes hand with her
Zara : nice, are you senior too
Dev ; yes, last year then college , where do you go
Zara : trinity, even I am senior
Dev : here we are, that is office of dean
(shows her way)
Zara : thank you so much, it was nice meeting you bye (leaves with smile)
Ek Din Kabhi Jo Khud Ko Taraashe
Meri Nazar Se Tu Zara, Haaye Re 
Aankhon Se Teri Kya Kya Chhupa Hai
Tujhko Dikhaaun Main Zara, Haaye Re
Ik Ankahi Si Daastaan Daastaan
Kehne Lagega Aaina Subhanallah…
Jo Ho Raha Hain Pehli Dafaa Hai Wallah
Aisa Hua, Subhanallah..
Jo Ho Raha Hai Pehli Dafaa Hai Wallah
Aisa Hua
Khushi : dev what are you doing here? we have to watch Pari's game
Dev : sorry I was helping somebody lets go
The duo goes to ground for Pari's hockey practice. Coach had made her captain of the team due to her abilities.
Khushi : what a game amazing sister, you are so talented
Dev : when is your tournament ?
Pari : after one month bhai, so for next weeks I have to stay here for late practice
Khushi : great (gets excited) sorry I have to go for my dance practice guys now see you
Rajiv : strange you never invite us to see your dance practice why
Khushi : my dear shorty you will see me live on big screen soon
Pari : okay di now go you are already late, but meet me here after
Khushi : alright give my bag, love you (leaves giving hug to Pari)
Pari ; my silly sister
Khushi runs to a house nearby after practice to meet somebody. She climbs the wall from backside to a room. A  young guy does work up in room wearing black tees named Yash.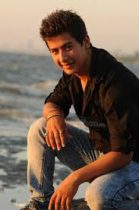 Yash : finally you got time to meet me, (asks her while working out)
Yash and Khushi are childhood friends studying in same school. Their friendship is only known to Pari in whole family.
Khushi : if you don't wait for your best friend whats the fun
Yash : god knows what type of connection he made in your brain, and why did you come from back side in short clothes
Khushi : give me a break first, so many question are injurious to health (sits on his back while he is doing push up)
Yash : I am working out to make body and not break my bones get down
Khushi ; buddy you forgot who I am, not from those shy girls
Yash : of course I know, you are god's unique creation now get down please
Khushi : oh sorry, now listen my dance show is coming soon before graduation
Yash : what do you expect? I come there to bring your gift no way
Hospital 
Preeta goes through the files of her patients but her mind is still stuck somewhere with Karan and Dev's worries.
Flashback
Doctor : till Dev does not get a donor he will live on this dialysis machine, as he grows up things might more complicated
Preeta : what is the solution then?
Doctor : this problem is such that kids often lose their self esteem too, you have to take extra care of him diet, school, healthy
As dev grows up, he is distanced from his friends due to medical condition. He is not able to hang out with friends and starts staying alone
Flashback ends
Her phone rings
Preeta : hello
Kritika : hey how are you?
"I am fine, after long time you called me, is everything okay" Preeta asks her
Kritika tells her everything
Preeta : god, you have to make her understand things does not work out like this
Kritika : I told her but she is not ready to listen anyway you say how is Dev, did you find any treatment for him
Preeta : not yet, what should I say? my son has become so alone I don't know what to do, only Khushi, Pari and Rajiv are his solace
Kritika : lets do one thing, in vacation we plan a trip to somewhere what say, our kids will also meet each other
Preeta : sure I will talk to Karan and let you know, listen I have to visit patient take care
Kritika ; bye