PEHLA NASHA ~TWINJ SS SHOT 14
PEHLA NASHA ???? TWINJ SS
Expect the unexpected..?
SHOT 14
The Episode starts with Kunj smiling looking at the photos amidst tears in his eyes…
Though I was against opting parenthood so early but that day was blissed when I saw them both my cuties who really made me realised the responsibility of a FATHER Kunj murmured …
He sees his phone ringing and it flashed samaira he smiled and picked up the call …
Hello pa..pa the babyish voice spoke from the other side…
How's my cutie Kunj replied her back smiling ..
I am all good and you she asked back
Even cutie's papa is good Kunj added standing up and going down …
What you did today baby ??? Kunj asked her while she cutely told him what all she did in her day …
Ohoooooo so Ashi is having fun Haan Kunj added while she hummed ..
But i miss you alottt she added puppily ..
Hawww papa missed his doll as well chalo it's quiet late baby you should sleep now Kunj added ..
Love you she said ..
Love you too alottt Ummah Kunj added while samaira took the phone ..
Huhuh talked to your ladli Haan ? she added while Kunj giggled ..
Never loved your baby sister so much she stated jealous
Huhuh but I am papa's baby Ashi added showing tongue to samaira while Kunj giggled ..
Acha bhai bye samaira said ..
Bye give her medicines Kunj added worried ..
Yeah ask her to take samaira added..
Ashi baby pleaseeeee Kunj stated ..
No it's so yucky she added ..
Acha if you take it I'll come there soon to meet my doll Kunj added while she agreed and took her meds ..
My good girl now sleep he added ending the call and going down and joining everyone for breakfast ..
So it's decided that I'll go bebe added while Kunj asked them about the topic ?
Are bebe wants to visit Meera as it had been long Usha added..
Huhh bebe just loves her elder granddaughter Kunj added while Arohi giggled seeing her jealous father ..
Even i want to go she added…
Arohi ???? Manohar said Shockingly ..
Nah baby you stay with us Usha Told her ..
Even Kunj will not agree to send you bebe added while she puppily looks at Kunj ..
Okay you go with bebe but don't cry calling me pa..pa I wa..nna go home Kunj mimicked her while the rest giggled…
Huhuh Katti papa she left stomping her foot while the rest were shocked ..
See her anger Kunj said ..
Now go and manofy her bebe said while he hummed …
Such a drama queen Kunj added he went and sees her sitting on the entrance stairs …
He just lifted her in his arms ho ho look someone is looking like cherry I wanna eat this cute cherry Kunj added while she burst out crying …
Areyy Arohi I was joking baby Kunj added ..
I'll not talk to you she added ..
Acha ?? then I'll have ice cream alone as Arohi is angry with me Kunj teased her again ..
No I'll have ice cream but will not talk to you she added …Kunj went taking her inside and moved into kitchen while Manusha and bebe smiled …
The duo father daughter had their ice cream Kunj wiped her lips properly ..and also pacify her anyhow …she forgave him too …
2 days passed in jiffy bebe and Arohi was going the next day Kunj and Arohi went to Gurudwara …
It's good that Arohi will be with Meera di I can go and meet Ashi in that time babaji please make twinkle remember everything and also make Ashi fine soon I just beg you one thing please unite my family we all are scattered …I can't see my babies like this ?Kunj prayed ..
He went out and sees Arohi again admiring the pigeons twinkle too greeted them from back …
Hi Kunj replied her back ..
Arohi too hugged twinkle tightly while she smiled…
They both talked for sometime when Arohi shared her excitement of going to meet Elena ..
Ohooo twinkle got sad ..for how many days you are going ??? She asked…
Don't know Arohi said puppily
For a week Kunj added sitting beside them ..
Kunj can I take Arohi with me today ? Twinkle asked while he looked at her…
You want to go ? He asked her while she nodded in yes..
Okay take her Kunj said while twinkle and Arohi jumped in excitement and Kunj dropped them to Taneja Mansion and left from there…
Look who's here twinkle cheered happily while the rest were sitting in hall ..Lert got happy seeing Arohi while Avni was handling Ishani …Meher was in room resting as her last days were going on while Abeer was with her …
Arohi met everyone while Abeer too came out after Meher slept he smiled and kissed on Arohi cheeks ..
So my doll is back he said while she nodded in yes …
They all spent the time with Arohi happily while everyone was happy still their happiness was incomplete …
Abeer dropped Arohi back to sarna mansion at night while Kunj packed her all the things ..
Next day Kunj Arohi and bebe met Manusha and left for airport ..Kunj was going to drop them at meera and then taking flight for London …
While Arohi was chirping happily in the whole flight soon the reached Banglore and Varun picked them up ..
Kunj London flight was in night so he too went to Meera house till then ..
He met Elena and Aryan happily who was happy to see Arohi at their place …
Varun and Kunj was teasing each other while Meera called them for lunch all had happily ..the day passed and Kunj took his another flight …
.
Next day
he reached London and happily Ran to the hospital where many kids were present he went in side and sees Ashi …who were doing her exercises with the help of her physiotherapist he painfully looked at her…
Very good Ashi doctor said and left to see another patients …while Kunj went towards her and lifted her slowly ..
Guess me he said ..
Pa..pa she shouted happily while Kunj turned her towards him and hugged him ..
See my doll wanted me and I am here Kunj added while she pecked his cheeks ..
I missed you alottt she said ..
Even I Kunj added and met her physiotherapist ..
She had a lot of improvement she is almost fine mr sarna doctor told while Kunj smiled happily ..
He took her from there to sarna house …while samaira who went to pick her up didn't found her ..
Where is Ashi sarna ??? She asked nurses ..
Oh she left with her dad nurse spoke and left ..
Bhai here huhuh he didn't informed me samaira said she went out and sees arhan who was waiting for her in car ..
Where is doll ? He asked..
Bhai took her samaira said sitting in car ..
Kunj here ? When he came arhaan said ..
Don't know samaira replied they too left for sarna house …
They reached and heard laughing sounds of both Kunj and Ashi who was having a good time playing games…
Cheater cheater Ashi said ..
Why cheater Haan you duck kunj added pecking her cheeks ..arhmaira admired them ..
If you father daughter done with game then tell me when you came bhai ? Why you didn't informed me Samaira said sternly ..
Bua becomes angry bird now Ashi said making haww expression while arhaan and Kunj giggled….
You duck samaira said ..
Are I wanted to suprise you all Kunj added ..he met arhmaira and apologized..
I was so excited to meet Ashi and forgot to inform you guys Kunj stated..
It's okay arhaan too added they hugged..
Arhaan chachu Ashi said ..
Haan bolo meri Jaan arhaan added
Show that papers to papa Ashi added…
Yeah wait arhaan added..
Which papers baby ?? Kunj asked her while arhaan brought the uneven sketches made by her in free time while Kunj smiled…
It's so beautiful he said ..
Haan ?? Ashi asked happily while Kunj nodded in yes…
Yes just like you he added…they all talked for sometime ..
You know papa arhaan chachu gave kissie to Bua here she said pointing on cheek ..arhaan cupped his face in shock while samaira blushed ..
Ashiii ?? you shouldn't tell this baby arhaan added…
Hehe good one ? Its karma atleast someone is here to keep an eye on you Kunj added giggling ..
Haan you left your cctv with us na arhaan said while all burst out laughing ..
Soon the day passed Kunj and arhaan together making dinner ..while samaira was with Ashi making her block house ..
Arey one block is left Ashi said she got down the couch and started to walk with difficulty and then slipped …
Ashiii samaira hold her Kunj and arhaan too came out and sees her ..
Kunj went to her worriedly are you fine ?? He asked while she nodded in yes..
Yes I am fine she said I am your strong bacha na she added..
Yes you are ?❣ Kunj hugged her tightly while arhmaira lay the dinning table ..
Kunj fed Ashi while she was telling him everything happily …soon arhaan left back for his home which was beside sarna mansion samaira went to her room and Kunj went to his ..
He entered with Ashi in his arms who was sleepy still she didn't wanted to sleep …the room contained all the pictures of sarna family Arohi and Ashi childhood pics and everything ..
Papa where is Mumma and Arohi ? Ashi asked…
They are in India baby Kunj said taking the massage oil …
He sat on bed with Ashi and started massaging her legs and also gave her hair champee…
I miss everyone she said hugging Kunj ..I wanna meet Mumma she added teard
eye ..
Next time when I'll come here I will take you back Kunj said pulling her on his chest laying on bed ..
Pakkaa ? She asked happily ..
Pakka Kunj pecked her nosetip patting on her back while she slept …
I have to bring twinkle back in my life till now Arohi was feeling her absence but now even Ashi .. Twinkle your angles needs you yaar please get fine soon only you can fill this void Kunj murmured ..
.
On the other side twinkle was feeling restless …no one was at Taneja Mansion they all went out with Ishani while only twinkle was at home ..she went in Leela and rt room and started searching for something soon she picked up an album and started crying badlyyy ..
❣❣❣❣❣❣❣❣❣❣❣❣❣❣❣❣❣❣❣❣❣❣❣❣❣
Kunj moved towards the cradle to see them both sleeping peacefully nuzzling in each other embrace ..as from the past night months they were together …his eyes filled with tears seeing them …this blessings he was denying the beautiful feeling of the world ..he felt guilty of not wanting them once …twinkle woke up in the mean time and sees Kunj …she tried to get up ..while Kunj heard the voices behind and sees twinkle struggling to get up he quickly moved towards her and kept a pillow behind her back ..
Kunjjj ..
Twinkleeee
Both were teard eye one was guilty while the other was scared of his rejection ..
We got girls twinkle told him but I know you didn't wanted this she added while Kunj stopped her from speaking further he sealed her lips while she was shocked but soon gave in …
I am sorry twinkle he spoke cupping her face I know I was idiot but I promise you I'll take my every responsibility Kunj assured her while she looked at him…when they heard a knock on the door ..
Shall we come in ?? They heard their siblings voice …
Come Kunj said ..
Abeer Meher Avni Meera samaira came in ..
Congratulations all shouted ..
Please don't shout they slept just now twinkle told them ..
Ahaa Abhi se possessive Abeer said ..
Yes twinkle added…they all talked for sometime and everyone left including Kunj asking twinkle to rest …
While Abeer and Avni was not leaving twinkle room they just wanted to be with the babies ..
Leave I said twinkle shouted seeing them moving towards the baby cot …Leela too entered ..
Maa ask them not to wake up my babies twinkle said ..
Abeer avni go out and see them later Leela told sternly …
Huhuh both made puppy faces and left..
She is behaving like that hen who doesn't let them touch her chicks Abeer murmured angrily while Meher giggled…
Kunj too returned back to TM with lots of shopping bags and sweets he fed everyone happily while twinkle came down with the help of Leela while the nurses brought the babies after that twinkle filling their tummies both were awake..
Why she is discharged in a day ? Kunj asked she is not fine still he added ..
Zid ziddhi Kahi ki Abeer said…while the rest giggled…
She didn't wanted to stay at hospital rt told him ..
Let me take them Kunj said moving towards the nurses who forwarded him Arohi first as she was elder followed by Ashi ..they both were looking at him with their buttoned eyes ..
are they identical ? Kunj asked ..as both were looking same…
Yeah almost but the first baby got twinkle features eyes and lips like her while the second went on Kunj Meera said…
What's this first and second we should name them first Manohar said..
Yeah 2 days later it's twinj first anniversary let have naamkaran on the same day Leela told while the latter everyone agreed ..
They all were obsessed with twinj babies and wasn't leaving them even when they are sleeping while twinkle was happy seeing everyone craze for her babies but still her moodswings they have to bear by her poor siblings Abeer and Avni …
Soon 2 days passed twinj wished each other happy anniversary in night seeing Ashi and Arohi sleeping in between them peacefully ..they pecked their forehead and slept carefully with them…
Next day all were busy in the arrangements even arhaan and Varun too joined them ..Avni and Samaira both were doing their masters from London they stays in same hostel together ..they came back during twinkle baby shower …
Akshay and sanvi (arhaan parents) too joined along with arhaan who joked with Manusha about getting arhmaira relation fixed ..but who knew that one day their this wish would be fulfilled…
Twinkle got ready beautifully by the make up artist ..both the babies were on bed playing making noises twinkle went towards them and pecked their cheeks she started changing them Kunj entered her room and smiled seeing the trio he secretly clicked their pics..
Ready ??? Mrs sarna and junior Darling sarnas ? Kunj asked while babies made the sounds twinkle smiled…they both hold Ashi and Arohi in their arms and went down all smiled seeing them ..
Soon they sat near the priest keeping babies away from the smoke ..while Kunj asked Meera and samaira to name them respectively..
Meera took the first baby and spoke name in her ears followed by samaira ..
So what you both buas decided ? Abeer asked…
Hehe so first baby name will be AROHI KUNJ SARNA Meera told ..while all smiled and second cutipie name will be ASHI KUNJ SARNA samaira added while all liked the names ..
Sarna and tanejas started distributing many things around the people to thank babaji for blessing them with those two cuties ..
Arohi is like twinkle and Ashi is like Kunj Abeer said ..
Yeah true Meera added…Arohi is yours and Ashi is ours she told Abeer ..
Achawwww Abeer said ..??
But both the babies are ours Manusha leert spoke taking the babies from Meera and Abeer ..
Huhh papa I just took her Abeer cried…
Even I papa Meera told Manohar ..
You see your babies first bebe said pointing towards Elena and Ishani who was about to cry seeing their parents ..but it was too late they started crying…while mehbeer and meerun was handling them ..
Huhuh ask your babies to learn something from mine see how quiet they are Kunj said keeping hands on his ears .
.
Even Arohi and Ashi started crying hearing Elena and Ishani cry ..while Abeer and Meera passed Kunj a stern glare ..
Huhuh learn something from them they mimicked him …
You used to call my babies trumpet Haan what's yours ??? Flutes ??? Meera taunted Kunj while he made faces ..
Aryan who was nearly 3 years old was seeing the 4 girls crying he decided to add up his share as well he too ended up crying …while the elders laughed together …and the couple's holds their heads ..
All the 5 (Aryan Ishani Elena arohi Ashi ) were crying together ..
Areeeeeeee there is no crying competition going in here babies Kunj said ..
It feels like we are seeing cry baby cry reality show samaira said while Kunj pulled her hairs ..
Shut up he added ..
Now this baby will cry as well arhaan added while samaira complained Manohar ..everyone were laughing badly ..
Twinkle handled her babies taking them back in room same with mehbeer and meerun …
At night they cut twinj anniversary cake happily while the babies were sleeping they took many selfies together …twinj went back to twinkle room with the babies while both sat on the bed beside each other Arohi in Kunj lap and Ashi in twinkle's both were awake looking at their parents …
Ho ho see babies it's miracle your Mumma didn't demanded any gift from me Kunj added while the duo looks at them playing with their fingers …twinkle kept numb ..
Things aren't same anymore she spoke quietly while Kunj too stayed numb he had hurted her enough he wasn't with her when she needed him the most …
How should I rectify ? Kunj asked lowly while the baby sounds again distracted them ..
Okay okay chalo babies ask this sadu what he brought for me twinkle added looking at Ashi ..
Wait Kunj said and carefully with Arohi in his arms he picked up a file and went back on bed ..
He handed it to twinkle who read the file ..
What's this ? She asked..
I told you I wanted to start my own company so here is the file of the place I brought and it is on your name ..Kunj added twinkle looked at him ..
And whenever I'll start my industry it will be on my angels name ARohi and aSHI name Kunj added while tears Welled up in her eyes …
But I didn't brought anything for you Kunj twinkle said keeping the file in side ..
You already gave me something more than I deserve Kunj said pecking Ashi forehead who was in twinkle lap followed by Arohi …
He sidehugging twinkle by pecking her forehead as well ..happy anniversary again he added while she pecked his cheek ..same to you they sidehugged looking at their babies …
The peaceful hug which was reducing the raised distance between them ??
after 2 weeks Avni samaira went back to London for their studies twinkle went to SM where she was brought with so much love everyone was damn excited for the babies …Kunj decorated whole house and was impatiently waiting for them ..
Both of them became heart of sarna family as well as Taneja family ..twinkle got busy in her daughter's her whole life now added up with her daughter's she was damn possesive about them ..even Kunj he used to have a lot of fun with them everyone was happy ? ?
❣❣❣❣❣❣❣❣❣❣❣❣❣❣❣❣❣❣❣❣❣❣
One week passed Kunj spent a lott of time with Ashi who got really happy with her father suprise visit …
She always wanted to go back with him but Kunj had to keep her away from everyone as he didn't wanted anyone to be in pain seeing her condition she was recovering by her father love as well ..he was happy and he couldn't wait to take her back to them ..
It was last day of Kunj in London and he was going back today he decided to spent whole day with Ashi they both went out and roamed around …Kunj was happy seeing her happy arhmaira too was happy for them …
They went in shopping mall where Kunj was selecting clothes for her and Arohi ..
No no this one Ashi said showing him ..
But it's too big for you piddhi Kunj added while she frowned ..
Huhuh ?you only select then she added folding hands on her chest while Kunj murmured "Siyappa queen mirages" ?
Acha see this Kunj said while she stands Kunj took many dressed while she loved he took her and then they enjoyed Ashi double cheese burger ..
Finish it properly Kunj added ..
No enough she said throwing her hands in defeat ..
Fine Kunj added anything else you want my highness ? Kunj asked sarcastically ..
Uhmm she said ..Noodles she added
Okay Kunj ordered her while make her eat she left it as well after having 4-5 morsels and Kunj sighed ..
Then they pay the bill and went to select stoles for samaira and Meera as they loved it …
While Ashi was helping Kunj she picked up one ..
This one for ? Kunj asked ..
Mumma she said ..give this to Mumma and tell her I miss her Lott she spoke while Kunj hugged her ..
This must be really special for Mumma he added while she gave him her beautiful smile both went from there ..
Kunj was teasing samaira and arhaan was fighting with him while Ashi was on couch seeing them she sees Kunj phone ringing and picked up the call ..
Hello Kunj twinkle spoke from other side…
Hiiii…???? Ashi said ..twinkle stopped for a while hearing her voice ..
Hello ? Twinkle said again …
Ofoo Ashi spoke patting her head she took the phone to Kunj …twinkle on not getting any response disconnected the call..
Papa she said while Kunj looked at her ..
What happen baby ? He asked..while she gave him phone …he lifted her as well they all went to have dinner ..and then Kunj left …
Take medicines on time have your exercises properly tease Bua as much as you can and keep an eye on chachu okay doll Kunj said while arhmaira makes faces and Ashi giggled ..
Yes she said pecking his cheeks ..
I love you and will take you back next time pakka Kunj added…
I love you too she added Kunj smiled kissing her forehead he left back ..
Even Arohi had a lot of fun with her cousins and Varun made sure that she loved every bit of staying at his place he took leave for her and made her roam everywhere …Kunj picked up bebe and Arohi and went back to Amritsar …
Next day :::
They reached and was sleeping peacefully Kunj woke her up taking her to Gurudwara while twinkle too visited there it was like their place to meet …
Kunj and twinkle prayed along with Arohi they went out and sat ..
So did you had fun ??? Twinkle asked Arohi ..
Alottt she added ..
Acha what you prayed today ? Twinkle asked her excitedly ..
I prayed babaji to send my Mumma Arohi pouted at her while Kunj too listens twinj shares an eye lock ..
Hoooo Arohi see those pigeons you didn't gave them food today Kunj distracted while she ran happily her fear of feeding them also disappeared ..
Twinj sat in silence beside each other ..
Twinkle ..Kunj spoke lowly ..
Hmm Kunj she added ..
Don't beat me I have to ask something he added while she looked on ..
He held her palms in his will you marry me ??? He asked even he didn't knew why he said so Arohi words had a great impact on her he couldn't wait more for her to recall everything even he was falling apart seeing them ..
Twinkle was loss of words with his sudden proposal she didn't knew what to say …
Kunjjj she added …but why ? She spoke just 2 words ..
I can't tell you right now but please answer me Kunj added ..while twinkle looked at Arohi she closed her eyes ..
Yes she said while Kunj looked at her ..
Are you sure ?? Kunj asked ..
Hmm yea ? twinkle added .
Great I'll take to everyone both of them had their own reasons of this conversation …one wanted his babies mother back and anotherrrr…..she only knew ?
Twinj went back home while Kunj informed sarna family who was shocked with the sudden decision made ..even twinkle broke this news at Taneja Mansion ..
I want to marry Kunj she said while the rest were shocked Yuvni who entered TM were shocked as well ..
But twinki ? You are engaged to Yuvi na Avni asked confused ..
Haan she was joking she was telling about Yuvi only Abeer added ..
Nahi abeer bhai no more lies now we should tell Avni everything Yuvi said coming forward…
My and twinkle roka was fake as everyone knew about our love they wanted you to unite with me being jealous but as you said it's nothing for you then even I will not try more ..Yuvi added looking at Avni ..
Let it be papa we shouldn't have to act anymore and yeah now coming back to twinkle she wants to marry Kunj he added ..
Yes papa twinkle said ..I don't know but I just wanted it she added ..everyone were in dilemma rt left for his room …
Day passed soon no one said anything while rt went out …Kunj too was in the same place he sees rt who was sitting on bench there he took seat beside him…
You ??? Rt said ..
Haan I came to meet some clients Kunj told him..
Hmm rt hummed in response ..
I think twinkle must have told you Kunj added slowly ..
Yea rt added ..first time I selected you for her and this time she he added again ..
Trust your choice papa and let her go with me I won't let you disappoint this time Kunj added genuinely..
But rt said ..
Think about Arohi once papa she needs twinkle Kunj said ..acha I promise if this time I fail to keep up my relationship Kunj added he stopped and closed his eyes ..
Then you can take twinkle back along with Arohi I won't even say a word Kunj added gulping in while rt was shocked…
You are ready to do this ?? He asked..
Yes if it brings my happiness back in my life I am ready to do anything Kunj added ..both sat in silence and then left for their respective places ..
Rt told everyone that he is okay with twinj wedding making everyone happy while he called Kunj ..
I just said yes as Arohi needs twinkle nothing else I trusted you always don't let me down he added ..
Thank you Kunj added happily he informed to his family as well who were happy as well …
Then twinj decided a simple wedding in presence of their family members ..Arohi was happy as well…
.
Wedding day ::
Everyone was happy as again their families are going to get united they all Wished for happiness returning back in their life Kunj was all set while Arohi entered the room …
Come Arohi I have to share a secret with you Kunj said she sat on his lap ..
You wanted to see your Mumma na ? He asked while she nodded in yes he showed his and twinkle previous Wedding pic …
Twinkie she said..
Uhmm Mumma Kunj said ..she is your Mumma he added ..
But why she didn't stayed with us ? She asked him confused ..
Because Mumma wanted you to love her more when she returns back here and see she will return today babaji is fulfilling your wish aren't you happy ? Kunj asked..
I am soooooo happy Arohi chirped ..Kunj pecked her cheeks …
They went to TM and was welcomed by tanejas after a long time manusha and leert met …the rituals started Ishani and Arohi was jumping happily ..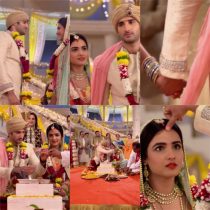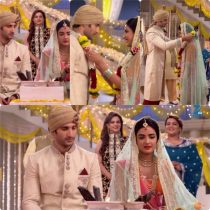 Twinj got married again in presence of everyone Meera and samaira couldn't make it due to their busy schedule …Yuvi was happy for twinkle ..
Soon the bid farewell takes place everyone was happy that twinkle was going back to her home ..and wished that she remembers everything back ..
.
@sarna mansion ::
Twinkle was welcomed warmly with all the rituals while Arohi gave her a card ..while she made ..twinkle kissed it and hugged her ..
Welcome back Mumma she spoke making her heart swell and tears filled up in her eyes …
The elders retired to their room after twinj with Arohi went in their ..
Arohi and twinkle was in twinj room while Kunj too entered ..
Papa come here Arohi said he went and sees them ..
You didn't got any gift for Mumma she said ..
Hah then Kunj remembered something he take out the stole Ashi selected and forwarded to twinkle…
Wow it's so pretty Arohi said twinkle opened it ..
And special too Kunj added..the trio smiled…twinkle hugged it thanking Kunj for it ..
You both stay I'll just come Kunj went outside while Arohi too went downstairs to bring something ..
Twinkle looked at the room with tears filled eyes ..
Finally I am back in my house ?after so long painful separation she added ..tears flowing through her cheeks …
To be continued ?
________________________________________
Tada sorry for the delayed ?
But I don't feel like writing yaar seriously I am posting for you guys ?
So hows the shot ?????
Twinkle ? …how's Ashi ??????
Story is nearing its end only few revelations are lined up ahead ???
Share your views ..
Thanks to everyone who all commented on the last ?..
Ignore errors no proof read ?
Bye Allahafiz ?