Nadaan Dil ragsan episode 12

Warning: A non-numeric value encountered in /home/ftpusers/tellyu/public_html/wp-content/themes/publisher/includes/func-review-rating.php on line 212

Warning: A non-numeric value encountered in /home/ftpusers/tellyu/public_html/wp-content/themes/publisher/includes/func-review-rating.php on line 213

Hello guys ….thanks for Ur support
Few days pass…ragini tries her best to ignore Sanskar …she tries to reason with herself that laksh is her love but the truth is she is now feeling very uncomfortable with laksh.whenever her hand brushes against his or whenever he tries to get cosy with her she feels that she doesn't belong to laksh well not anymore atleast..she doesn't want to agree but she was longing for Sanskar..his touch..his feel against her ..his care..his smile his friendship but nowadays Sanskar is barely present around her…infact he goes out of the house before she gets up and comes back late night…no good Mornings or good nights..
She looks at kitchen …it was reminding her of how he used to make her favourite coffee..she could see ragsan sitting there happily and talking ..smile crept to her lips.. suddenly they disappeared..she closes her eyes and turns around..
One the couch Ragini was sleeping in Sanskar's lap..
Sanskar: ragu ..enough go and sleep in room..
Ragini: I want to finish this movie..
Sanskar: ok I will go then I am feeling sleepy..it's 2:30am
Ragini: no.i will get scared..how mean.how can you leave Ur bestie like that..Laksh said na take care of me..
Sanskar : emotional blackmail…see what I will do…
he takes the popcorn she was eating and pours it on her..
Ragini hits him on head..soon they start pillow fight…ragini sits on his stomach and hits him with pillow..he turns her around and tickles her..Ragini laughs out loud
She was still laughing when someone taps her shoulder..
She turns around to see confused laksh..
Laksh : what happened?
Ragini immediately looks towards the couch..it was empty..no Ragini .no Sanskar..no laughter.. everything was missing..even her bond with Sanskar was missing
She looks at laksh trying to cover her saddness.
Ragini : nothing..r u going anywhere?
Laksh: yeah for an interview.
His face becomes disappointed..
Ragini places her hand on his shoulder.
Ragini: u will definitely get this job laksh…I am sure..
Laksh smiles sarcastically.
Laksh: I am not so sure Ragini..10 interviews but no luck.
Since the day laksh returned he was trying for new job but everyone wanted to know his reason for rejecting such a good job with 2 laksh salary per month..when he didn't answer they would reject him..But never did he blame Ragini..he took everything with maturity…
Ragini: don't worry laksh..by the way which company..
Laksh smiles.
Laksh: I will tell u later..
Sanskar : laksh..
Both raglak turn to find Sanskar standing there with his luggage..mostly Ragini was shocked…she felt really weak seeing him with luggage..
Laksh : r u going for any audition.
Sanskar : no I was thinking to try my luck in Delhi…also I am getting opportunities there..
Ragini was shocked..it felt like the ground beneath her has been shaken..
Laksh : why all of a sudden..
Sanskar: my mood is not good. I want to go away and spend some time alone..
Every word was stabbing Ragini..
Laksh: Sanskar r u okay..please tell.me what ever it is..I am seeing that u r upset since many days..
Sanskar : it's nothing Sanskar I just want to be alone for few days..
Laksh: u feel like that ok then but please try not to go…
Laksh leaves after hugging Sanskar..
Ragini was standing not knowing what to do
Sanskar looks straight at Ragini…
Sanskar: goodbye ragini…
He goes past Ragini….
Ragini holds his hand..
Ragini: don't go Sanskar..why r u going?
Sanskar: why should I stay Ragini..
Ragini comes face to face with him
Ragini: it's Ur house..if u r uncomfortable then me and laksh will leave..u please don't go.
Sanskar : this house is filled with our..I mean Ur memories..u don't love me. So just let me leave.
Ragini: think about Sahil,Arjun,and Rahul..dont be so selfish…
Sanskar leaves his bag and pins her to the wall angrily…
He holds her cheeks tightly..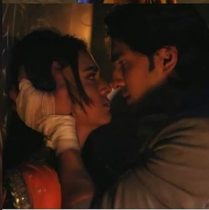 just imagine Sanskar in place of ratan..I could not edit it
Sanskar:selfish huh..me ..u don't talk about selfishness Ragini..it doesn't suit u..u used me when laksh wasn't here…when he came back u left me.
Ragini pushes him
Ragini: I was drunk.. I was unconscious
Sanskar: fine..let me go…because I was conscious when that happened and I love u…I can't see u with anyone especially laksh.. instead of causing trouble to u let me just go..
Ragini doesn't understand what to do…
Unknowingly she back hugs him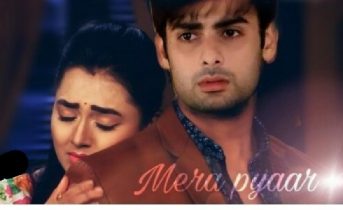 He turns around to go..Ragini in full confusion drags him and places her lips against his lips
Sanskar tries to resist but he fails infront of her force..he holds her hair tightly and kisses her back.. suddenly Ragini gets lost in him..she scratches him on his back..which almost tore his shirt and was bleeding but both of them ignored it and were lost in the bliss of the kiss…
Finally Ragini broke the kiss.
Ragini: please don't go..
She murmured against his lips..
She ran away from there crying..
A smile spread on his face…
Sanskar: how much ever u shout Ragini that you don't love me..but today u proved u love me..but I will have to do something for Ur confession..I know u don't want to confess because of laksh.. even I feel sorry about him but I know laksh will understand…z
He looks towards her room…
That evening..
Ragini(in mind) : what is wrong with me. Why am I so worried about Sanskar ….why the hell did I kiss him..I don't love him..
She heard a laugh..she turned around to see herself..
Ragini1 : what Ragini confused huh..
Ragini: I am not confused I am sure I love Sanskar( she bites her tongue)..I mean I love laksh
Ragini1:u can't even bring urself to say that u love laksh and u say u love him..I am Ur heart I know it. U love sanskar
Ragini closes her ears…
Ragini: do I love Sanskar?
After sometime she removes her hands and hears doorbell.
She opens it to find laksh..
Ragini: what happened laksh?
Laksh: I got the job..
Ragini: wow..
Laksh: In a call centre..
Ragini's smile fades..but Ur a MBA graduate..How.muvh is the salary..
Laksh: it is 7000 pm..but it's okay I am happy I get to be with u..
He pats her cheek and goes up .
Ragini( in mind) : he was in US . he used to get salary in lakhs but now all because of me..It will be selfish of me to.leave him and Love Sanskar
She heard a knock and opens the door to find a hot girl in blue dress.was standing infront of her..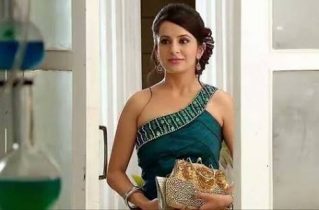 Ragini gets shocked seeing her .
Ragini: diii?
Kavya: baby…surprise.
Ragini( in mind) another problem..
precap: kavsan bonding Ragini jealousy

Warning: A non-numeric value encountered in /home/ftpusers/tellyu/public_html/wp-content/themes/publisher/includes/func-review-rating.php on line 212

Warning: A non-numeric value encountered in /home/ftpusers/tellyu/public_html/wp-content/themes/publisher/includes/func-review-rating.php on line 213