My life is your smile (ek deewana tha ff) chapter – 16 shivangi obsessive shivani.
Chapter :- 16…
Aki and shivi run from goons…
They are going to the forest while running and hide behind one small old house …
Shivi tris to call her phone ..
Aki looks at her…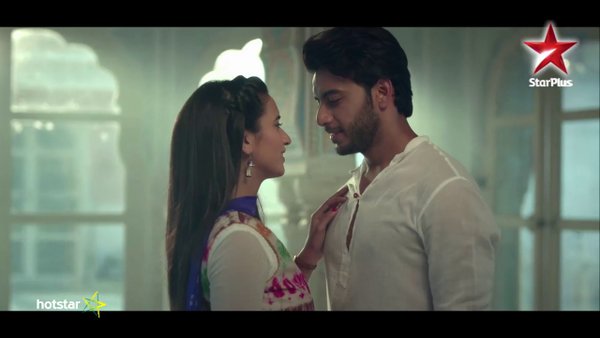 Aki:-(in mind) This ghosty make fun with my feeling and make trouble to kk but still my heart believe her … i think she is not in fault … why???
She's so cute….
Shivani turns to his side while he turns other side….
Shivi looks at him lovingly ..
Sh:-(in mind) I hide that i didn't tell anything to bhaiya because i don't want to make you confused …
Sorry for hurting you..
If you cry my heart pain somuch …
I'll find who is that third person make our relationship as hell…
(She remember how akash tells her that he love her…)
(She smile thinking that but that Smith change as sad one suddenly)
I know aki you're loving me but i can't .. my ambitions and my path are different from yours …
I can't involve you in my live
I want you to live happy charming life so don't love me akash please forgive me…
Akash turns to his side…
A:- why are you looking at me like this? ?
S:-nothing ….
A:-why you lies to them like that..
S:-sorry … this papers are important for many life..
A:-what??
S:-you'll not understand and i don't have much time also describe … but hope I'll never let anything happen to you because of this goons …
Please ..
A:-I'm not a selfish to run for only my life… and this is also my academy papers na .. i also have some responsible towards my academy …. and i know how to save my self…
(He also makes call)
S:-signal is weak ..
A:-i know..
Shivi smiles at his antics ..
……………..
In varun office ..
Anshi realise from varun's holding and leaves from there with angry ……
Varun smiles at her when she leaves…

Flashback shown….
10 years back when they studies at 17yrs old….
In school time….
Varun saw anshi when she control her juniors to done works..
Varun in little fear but anshi comes to her and holds his
Hand and make him compostables …
.
.
Anshi thinks him as junior but varun follows her steps in school ..
.
.
He hates to study junior section that make by his papa to balance study in india when they return from London ..
But two reason in here to he loves his school ..
One is his friendship with arjun and anami ..
Another one is his love bird anshi …
.
.
.
One day she comes to him and give chocolate for his birthday that time …
A:-varun .. why you don't wish me..
V:-anshi madam.. i want to to tell you something ..
A:-don't call me madam i tell you na … I'm your senior not a teacher call me as anshi di ..
V:-noooooooo…
A:-why..
V:-because I like you and i love you..happy birthday ..
(Blushing)
A:-(her mouth turns as o sharp).
Whatttt? I'll beat you.. idiot …
V:-(crying) i love you somuch …
A:-i hate you…
V:-why..
A:-get lost…
……before 5years…….
Flash back shown ….
Anshi meets varun at business compresses in London …
A:-varun …
V:-anshi…
A/n:-what a surprise?
The have dinner together ..
V:-(looks at her with lovingly) still your single na…
A:-what? ?
V:-i mean if you have boyfriend ..
A:-(with smile) no…. you??
V:-yes..
A:-(little shock) who??
V:- i proposed her in my school time but still she didn't tell answer to me but my only girlfriend is she..
A:-what rubbish? If you didn't forget that nonsense ..(with angry)
V:-no(with smile)
She is about to go varun hold her hand by mistake her gurti's duppatta removed …
Varun in shocked ..
Anshi in angry ..
Everyone's looks at them…
Anshi:- idiot .. how cheap you are??
I didn't except this from you?
How cheap ..
Va:-please listen to me?
Anshi leaved from there angrily ..
………flashback ends….
Varun smiles remember their sweet moments when dance in business party before anshi got misunderstood ..
V:- i know you hides your feeling .. wait and watch how'll i get your real feelings?? I know you scold me for avoid me..???
…………….
Anshi in car and think about that how varun holds her and they got eye lock..
…….
They remember each other…
…..oh…..jana…plays in background …
……….in bedi mansion …..
Madhavi removes bad sites from kk…
Everyone are sits in hall….
Anshi also arrived ..
M:-(hold kk hands) why also bad thinks happened to my childrens..
Kk:-(side hugs madhavi) mom relax mom.. everything is ok.. this is just a misunderstanding ..
R:-arjun beta .. but happened ..
A:-(thinks)(kk also sign no) papa … varun got some misunderstand about kk… he thinks kk misbehaved with his sister but that's not him … that is his friend ..
M:-how'll he punish my son for that..
R:-(angrily) arjun he is your friend that why i control my anger else…
Ar:-papa calm down.. kk also have some fault … he also in there when that incident happened .. like anshi for us.. varun's sister also important to him na…
Anshi remember varun …
Ra:-but..
Kk:-papa.. please i also accept my mistakes ok..
Rajan nods….
Ra:- then why chottu became sad and telling he did mistake ..
Arjun in tension ..
Ana:-hah… papa you know na akash is always like that don't accept if anyone hurts family .. i think he thought he didn't save his bhaiya from police..
Rajan nods..
Ma:-where is akash now.. why you all left him .
Ar:-ma .. i thinks it better to him .. he is in sad so he should in with his friends ..
Madhavi nods…
Anshi gets call..
A:-what?? Ahh ok.. ok..
Ok..ok…
Madhavi :-what happened?
An:- ma .. dadi arrived in airport .. i should go for pick up her…
Ra:- why ma come so early..
Ans:-kk please come with me you know na dadi only speak as human with you and akash else she will shout at me..
Kk nods…
…………………
In old room…
S:- how'll we goes from here..
I should hand over this to court..
A:- phone also not working ..
Aki comes to window and check outside …
Shivi looks at room and looks at the wall …
"Vyom..shivangi" written on that….
Sh:-(smiles at that)
Aki:-shivani…..(shouting)
Shivi turns and became shocked ….
…………………..
Kk and anshi wait in airport that time dadi arrived there..
Kk:- dadi… my darling …
Dadi :-(smiles) my bade warrior ..
Kk hugs her and kiss her forehead..
Dadi:-(looks at anshi and strictly)
Hey anshi ..
Anshi greets her and she bless anshi …
D:-when will you marry?
An:-(in irritated) dadi ..
Kk:-dadi.. what's this .. you comes from so long .. come we'll go home first and talks later..
Dadi smiles.. anshi in relive .. they goes to car and sit in…
When kk about to sit in car
Tej and jhanavi also return from dhelli so they also in airport notice kk..
Kk leaves in car…
Tej and jhanavi in shock …
Varun looks at them in tension.
……………
In old house…
Shivi in shock..
Goons hold aki and keep knife under his neck..
Goon:-(with smirk) hey give that bag…
Shivi hides the bag behind ..
G:- if you don't submit this then I'll kill him..
Aki looks at shivi and sign no to her..
Aki breathing fast because of fear..
Shivi in helpless feeling bad for him..
S:- I'll give this but first remove knife from his neck ..
G:-ok…
He removes the knife ..
Shivi holds aki hand and give the bag to goon ..
Shivi drags aki to her side..
Goons give fire to the bag …
Shivi and aki looks shockingly.
Shi:-are you ok..
Aki:- yes.. why you give that to them?
Goons about to go but turns…
G:- you slap me na.. so first I want to slap you..
They hold aki and shivani….
The goons about to slap shivi ..
Akash holds his hand…
Other goons ties shivi in pillar..
Aki:- how dare you to slap my shivani?
Shivi smiles at him..
He push the goon .. goons fall down and gets hurt…
The goons get angry .. and slap aki … aki fall in pillar that shivi in ties… aki became unconscious ..
Shivi in shock..
"Akash.."
The goons going to leave…
One soul enters to shivi body..
Shivi face turn different…
She release from pillar…
Sh:- heyyyyyyy….
Goons turn and smiles at her…
Shi:-how dare you to hit my vyom…. if anything happened to him I'll never in quite …
You all will feeling pain for touch him… because he is vyom .. shivangi's vyom….
Goon :-(with laugh) you're a girl .. what will you do…
Shivani smirks
S:-I'm not a normal girl.. I'm the blessing of makali…
Shivani eyes turn as red…
She became angry..
Goons laugh ..
Shivani walks in air and smiles loudly…
Goons in shock..
Shivani beats goons and throw them air they got panic and shouts in pain…
They run from there with fear..
Shivani backs to normal ..
One soul go from her body..
Shivani feels little dizzy and looks around ..
She looks at unconscious aki and rush to him and lift him in her lap…
S:-(crying ) akash… wake up… wake up akash … open your eyes … please speak to me… please scold me akash …
I'm sorry ..
Because of me thar goons beat you..
Akash wake up..
She hugs him…
Aki became conscious …
A:-(looks at her tears and wake up, hold her face) what happened? Why are you crying?
That goon did anything ..
Shivi hugs akash tightly and smile ..
Akash in confused but response her hug and smile …
A:- what happened??
S:- nothing .. i don't where that goons .. i think there are going from here with make us unconscious … I'll never spare them.. I'm boxing champion you know..
A:-(chuckle ) i know..
She remember the past that she slap aki..
Shi:-(feels embrace )that's misunderstanding ..
A:-(sad) I'm sorry because of me na .. you loss the paper..
S:-(smiles) noo..
A:-(confused) what??
Shivani shows the papers that in table….
….flashback….
When goons blackmail her shivani hide paper behind that time she shifted the paper in table and hand over the blank papers…..
…….fb …. ends…
Aka:-(smile) you fools Them..
Idiots don't check them once..
Shi:-(smiles) yes…
They about to make hi-fi..
Aki remember his fight with her and turns with angry mood…
Shivani pout…
The episode end with shivani pouting face……
Precap:- shivani dance around akash while they leaving from jungle ..?????