Mein Teri Hoon (Piyaji) – A Riansh Fanfiction (Part 2)
MEIN TERI HOON (PIYAJI)
PART 2
THANK YOU SO MUCH GUYS FOR YOUR LOVE AND SUPPORT
AS I GOT MORE THAN 30 COMMENTS ON MY FIRST PART
ONCE AGAIN THANK YOU SO MUCH
HI GUYS I AM BACK WITH THE SECOND PART AS I TOLD YOU IT WILL BE POSTED ON 30th APRIL
READ TILL LAST SO YOU WILL GET TO KNOW WHY TODAY IS SPECIAL FOR ME
AND YES I WAS REALLY DISHEARTENED BY NEWS OF DEMISE OF @S AKA TANISHKA.
MAY HER SOUL REST IN PEACE AND SENDING STRENGTHS TO HER FAMILY. SHE WAS A FIGHTER AND WILL ALSO REMAIN SO.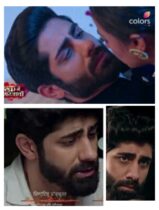 Angre : Boss woh Riddhima ka accident ho gaya hai !
Vansh : What are saying Angre ? Where is she , she can't die until unless I take my revenge from her ( He was speaking very loudly that everybody from manson heard his voice and listened his and Angre's conversation )
Ishani and Ahana were very, they got two good news afterall !
Angre got a call
Angre : Boss my team searched in every hospital but they did not got about Riddhima . There was no accident case in any hospital from last 12 hours and Riddhima's accident would probably would have happened before 2 – 3 hours .
Vansh : Angre find her by any means I want to see her , I want to torture her more in her life . I want her to know that what are the consequences to mess with Vansh Rai Singhania .
He went from there he was very hurt tears were coming from his eyes but he don't know why .
He says : Riddhima why you did this ? I loved you a lot why you played with my feelings , why you betrayed me ?
Next day
At the dining table
All were doing breakfast
Angre : Boss still my men were not able to find Riddhima , they found every hospital , every priest's home, every medical practicener's home and every hotel and hostel but they can't find her . How can she suddenly vanish ?
Ishani : Of course Angre any animal might have filled his tummy by her . Afterall she needed that .
Ahana : You are true Ishani . If what you said become true then I will be very happy that b**ch gone out from our life .
Ishani : You are true Ahana bhabhi , after hurting my brother and my sister that gold digger will rot in that hell.
Vansh : Just shut up ! Everyone keep your mouth shut . Nobody should take her name in this house now onwards and yes she is not my wife and Ishani don't call her bhabhi next time .
In Vansh's Study room
Angre : Boss, Ishani and Ahana planned a small party in the house . As we can't find Riddhima's Body .
Suddenly they heard someone's scream .
It was Siya's scream .
Siya got conscious but again she became unconscious after hugging Vansh .
Angre called the doctor .
Doctor ( Came outside Siya's room ) : Mr. Rai Singhania no need to worry now she is totally fine . And one thing who is Riddhima ?
No expression was shown on Vansh face so
Doctor : Actually I think that she played a huge role in getting Siya conscious . Her words and talks gave strength to Siya to get up from coma .
Dadi : Can we meet her now doctor .
Doctor : Yes you can meet her but she will get conscious after 2 – 3 hours . Ok so Mr. Rai Singhania I will take a leave .
Angre : Sure doctor . Let me take to you till gate .
Dadi was sitting near Siya
Vansh went in his room on way he was happy as Siya got conscious but was confused and sad how Riddhima made Siya wake up from Coma .
Vansh ( Doctor's words were going on his mind )
" BECAUSE OF HER SHE GOT CONSCIOUS "
" HER WORDS AND TALKS GAVE HER STRENGTH "
" BECAUSE OF HER SHE GOT CONSCIOUS "
" HER WORDS AND TALKS GAVE HER STRENGTH "
" BECAUSE OF HER SHE GOT CONSCIOUS "
" HER WORDS AND TALKS GAVE HER STRENGTH "
He said : Stop it !!!
Siya got conscious .
She was continuously taking Riddhima's name .
Everyone comes there .
Ishani : Siya why are you taking her name She is the only reason for your this situation .
Siya tells everything to them .
( Hey guys I am not writing what she told because you all know only )
Siya : You all did very wrong with her. Every night when you all were slept she used to come to me and tell everything .
Bhai she agreed to marry Kabir only to save Dadi , Ishani and her child . When dadi asked her Kabir kept a knife near Ishani's stomach to blackmail Riddhima Bhabhi . She loved you to the core of the heart and in beginning misunderstandings were there na , but after all misunderstandings vanished . Bhai she was a orphan , there was no one to love her except Sejal and kabir took it as benefit faked his love and used Riddhima Bhabhi as a pawn. Bhai please bring her back !!
At some other place
Doctor : Due to much blood loss we cannot say anything . If she won't get up in 12 hours then she might go in coma . Now just God can save her .
A girl : Thank you doctor . Is there any chance that she can loose her memory ?
Doctor : We cannot say it but yes there are chances if she does not slip in coma . And the doctor goes from there
Girl : I hope she loss her memory it will be better for me and mam too . (Calling Someone )
Hello mam I found her she got an accident and lost much blood . Don't worry nobody knows about this place if you want then I can do the same things I did 8 years ago but mam send money soon .
Recap : Entry of RaiSinghania's new neighbours
KINDLY IGNORE THE SPELLING AND GRAMMATICAL ERRORS
WHO IS THE GIRL AND HER MAM ?
WHOSE ACCIDENT TOOK PLACE ?
COMMENT YOUR THOUGHTS AND OPINIONS IN THE COMMENT SECTION
I HOPE YOU LIKE IT
SO THIS DAY IS SPECIAL BECAUSE
TODAY
IS
HITMAN'S BIRTHDAY
I MEAN
ROHIT SHARMA'S BIRTHDAY
SO
HAPPY BIRTHDAY RO
Rohit Sharma
Hitman
GIVE YOURSELF AND ME A BIRTHDAY GIFT BY WINNING TOMORROW'S MATCH
THAT IS WITH CSK IN DELHI'S STADIUM