Manzil GoHem GoGi RicIta SS Part 9
Manzil (Destination) Part 9
Gopi,Ricky and Sita went to a far place to go to a famous temple.
After praying they went near the beggars in the temple area to serve them food.
Gopi found a beggar familiar.He looked very weak and old.
She looked at him carefully.
He looked at her with surprise:Gopiji!
Gopi's eyes got filled with tears:Jaggiji!
Ricky looked there with a stunned face hearing Gopi call the beggar Jaggi.
That beggar was none other than Jaggi.
Jaggi:You recognised me.I am happy.
Gopi wept:Jaggiji…how come you are here?
Ricky:Chachu..
Jaggi looked at Ricky.
His lips shivered:Ricky?
Ricky:Yes Chachu.I am your Ricky.
Jaggi:So you are with your mother though your father got your custody.
Ricky:My cruel father died Chachu.After that only I got my mother back.
Jaggi was shocked:Ahem is no more?
Ricky:Yes chachu.He tried to kill you.Right?
Gopi was shocked:What?
Ricky:Yes Maa.After the custody case papa sent goons to kill chachu.He was assumed to be dead.
Gopi:He was even worse than I thought.How could he try to kill his own brother?


Ricky:Chachu..how did you reach here?
Jaggi:I was brutally injured after the murder attempt.I was sick for a long time.Almost paralyzed.After many years I could start walking.But I was homeless and did not have the strength to work to support myself.So I found shelter in this temple.
Gopi,Ricky and Sita were shocked.
Sita:So shocking.This much suffering!


Jaggi noticed Sita.
Gopi:This is my daughter in law..Ricky's wife Sita.
Jaggi smiled:I can't believe that you have grown up so much Ricky.
Ricky smiled.


Ricky Sita touched Jaggi's feet.Jaggi blessed them:Have a blissful life.
Gopi:Enough of your stay here Jaggiji.You should come with us.God showed you to us for a good purpose.
Ricky:Yes.Now you are not alone chachu.
Jaggi smiled:I too wished to be with my family.But I thought it was only a dream.But I am happy that my dream has come true.
They all smiled.
They took Jaggi home.
They started his medical treatment.Sita dyed his grey hair and made it black.
Jaggi looked fresh and happy.
A year passed….
Jaggi and Gopi's friendship blossomed like before.
Sita:Ricky…what if we get Gopi Maa and Jaggi chachu married?They look so happy together.
Ricky was shocked:What are you saying Sita?In this age marriage?
Sita:Why not?For marriage age should not be a barrier.
Ricky:But my mother…I don't like her with any other person.I can't even imagine that.
Sita:You don't like to share your mother with anyone else.Right?Ricky…don't be so possessive about your mother that you can't share her with anyone else.It can only spoil her life.
Gopi Maa never got love in her life.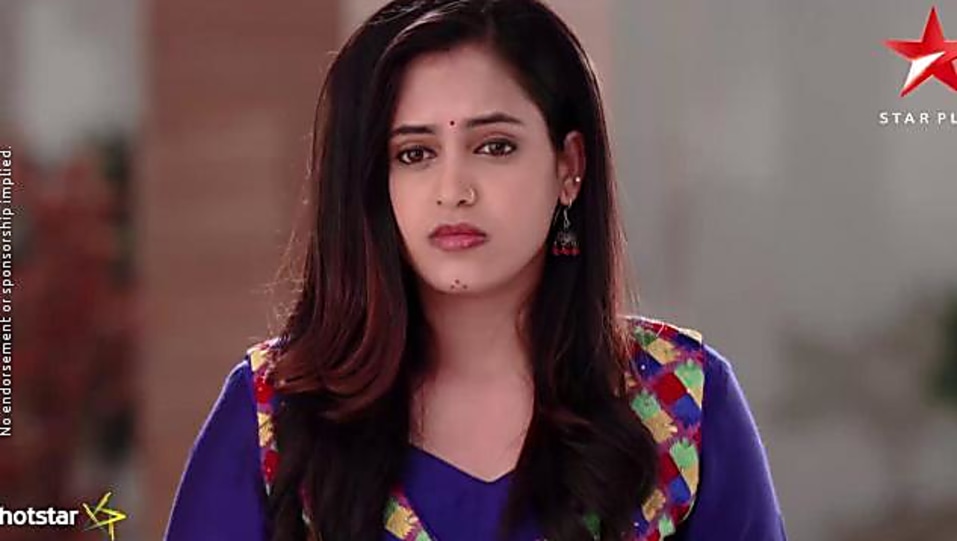 Ricky:She has us.We both love her.


Sita:But our love is not enough.Right?She also needs a loving partner whom she never got in her life.Atleast now does'nt she deserve love in her life?This blind love of yours for your mother is selfishness.If you really love your mother give her what she deserves,not snatch anything from her in the name of your love.
Ricky:Let us stop discussing about it Sita.
Sita:Ok.But think of your mother's future too.Not everyone can get second chance in their life.
God may have brought back Jaggi chachu back in her life to start a new life.
Ricky just walked away.
After a few days…
Ricky went near Sita.
Ricky:Sita..I thought a lot about your suggestion.My possessiveness towards Maa should not cut off her happiness.I think we should think about Maa and Chachu's alliance.
Sita smiled:I am so happy that you finally thought for your Maa's life.


She rested her head on Ricky's head happily.They both smiled.
Gopi slipped and was about to fall down.Jaggi held her.
Saath nibhana saathiya…
Saath nibhana saathiya…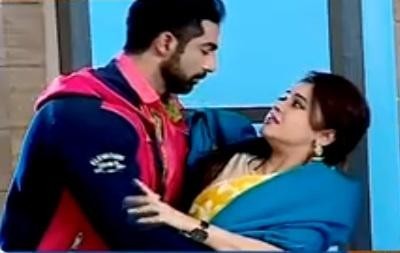 Gopi:Thanks Jaggiji..


Jaggi:Gopiji..you need to walk carefully.This age is very critical.Even if we have a small fall our bones will break.
Suddenly Gopi's eyes fell on his hand.
Gopi:Even you are not careful.See..your hand is a little bit swollen.
Jaggi:Oh..when I came out by mistake the door hit my hand by mistake.
Gopi:I will put ice on your hand.
Gopi put ice cubes on his hand.
Ricky:You both are so caring to each other.You both can't bear the pain of each other.
Sita:Then why don't you both promise to be with each other in every manner?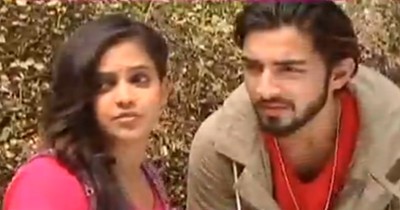 Jaggi:Means?
Sita:Why don't you both get married?
Gopi and Jaggi were shocked.