Hai friends Surprise is here. Yes the next episode is now here sooner than usual. It's because I won't be able to update 3 stories in the evening so this one will be uploaded in the morning. Let's go to the episode.
Kartik and Naira are walking down the streets and it gets dark.
Kartik: Naira…tomorrow we are going back and when we are back to Goa you will be Mrs.Naira Kartik Goenka…then I won't get to spend time with Ms.Naira Singhania
Naira: So…
Kartik:So..why don't we go to a dance club tonight
Naira gets excited and : Why not my mendak
Kartik: I think I must stay away frequently
Naira: Why
Kartik: My girl accepts everything when we meet after a long gap
Naira punches him in his stomach
Kartik: Ouch
Naira: If you talk about staying away I'll make you as a juice and drink you
Kartik: Woah..my Sherni is back into form.
Kartik pulls Naira into his embrace as they reach the dance club.
A song plays there and they get on the floor to dance their hearts out.
Ek ho gaye hum aur tum
Humma humma humma…

Toh udd gayi ninde re
Hey humma…
Ek hogaye hum aur tum
Toh udd gayi ninde re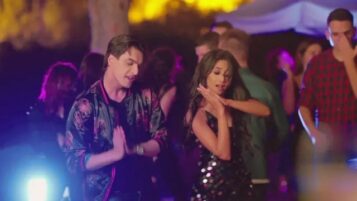 Aur khanki payal masti mein
Toh kangan…
Yeh pehli baar mile
Tumpe ye dum nikle
Tumpe ye jawaani dheere dheere
Maddham machle re
Humma humma…
Humma humma humma
Hey hamma hamma..
Humma humma humma
The scene freezes on a happy Kaira.

It's next day and Kartik and Naira reach Mumbai airport. All the families are waiting there for them
They get excited to see everyone. Abir and Anurag hug Kartik
Akhil: Kartik beta we have a good news
Kartik: Chachu I…
Naira nudges him and
Kartik: I am excited to know what it is
Naira leaves a sigh of relief.  Mishti comes to her
Mishti: You told BFF Hena didi
Naira nods while Mishti giggles
Mishti: I knew
Meanwhile Manish: We have planned to get you and Naira hitched soon
Kartik: Woah…
As everyone laugh at his reaction Kartik turns red.
Anurag: Looks like someone is getting shy
Kartik: Not to the extent like someone who got shy years ago
He goes to Prerna and bends down
Kartik: Hai bacha chachu here..I know you can here ..sorry for not coming till now and I love you
Prerna holds Kartik's ears and: Acha …so you forgot bhabhi when baby came
Kartik: Ouch…sorry bhabhi..I'm so sorry
Prerna giggles and leaves his ears.
Akhil: Wedding functions start from day after tomorrow after Prerna's godh bharai..then we have a surprise for you Kartik and Naira
Kartik: Whats it chachu
Manish: Actually it's a surprise for Anurag and Prerna too
Viren: Yeah yeah..from the day the function starts Kartik and Naira should meet only in the wedding functions..no other meetings
Kartik: This is unfair
Keerthi: And..Prerna  bhabhi is going to her Maika after the godh bharai rasam so even Anurag bhai and Prerna bhabhi have to stay apart
Naksh: Till you get married and bhabhi comes back you both brothers share your room
Abir: Ill join too
Anurag: Why is Prerna going there..Jeevika bhabhi didn't go to her house even Keerthi didn't come here
Swarna: That's because it's a wedding house and Prerna won't be comfortable in the situation. She needs rest too na..so not for long but till the wedding gets over Prerna will stay with her parents
Akhil: How was the surprise Kartik
Kartik: Kya aap bhi,.if I thought this I would never have boarded the flight with Naira
Naira (in mind): This mendak was talking about separation and as soon as we came we have been separated
All giggle and the families take them along with them. While departing Naira and Kartik aren't able to leave each other and keep holding hands
Abir: Don't worry bhai..anyway tomorrow we will meet in the godh bharai na..then the next day on engagement..till then manage on phone
Kartik: Chal..chal..our time will come too to pull your legs
Abir takes Kartik while Mishti takes Naira . The scene freezes.
The next day and it is Prerna's godh  Everyone reach the Goenka house for the function. Naira is
dressed in a beautiful silver colour lehenga while Mishti shines in a yellow one.
The Goenka brothers aren't less than anyone. Kartik adorns a Red colour suit
while Abir is in a blue one.

The function topper Prerna is looking gorgeous in her red saree
while Anurag is handsome in his white suit.

Mishti and Naira take Prerna to the hall.
Just then Naina and Akash come there with Vansh.
Sara and Vansh go towards Krish who is in the arms of Keerthi.
Keerthi: Hai bacho..Krish see Sara didi and Vansh bhaiya have come to meet you.
Kartik is unable to remove his gaze from Naira. Naira catches him looking at her
Kartik: Hayee (he holds his hand on his left side of the chest)
Naira blushes.
While Mishti is walking with a puja thaali Abir holds her and pulls her away from the crowd and pulls her closer.
Mishti: Abir…what's going on
Abir: Romance…
Mishti: Acha..
Abir: Arrey how unromantic you are
Mishti: Oh
Just then Mishti is being called by Swarna. She pushes Abir and runs away from there.The scene freezes.
All the ladies do the godh bharai rasam to Prerna. While the men are sitting in the porch . Abir , Kartik , Naksh , Viren ,Anurag and Akash imitate their respective partners and have a good time.
The episode freezes on a happy note.
PRECAP: ITS KAIRA SAGAAI. A SHOCKER FOR ANUPRE.