Hello friends . Here is the next episode. The two new ffs have been posted. Please do check them out. Thank you so much for your overwhelming response. Now without any further delays let's go to the episode
Abir: Viren jiju the functions will be happening back to back so papa asked to prepare a guest list so that we don't miss anyone
Viren: Sure Abir..Jeevika will help you Woh..I have to drop Sara in school
Abir: Sorry for disturbing jiju and didi
Jeevika comes there with a tray of cookies and chai. She serves them and stares at Abir
Jeevika: What disturbance and sorry to a didi
Abir smiles as Jeevika takes her seat. Viren and Sara leave
Jeevika: I hope you both want to invite your friends too
Mishti: Of course bhabhi..we weren't there for Prerna di's wedding so
Jeevika: Then lets write the list fast
The lost writing starts. After sometime
Jeevika: Mishti have you covered all your friends name..you didn't miss anyone right
Jeevika: Mishti won't you be calling Sonia.. I heard that she was your childhood bestie from Naira
Mishti turns red on hearing her name.
Mishti: Sometimes it is the close friend who back stabs us bhabhi.
Jeevika is confused ( I know that you will also be confused. Hold your hearts and excitement as a shocker or may be a surprise is gonna be revealed )
Flashback rolls.
Abir and Mishti are in Rajasthan. It's a night and Mishti sneaks out of the resort room where she is staying with her friends to meet Abir.
Abir is standing there with two bicycles.
Mishti: Abir…what is this
Abir: Mishti the breeze is awesome let's enjoy a ride here. So I rented from the resort
They hop into their bicycles and enjoy their moments.
Mishti races with Abir and leaves him behind.
She turns back and laughs at him and she hits on a guy. The guy was standing with a black hoodie covering his head and his face is hidden in the darkness On hitting Mishti and the guy fall down. Mishti falls on the guy and the cycle falls on her.
Abir rushes there and helps her out.
Mishti : Sorry …( suddenly her face shows fear and Abir's face shows hatred as they see the guy's face in the light)
The guy is Virat. Seeing him Mishti starts to shiver. Abir pulls her into embrace
Virat: Why are you afraid of me sweetheart  
Abir: Hey mister why are you stalking my girlfriend. I warn you to leave out of here right now.
Virat: If not
Abir: If not I will have to call the police
Suddenly they hear a laughter of a girl from behind the nearby tree
The girl comes out and Mishti is shocked to hell as the girl is none other than Sonia
Mishti: Sonia….
Sonia hugs Virat
Sonia: Thanks baby for the help
Abir: What's going on here
Sonia:  Abir..Mishti it was all a prank..( YES YOU HEARD IT RIGHT IT WAS A PRANK) the kiss..the following..photos…everything
Mishti gets angry and : Why the hell did you do it
Sonia: Because I could not digest the fact that you enjoy the limelight always. I too sing but it's you who always wins..you top.. you get the admission in my dream College while I am struggling in a second choice college. That's why I wanted you to taste fear , anxiety
Abir gets so angry and slaps Sonia.
Virat: Sorry dudes I was requested by my girl do it..to impress her so I had to
Virat takes Sonia with him from there. Abir hugs Mishti and consoles her. The flashback ends
Jeevika: Such a psycho she was..if not who will do such things to their friend
Abir:  Mishti it's been 5 yrs. We have graduated and we are working now. Let's forget everything and plan for the functions now.
The planning gears up and scene freezes. The scene shifts to a lab . It's dim everywhere. Naina is working hard to crack a clue when her phone buzzes. It is Akash
Akash: Naina..Vansh is crying rey
Naina: Akash I'm almost near to cracking the clue..it will get over in  half an hour at the maximum so…
Akash: Okay okay my wifey I'll handle Vansh till then.
Akash disconnects the call and pacifies their 2 year old son Vansh.He
puts Vansh to sleep. That's when another phone buzzes and it is Prerna
Prerna: Akash..woh
Akash: I know ..I know you need stuff to be sent to Komolika from her family . I have already made way for it.
Prerna: Thank you so much bhai. You are great
Akash: Arrey it's you who is great. Taking care of her and her family despite her attempts to kill you.
Prerna: That's humanity na bhai
Akash chuckles and Prerna disconnects the call.
Akash sits on the couch thinking of
Flashback rolls. The day when Prerna found her pregnancy she calls Akash for telling about Komolika and asking his opinion in handling her but Akash doesn't pick up the call. So Prerna sends him a voice mail and shares her live location too as she went to find Anurag.
When Anurag lifted Prerna in happiness Akash had actually called Prerna seeing her missed call and voicemail. In the commotion Prerna's phone falls down and Akash hears the conversation. Knowing her live location and guessing a trouble he and his team reach there.
The flashback ends as Vansh is calling Akash to play with him. Akash gets up and picks Vansh in his arms. They start to have some good time.
The scene freezes.
Scene shifts to Goa. Kartik and Naira are walking along the streets holding their hands. Naira rests her head on his shoulder.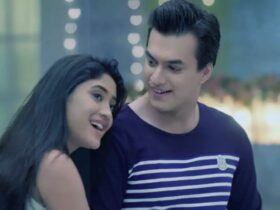 Naira: I really missed you Kartik,,this one year when you joined PG here and I was there..it was terrible
Kartik: It was worst for me too Naira..now no problem we will be together again
Naira: Are you calling your one side lovers for our wedding
Kartik: What do you mean
Naira: I meant Aashi and Tara
Kartik: Haha..Aashi is already married and so is Tara
Naira: So what why don't you call them..anyway I'll be calling Rishabh and Neha
Kartik and Naira break into a laughter together. The episode freezes.
PRECAP: FAMILIES SURPRISE KAIRA. ITS PRERNA's GODH BHARAI.
HEY GUYS DO TELL ME YOUR VIEWS ON THIS EPISODE IN THE COMMENTS BELOW.