Love Makes Life Beautiful Episode 31
Hai friends I'm back with the next episode . Thank you so much for your support. Lets go to the episode.
Kartik,Naira and Keerthi reach the airport. They are joined by Viren and Jeevika.
Viren: Where are Anurag and Prerna?
Kartik: Viren bhai Dadi has given muhurat time for them leave for the airport. They will be here soon
Viren: Okay Kartik..Keerthi is the issue sorted at Krishna?
Keerthi: Fire has been extinguished but police investigation and insurance work are all pending
Jeevika: Sounds like a huge loss
Naira: Haan di..
Just then Anurag and Prerna Arrive. Everyone wish them a good journey and help them with the luggage.
Anurag and Prerna enter the airport waving goodbye to everyone.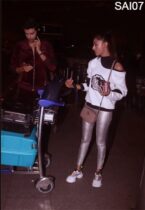 Anurag pushes the trolly inside while his phone rings. It was Naksh
Naksh: Anurag..I'm sorry I couldn't see you off
Anurag: Arrey Naksh I'm sorry for not being there with you during such a difficult time
Naksh: That's sweet of you but don't worry about us,honeymoon is a life long good memory. Enjoy it to the core. Have a happy and Safe journey. Bye. Convey the same to Prerna
Anurag: Sure. Take care. Bye
He keeps the phone inside takes Prerna's hand in his and proceeds further. The scene freezes.
Sometime later Kartik and Naira see off Keerthi to Lucknow
Kartik: Didi When are you coming back?
Keerthi: Evening 6 pm Kartik
Kartik: Then we will come from college to pick you up
Keerthi: But Kartik…
Naira: Bhabhi Kartik is right
Keerthi nods and goes inside.
Naira holds Kartik's arm and leans on him
Kartik: Kya hua Naira?
Naira: I'm having some bad feeling inside me
Kartik: About?
Naira: Nothing…maybe I'm tired
Kartik: Tired? Are you planning to bunk college?
Naira: Woh.,…
Kartik: Naira you are not bunking
Naira: Why??
Kartik: I can't survive a day without seeing you
Naira pushes him and: Kitne cheesy ho na tum
Kartik: Acha? Mein atleast cheesy hoon. Tum na boring ho
Naira: If I'm boring why did you love me? Janaab keliye toh line kadi hena college mein
Kartik: Woh toh sach hai par baat kya hena tum boring ho lekin bohot sweet bhi ho
Kartik and Naira share a hug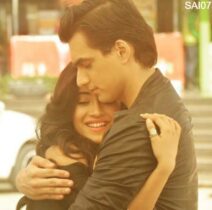 The scene freezes.
The flight in which Anurag and Prerna travel is shown. The flight has taken off and Anurag and Prerna are seated next to each other comfortably.
Prerna has fallen asleep while Anurag is reading a book.
Anurag feels that Prerna is restless in sleep so he keeps the book aside carefully rests her head on his shoulder.
Once her head is on his shoulder Prerna doesn't move and sleeps peacefully.
Anurag in his mind : You would have been tired by all wedding functions,without giving you rest I brought you to Paris. I'll make sure you don't stress yourself and enjoy.
Then he tilts his head such that it is close to Prerna. He closes his eyes and enjoys those moments of love with Prerna. The scene freezes.
In Lucknow Keerthi gets a feel of being followed by someone. But she doesn't worry much about it and proceeds to work. Just then her phone rings. She gets scared thinking that it would be from that unknown number. On seeing the display it shows Naksh. She leaves a deep sigh of relief and attends the call
Naksh: Keerthi have you reached safe?
Keerthi: Haan Naksh. I have reached safely and now I'm in a cab proceeding home. How are things there?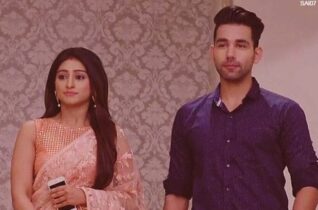 Naksh: Everything is going well here,you dont stress yourself thinking about these things. Be safe and complete the works. I know it is difficult for you to sell the house. Kaash I was with you
Keerthi: What to do Naksh? Nothing is in our hands. Naksh I have reached the house andbuyers are waiting. I'll call you once I complete the work
Naksh: Okay Keerthi. Bye!
Kaira's college is shown.
A girl: Hey Tara culturals are coming soon! With whom is this college beauty queen gonna pair up with?
Tara: Huh..actually no one..wait wait..yeah I know..a guy from our batch….the one.performed in the freshers
Girl 2: Many performed na
Tara: Arrey a handsome guy performed as Jai Veeru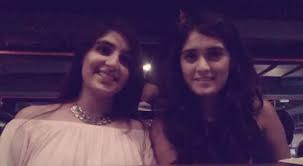 Priya: Arrey Kartik
Tara: Yeah.. Kartik..till then I haven't seen him on stage so thought no one is a match to me but now
Priya: But that girl
Tara: That girl…she is noting before me. I'll better approach him.
The girls giggle and they agree with Tara. The scene freezes.
Its evening 6. Kartik and Naira are waiting for Keerthi at the airport. Thought the flight had arrived Keerthi has not come. Tensed they try calling her through mobile but no response is seen.
Naira: Kartik…where is bhabhi?
Naira starts weeping
Kartik hugs her to console her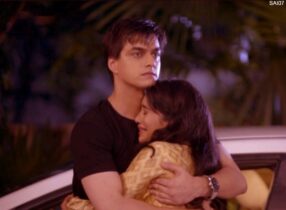 Kartik: Naira calm down.. we will find where Keerthi di is
Just then Naksh rushes to the airport with some papers
On seeing Naksh Kaira move apart
Naksh: Kartik..Naira..did Keerthi come?
Kartik: Naksh…the flight has arrived but Keerthi di has not come
Naksh: What??
Naksh sits down in despair. Kartik and Naira rush to him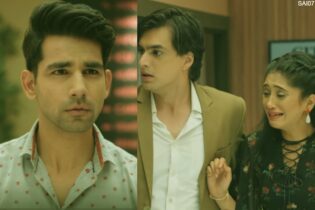 Naira: Bhai..what happened?
Kartik notices the papers in his hand and gets it from him. Kartik is shocked to see those
Naira : Kartik what is it?
Kartik shows her.
Naira: Divorce papers? That too on bhabi's name to bhai
Kartik: I think someone is playing games with us. Naksh..how did these papers reach you?
Naksh tells and[flash back rolls on :
Naksh is in Krishna when a stranger with a mask drops a bag on one of the tables. Naksh's manager picks it up and gives it to Naksh. He opens to find the divorce papers and a letter addressing him
"The letter: Naksh ….Keerthi belongs to me so better sign these divorce papers. Till you sign Keerthi will be safe…if you don't sign don't think that I won't hurt her because If something I like is not available for me I wont leave to be available for anyone..and Keerthi is now with me..sign soon"]
Flash back ends.
Naksh: I too thought all these as games but now…Keerthi not reaching back has proved it..
Naira: Bhai if you dont sign bhabi…and if you sign too
Kartik: Lets better consult Viren bhai
Kartik takes Naksh and Naira with him to Vadhera house.
Viren: Kartik Naksh Naira come sit
Jeevika: What will you have?
They remain silent. Viren notices their sunken faces.
Viren: What happened?
Kartik tells him the happenings
Viren: Naksh its better we reach out to police
Kartik: If the kidnapper finds it out we may land in trouble
Viren: Nothing of that sort will occur Kartik..my friend Akash is a Police officer.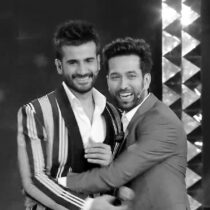 Naksh: Then lets call him. Its not safe to delay
Viren dials Akash's number
Akash: Hi dude Viren..whats up?
Viren briefs him of the issue
Akash: I'll be there in 15 minutes.
15 minutes later
Akash: Viren..this seems serious man..by the way Mr. Naksh I would like to hear every detail from your side
Naksh tells him everything (he doesn't know about Keerthi recieving calls from unknown number for second time)
Akash: You couldn't accompany her due to fire breakout at Krishna right?
Naksh: Yes of course
Akash: Are investigations over for that?
Naksh: It is still on
Viren: Akash do you suspect what I think of?
Akash: Not sure man but suspicion is not wrong
Kartik: What do you suspect?
Akash: Kartik..the kidnapper must have caused the fire accident to make Naksh stay back and isolate Keerthi
Just then Kartik's phone buzzes. Its Anurag.
Naksh: Kartik dont tell them anything about this. Lets not disturb their happiness.
Kartik: But..
Naira: KArtik bhai is right..
Kartik: Okay..
He picks up the call
Anurag: Kartik we have reached the hotel from airport. Sorry I could not call as soon as we landed as it was 10:40 here but lunchtime for us
Kartik: No problem bhai..how are you and bhabhi?
Anurag: We are fine
Prerna: Kartik we are fine? Is maa there?
Kartik: Bhabi woh..
Prerna: You are with Naira right..okay no problem…I'll talk to Maa
Kartik: Have a happy honey moon bhabi.
Prerna: Thank you Kartik..bye
Naksh: Kartik both the families will get tensed but
Kartik: We cant hide from them right
Naira: Yeah Maa will be awaiting bhabhi's return
Viren: Its better that they dont know this.
Naksh: Very true..what to say
Akash: Tell them that her stay got extended..she missed flight and phone is dead something like that. Its better we concentrate on the issue now
Naira: Akash bhai ..can I call you like that?
Akaksh: Of course..
Naira: Thank you so bhai you said that the guy might have caused the mishap that means he has planned everything..
Akash: Very correct Naira. One more thing these papers have keerthi's thumbprint. That means she may be unconscious in his custody
Naira: will he harm her then
Viren: He has mentioned that very clearly that he wont if Naksh signs
Akash: Viren wait.. Naksh where was your marriage registered?
Naksh: Mumbai only
Akash: That means this case has to be filed in Mumbai court. Moreover for divorce case Keerthi must appear in court am I right Viren?
Viren: Correct . If we file the case he should bringher for atleast one hearing
Naksh: So I should sign
Akash: Did he say where to sign and give?
Naksh: He asked me to file in the court
Akash: But how did you get them?
Naksh: It was in my office
Akash taps on his sofa hand and: I guessed it right.. See everyone these papers were not sent by courier. And last time Naksh spoke to Keerthi was at 9 am. After that did anyone contact her?
Naksh, Naira and Kartik nod in affirmation
Akash: What about your parents Naksh?
Naksh: They didn't because the whole day they were with me. Moreover they didn't want to disturb her
Akash: The divorce paper couldn't have reached through courier so fast. That means he has come or sent someone to give them to you.
Kartik: Akash bhai that person should have come by flight for sure as Naksh got the papers by 5pm
Akash: Correct. That means 2 hours travel time..which indicates that the person has boarded flight by 1:00  as Krishna is 1 hour 30 minutes from airport and moreover Naksh got the papers on a table.
Naksh: That meansKeerthi must have been kidnapped between 9 and 1
Akash: No Naksh. Kidnap must have been atleast before 12. He must have taken her somewhere and then got the papers
Kartik: If we check passenger list of flight will we find?
Akash: Kartik…he has planned everything definitely he would have planned this too. Now lest plan. Kartik and Naira you both make an excuse of college and go to Lucknow tomorrow morning at 4 am flight. He won't be watching you. Viren you take Naksh with court for filing divorce and make sure you delay as much as possible. I'll check Krishna footage and find the culprit causing shortcircuit by tonight and nab him. Definitely he will know this guy. I'll reach Lucknow by 7 am flight.Till I reach both of you contact the buyers and try to know whether registration occurred. If it had occurred then kidnapping has occured between 11 to 12. If not its before 10 ie., 9 to 10.
Kartik: Very Good plan.
Akash: I'll take your leave. Naksh dont worry we will find Keerthi soon.
He hugs Naksh. Then everyone leave for their homes. Kartik offers to drop Naksh and Naira. The scene freezes
Meanwhile in Paris Anupre set out for dinner. Time is 11 pm IST ie., 7:30 pm in Paris. Chill breeze blows
Anurag puts his hand around Prerna's shoulder and pulls her closer
Prerna: Anurag..it all feels like a dream
Anurag turns her towards him and gets closer to her. Her heartbeat rises.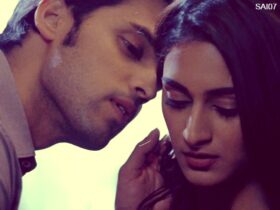 Anurag: Does it still feel like a dream?
Prerna: Nnnaaiii
She pushes him away
Anurag chuckles and holds her hand as he takes her with him. The scene freezes
PRECAP: THE KIDNAPPER IS REVELAED. WHO IS IT? ANUPRE HAVE BEAUTIFUL ROMANTIC MOMENTS IN PARIS.
HEY GUYS PLEASE LET ME KNOW HOW YOU LIKED THE EPISODE DOWN IN COMMENTS. I'LL MEET YOU WITH NEXT EPISODE VERY SOON.