Love Makes Life Beautiful Episode 29 – ANUPRE SHAADI
Hai friends I'm back with another episode. . Thank you so much for your support. Lets go to the episode now.
Keerthi's phone is buzzing. She picks it up to see a message from an unknown number.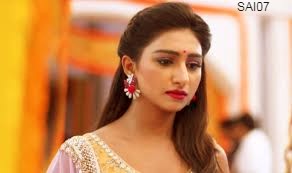 The Message"If you block my number won't I contact from another number Keerthi? Tell Naksh not to strain tracing this number as this too is an unregistered prepaid number which will be discarded soon. Talk to me Keerthi"
Keerthi is taken aback in shock and flash back rolls on
[ Naksh goes to trace the number
Naksh: Keerthi it was an unregistered prepaid sim. When we traced it we got a information that it is already deactivated. So dont worry] Flash back ends
Suddenly Naksh comes there and Keerthi hides her mobile. [Keerthi in mind : Keerthi don't tell him now. He will be tensed and entire wedding will not be joyous]
Naksh hands over flight tickets to Keerthi.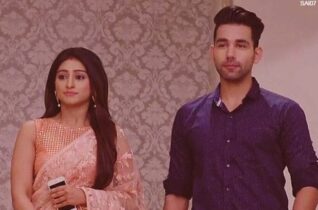 Naksh: Ye lijiye Keerthi flight tickets for us to go to Lucknow on the third day from today.
Keerthi gets it from him
Naksh: Keerthi is everything alright?
Keerthi: Haan Naksh
Naksh pats her on her shoulder and: I know that you are emotional in selling your mom and dad's house. If you have changed your decision to no we will stop the proceedings
Keerthi: Nothing like that Naksh. Its filled with many memories and I can't take that city anymore. I'll sell the house and leave the city forever
Naksh: Your wish is my command. I'll go to Krishna for some work and I'll be back soon.
Naksh leaves. The scene freezes.
Its night and Vadhera house is shown. Prerna is in her room hugging her teddy bear. Viren and Jeevika come there.
Viren: You didn't sleep yet?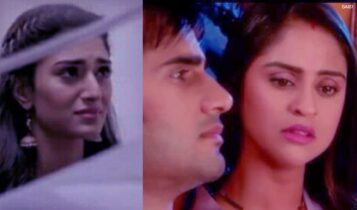 He goes to Prerna and notices that her eyes are wet. Seeing her crying Viren too starts to cry hugging her. Seeing them Jeevika smiles
Prerna: Why are you smiling?
Jeevika: I got reminded of some memories
Viren: We men are very selfish. All of a sudden we bring the daughter /sister of someone into our house. The night before wedding we feel that the wait is over and she will be with me forever not realising that she is spending the same night collecting as many moments in her house as possible
Prerna wipes his tears. Jeevika captures this moment on camera. The scene freezes.
Its next morning . Its Prerna's room. Jeevika and some girls are helping Prerna get ready.
Jeevika: Prerna you look stunning
Girl1: Hope the groom doesnt faint in the shaadi mandap on seeing you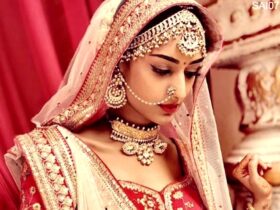 Prerna blushes.
Jeevika puts the goonghat on her head and shows her the mirror. Prerna sees herself and gets shy thinking of Anurag.
Jeevika: Prerna how did we do your makeup? Do you like it?
Girl 2: arrey Jeevika hereafter Anurag's opinion is Prerna's. So you must ask him
All giggle. The scene freezes.
Anurag's room is shown. He is getting ready when Kartik barges in.
Kartik: Bhai.. whoaa (he keeps his hand on his chest) you are amazing bhai..totally handsome
Anurag: Shut up Kartik…
Kartik: I came to call you down. Dadi says that muhurat for baraat to leave is in 5 minutes. If not you must wait till afternoon.
Anurag is shocked a bit.
Kartik: If you are desperate to see bhabhi hurry up and be careful that you dont faint seeing the beauty of bhabhi
Anurag and Kartik come down. Everyone is happy to see Anurag.
Swarna: Anurag you are looking like a prince.
Dadi: He is indeed our prince
Just then Naira and family enter. Kartik is breathless as he sees a stunning Naira.
Kartik (in his mind): Naira…I was teasing bhai ..but now I realise that my situation is the same)
Naira comes near Kartik and: Kartik….what happened
Kartik (mind): Maardal the ho aur aake puchthi ho ki kya hua)
Naira: Kartik…
Kartik: Breathless
Naira: Why?
Kartik: In your beauty..
Naira: Really?
Kartik: Naira you are stunning.
Naira blushes. Their conversation is interrupted when Dadi tells that it is muhurat time for baraat to leave.
Anurag mounts the horse and the baraat leaves for Vadhera house.
Its Vadhera house
Maa: Viren is everything ready for welcoming the baraat.
Viren: Yes Maa but you just check it once
Maa: I know you would have done everything perfectly.
Just then they hear the sound of baraat.
Dil..Beh chala..
Banake khud apna rasta
Roka..isse.
Toh Dene laga love ka vaasta
Udne lagi bewajah has ke zindagi
Judne lagi naye se ek rishte ki kadi
Kal tak thi meri
Hui re hui re teri
Teri hui Teri hui
Meri zindagi teri hui
Teri hui Teri hui
Meri zindagi teri hui
The bharaat and Anurag are welcomed inside after initial rituals.
Anurag is taken for varmala to stage.
Dadi: Someone go and bring Prerna down
Jeevika goes upstairs to bring Prerna.
As Prerna is brought down the stairs all eyes are glued to her.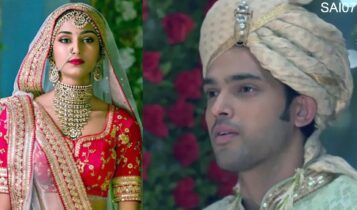 Anurag looks at a gorgeous Prerna walking down the stairs like an angel
Ho Ek ladki ko dekha to aisa laga
Ek ladki ko dekha to aisa laga
Jaise khilta gulaab, jaise shayar ka khwaab
Jaise ujali kiran, jaise ban mein hiran
Jaise chandni raat, jaise narmi baat
Jaise mandir mein ho ek jalta diya…
Ho.. ek ladki ko dekha to aisa laga
Plays in background
Anurag(in his mind): Thank you God for gifting my life with such an angel
Prerna is brought to stage. They are given the garlands to be exchanged
Just as Anurag could put the garland around her neck Viren lifts Prerna. All giggle. Anurag tries to put the garland but he couldn't. Just then Kartik and Naksh lift Anurag. Thus Anurag puts the garland around Prerna's neck. Prerna and Anurag are let down.
Prerna is about to put the garland around Anurag's neck. Anurag bends his neck down thus helping Prerna to put the garland easier.
Kartik: Woah bhai…what a romantic gesture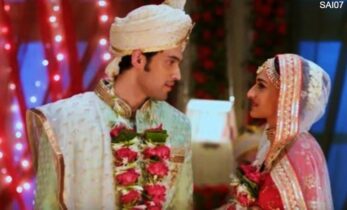 Naira : Very well done Jiju
Prerna and Anurag are led to the shaadi mandap
Naira and Kartik run to get his shoes. Naira gets it before Kartik
Kartik: Naira lets hide it before ladki side find it
Naira: Kartik…I'm on ladki side
Kartik: What?
Naira: Arrey Prerna di's side
Kartik: This is unfair
Naira: Everything is fair in love and war
Jeevika comes there and they share a hifi
Kartik makes a puppy face
Kartik: I'll find the shoes before the wedding ends
Naira: Lets see
She hands over the shoes to Jeevika who hides it.
Everyone gather in the shaadi mandap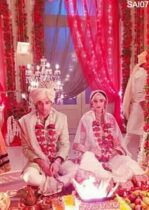 Papa is asked to do the Kanyaadaan. Once the ritual is over his eyes are wet. Manish notices this and goes to him.
Manish: I know its difficult but I promise to make sure she doesn't feel your absence in our house
They share a hug. Keerthi is asked to do the gharbandaan of Anurag and Prerna. Then the couple are asked to do the pheras.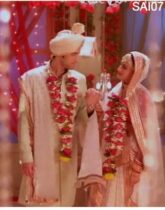 As every vow is taken Kartik and Naira ,hold each others' hands and repeat the vows in a whisper.
Viren gets emotional and Jeevika consoles him. The vows get over and Naira takes the sindoor to Anurag.
Anurag takes the sindoor and fills Prerna's hairline.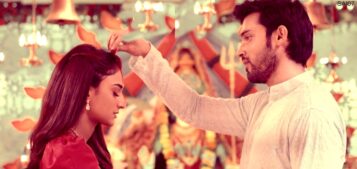 Prerna's eyes get wet in happiness. Anurag wipes her tears.
Anurag in a whisper: I don't promise that you won't shed tears but I promise to be there to wipe your tears always.
Prerna smiles and blushes.
They are interrupted by the pandit who asks them to seek elders' blessings.
Kartik: Keerthi di we must find the shoes before bhai comes down from mandap
Naira stands there holding the shoes
Naira: Kya Kartik..planning to get the shoes?
Jeevika: Its too late Kartik
Anurag comes down from the mandap
Naira: Jiju shoes are with us. We wont give it without a price
Anurag: Ask whatever you want
Naira: Not me ..Jeevika bhabhi deserves the right to ask
Jeevika: Anurag I'm sending my bestfriend with you. From childhood we were always together. Promise me to be a friend,lover,father and husband to my saheli
Saying this Jeevika gets emotional. Naira hugs her and consoles her
Anurag: Don't worry Jeevika bhabhi. I will never break your trust
The scene freezes. It is 6 pm ie., time for bidaai
Prerna hugs maa and cries. Then she is consoled by Viren but soon Viren hugs her and cries. Kartik , Naira, Naksh and Keerthi console Maa,papa Jeevika and Viren while Prerna performs the bidaai rituals.
Anurag and Prerna sit in the car. Prerna cries as she rests her head on Anurag's shoulder when the car starts to move.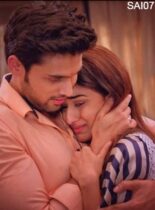 Anurag: Prerna I'll always be there for you trying to shower the love of your entire family on you
Prerna cries endlessly. Anurag caresses her head and comforts her. The scene freezes
Meanwhile the Goenkas and Singhanias take their leave.
Dadi: Swarna you take Kartik, Naira, Keerthi with you and make preparations to welcome the couple
Manish: Maa dont worry they will reach late only. I have instructed the driver to take them through long route
Naitik: Acha kiya hai Manish ji aapne
Akshara: Swarna ji we will come to help you
Dadi: Teek hai Manish ask the driver to take the car we will go
They leave for Goenka house. The scene freezes.
Prerna is welcomed into the Goenka house by Swarna
Swarna: Finally! our bahu has had her grahpravesh
Prerna and Anurag get the blessings of elders. Naira, Kartik, Keerthi and Naksh finish the decorations of Anurag's room
Prerna and Anurag are made to perform some rituals
They are asked to find a ring in a taali filled with milk
Kartik: Come on bhai
Naira: Prerna di..come on
Anurag and Prerna search for the ring. Their hands touch sending electric vibes along their spines.
Finally Prerna finds the ring. Everyone have a happy time seeing the beautiful couple engaging in some happy rituals.
Later Prerna is led by Swarna, Naira and Keerthi to Anurag's room.
Swarna: Prerna beta..may God bless you.
Prerna smiles. She is left there and the other come back
Meanwhile Naksh and Kartik are pulling Anurag's leg. Anurag somehow manages to reach his room crossing all hurdles.
He opens the door to see Prerna sitting on the cot with goonghat covering her face. His heartbeat rises. The scene freezes.
PRECAP: ANUPRE'S FIRST NIGHT. DID PRERNA LIKE ANURAG'S SURPRISE? WHAT IS BOTHERING KEERTHI?
HEY GUYS THIS WAS ANUPRE WEDDING. PLEASE TELL ME HOW YOU LIKED THE EPISODE DOWN IN THE COMMENTS. I'LL MEET YOU WITH NEXT EPISODE VERY SOON .