Love Makes Life Beautiful Episode 30
Hai friends. Here is the next episode. This episode is for all ANUPRE fans awaiting the first night sequence.
Anurag's heart beat rises when he sees Prerna sitting on the cot with goonghat covering her face.
He slowly walks near her. The room is filled with silence.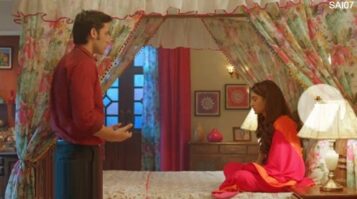 Anurag sees nothing else other than Prerna.
He sits near her and lifts her goonghat.
Prerna goes red with shy and she bends down.
Slowly Anurag's index finger lifts her face holding her chin. Their eyes meet.
Anurag: Prerna you look gorgeous. I know I have said this plenty of times but what to do I'm unable to resist myself from telling it again and again.
Anurag slowly takes Prerna's hands in his and kisses it. He notices that Prerna is uncomfortable with all the heavy jewelry
Anurag: Prerna I think these jewels are hurting you. You can get refreshed.
Prerna smiles at him and gets up to remove the jewels. She is struggling with her chain as it got twined with her hair. Anurag gets up from the bed and goes to help Prerna.
He removes the chain from behind. Chills run down Prerna's spine as she feels Anurag's breath on her neck.
Anurag gently kisses on the scar made by the chain on her neck.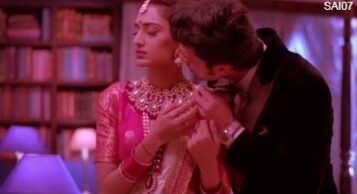 Electric current passes through Prerna's body . She starts to shiver. Anurag notices this
Anurag: Prerna I have a surprise for you. Please close your eyes
He goes to his cupboard and takes the envelope out.
Then he goes to Prerna .
Anurag: Open your eyes slowly now
Prerna opens her eyes and sees nothing
Prerna: Where is it? I dont see anyhting here
Anurag: Tadaa
He shows her the envelope
Prerna: What is it?
He hands it over to Prerna
Anurag: Find out yourself
Prerna slowly opens the envelope
Prerna: Wow!!! Really!!! How did you know?? Anurag you are the best
She hugs him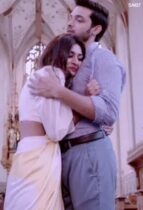 Prerna: How did you that I always wanted to have my honeymoon in Paris?
(And yeah Anurag's surprise for Prerna is tickets to Paris)
Anurag: I saw it in your social media profile
Prerna: Anurag you know how much happy I am
Anurag: I know it Prerna
Prerna: When are we going?
Anurag gets the tickets from her hand and he points out the date
Prerna: We are going day after tomorrow?
Anurag: Yes
Prerna: Family? what will they say?
Anurag: Everyone except you know. I warned everyone not even to give you a hind about it
Prerna: ANURAG!! you did everything to surprise me?
Anurag : Yes
[ The flashback rolls on . The day before mehendi function. Kartik is seeing through Prerna's social media profile while he is sitting on the couch in the living room.
Anurag who passes by notices this
Anurag: Kartik..what are you doing??
Kartik: Bhai..I'm going through bhabhi's profile
Anurag: You are stalking her?
Kartik: Bhai. I'm doing this to see what she likes so that I can make sure those things are here when she arrives. See she has put this picture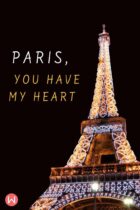 Anurag: She loves paris? Thank you Kartik…
Anurag hugs kartik
Kartik: What happened bhai?
Anurag: I was thinking of what to gift her on our wedding. I think it will be great to give her the surprise of our honeymoon to Paris.
Kartik: Wow bhai romantic
Anurag soon contacts Viren and informs him of the plan. With Viren's help he gets Prerna's passport. Applies tourist visa and gets the ticket for the second day from their wedding to go to Paris] Flashback ends
Prerna kisses Anurag on his cheek in happiness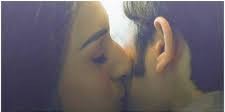 Anurag is taken by Surpirse.
He holds her by her waist and brings her closer.
Prerna burrows her face in his chest in shyness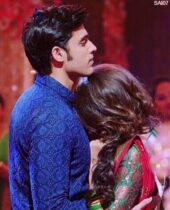 Anurag: Prerna…
He lifts her head and looks into her eyes.
They are lost into each other. After sometime both come to reality.
Anurag kisses her on her forehead.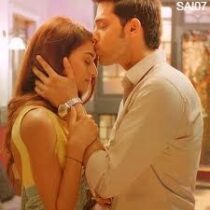 His hand touches her bare waist. Prerna gets chills and pushes his hand away.
Anurag: Prerna I'm indeed very lucky to have you in my life. I wish to start our life journey with your wholehearted acceptance. Till you get comfortable I wont disturb you
He leaves her and turns to go to the bed. Prerna holds his hand and stops him.
Anurag turns to look at her. Their eyes meet each other and convey lots of emotions which words fail to convey.
Anurag lifts Prerna in his arms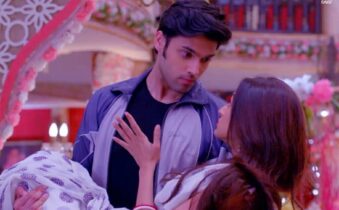 He takes her to the bed and makes her lie down. Their lips meet each other and Anupre unite in the bliss of matrimony. The scene freezes
Its Keerthi and Naksh's room.
Keerthi gets upset on getting many missed calls from the unknown number. She decides to tell Naksh about it. Naksh enters the room shouting to someone on phone.
Naksh: How can you be so irresponsible? Do you even realise what you have done? I'll come in 15 minutes.
He cuts the call
Naksh: Keerthi…a lot of mess is made at Krishna. The kitchen is shortcircuited and everything is burning. Im going there. You take rest and dont wait for me.
Keerthi nods her head as Naksh leaves in a hurry. The scene freezes.
Its next morning. Anurag and Prerna wake up in each other's embrace as sunlight kisses their face. Anurag kisses Prerna on her forehead

Anurag: Good morning Sunshine
Prerna: Good morning
She looks at the clock showing 7 am.
Prerna jumps up in shock.
Prerna: I'm late..Anurag…
She runs to the suitcase to get her clothes.
Anurag grabs her from behind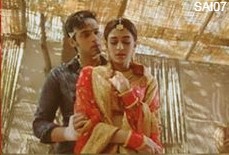 Prerna: Anurag please leave me. I'm getting late. Already its 7 am. Puja will be there then…
Anurag: shsh..Everything is waiting for you including your bechara pati
Saying this he kisses her neck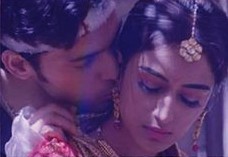 Prerna: Annn…ura….ggg please its getting late
Anurag chuckles and lets go of her. After sometime Prerna rushes downstairs while Anurag is getting ready causally. The scene freezes.
Its evening and Singhania house is shown. Naira is talking to Kartik on phone
Naira: haan..Kartik….everything is totally burnt..
Kartik: Why didn't you tell me before?
Naira: You would be tired after all the works and today is di's first day there how can I disturb you?
Kartik: Naira Naksh is handling everything alone and none of you told us anything
Naira: Kartik..woh..
Kartik: Its not fair!!
Naira: Seems like he won't be able to accompany bhabhi tomorrow
Kartik: Keerthi di is going somewhere?
Naira: Haan..to Lucknow to sell her house there.
Kartik: Acha
Naira: We tried to postpone but the buyers are adamant. Bhabhi too is insisting on going tomorrow
Kartik: What time is her flight?
Naira: 6 am
Kartik: Bhai and bhabhi are leaving at 4 am so I think Keerthi di can send them off and then we can escort Keerthi di till the security gate
Naira: Okay Kartik
Kartik: You both dont come alone. I'll come to pick you both. Bhai and bhabhi are going with driver
Naira: Okay
Kartik: Don't get tensed. It will all be fine. Good night
Naira: Good night Kartik.
The scene freezes.
Anupre's room is shown. They are packing their things.
Anurag: Prerna lets take few things with us
Prerna: Why?
Anurag: Prerna…its Paris..we can shop the best of things there
Prerna: Oh yes..I completely forgot that. I'm sorry
Anurag goes to her and hugs her.
Anurag: There is no need to tell sorry for this
Prerna pushes him and: Anurag keep your romance in reserve for Paris. Its already late. Help me pack
Anurag: Okay Mrs.Prerna Anurag Goenka
Both of them laugh out loud. The scene freezes.
PRECAP: ANUPRE HAVE ROMANTIC MOMENTS ON THEIR FLIGHT. DANGER LOOMS OVER KEERTHI. WHAT IS IT?
HEY GUYS THIS WAS THE FIRST NIGHT EPISODE. PLEASE TELL ME HOW YOU LIKED IT IN THE COMMENTS. [NOTE: THIS STORY IS BASED ON THE SELECTED SERIAL CHARACTERS. NOT ALL CHARACTERS OF ORIGINAL SERIAL WILL BE INCLUDED. SOME OWN IMAGINARY CHARACTERS WILL BE INCLUDED WHICH ARE NOT A PART OF ANY SERIAL BUT FOR YOUR IDEA I'LL MENTION WHICH ACTOR I IMAGINED IN THAT ROLE]