LOVE IS THE SWEETEST FEELING [NEIL & KAJAL – SIX SHOTS – PART 1]
AN ; I dedicate this to Jasmine Rahul who wanted me to write a story for Kajal and Neil from Gud se Meetha Ishq. Thanks a lot Jasmine for suggesting me this lovely pairing. 
A guy was taking photographs of the beautiful scenary of Uttarakhand.
Suddenly his eyes saw a Pahadi girl who was narrating the stories about the mountains and valleys of the place. He started clicking her photos too and when the flash spot at her eyes she looked him
He was stepping forward without noticing that he was standing at the edge and was about to fell. Before his leg could slip and he could fell she held his hand and they both stare each other's eyes
Gud se meetha ishq…ishq….Imlie se khatta ishq…
Vaada yeh pakka….ishq…ishq
Dhaaga yeh kaccha….Ishq….
Oh….oh…..oh..Oh….. plays 
"Thanks a lot for saving me ."
" Hold yourself also rather than just capturing photos."
" Mmmh…. Will you please help me ? "
"Help!!
"Yeah , I saw you narrating about this place. Actually I too want to click some beautiful scenarios Guide Mam ."
She smiled and looked him
" My name is Kajal and I am a tourist guide, not Guide Mam."
"Hi I am Neil from Delhi. I am a photographer . Nice to meet you"
Kajal and Neil started roaming the valleys , mountains. In between Neil took beautiful pics of Kajal too
Neil : Will you be here tomorrow ? I want to explore more places.
Kajal : Sure Neil Ji
Neil : Neil is enough cut that Ji. Please
Kajal : Okay….
Next day both were travelling in bus as the place which they have to visit was quite long. On the way Kajal felt asleep as she was tired and slightly she slept at Neil's shoulder.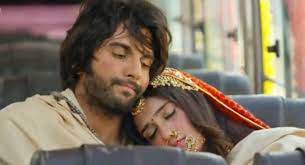 Neil covered himself and Kajal in woolen shawl as both were shivering in the cold weather.