Love Is In The Air Episode 18
Episode starts
Prerna is drawing as she hums her favourite tune. Time goes by as her hands are busy drawing. Finally the drawing is over and it is
Prerna just now realises what she has drawn and is shocked
Prerna: How did I end up drawing him? Oh he is in my subconscious memory too. Whats all this God? What is the name if these feelings? Am I the only one having it? Yeah of course he has started to ignore me. Prerna dont give any place for these feelings or else you will end up hurt. Let me also avoid him from now.
She throws the drawing on her table and goes to sleep.
College Next day
Naira shares what she heard with Prerna
Prerna: Are you serious Naira?
Naira: Im as serious as Im breathing
Prerna: We need to do something.
Naira: The only person with whom we can share this is Anurag sir
Prerna is shocked to hear his name
Prerna: Why him?
Naira: Because he is the one close to us here..come lets go to him
Prerna: You..you go I have some work in library
Prerna walks away Naira is confused. She walks to Anurag's cabin
Naira: Excuse me sir
Anurag: Come in
Naira walks in. He is surprised to her and his eyes search for Prerna. A small eagerness to see her erupts in his heart but it is suppressed by his efforts
Naira: Sorry for disturbing you sir..
Anurag: No issues Naira. How are you?
Naira: Im fine sir..sir..I need to share something with you can ?
Anurag: Yeah sure tell it
Naira tells him everything from the arm wrestling , Kartik suspending Samar and what she heard
Anurag: That bastard is capable only. But what to do he is a high profile guy we have to prove with proper evidence
Naira: Sir we can collect evidence na
Anurag: Definitely. I heard about your kick to him. If that mode is on we can definitely catch him. You will do it na
Naira: Anything for K..Justice sir
Anurag: Good. Ill be with you in this for sure.
They devise a plan. Anurag misses Prerna and Naira is able to sense it. She also remembers PRERNA's reaction on hearing his name and makes her own plan too.
Hospital 
Mishti is done with her duty and is waiting for a cab. Just then she hears a honk and turns to see Abir in his car.

Her face is lit
Abir: Do you mind me dropping you madam?
Mishti: I dont mind
She hops into the car
Abir: Guide me with the route huh
Mishti: Sure
As they are travelling Abir holds her hand
Mishti: Abir concentrate on the road
Abir: Arrey how un romantic huh Mishti
Mishti: Stop the car stop
Abir stops the car in a haste
Abir: What happened?
Mishti points an icecream shop
Mishti: Icecream Abir lets have them
Abir: Okay okay let me park the car atleast. We are in mid road
They park the car and enjoy the icecream sitting on a bench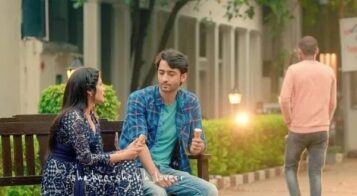 Abir: Our first date Mishti
Mishti: Yeah that too with this sweet icecream
The icecream melts and drips on her hand. Mishti licks the dripping drops and the icecream is applied on her face. She ignores it and enjoys the icecream like a kid. Abir adores her childlike qualities.
Goenka house 
Kartik is in pain as gets up from his lying posture
Kartik: Naira…
He then realises that in pain he took Naira's name
Kartik: Oh …this girl is running in my mind from morning..now see I even took her name in pain.
He mutters to himself as he manages to sit comfortably and takes his mobile . He sees a message from Naira. There are other messages too but this catches his attention.
Message: Praying for your speedy recovery sir. Get well soon.
Though it is a formal message There is a smile on his face. A smile broader than what he had few days ago.
Naina's room
Naina is changed and sits on her bed with her case files when her phone rings. Its a private number
Naina: Hello
Voice: Hai Naina..what is your decision?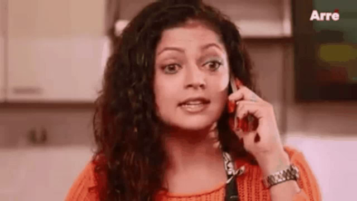 Naina: Who are you?
Voice: Mr.Mehta
Naina: You…See whatever blackmailing you do Im not going to quit. I wont be scared anymore. On the other hand what I warn you is stop your illegal activities and confess.,Thats good for you
Before he could reply she disconnects the call.
PRECAP: SHWETA CONFIDES IN NAKSH. NAIRA EXPOSES SAMAR AND KARTIK IS LOST IN NAIRA's THOUGHTS. PRERNA AND ANURAG GET LOCKED UP.