Hello All!!!!!
Precap: Sarita-Vikrant's bond. Pari-Ajith confess love and consummate. Ronakshi and Rudy-Preesha plans their honeymoon….
Scene 1
Pari wakes up and finds her naked along with ajith. She gets shocked and remembers the previous night.
Pari: Oh god. What I have done? This is the biggest mistake.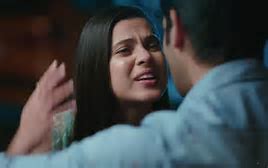 She wakes up ajith
Ajith: Good morning sweetheart.
Pari: This is our bad morning. Look, already my mom,dad, brothers called me so many times. They would be scared.
Ajith: Don't worry pari.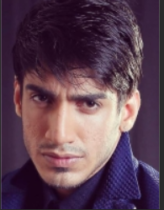 Pari: Even we crossed our limits today ajith.
Ajith: Why are you getting tensed? I will talk to my mom and convince her for marriage. Now come, lets leave. Get freshen up and come.
Pari goes!!!!
After some time, Ajith leaves pari in her home.
Suman: Pari…what happened to you? Everybody called you. Where is your phone? How did you come with ajith?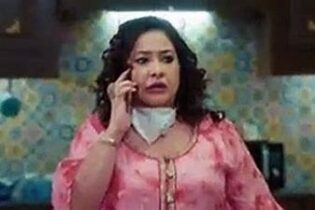 Pari: Mom, my phone got switched off. And my friend was in trouble. So, we were helping her. She is a friend of ajith too. So, he came there.
Preesha: Pari, who is she and what happened to her?
Pari doesn't know what to answer.
Ajith: Preesha di, actually she is an orphan. Suddenly, some goons came to attack her. So, we stayed at her place for her protection.
Preesha: Didn't you inform police?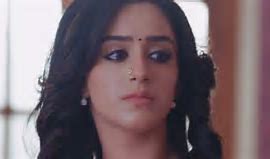 Pari gets irritated by her questions.
Pari: Bhabi…
Suman: Preesha, enough of these questions. Let her go in and eat something. She looks very tired. Thanks, ajith for dropping her.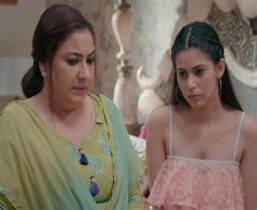 Ajith: Its ok aunty.
Pari goes in…Preesha looks pari and ajith and feels something wrong.
Preesha goes to pari's room.
Pari: Bhabi what you need?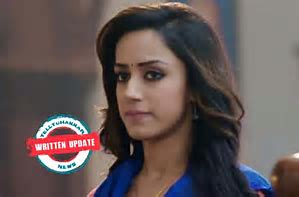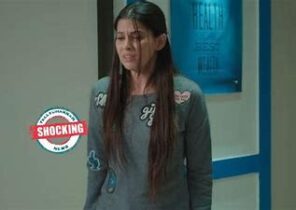 Preesha: I need true answers. Where were you last night? What really happened? I know your phone was not switched off.
Pari: Are you doubting me?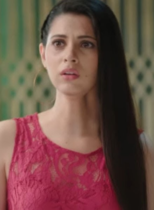 Preesha: yes, because you were with ajith.
Pari: You know ajith well nah?
Preesha: Yes, I know him. He is not like rohit bhai and rohan. He is a slight playboy. So only I'm asking you. I'm asking this for saving you.
Pari: he is my friend. Please don't interfere in my life. That will be good for you.
Preesha gets shocked to hear this.
Preesha: I'm your bhabi.
Pari: Just bhabi. Be in your limits.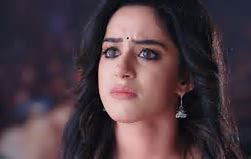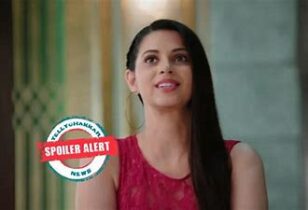 She goes…
Preesha feels bad!!!
Rudraksh call her… she goes.
Scene 2
Nishi calls sarita and informs her that ronakshi is going for honeymoon.
Sarita: don't worry chachi, I'll take care. Sonakshi would not forget this trip and it will be the last trip with rohit.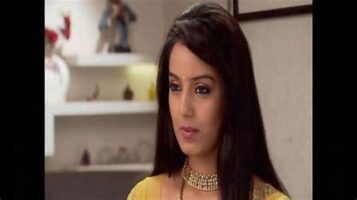 She ends call!!!
Nishi: My work is done!!!!
Scene 3
Suman takes arthi to rudy-preesha
Suman: Go and return back safely.
Lakshmi: Yes, enjoy a lot.
Pulkit: Happy journey to both.
Pari hugs rudy and glares preesha.
Sarnaash hugs preesha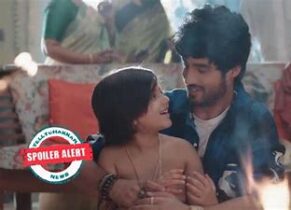 Preesha: Should be a good boy.
Sarnaash: I will.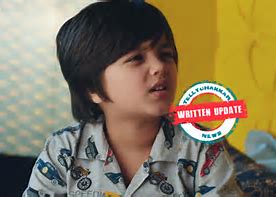 He hugs both preesha and rudy.


Amma and appa come.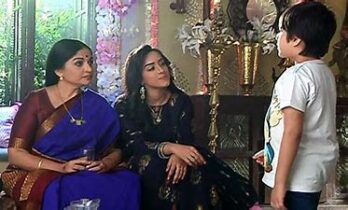 They also share hugs with preesha.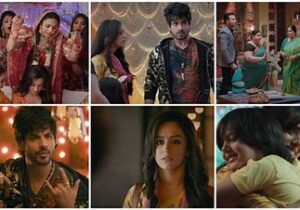 In Sippy's house, everybody sends off ronakshi!!!!
Scene 4
In the flight, Sona lies on rohit's shoulder!!!!
Sona: I feel happy rohit.


Rohit: me too sona.
They both see brouchers related to Switzerland and smiles!!!
Preesha and Rudy watch movie together in a flight. That was an action movie.
After the completion of movie,
Preesha: No one will think that we are going to honeymoon by seeing us. We are playing, watching an action movie. Lol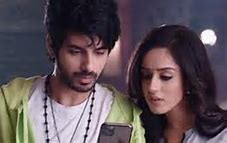 Rudy: Then you want me to become naughty.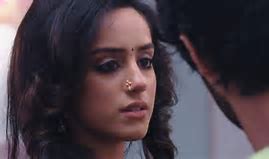 Preesha: No be a good boy till we reach hotel.
Rudy: Then I can be naughty nah.
Preesha: You are an idiot.


Rudy smiles!!!
Scene 5
Ronakshi reach Switzerland!!!
They reach hotel!!!
Rohit and sona enters their room.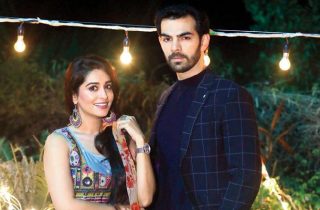 They see the room decorated and a gift kept in a table.
Rohit: We didn't say anything. How did they arrange this?
Sona: yeah!!! I like this surprise.
Rohit calls reception and verifies if it is their room.
Receptionist: Yes sir, that is your room only. As you mentioned purpose of visit as honeymoon during your booking, we made arrangements. This is our usual way of welcoming sir.
Rohit: Ok thank you.
Rohit: sona this is our room only. They will arrange like this for honeymoon package itseems.


Sona: Wow, so sweet!!!!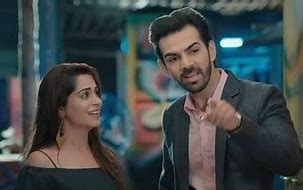 Rohit: Ok, you go and have bath and come. We will have dinner.
Sona: Only dinner???
Rohit: Sona…. naughty girl!!!
Sona smiles!!!


She goes to have bath…
She comes out wearing a saree and dries her hair…
Rohit: here too saree?
Sona: Now you are becoming naughty. Go and have bath. I'm hungry.
Rohit: Ok madam jii!!!


They both laugh!!!
Scene 6
Preesha comes wearing a short dress…
Rudy gets surprised!!!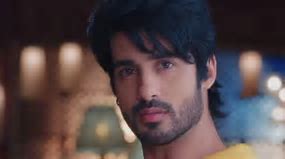 Rudy: Preesha!!!
Preesha: What you taught about me? A boring doctor…
Rudy: No…but yes actually!!!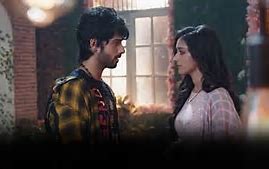 Preesha: Even I know how to behave in honeymoon…
Rudy: Really???
Preesha: Yes!!!!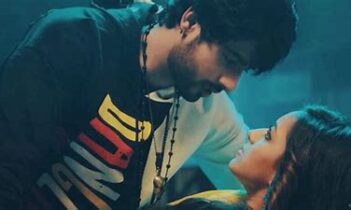 She runs…. Rudy too runs behind her… They stay in a guest house. They run around the house!!!
Rudy catches her…He hug her!!!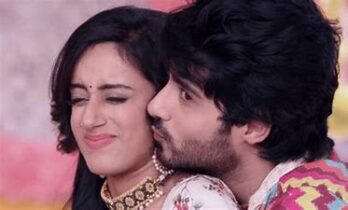 Preesha kisses rudy's face. Rudy kisses her back. He lifts her to the bedroom…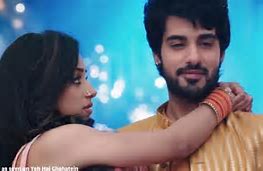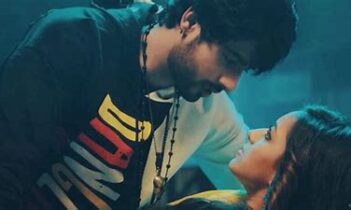 He makes her lie. She removes her shirt. He removes her dress. They get intimated!!!!


Scene 7
Rohit after bathing comes to changing room. He sees his dress kept with a written note on it.
In written note, wear this and come out quickly as your lovely wife wait for you.
Rohit: What happened to her? We are not going anywhere today. Then why she kept this dress here? And I didn't pack this. Whether she did this?
Rohit dresses up and goes out. He sees the room filled with extra balloons. He sees Sona in a beautiful pale pink frock. He gets mesmerized seeing her beauty.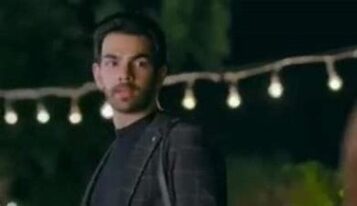 Sona: Did you loved the surprise?


Rohit: Oh, my wife's small brain has big big ideas itseems.
Sona beats him.


Sona: Fine, no more surprises. Go and change your dress. Have dinner and sleep. I too feel tierd.
Rohit: Is it????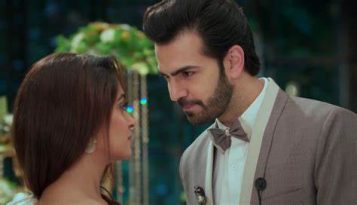 He pulls sona towards her.


Sona: Wait. Alexa, play music.
Music plays!!!!
Rohit: When did you pack all these stuffs?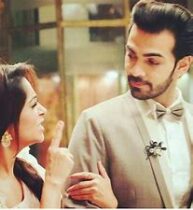 Sona: My little brain told to pack these as you are weak in surprises.


Rohit smiles and kisses her!!!


Sarita sees this from down in their glass window.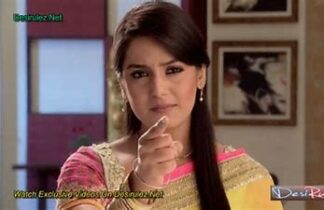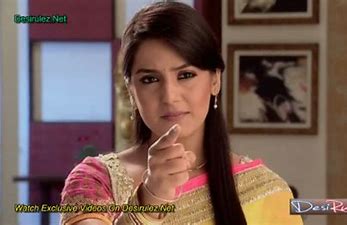 She breaks as she could not see some other lady with Rohit.
Sarita: The dream honeymoon of me is becoming as sonakshi's now. I will ruin this. Sona, enjoy at most. Tomorrow morning, you will receive your gift from me which will push you to the sadness of your life.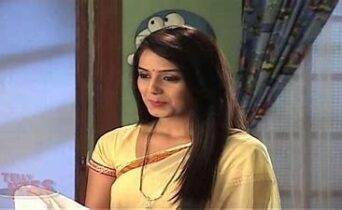 Rohit sees window is unscreened. He goes to pull the screen. Sarita turns and leaves.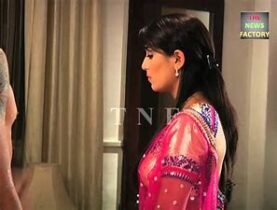 He sees her and gets shocked. He thinks if it is sarita really or his haullicination. He sees sona and goes.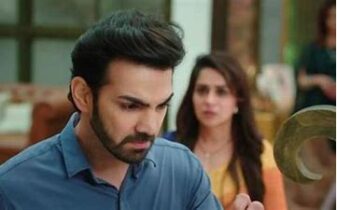 They both cut cake and feed each other. They have dinner together. They feed each other!!!
Sona then slowly removes his coat!!!


Ronkashi have an eyelock!!!!


They get intimate and turn lights off!!!!!!


Scene 8
Suman and family see the corona news and worries!!!!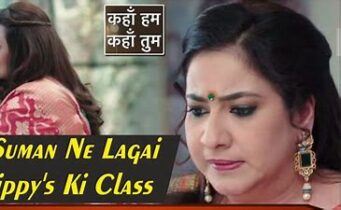 At the same time, veena too worries seeing the news.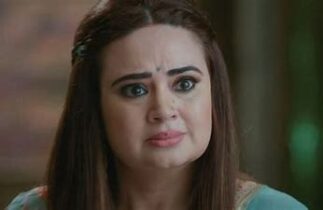 !!!To be Contiued!!!