Love Bytes (Divided By Professions, United By Love) – KHKT,YHC – Episode 14
Hi all!!!!
The episode starts with Guman telling thanks to sona…
Emotional sona leaves from there…
Rudy and pulkit also goes behind her….
Kumud and Kusum come to sona's house again as suman should not get doubt…
Suman then tells work to kumud…
Suman: Kumud beta, can you please iron these clothes?
Kumud: Sure ma…
Suman goes…
Sona: kumud, hereafter no need to do these works…
Kumud: No didi…its ok..we are all family members right…technically in one way, we are going to be bahus of this house..so no worries…you take rest
Sona smiles and goes…
She sees Rudy practising…
Sona: Rudy what are you doing with these clothes?
Pulkit: Bhai is gonna become a superman for sarnash's school function…
Rudy: Di, pls help me with this acting…i cannot handle it..
Sona laughs…
Sona: I feel happy and proud seeing the way you take care of sarnaash…
Rudy: Didi, do you remember that night when sarnaash was born???
Sona: Yes I do…Mahima made you as his godfather and official guardian…
Rudy: Yes…then how can I leave him…I care for him more…He is my champ…
Sona hugs and tells him that her upbringing is not wrong…
After 2 days!!!
Preesha comes to sona's home. with amma, appa and sarnaash..
Suman welcomes them…
Sona hugs sarnaash…
Preesha: didi, where is rudraksh??
Pulkit: Superman is waiting for his wonderwoman in his room…
Preesha feels shy and goes to his room…
All laughs…
Preesha sees a nervous rudy…
Preesha: Oh, the great rockstar is feeling nervous for just a school function…
Rudy: Not funny…I'm not nervous for function..I just want to get a good impression from sarnaash..
Preesha: You already has a good impression only…
Rudy: No, he accepted me only as your husband, i want him to accept me as his dad…you know what, i'm his official guardian and godfather…and even sometimes i get jealous seeing the bond of you both…
Preesha: Rudy…
Rudy: Just kidding…
Slowly, rudy come preesha and tends to kiss her…
She nervously goes back and she falls…
Rudy holds her


Sarnaash comes there running..
He then hugs rudy and preesha saying they are the best..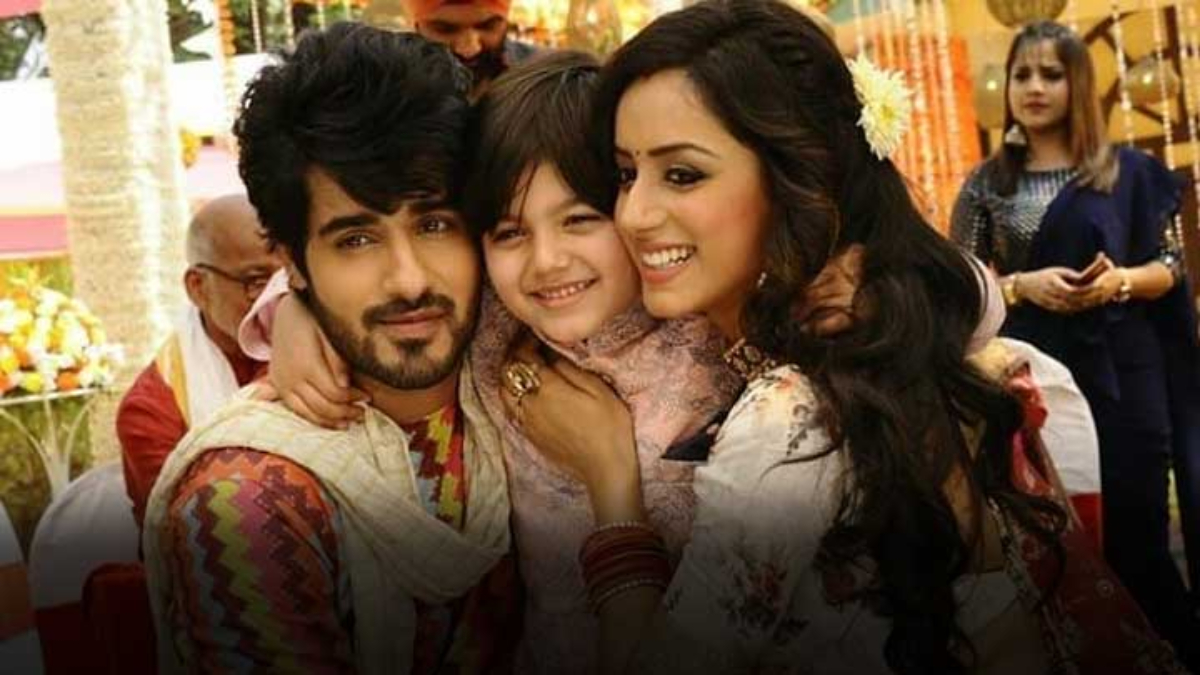 Suman calls preesha…she goes…she ask them to come fast..
Some time later…preesha calls rudy and sarnaash to come soon as it is time to go to school…
Rudy: We are here…
Everyone see rudy and sarnaash coming there with their hands together…
Suman and amma prays that this bond should be like this forever…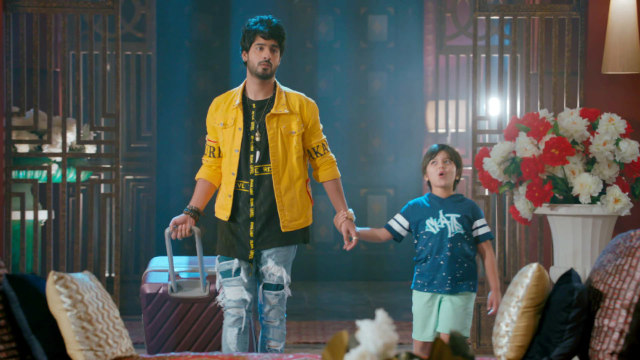 They go to school…
Sona leaves for shoot…
Sona wishes rudy all the best!!!
In school, preesha tells rudy…
Preesha: You know what, when u and sarnaash came together i felt jealous…
Rudy teases her..
They both smile…


Rudy goes to get ready…
PReesha prays that everything should go well…She calls him and wishes all the best…
Rudy: I need not to be worried as my lucky lady is praying for me..
Preesha smiles and ask him to do well…
Rudy then performs…
He sings a song which is composed by himself of about the love between a dad and son in superman attire….
Amma: This idea is excellent…
Sarnaash feels very happy and tells the other kids that he is his dad…Preesha hears this and thanks god…
Everyone guve a huge applause to rudy….
After sometime….Felicitation ceremony begins!!!!
The judges announce that the winner is RUDRAKSH!!!!!
Everyone gets happy and sarnaash is super-duper excited…
While receiving award, rudy calls preesha too..
Rudy: This idea and concept is given by preesha and everything is possible only because of her…so i wish to get this award along with her…
PReesha gets emotional and goes to get along with him…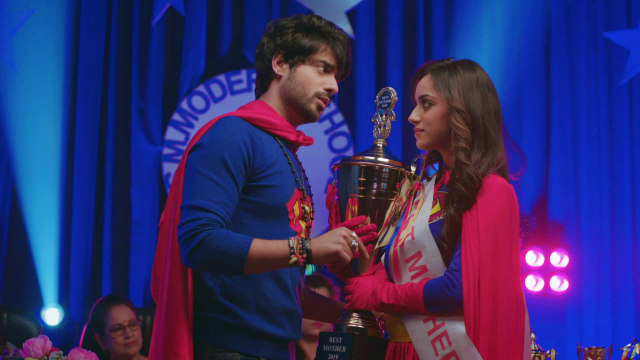 Rudy: This is the proof that we can do anything for our kids…thanks to the management…
Sarnaash: Love you dad…
Rudy gets emotional hearing Sarnaash calling him dad….
Meanwhile, Sona after shoot goes with Rohit for a date…
They see Pari coming towards them…
Sona: PAri…
Pari: Sorry didi, for whatever i did..Shall i take a pic with you…
Sona: Sure pari…
She happily poses for pic


While taking pic, pari whispers in sona's ears…
PAri: Ms.Sonakshi Rastogi, this will be your last pic…
Sona gets shocked…
She and Rohit both gets shocked seeing pari taking pistol out of her bad and pointing towards sona…
Rohit: PAri, drop it down…
PAri: No, i wont…
She is the one, who snatched everything from me…my suman ma, my brothers, even though she does not hold my dad's name as her surname, my dad is fond of her…even saras and danny too love her…everyone love only her…and now my own mother…she too stands against me…so better you die, so that i can get everything…
Everyone ask pari to stop as it is a public place…Police comes there and sees pari holding gun…they ask her to drop it down but pari doesnt care…She triggers and suddenly guman comes inbetween sona so she gets shot….
PAri gets shocked and cries…Lakshminandan and saras, danny too come there…
Sona takes guman in her lap…


Guman: Sona, i always hated you and your mom thinking that you both snatched my rights..but the thing is, i snatched your right, your happiness and been a reason for a family to break…I sincerely apologize to you…i suspected pari and followed her..thank god i came here…
Suman and family comes there as they saw pari holding gun in news…
Suman sees guman and gets shocked…
Guman: Here suman came…i'm sorry suman didi…
Guman breaks her mangalsutra…
Guman: Hereafter, i dont need this…this is your right…you should hold…pls remarry lakshmi and accept saras and danny…They are my sons….but pari…
Guman dies suddenly….
All cries….
Suman sees lakshmi and gets shocked…she suddenly feels weak…rohit checks her pulse and tells everyone that she needed to be taken to hospital as her condition is critical…
Saras: Sona di, you take ma and go to hospital, we'll complete the last rites and formalities of guman ma..
Sona, pulkit,rohit and rudy take suman and goes…preesha stays with kumud, kusum, saras, danny and lakshmi…
Pari seeing both mothers and cries…
Pari: I'm the reason for my mom's to be like this…
She pleads forgiveness to lakshmi, but he angrily asks the cops to get her and go…


Cops get her and goes….
These people complete guman's formalities and in hsopital rohit treats suman….
To be continued!!!!
Precap: Wedding season begins with all their relatives and stars!!!!