Let there be a magical rain and a tale of love [ADIYA , SWAPNA TWO SHOTS]
AN ; I dedicate this to Jasmine Rahul who wished for reading a Harshad-Jennifer-Sriti article from me. Thanks a lot for sugessting these actors . It can't be told as a triangular love story but it's a tale of Love. This one is inspired from " Thoda Saa Rumani Ho Jaaye . " movie directed by Amol Palekar and starred by Naana Patelkar and Anita Kanwer.  Please read and tell your views. 
At Bandra 
A girl was standing near the railway track. It was midnight and she was waiting for the arrival of last train . . As soon as she heard the sound she shut her eyes and tried to kept her feet at the track . But she wasn't able to do it.
" If you have no guts to end your life then what are you doing here ? "
The girl turned back and she finds a man who was looking at her
She was unable to tell anything to him. He extended a bottle of water to her .
" Have this water ."
Without saying anything she gulped the water quickly.
"Thank you." She replied softly
"Oh!! So you are able to talk ? Great then shall we have some conversations ?'
"Excuse me !! What are you saying ? And who are you ?"
"Yeah I missed how can a girl talk to a stranger . Let me introduce myself , I am Aditya . "
She turned her eyes as if she was still reluctant to talk with him.
Aditya : You looks so pretty, but this sad face doesn't suits you. By the way what was you going to do ?
" Why you said that I don't have guts ? "
Aditya : You felt bad, I said truth only. You wasn't able to decide whether you have to live or you need to die.
" Every one says this, I am so weak in taking any sort of  decisions. That's why I am a big failure. "
Her eyes went teary . She sat on the bench and was bursting out her pain in tears.
Aditya ; Truths are bitter but you please take it in a positive spirit. Please wipe your tears.
She looked him .
" What are you doing here in this midnight ? "
"Even I was also thinking whether to go my home town or not . This was the last train and I missed it. '
"You purposefully didn't entered the train, right ?"
Aditya : May be
"Why you wasn't able to decide you need to go or not ?"
Aditya : So you can taunt me also , That's nice Miss or Mrs.
"Mrs. Zoya "
Aditya ; Seriously !!! Dekhar lagta nahi
Zoya : What you want to say ?
Aditya : Nothing . I imagined that at the midnight when a girl meets guy in a deserted track and like in some movies they both will share things and eventually they travels together in a train , will be seated near to near and then it will happen .
Zoya : What ?
Aditya : A moment of Magical Rain which fine tunes the tale of Love.
Zoya : Wow sounds nice
Aditya : What if it happens real ?
Zoya : You are crazy !!
But suddenly to their surprise rain started bursting. Both were drenched in rain
Zoya started enjoying rain . Seeing her like that way Aditya reminded his past
Aditya's past
Swapna : What are you doing Aditya ?
Aditya ; I am romancing my sweet heart . Swapna it's raining outside ,Shall we do dance in rain ?
Swapna : Are we any kids or any actors of the movie who does all these stuffs ?
Aditya : You think in movies only rain sequences are possible. Swapna this rainy night is meant for us. It's time for us to melt love in this rainy night.
Swapna : When my lovely husband is creating magic on rain how can I deny it ? I am ready for it.
Aditya and Swapna were very happy. They danced romantically at the rainy night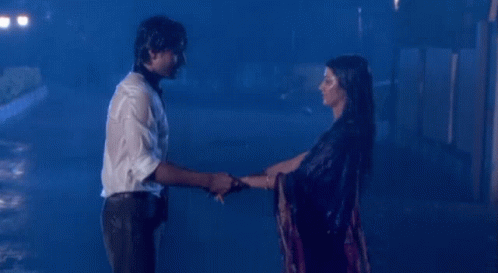 Aditya : Let here be always the magic of rain and a tale of love , Swapna. Better than this I don't wish anything else
Swapna : Aditya
Aditya turned his lips to kiss Swapna's lips passionately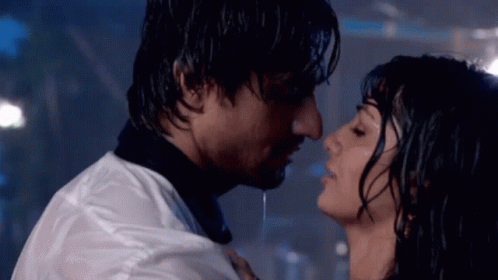 He came back from memories as suddenly Zoya called him
Zoya : Oh Hello, Aditya ? Where were you ?
Aditya :Nothing Zoya Ji…
Zoya : This rain is not going to stop at this night, I guess. What will we do ?
Aditya : Will wait for tomorrow early morning's train ? By the way you and mine's destination are same. I need to catch train and you need to commit suicide by lying at the track .
Zoya : You won't ask why I am trying to commit suicide ?
Aditya : I know as you said you don't have guts . And I know it's uncomfortable for you to share the exact reason to me as we met just now.
Zoya : I was feeling good while enjoying rain.
Aditya opens his brief case and gives a towel to her.
Aditya : Wipe water from your head . Else you will get cold and cough .
Zoya : Thank you.
A guard came there .
Guard : Did you both miss the train ?
Aditya : Yes .
Guard : See next one will be arriving at morning 6 am only.
Aditya : I know .
Guard : Rain is also high and at these weather you both won't be able to go out. So do one thing. You both can stay at that railway quarters room.
Zoya : What ? I don't want to stay anywhere.
Guard : Madam, rain is so high. No option is left for you.
Aditya ; I have no issues in staying there.
Guard : It's a single room .
Aditya : No problem
Zoya : What ? How can I stay with him ?
Guard : Sir, did you and Madam Ji have any cold war at home ?
Zoya : Hello, Madam Ji kisko bola ?
Guard : Aapko aur kisko ? You are his wife naa
Zoya : What ?
Aditya : Guard please show the room
Guard : Okay, follow me
Zoya : Why you didn't said that we are not husband and wife.
Aditya : Tum bhi toh bol sakti thi naa ? We have no choice rather than staying together in single room at this rainy night.
Scene shifts to room
Aditya : Zoya, You comfortably sleep there. I will go out
Zoya : But Aditya where are you going ?
Aditya : Once guard leaves I will also go from this station.
Zoya : That means no one will be here ?
Aditya : Yeah
Zoya : Please don't do that. I feels much scared to be alone in night time .
Aditya : If you are these much scared then why you came at this station at midnight ?
Zoya ; Because of this
Zoya slightly upwarded her skirt and Aditya was shocked to see her artificial leg.
Aditya : Zoya !!
Zoya : Not just Zoya, Mrs. Zoya who is not capable of walking without this artificial leg. The one unlucky person whose husband left her alone at the first night stating that he can't bear the burden of a handicapped person. For 8 months I was struggling alone and he didn't tried to enquire what happened to me. I came to my family back when my husband need not me anymore why should I stay there. But strange thing is my big brother and his wife also thinks me as a burden only. They tells me choti why you came back ? I realized that until Paapa was with me he never made me to feel I am handicapped . Because he did his best as both mom and dad to me . I have seen my mom in photo frame only . My brother said that I am a curse and that's why Mom underwent death when she gave birth to me.
Zoya emotionally looked Aditya
Aditya : Where is your husband ?
Zoya took a paper from her hand bag and shows it to Aditya
Zoya : This is the reality
Zoya took the knife from her hand and started piercing it on her wrist.
Aditya ; Zoya!!
Aditya throws the knife and covered her wound with a kerchief.
Aditya : You have no rights to end your life like these. This is a divorce notice, not your life's end. Be brave.
Zoya weeped in tears
Zoya ; Why should I live in this world ? No one loves me, my own bhaiya bhabhi hates me. They blames me as a burden and they forcefully made me to marry a person whom I was not willing to marry. He showed his true colours by leaving me and now this divorce.
Aditya : You should thank god that you got saved from those sort of cheater . What if he would have left you after you becaming a mother ?
Zoya : Aditya !!
Aditya : Sorry to hurt you , but he did the cheapest thing very early . There are some people who who tortures their wife to the extreme and leaves wife and kids.