Kaisa yeh isq hai ( AVNEIL fan fiction ) 8 Episode

Warning: A non-numeric value encountered in /home/ftpusers/tellyu/public_html/wp-content/themes/publisher/includes/func-review-rating.php on line 212

Warning: A non-numeric value encountered in /home/ftpusers/tellyu/public_html/wp-content/themes/publisher/includes/func-review-rating.php on line 213

? Kaisa yeh isq hai ?
? 8 Episode ?
Recap :- Avni plays a trick against Neil , Ragu is given a warning by boss , Neil is curious about Ahiana
___________________________
Neela bangs door with her hands " Ahiana please open the door , Please "
But no one replied , Neela " What the door is opened "
She revolves the door knob and it divides into halves
Neela walks in and looks for her everywhere .
Neela " Ahiana , Ahiana where are you dear "
She finds a yellow colored notepaper stucked on mirror , She goes and detached it .
[ Flashback ( Avni is sitting beside bed , Kneeled on floor , She weeps ) Avni : How ! How can I be so shameful , How can I do this blunder in order to save myself .
She slapped herself twice & thrice " No I did a sin , Today because of me others life is at a risk , No I can't do this "
She writes a note " Neela ma ! you gave me love just like a mother but I betrayed you , Yes he's right I stole money , But I did it to save myself from someone "
" Ma ! I'm sorry now I've realized my mistake now I'll step in this SUKOON ghar only when I'll pay you back the amount "
" Please don't tell it to anybody , APKO MERE KASAM , MA ! "
flashback over ]
Neela is in shock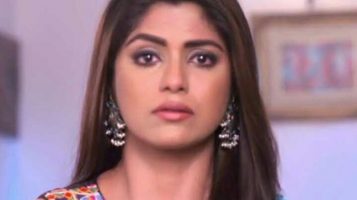 , She Is astonished " Ahiana , I can't believe , She ? , But from whom she wanted to save herself " , " She gave a lakh , Why ? , I just hope She's not in any disaster "
AVNI'S POV …..
Avni is walking down the street it's moderately lit now , Sky is completely warped with clouds .
Tears rolled down from Avni's tears as she walks ahead and ahead .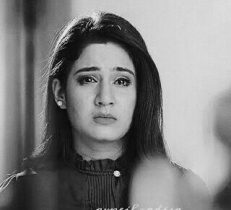 Avni : I got such a nice lady with God's grace , But I betrayed her too , Now where will I go
Avni looks up " Ma ! I really miss you , Please come to me , There's no one for me here "
Avni came across a strange sight , But in reality it wasn't strange for her . A burnt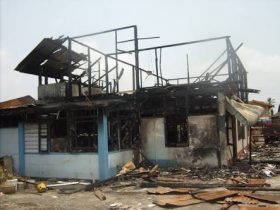 house
Avni looks at it , Her eyes were red swollen by now .
Avni walks towards that blackened , Destroyed house , She goes there , With her shaking hands she touchs one of the iron pillar which didn't burnt and was saved as she was .
Avni : My house , In which I used to play , I used to be happy , Whenever I would be in pain I used to keep my head on mama's lap , And one day someone burnt my house , my happiness , And after that day I didn't smiled , I was drifted apart from my mom , My everything .
Looking high at sky she screams " Why god , Why ? Why ? Did you did that to me "
She walks in through those mess created by burnt materials . Soon she finds a metallic box pressed under bricks . She clears all those sharp stones , Pricky rocks from its surface .
She was too furious in her act that those pointing edges of the rocks injured her hands , Wounds were created from which blood was oozing out .
She finally could get that box , She smiled seeing the word AHIANA over its lid .
Avni : This box , This ! it's that box where mom used to store all her memories , Pictures , Wow , I got it
A satisfactory smile came on her face . She holds it and brings it near to her heart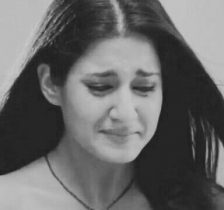 Avni : 15 years have gone to that incident but still , Still today that smoke can be easily smelled, That scene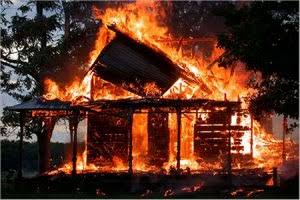 is now also fresh in my eyes when i saw my home burning
On that box , Ahiana was studded , Avni : In this box , My mom dads memories are there , But don't want to open it , I couldn't bear that emotions if I did so
NEIL'S POV ….
NEIL is in projector room , He's investigating .
Dd : Neil sir , Are you sure that this Ahiana is the only culprit
Neil : Yes , She had only stolen , And if she didn't then why would she delete the video from my phone
Dd : Hmmmm
Neil : Did that report from software expert came .
Dd : Yes ( brings a file ) On your phone the virus was sent by a mobile , Model number 12 , IMEI number 24df , in afternoon , Right when you were at the party
Neil : Hmmmm ! Okay now we've to find out is this phone of Ahiana only or not
Dd : Yes sir , Got it
Neil to himself : If Ahiana did it then why ? who were those men to who she was giving money .
His phone rings " Hello who's this " – He says
Shweta : Oye ! Who's this ? I'm your mom , Wow now you even don't recognise your mother
Neil : No some stupid girl destroyed whole data from my phone
Shweta : what ! a girl , You never allow me to touch your phone , But you allowed some girl to do so
Neil : No mom you're taking it in a wrong direction
Shweta : Don't tell me that tillu , come back soon at home ( she cuts the phone )
AT SUKOON GHAR …
Neela is walking up and down " Oh god it's going to be dark now , Where would have this girl gone now "
Neela : She's not answering calls too , Oh god if she did a mistake she should have accepted it
NEIL'S POV …
Neil : Don't worry Neela aunty I'll find her out
Neela : It's going to be dark now , She's new here , Find her out
Neil : But where can she go like this
Neela ( she can't tell him as avni took a promise from her ) : Don't know Bacha ! May be she got upset that is why
Neil : I'm going right now don't worry
Neela : she usually goes towards that ' SHamveer road' find there also .
Neil : Now my curiosity is growing more , Why did she ran like this ?
AVNI'S POV ….
She is walking around four corners of house , Thinking about all those lovely childhood memories .
Then Avni thinks about her friend Neil , Her best friend
She goes to his home , Which was just adjacent to hers as they both used to neighbours .
" House on sale , Owners shifted permanently to abroad " – She reads a board handing on the door .
Avni : Neil remember how you saved me from teacher once , You took my punishment , You used to save me from every danger , Where are you now , I'm in problem .
She speaks in soft and low voice " Come please , Just for once , Hold my hand and say ' When Neil is there no need to take tension ' as you use to say before
Avni puts that box in her bag and moves forward , Suddenly heavy and noisy Rain starts pouring , It's pitter patter only prevailed there , Also It was now dark as its in late evening .
Avni is walking and walking , She's wet from head to toe . Momentarily she finds someone coming from forward to her , She feels someone stepping towards her .
Avni stops walking for a moment right in the middle of road .
Avni : I knew Neil , It's you Na ! I knew you'll come to your Avni for sure .
Both of them , Avni and that black invisible shadow were moving towards each other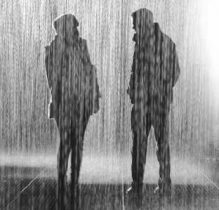 Avni raises her hand in air and its stationary above as if her hand is being presses against other hand .
[ Background music :- Sanu ek pal chain na aave
Sanu ek pal chain na aave
Sajna tere bina
Sajna tere bina
Dil jaane kyun ghabraave
Dil jaane kyun ghabraave
Sajna tere bina ]
Avni : Neil Why are you silent speak , Speak something please , It's being 15 years now , I hadn't heard your voice .
NEIL'S POV …
HE IS DRIVING IN HIS SUV , Rain is dripping outside .
He's passing through the same street , Where he uses to live 15 years ago , Where is home was , His neighbour Avni .
Neil : These streets have , I don't know what connections with me , Why I'm feeling like very strange passing through here , That is why I left using this road .
Neil : whenever I come here , My eyes gets watery and I just go back to those old days , I just recall Avni .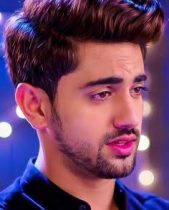 He turns on the radio :- Dil jaane kyun ghabraave
Dil jaane kyun ghabraave
Sajna tere bina
Sajna tere bina
Sanu ik pal chain na aave
Sanu ik pal chain na aave
Sajna tere bina /
SOON Avni's eyes shuts closed as a bright flashlight focuses them . She realizes that it was her dream and nothing else .
It's Neils Car , He applies breaks to vehicle and it is stopped , He comes out of the four wheels .
Neil goes and hurriedly holds Ahiana
Neil : Ahiana what are you doing here ? Where were you ?
Avni was still into her dreams , " Ahiana " – he shouts again .
Neil holds her hand which were injured and warm " What has happened with you " – He asks in soothing tone
Avni hugs him and says " Neil " as if she's in great trouble .
Neil is in astonishment , What has happened to her he thinks . Avni says " Neil " again as she's recalling her childhood best friend , But she's totally unaware that he's right in front of her . Neil thinks why is she taking his name again and again .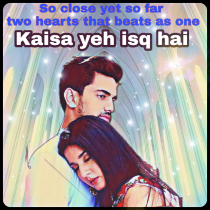 ---
Hey AVNEIL fans hope you liked today's post . how was a Monday after Sunday without NAAMKARAN . Please comment . Do hit ?? if you liked it . Bye .

Warning: A non-numeric value encountered in /home/ftpusers/tellyu/public_html/wp-content/themes/publisher/includes/func-review-rating.php on line 212

Warning: A non-numeric value encountered in /home/ftpusers/tellyu/public_html/wp-content/themes/publisher/includes/func-review-rating.php on line 213