Kaisa yeh isq hai ( AVNEIL fan fiction) 17 Episode
KᗩIᔕᗩ YEᕼ Iᔕᑫ ᕼᗩI
Episode – 17 …
Recap :- Driving over a bicycle Avni & Neil reached home . K.k selects Avni and calls her RJ Alia . Prakash's concerns for Neil
__________________________
Neela : Why are you saying like this Avni , You're already her daughter , You ought to get selected .
Avni : What are you saying Ma !
Neela keeps her hands over her shoulder " Come , Sit here "
Avni : Why did you called me Avni ?
Neela : You call me Ma ! But you're telling lie to your Ma only !
Avni looks into her with confused looks
Neela : what happened why are you shocked to hear your own name Avni sinha , The daughter of Ahil and Naina sinha or Ahiana . This name Ahiana was given to your mom by her public, right ?
Avni : Neela Ma ! What all are you talking , I can't understand it !
Neela : Bacha ! Why don't you understand that for how long you'll keep on pressing this truth , For how long you'll keep crying . Just tell me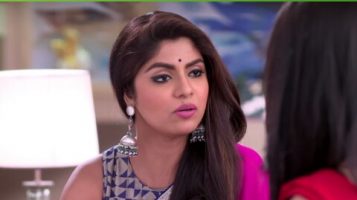 She was still silent and calm .
Neela in little loud tone : Okay , If you don't want to share fine , For whole life just keep sitting here , Hiding yourself and keep on crying and crying .
She stood and walks out of the room .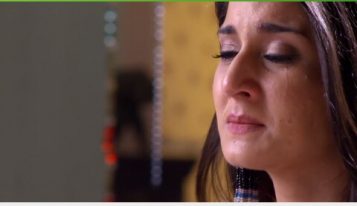 Avni slaps herself twice thrice " what're you doing Avni , Firstly you lost your Naina Ma ! And now you've made Neela Ma upset . I'm very bad , Very bad . She's right whole life I've to cry only "
" firstly you made me separated from my father , Then my mom , Then my best friend and now Neela ma ! It's better for me to die rather doing this "
Neil's POV ( At khanna mansion , In his room )
Neil pastes a picture of Alia over his board and pressures a thumb pin into it forcefully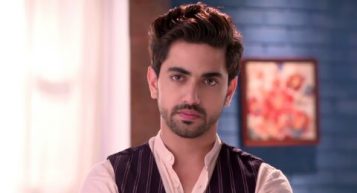 Neil : Alia , A mystery , Case No.123 . You can't hide from me for so long . Me IPS Neil khana will very soon crack this case . Just do whatever you can , Be it stealing from police station , Or running away from airport , One day you've to come to me , To me Neil khanna .
His door knocks " Sir this envelope came for you " His servant says and goes out .
Neil opens it and finds out an Invitation card for EID celebration at CHAMKO cafe .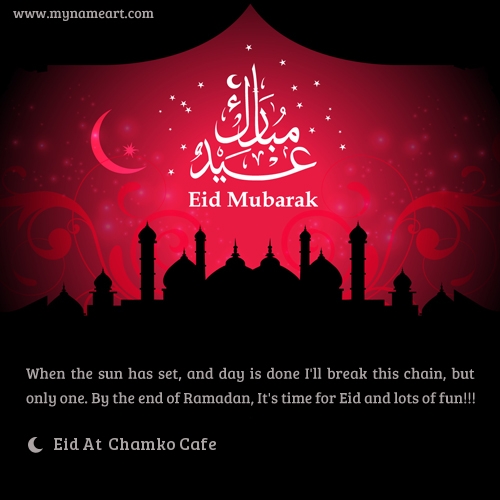 Neil : Tomorrow I'll get to know everything about this Alia . And I'll be successful in cracking the case .
AVNI'S POV …
Avni hears children outside shouting to each others , She goes there .
Avni : Mowgli , Mishti don't fight , what happened ?
Mowgli : Ahiana di , Mishti is saying that this belongs to her , But I found it first
Mishti : Nope he's lying it belongs to me , I got it before him .
Avni : what is it , Show me ?
Mowgli shows her a mask
Avni best tensed " From where did you got it , Ha ! , Tell me ? "
Mishti : From your bag , Sorry Neela ma told us not to do this again
Avni : It's very bad you should not touch others things like this , Okay ( she took it back )
Mowgli : Ahiana di is it true that some goons came to our house
Avni : what ? What're you saying ?
Mishti : Yes di I heard it from Neela ma ! She was talking to someone on phone that some goons came into our house
Mowgli : Yes she was saying that they came here in search for Alia
Avni : Kids see it's time to go to bed , So go now okay
Avni walks uo to the roof top where she finds Neela sitting over bench , Her eyes are teary . Avni comes there holding a box of medical kit . She sits beside her , Plucks a cotton ball and applies ointment over her big red scar on forehead .
Neela speaks " What happened why are you eyes watery ! " she says as if she's making her realize her mistake
Avni " Just feeling regret that because of a daughter , A mother has hurt "
Avni " I'm sorry Ma ! " she says very slowly weeping .
They both hugs each other.
KHANNA MANSION …
Shweta : Prakash Ji why don't you believe me
Prakash : How could this happen , Your ears must have heard something wrong , I'm sure
Shweta : Okay fines , Buts my eyes they can't be wrong , I'm sure they were talking about this Alia only
Neil hears their conversation , " Mom dad what happened why are you both shouting like this " " It'd night now "
Prakash : Neil , Now you only explain to your mom
Neil : what happened mom
Prakash : She is saying that when she visited Neela Ji some clumsy people came and they were asking for Alia
Neil : Alia ; who but there there's no Alia
Prakash : Yes ! But she says that they showed this picture and this is Alia
Neil sees the picture , " Mom from where did you got this picture "
Shweta : From your room , Isn't it that same girl on whom you're investigating , Tell me Tillu
Neil : Yes, The pictures are same but why'd they come to SUKOON GHAR and threaten Neela aunty
Shweta : The day this Ahiana has come everything bad is happening
Prakash : what are you saying , Have you ever met her , Then how can you say like that
Shweta : I'm sure some or the other way this Ahiana is related to this case .
Neil sat there , His mind has taken other route , He was thinking all previous meetings with Ahiana ( Avni ), Her dialogues
" Till you get any strong evidence against me you can't ever track me like this "
" All the best Mr.Neil IPS officer , I hope you'll be soon be successful in catching Alia , My best wishes are with you "
" Why do you every time staring me like I'm jerry and you're a Tom , Ha ! "
Prakash : Shweta Ji now let's sleep , Its late night now , what'll neighbours think , They'll think which fool is shouting at this time of night
Shweta : Oh so indirectly you're saying I'm fool , Okay now I'll not speak anything , I should better leave
Prakash : Oh sheet Ji wait , Good night Neil .
Neil : Now this Cat and mouse game has to be brought to an end , And I'll do it for sure .
SUKOON GHAR ….
Avni holding a photograph , Sitting down on knees beside Neela " This is our big family " " Not really because I made this by pasting each family members picture together "
" My grandmother Janki sinha didn't liked that her rich son would marry a blind poor girl , My mother "
" But my father loved her more than himself , He left home and then we started living here in Mumbai "
"Our sweet little family , Mom ,Dad and me "
" But my granny couldn't bear that his son listens to his wife instead of his mother , She hated my mother , Very much "
" But my mother , Naina Sinha , She was a sweat hearted person , She never told her fear of loosing her family with anybody "
" I lost my father in an motor accident , After that the hate rose up , Janki gave ultimatum to mom that she'd kill her and me so as to make her feel the pain of loosing a child "
" But my mom said she would not go anywhere she's not afraid , she knows she can protect her family , Her family , Me "
" One night our house was set on fire , Nobody knows what happened " " i was a little girl , My mom holding me ran away to save me , When I opened my eyes , I saw my house on fire , But my mom wasn't there "
" I shouted, screamed , Yelled but noone helped me , Not even police not even my best friend "
" I was parent less that time , Then suddenly someone kidnapped me "
" Next day when my eyes opened I saw myself in a black room , I was tied to ropes , My cloths tonred away "
Avni becomes silent as if her heart was beating very fast and her eyes as red as a molten lava from a volcano , Cheeks rosy and nose red . Neela keeps her soothing hand over her shoulders .
Avni : " A 8 year old girl , In a brothel . They did many businesses , Selling girls , Singing at a bar , Or sometimes I don't know what "
" I've seen with my eyes , There how girls are tortured their hands were burnt in boiling water , Beaten with a whip , They've to spend sleeplessness nights with insects in closed room "
Avni shows her blisters , Scars and injuries over hands and shoulders " Now if a needle would prick me I won't even feel it because I've bared more pains than mere a single needle "
" Every time I used to ask god , Why you made me separated from my mom " " But I was miles away from here , At London , Living my life as a famous singer Alia , Who in the morning used to sing at pubs and bar, And whole night used to cry "
AVNI tooks a Sigh of grief " One day they told me that they've hidden my mom somewhere in Mumbai , And they would not release her " " Then this little girl thought that one day she'd escape this hell "
" The plan began when we were coming to India for a concert , I escaped in a bathroom and came here to SUKOON GHAR to find some peace "
Neela : But Avni you said that you've come here to be a singer now you're saying you're here to find Naina Ji
Avni : I found a letter by my mom in my pocket where she had mention that she is always with me , , Her soul is here in Mumbai , But where I don't know , She said that " I know Avni , My superstar one day you'll find me for sure , I know you can't live without me and I can't survive without you . But promise me you'll not tell anyone that you're my daughter , Avni . You'll live as Ahiana . First you'll become a singer just as your mother and then only you'll try to find me . I'm always with you my strong child . I'm waiting for you , Yours Mama , Naina "
Neela soothe her " Don't worry , I'm here your Neela Ma ! I won't ever let you go their again I'll protect you "
Avni : Ma ! I wanna find my mother , Don't know even if she's alive or ..
Neela : No we'll find her , I your Ma would help you to your Naina Ma you have faith in me Na
Avni holds her hand " Promise me that except me and you noone should know this truth "
Neela : But why if we'd not take any help then how'll we find her
Avni : Naina Ma ! Wants me to live hidden , Because they'd kill me because they want to take revenge from my mom , As they think that my father died because of her , So I've to live as Ahiana , Please promise me that you'll not tell it to anyone
Neela : Bacha now I'm here with you , We'll win , We'll find your mom , Okay , Sit here you're not stable I'll get some water for you
Neela goes down the kitchen and she holds her head " Oh god , How can it be , No not now , Now I can't tell her , Someday seeking a right opportunity I'll disclose that thing , Ha ! "
Avni speaks looking at sky : this is my battle and I alone will win it
NEXT MORNING ….
At SUKOON GHAR
Neela is in kitchen , Avni comes in hurry
Neela : Avni why's you in great hurry
Avni : Neela Ma today it's my first day at Sanam re radio and don't want to be late , K.k Sir asked me to reach at 9 Am sharp today
Neela : Okay , But there's time now , Chill and have breakfast
Avni : Really sorry Ma but today I couldn't wait for even a single minute I've to leave , Bye
Neela : Avni ,
Avni : Ma !
Neela : Ahiana
She leaves in hustle .
AT CHAMKO CAFE …
Neil is talking on phone " Dd all's set "
Dd : Yes sir , Everywhere I've set our men
Neil : Good , But where are you
Dd : Sir I'm just having special Eid sweets
Neil : Dd you know today we've to be very careful because that person is coming to meet me over here
Dd : Yes sir , I'm watching everywhere ( He's eating Laddu and can't speak as his mouth is stuffed )
Neil : First eat then talk and remember during duty don't eat anything
He shuts his phone and Ali comes there shaking his back " Oye Tillu ,Mere bhai , EID Mubarak "
Neil : Come on Ali !
Ali : So how's decorations
Neil : Marvelous , It's looking like wow , And you're looking great too , By the way , What's the program today
Ali : Lots of fun , food , Music and dance
Neil : And out of this I'm not interested in anything
Dd comes " Then Sir you shouldn't be here , Why had you come here ? "
Neil's eyes grew large , " Noodle bhaiya what if Sir won't dance he'll see performances , Yes sir " – Dd
Neil : Dd what I've told you is done
Dd : Yes sir work on progress ( He goes )
Ali : By the way Neil why is there so much security here , I mean it's celebration time and police
Neil :You see Ali these days a lot of happenings are happening so I want to make sure that disguising in guest if some trouble causing dosen't come , Don't worry the party would be awesome
A CAR STOPS RIGHT IN FRONT OF GATE AND A GIRL WEARING BEAUTIFUL DRESS , DECORATED WITH JEWELRY GETS OUT . She turns back and she's Avni .
Avni : what is this place , I've to sing here , Oh god .
She walks a step ahead and is stopped by a black man holding a gun " Sorry madam you can't get in , First show me your invitation card "
Avni : Sir I'm here because I'm invited please understand
Man : Don't know madam our sir have given us strict orders , Sorry .
Avni : Please for once talk to your sir , Please
Man : Okay wait here !
Avni to herself : This K.K sir is very ..I don't know , He just said you've to perform here , Go we're coming behind , Now where's he .I can't even tell that I'm here to sing song .
She finds out that the Man is busy in talking on phone and has turned aside , Seeking chance she stealthily enters the party .
Neil comes : Yes where's that girl
Man : Sir she was here only , I told her to wait
Neil : What I told you to keep a hawk eye , Now be alert I'll see to it
Avni comes in to the party " K.k sir where are you "
" We'll be little late sorry , But for sure we'll have performance "
" What should I do till then " – Avni
" Enjoy the party , Dance , we'll be there soon "
Avni : To get early I didn't even did the breakfast , Oh I'm so Hungry ( She smells food kept there )"
Avni : Oh god Gol gappa's but I can't eat them I've to sing here , But my heart is melting and mouth is watering , Just one I'll eat .
Neil standing outside " What was she wearing "
Man : A green colored Lenhenga and a lot of jewelry something like that
Neil rapidly goes in and starts looking around , Finally he finds a girl with same description standing at food stall .
He spoke in a taunting voice , Holding Ali who was just passing by " Bahi pta hai , Bin bullae meheman or Bin mausam barsat dono hanikarak hotein hai " ( Guest without invitation and Rain in not it's season both are harmful )
Neil : If like this these people keep on coming here then before the beginning of party whole food would finish
The girl , Avni turns back holding a pain puri in one hand and a tray under it in other hand .
Neil : Ooo so you're Bin bullai mahaman ( uninvited guests )
Ali : Neil what're you saying ?
Avni got shocked to see him there and the bite already in her throat caused irritation , She coughs .
Neil hurriedly brings a glass of water and makes her drink from his hand .
Avni : I am not an uninvited guest , I'm invited here
Neil : Show me your invitation card
Avni : Card ( she stumbles ) I forgot it .
Neil : Hmm ! So I should say you're tracking me today right ! Because I saw the guests list there wasn't your name
AVNI : I'm not at all interested in doing that for your kind information , I got to know that at CHAMKO cafe , Ali's food is very special so I came here to taste
Neil : Oh ! To taste food in this costume , Wow , Well , Do you know her !
Avni in her mind " Thanks god that over there at advertisement board it was written that the owners name is Ali , It saved me "
Ali shouts : Yah I think I know you , You're Ahiana right ! Neil's friend , That one who's very inquisitive , Cunning , Beautiful , And you've beaten him right !
Avni smiles " Ohyeah I'm Ahiana , Correct , But I'm not his friend that's incorrect "
Ali : See he just gave me your description and I identified you so easily , I'm very smart , Isn't it !
Neil : But Ali !!
Avni : So Ali tell your friend to keep quiet now because here he's not a police officer , And come let's go in and enjoy the party !
Ali : Neil ! You just keep patience okay , Come Ahiana let's go
K.K'S POV ..
K.k and his team are in a car
K.k shouts " Driver drive the car fastly we've to reach there on time "
Driver : Sir it's traffic out there what could I do
A girl sitting with him asks " Sir why did you send Ahiana before , what'll she do without us "
K.k : Baby try to understand I've send her before us so that she could make right environment , She's star she should be there Early
The girl beats her forehead " Oh god what'll happen to our sir he's real fool " She says to herself .
Ali , Neil , Avni comes in to sitting arena
Ali : Come you both sit here and enjoy
Avni : With him never , Give me some other seat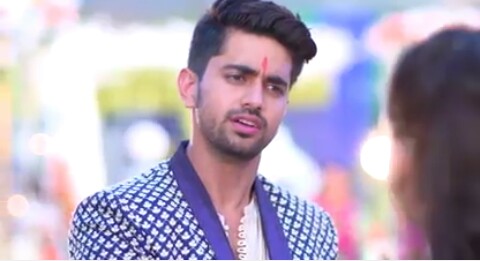 Neil : Me too, I don't want to sit with a radio that buzzes even after being turned of
Avni : You mean I speak to much
Ali : Guys please it's Eid today you both should hug each other , It's the festival of love and bind creation.
They both stare at each other , Ali holds their hands and brings them together , Avnis hand over Neils .
Ali : Arz kiya hai zanab , Zara gaur se sunna .
Everybody turned around .
Ali clears his throat " Kehte hain , Do dhago ko jitna apas me bandho ge utni hi majboot gandh banegi "
Everyone " Wah wah ! "
Ali : Usi tarah jitne apas me lado ge utni mohobat gehre hogi , Talliyan , Talliyan !!!
( It's said that more you tie knots between two threads more would be strong single string , likewise more tiffs between friends results in deeper relationship , Clap , Clap )
They both sat down on chairs .
After a minute of silence , Neil spoke seeing Avni typing with her finger over her phone screen .
Neil : How's your phone now , I mean even after falling from height it's working Na !
Avni thinks " Wow he's curious to know about my phone not me who fell into mud water "
Avni : Why? are you a mobile doctor that you'll treat my phone if it's not well
Neil : Not a doctor but I can easily guess as a police officer that you're here for a different purpose
Avni to herself " What kind of brain has he got , Always Keep asking questions , Oh now I realized why he's a Akroo police wala "
Neil : whenever I ask you about your plans why you get silent
Suddenly Ali standing on stage announces " Hello and welcome my dear guests , Ladies and gentleman here we're to celebrate EID , The festival of love and friendship ."
" So before beginning with any shubh kam let's eat special EID sweets made by your favorite Ali " " Being served over your place "
A waiter places a bowl of sweet over the table .
Ali " You must be thinking that Why only one ? Don't worry we've ample of it , But one because eating from one is considered good , So friends take a spoon of special seviyan and offer it to your friend "
Avni thinks " He didn't even allowed me to eat , I'm very Hungry , I'll eat it first "
Avni brings her hand forward then Neil also does the same , They both holds the spoon .
Neil : Don't stare me with those lovely eyes , You know I've to eat this sweet and plus your eyes I'll get diabetes
Avni : Don't worry I'll myself would give to hot red chillies to eat you'll not even feel like you're eating sugar
Momentarily , A girl comes in she shouts " Hi, Neil , My cupcake , How's you "
Neil : oh hi , Tina , How's you where you've been it's long to see you
Avni : Cupcake he's burnt cake without sweet
Tina : Hi, Who's she , Your friend ? Ahiana that one only Na ! Very inquisitive , cunn.
Avni : Cunning and beautiful , Right ! ( she shouts )
Tina : Ya ! But what happened to you
Avni loudly " I am not his friend "
Everyone looks at her .
Neil , Tina smiles .
Neil : Tina why are you standing come and join us
She sat down .
Tina : Wow , Seviyan , I'm too hungry ( she engulfed a big bite )
Avni murmurs : Bhukhi to main hu ( I'm hungry too )
Tina offers him a spoonful and Neil also offers her , Then he took another and offers Avni .
Avni looks at the spoon , " Ahiana have it it's good come on " – Tina
But she was still , Tina gets up and pushed Avni and she finally eats it out , She claps .
Ali announces next " So guys I've two surprises for you , First is we're going to play a game right now and next I'll tell you afterwards , So I request everyone to please come near stage "
TINA holds Neil's hand " let's go its dance time " . While Avni sat right there over the seat .
Ali : So the game is , Each of the pair would come here and take out a chit from this bowl and whatever word will come you've to dance on that song , Right !
Ali : so who'll come first !
Everybody says " Ali you "
Ali : Okay , ( He takes out a chit and music begins )
Boys and girls gathered there to dance , The music began , Ali is shown standing in position like sharukh khan [ Music – Hey hey hey… aah ha…
Subhan allah, subhan allah, subhan allah ,
Valle valle, valle valle, val ]
Tina grabs Neils hand and they both started to dance , But Neils eyes were fixed on Avni and Avni was looking at Avni sharply .
[ Music -Chand sifarish jo karta hamaree deta woh tumko bata
Sharmo haya pe parde gira ke, karnee hain hamko khata … ]
WHILE Neil was quiet desperate that Avni could get up and come to him , They both were gazing at each other , Ali's eyes were fixed over the gate as he's waiting for his chand ( Moon ) Juhi .
Ali : I don't think she'll come please Juhi come I'm waiting for you .
NEIL TO himself : Why's she sitting so still and nervous and staring at me like this , What's the reason behind this Khamoshi ( Silence )
[ Music continued -Jidd hain abb toh hain khud ko mitana, hona hain tujhme fanaa
Chand sifarish jo karta hamaree deta woh tumko bata ]
While the whole crowd was busy dancing , Avni points out a mysterious man , Wearing a scarf over head but his face visible . She got up and moves towards right to have a glance of him ,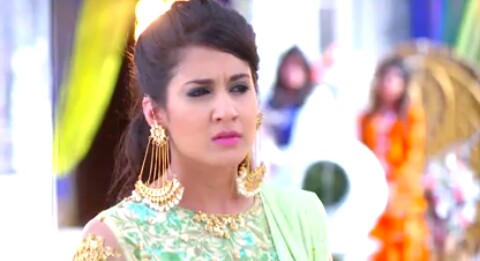 After seeing him she signs " He ! What's he doing , Is he here for me ! , Oh god ! "
There the dance is over
Tina : wow Ali you danced really well
Ali : Thanks , So who's next
Tina : Neil ! Off course
Neil : Me No !
Ali : Boys and girls give a big hand for our Neil .
The whole crowd yells " N.E.I.L " .
Neil looks " Where's Ahiana , Has she gone "
Neil goes and picks the chit and then his turn came .
The music begins , The crowd clears and Neil is shown wearing black googles , He's on his knees and blowing a flute . Everybody is clapping . [ Tuning – Mashallah Mashallah woh hoo ho… ]
He gets up removes his glasses and the song begins [Mashallah Mashallah Chehra hai Masha'Allah ]
Neil points Avni as soon as she tries to walk ahead , He pulls her holding her arm , Putting a long rolled Handkerchief around her and pulling her into his arms he mimics the song and dances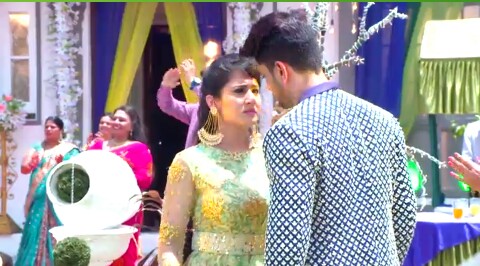 [Mashallah Mashallah Chehra hai Masha'Allah
Naino pe naino ka pehra hai mashallah
Tujhko churaya hai, paaya hai yeh jahaan
Mashallah Mashallah Chehra hai Masha'Allah ]
Avni pushed him back and tries to go away but he again dosent let's her go , Keeping his arms around her he asks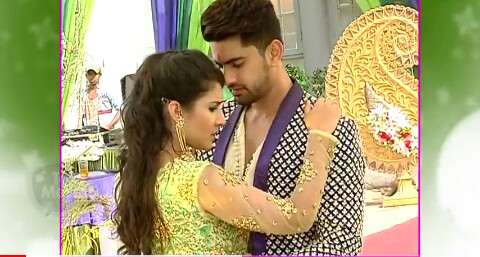 " What happened why are you in a hurry " " Again you want to run from here ? "
Avni is silent , She freed herself from him , Neil keeps his hands around her waist their eyes in contact .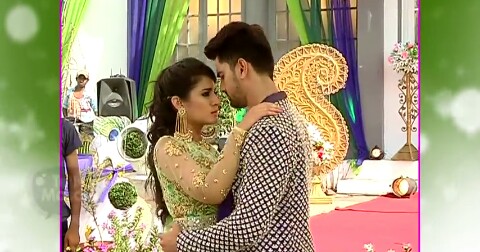 Song continued [ Female –Mashallah Mashallah Chehra hai Masha'Allah
Rang tere ishq ka Ghehra hai mashallah
Tujhko churaaya hai Paaya hai yeh jahaan ]
Meanwhile , Ali finds Juhi coming in , He rushes to her .
Ali : Hi juhi
Juhi : Hi Ali
Ali: EID Mubarak
Juhi : same to you
Ali : Thanks for coming
Juhi : You invited me so heartily I don't like to break anyone's heart
Ali : Come , Come the party is still on ! It's time to dance and rock
Juhi in her mind : No I can't dance between people , If someone saw me then
Juhi : Nope
Ali : Come you'll enjoy , Come
Ali took her into the dance crowd . And makes her dance .
Instantly Avni and Juhi bumped into each other , They have a faint glance of each other , They looks at each other strangely .
But then other dancers came in between and they both separated .
Avni gets shocked , And she stumbles and was just falling down , Trying to save her from falling , Neil falls Over her .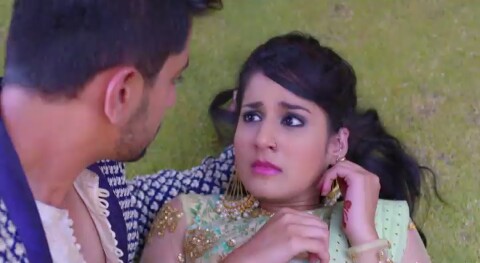 Pause , The show ends here .
---
Precap: Neil meets Ragu , Avni thinks about Juhi . she sings song
---
Please don't go without ? . Please comment would be madly waiting . Humble request. Good night??