Kaisa yeh isq hai ( AVNEIL fan fiction ) 11 Episode

Warning: A non-numeric value encountered in /home/ftpusers/tellyu/public_html/wp-content/themes/publisher/includes/func-review-rating.php on line 212

Warning: A non-numeric value encountered in /home/ftpusers/tellyu/public_html/wp-content/themes/publisher/includes/func-review-rating.php on line 213

? Kaisa yeh isq hai ?
? 11 Episode ?
Recap :- Avni gets to know that Neil is still looking for Alia , Later she enters into a tiff with a politician son .
---
The man got enraged he squeezed Avni's neck " Silly girl don't you know who am I "
Avni : I don't know to know either ( She replies in low and suppressed tone )
Avni kicks the man in his groin part and he's pushed back
Avni : Don't you dare to cross your limits now
That man was red hot by now " You'll not sit quietly now I think , You want to fight with me really "
He tooks out a gun from his pocket and points it over her forehead .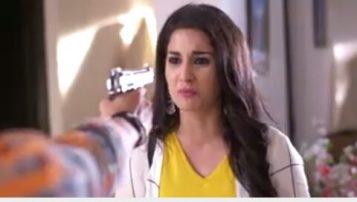 Avni : Gun , Haha I'm not afraid at all , Shoot me come on ! let people around see how a man shoots a girl who stood for Truth
Man : You're trying become a super hero , Wait , First I'll kill this kid only Beacuse of whom all this happened
Avni screams No and she covers the child .
The mad and overly furious man points his gun towards her , And a sound of ' Boom ' is heard as if a bullet is fired from gun . The whole crowd is shocked and dumbstruck .
Avni opens her eyes and looks up , She finds out that in actual someone has shot at his wrist .
Neil comes and stood in front , Shielding her , He points his gun to him .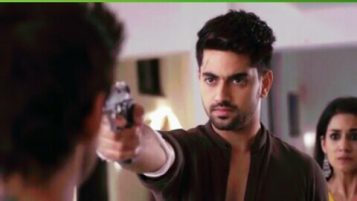 The man  roars " Hey ! who the hell are you , How dare you do this , Don't you know who am I "
Neil : I know very well  you're MLA's man right , Just previous day you killed a lady working at your home , But your sir saved you , But today you can't be
Neil gesticulates and his officers took him away .
Avni bows down to that Kid , His little and tiny eyes were wet .
She keeps her smooth white hands on his cheeks " Why are you crying , See we're saved "
He weeps " Today it's my moms birthday , I wanted to buy her medicines as she is suffering from cancer , So i asked him to give me some money but he slapped me "
Kid : If I couldn't collect some ruppes then my mom will die , And I can't live without her
Avni hugs him and weeps his tears from his black dry and pale skin " Before that be calm and smile , Moms Never likes to see their children crying "
He was still crying , Avni takes out her handkerchief and rubbed his face . She sings for him " Aa leke chalun tujhko
Ek aise desh mein
Aa leke chalun tujhko
Ek aise desh mein
Milti hain jahan khushiyan
Pariyon ke bhes mein
Milti hain jahan khushiyan
Pariyon ke bhes mein "
She herself was crying but telling him to smile .
Avni removes her gold chain and gives it to him " This was given to me by my mom , And today I am giving you for your mom , May God bless her "
Neil's phone rings , He steps a little aside to answer it .
AT SUKOON GHAR …
Neela is doing dusting inside Avni's room . She's murmuring " Where has Ahiana gone she said she would come within an hour "
She uplifts a pile of ironed cloths and opens her wardrobe " Ahiana is just like little kid , In while she gets happy and suddenly she will get sad , No one can make out what's going on in her mind "
While stacking in clothes mistakenly something falls down on floor . She bows down to have a look at it .
Neela " What's this ? " She's surprised to see that thing .
NEIL'S POV …
After answering to call and keeping his phone aside he turns back and finds out  Avni  is nowhere .
Neil asks the kid " Where's she ? "
" She gave me this and went away "
Neil thinks : Truly I've never seen a girl like this , I mean sometimes she fights , Quarrel , Other times she cries but makes others happy "
THE NEXT SCENE , AVNI IS SITTING IN A PARK …
AVNI : when I saw tears in his eyes , How afraid he was , And how much he loves his mom . Just like me , I remember , Being in pain .
She closed her eyes for a moment and a glare of flashback comes in her brain [ she's a little chi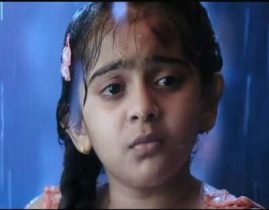 ld , She's being enslaved , Cased in a dark room , Being beaten ]
She abruptly opens her eyes and yells loudly " Noooo "
Everyone looks at her . She becomes silent .
Avni speaks " Now it's too much , No it's my own battle , I'll fight it by my own "
She speaks " Bande hain hum uske, hum pe kiska zor … umeedo ke suraj, nikle chaaron aurr … iraade hai fauladi, himmati har kadam … apne haatho kismat likhne, aaj chale hain hum ", (I am God's man, who could dare to defy me … the Sun of hopes, is out in all directions … my intentions are solid, and there is courage in every step … I have set forth today, to write my own destiny )
NEIL'S POV …
Neil enters his cabinet , Dd and other officers salutes him .
NEIL : Yes dd so tell me what you've got to know
Dd : Hello sir Ji , I've an important information to tell to you
Neil : But before that tell me why did you told mom about Ahiana
Dd : Sir you know Na !It's impossible to hide something from mata Ji
Neil : Leave it , Tell me !
Dd : Yesterday around 12 pm an mail was sent on Alia's account , Since we've hacked it , It's in this pen drive . I'm sure there's something important in it
Instantly a heavy noise is heard from outside , As if a bunch of man are fighting .
Neil : what's going on there
Dd : Looks like fight is going on , Maybe Sir some famous star must have come to meet our sir
Neil : Shut up , Come on let's see come ..
They all moved out , Neil sees two men in a brawl .
Man ¹: Hey you give me my money back
Man ² : I've already given
Man ¹: No you haven't , Give it to me back
Neil : Hey you both what happened ?
From within the crowd a girl wearing black shining lather jacket , Sparkling sunglasses enters silently into Neil's cabin . She has covered her head with a hood .
That girl hurriedly sees every drawer , Cupboard there . Then she comes to the table and checks every file lying on it . She finds an amber colored file .
She picks it up and a police officer sees her trying to trespass through the window .
He shouts " Hey who are you ! What are you stealing " He comes
He comes and holds her arm and prevented her from jumping out of the window .
The girl pushed him back hardly and he falls down . She jumps out and ran away .
Solving the dispute , Neil comes in , And sees his cabin totally untangled . Evey inch of room badly disturbed .
Neil questions " Who came here just now ? "
That man answers " Don't know Sir , But some girl came , She stole something and ran away from window "
Neil : what ? Are you serious , I mean where were you all
Officer : Sir , We all were out but when I came in I saw somebody in your cabin
Dd : Did you saw her face ?
Officer : Can't Sir , She had totally hidden herself
Dd : How did you get to know that she was a girl
Neil : He's right ! ( Picks up a earring from floor )a girl !
Neil : Dd find out what she stole
Dd : Oh Sir Ji ! she stole Case No. 123 , Alia's case file .
Neil is curious he thinks " A girl came and stole a file , Why ? "
Dd : Woa ! Sir what's going on I've seen for first time a theaft in police station , Now where shall we go to report the case
Neil : what is all this going on ! it means , This all was a trick
Dd : Believe me sir this alia is very cunning , Everytime we try to catch her we only are defeated .
Neil : Don't worry Dd , Don't forget she's a thief and every thief leaves behind something , We've to find that out .
AVNI'S POV …
That girl in hood and sunglasses is shown giving some money " You did it very well , Good "
The two persons standing with her were those men only who were fighting in front of police station .
[ Flashback ]
Avni is sitting in park ( scene continued )
Avni : Now it's time to move on and take another step , I would never let anyone know who's Alia .
She goes to the police station and finds two poor people talking that how they are dealing with situations as they don't have enough money , Avni thought of a plan
Avni to those men " Please do my work , I'll pay you for this , Just you've to act a little bit "
And they nodded in yes
[ Flashback over ]
Avni is shown walking down the street , She removes her hood and sunglasses and swirls her long hair in air
NEELA'S POV …
Neela is holding some pictures in her hand which has fallen from Avni's wardrobe .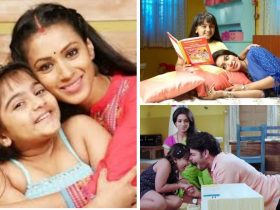 Neela " She's Naina Sinha Mumbai's very famous singer , Who's this Little girl with her , Isn't she Avni , Her daughter "
Neela : But they died 15 years ago , Then , why's these pics with her
Avni's POV …
Avni is standing outside a big building , Over which ` K.K's sanam re ` is written .
Avni to herself : Ma ! today it's my first step towards yours and dads dream , Give me that power that I could succeed .
---
Please forgive me for late update , There was some technical problem in my phone . Well, Hope you liked today's post . Sorry if I bored you and forgive me for mistakes if I did . Please put thumbs up ?? to support , Would be madly waiting for comments both bad and good . Love you all , Stay safe . 
---
Will Avni tell Neela about her past 

How'll Neil find thief with earring
Where is Avni
How will this Ahiana , Alia, Avni case solve .. .
If you've read my previous ff , Which is its part one – Aankhon mein Teri , Then here Naina and Ahil are changed by these characters Ashish and asha according to story . if you haven't then please note here AVNI'S parents names  are Naina and Ahil

Warning: A non-numeric value encountered in /home/ftpusers/tellyu/public_html/wp-content/themes/publisher/includes/func-review-rating.php on line 212

Warning: A non-numeric value encountered in /home/ftpusers/tellyu/public_html/wp-content/themes/publisher/includes/func-review-rating.php on line 213