JOURNEY OF LIFE – Yeh Rishta Kya Kehlata Kai (Episode 1)
Hi friends iam ready with first episode. As characters are big we can't see every character in single episode ..so  some character will be seen in next episode too..kindly adjust with it…😊😊
JOURNEY OF LIFE -EPISODE 1
At mystery lady house:
Naira:mom….
M.L: Don't call me mom again…how much time should I tell you not to call me mom. Just call me aunty….
Naira: you cared for me till I was 21, but once I became 22, you are torturing me why??? I know you dint give birth but I was adopted. Even adopted daughters are also daughters..but why are you behaving like this suddenly?
m.l thinks: naira I dint adopt you but stole for my motive..as you was kid I dint torture you but my motives time came so iam executing my motive…
M.L: shut your mouth and now listen carefully:
You and me have no mother and daughter relationship..from now your relationship in this house is servant..you have to clean this house and then go as maid and work for yourself to earn money for your food and clothes…hereafter no foods for you in this house…did you understand?
Naira cries and asks:okay but you should answer me one thing…
M.L:what??
Naira: did you adopted me from orphanage??did my parents died??or do I have parents??
M.L slaps naira and tells: If you ask this question again then you have to face the heat of a hell..better go and sleep and start your work from tomorrow as I said…
Naira goes and cries lying down and sleeps…

Next morning at 4.am

Naira finishes her works in her house and goes out to search for a family for working as maid..she sees akshara near temple and goes to her….
Naira: hello mam.
Akshara: hello..your eyes looks wet,do you need any help?
Naira:yes. I want to work as maid..so can you give me this job in your house?
Akshara: you look talented…dint you pursue your studies??
Naira makes dull face..
Akshara: ohhh sorry beta..if you have any issues with it ,I won't ask again..okay you can work in our house..
Naira: thank you mam..I will come today at 7.am
Akshara: ohh sure dear..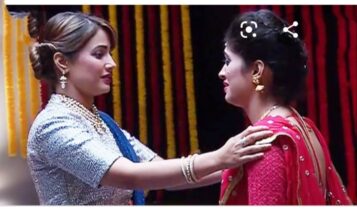 Naira leaves..akshara feels sad for her and she goes to her house…
SINGHANIA HOUSE (6am)
naksh,akshara and naitik are standing there and suddenly they are shocked seeing teni…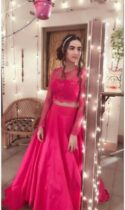 naitik: akshara please slap me once…
Akshara looks him confused..
Naitik: I want to check whether it's dream that's y…🤣🤣
Naksh: mumma, how come every clock get repaired at a same time..it is showing 6 am only but teni got ready and came down..I have never seen her even waking at 9.30 am but today what happened to her???
Teni: bhaiyuuuu..don't you know how important today is??
Naksh thinks and asks: whom are you dating today??
Teni becomes red…
Naksh : cool cool just kidding ..
Teni:today is final boxing competition and whoever wins this round will go to semi final and my crush (rocky) is a competitor today and iam going to support and watch him today…
Naksh bursts into laughter and says: do you know who is his opponent?
Teni looks confused…
Naksh: the opponent is your dear bff arjun..now tell who will you support?
Teni is shocked
Teni: ohhh my gooooooddddd… But no problem..whoever wins I will congratulate them but I will have crush on rocky…
Naksh: I swear I will never let you marry a boxer..if it happens I could not fight with the donkey..🤣🤣
Teni becomes red and says: I promise you mom that naksh is in love with keerthi and he is hiding it..today he made me angry and so I broke his secret..
Naksh becomes red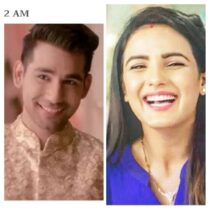 teni laughs …
Akshara: is it true naksh??
Naksh: mumma..she is taking revenge on me..bring monkey tomorrow ..I will marry monkey instead Keerthi…
Teni laughs and says: bhaiyuuu..Keerthi will be my bhabhi one day and that final ..no one can change this destiny🤣🤣
naksh becomes red and chases her…after few minutes teni prepares to go for boxing competition and goes out of the house and hits someone….
PRECAP: KARTIK DRINKS MORE. NAIRA CRIES. TENI HUGS ARJUN AND ROCKY WATCHES TENI WITH EVIL EYE
HOPE YOU ENJOYED THIS EPISODE..PLS TELL ABOUT YOUR OPINION AND ASK IF YOU HAVE ANY DOUBT…