Its Destiny Dear : Devakshi FS Shot 7 by Pavithra

Warning: A non-numeric value encountered in /home/ftpusers/tellyu/public_html/wp-content/themes/publisher/includes/func-review-rating.php on line 212

Warning: A non-numeric value encountered in /home/ftpusers/tellyu/public_html/wp-content/themes/publisher/includes/func-review-rating.php on line 213

Hey guys, this is Pavithra here.. It been a long time since I have updated and I am extremely sorry for that.. I was really very busy. And welcome to the last shot of my Devakshi FS :- Its Destiny Dear… I hope you like this one.. Thank you to all those who commented on the previous shot and also sorry I couldn't reply to your comments.. Enjoy this one….
___________________________________________________________
Recap:- Devakshi reunites and hugs.. Ishwari agrees to make them marry…
___________________________________________________________
They reaches Dev's house.. Ishwari, Radharani,Mamaji,Elena,Vicky,Glou ( who have grown up), Dixit sisters and also a new girl named Gayathri (Vicky-Elena daughter), she is 6 years old, were there to welcome Sonakshi back..
In a few days, DevAkshi gets married…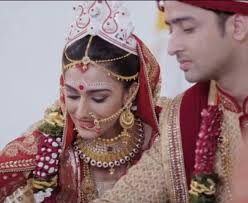 The moment Dev put sindoor on Sonakshi's mang, everyone claps and Sonakshi cries…
Dev: Why re you crying?
Sonakshi: I was waiting for this moment for almost 15 years…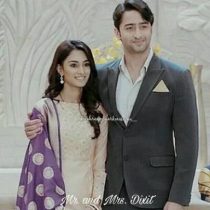 Dev smiles??
***
When Suha met Golu…
Suha: Hello Golu! You remember me? I am Suha , your friend!
Golu: Do u think I will forget you?
Suha: No, just thought of giving you a intro of myself!!
Golu laughs!!
Glou: You have grown up so much yaar!
Suha: Even you have, Golu…
Golu: Hmmm.. How is your studies going?
Suha: Perfect and u?
Golu: You know what, I have started studying..
Suha: Wow, Golu… That's great news!
Golu: Ma and papa was really happy
Suha: even I am happy!
Golu smiles
Suha: I am really happy for this too.. My papa and my ma became united again.. Now we all are going to live peacefully..
They feels happy…
Suddenly Golu's phone rang..
Golu gets restless…
Golu: Suha, ek minute…
Golu: Hello,uh! I will call you back. (And ends call)
Suha: vo girlfriend tha?
Golu: Tumhe kaise pata chala?
Suha: That's me, Suhana Dixit…
Golu: Don't tell this to anyone.. Please…
Suha: No! I wont!
They giggled…
***
In a restaurant..
Dev: Priya,thanks a lot.. Thanks for being such a good friend and making us one again..
Priyanka: No mention (naughtily)
Sonakshi: Well,I have to mention it!
They laughs..
Dev: So, I have a surprise for u…
Sonakshi: Its not only you, I also planned it..
Priyanka: Really? What is it?
Dev calls Rahul.
Rahul comes from behind ..
FB shows Rahul coming to Dev and talking about Rahul-Priyanka long lost love story…
Priyanka stands up shockingly..
Priyanka: Rahul?
Rahul: Priya…
Rahul: Sorry Priya.. I am totally sorry.. Please forgive me..
Tears of joy skipped Priyanka's eyes…
Rahul kneels down with a ring in his hands…
Rahul: Priya.. I love you.. Will you marry me?
Priyanka nods…(Crying)
He puts the ring on their finger and they hug…
DevAkshi looks on happily…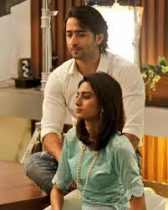 Dev: Now you both enjoy…
And Devakshi leaves…
***
Devakshi in car…
Sonakshi: Priyanka and Rahul are such a cute couple….
Dev: Really? Then what about us?
Sonakshi: We are the best couple!!!
Dev stops car..
Sonakshi: kya hua?
Dev: Just to see my dear wife's face…
Sonakshi: Flirting….
He starts car and they soon reaches his house..
In Dev's room..
Sonakshi: How did Priya and you live here?
Dev: Not only Priya and me.. Megha is also there…
Sonakshi: Yes, I forgot to ask you… Where is she?
Dev: With Priya and Rahul.. Aur vo hamare iss ghar mem rahenge..
Sonakshi: wow! That's great!
Dev: See.. Our daughter is 15 years old now.. Just think…
Sonakshi: Even I have thought so when I lived alone…
Dev: Sonakshi, forget it.. Now you are not alone.. You have me,Suha ams the whole family with you..
Sonakshi hugs Dev..
Sonakshi : Thanks dev.. You make me happy always..
Dev puts his hands round her hips and pul her closer..
Sonakshi: Dev?
Dev: yes, Miss.Boss.
Sonakshi: I am not Miss.Boss anymore.. I am Mrs.Dev Dixit.. Your wife..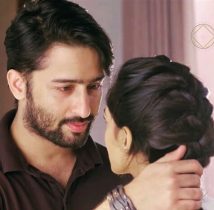 Dev: Really?
Sonakshi: What a question?
Dev makes her lean against the wall…
Dev: hmmm… Sonakshi.. You are the most khubsoorath girl I have ever met..
Sonakshi: Flirting again!!!
Dev: Its not flirting.. Its truth..
He kisses her forehead..
They smile at each other…
They dance to tu mujh mem mujhse zyada hai…
They remembers their good old times..
Next day,
Ishwari: Sonakshi beta… Mujhe maph kijiye….
Sonakshi: Ma, forget everything.. Nothing has happened…OK?
They hugs…
Dev,Suha and everyone else comes..
Everyone together: WE ARE THE BEST FAMILY EVER.. AND WILL ALWAYS BE…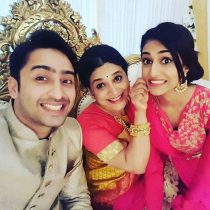 Dev and Sonakshi looks at each other…
Our dear Devakshi will be right there looking at their job and children..
They lived peacefully ever after…
**THE END**
___________________________________________________________
Hope you guys enjoyed this. Ignore the grammatical and spelling mistakes. Ignore the short form if any. Ignore the Hindi statements if they wrong as I don't know Hindi much, that's why….
Do let me know what you think of the story by dropping in a comment. Don't forget to hit the like button. I want all your love and support… Thanks for reading..
So, here end my DEVAKSHI FS… Hope u guys enjoyed this FS.. I know it was very bad at the last.. I just wanted to write something on Devakshi… Because I love them so much… I had the first three shots in my imagination for almost five months.. The balance I just made something stupid to end this.. So, that's all….
Bye…
By,
Pavithra?

Warning: A non-numeric value encountered in /home/ftpusers/tellyu/public_html/wp-content/themes/publisher/includes/func-review-rating.php on line 212

Warning: A non-numeric value encountered in /home/ftpusers/tellyu/public_html/wp-content/themes/publisher/includes/func-review-rating.php on line 213