ISS PYAAR KO KYA NAAM DOON -TWINJ: EPISODE 26
🗾🗾🗾🗾🗾🗾🗾🗾🗾🗾🗾🗾🗾🗾🗾
Episode:26..
😭😭😭😭😭😭😭😭😭😭😭😭😭🥺🥺🥺🥺🥺🥺🥺🥺🥺🥺🥺🥺🥺🥺🥺🥺🥺
Starts from continued…🏨
↕️↕️↕️↕️↕️↕️↕️↕️↕️↕️↕️↕️↕️↕️↕️🔛🔛🔛🔛🔛🔛🔛🔛🔛🔛🔛🔛🔛🔛🔛🔛🔛
Twinkle and Kunj hugging each other's Kunj rubbing her back in the oder to calm down her.she breaks the hug.They went towards chemists shop.Twinkle standing in side while kunj take ammar medicine which doctor prescribed him for temporary.he takes the medicine, and they went out of the hospital and sit in car and left for the house.Twinkle and Kunj don't know what to say and how to reacts on this situation. Their mind doesn't work.
🥺🥺🥺🥺🥺🥺🥺🥺🥺🥺🥺🥺🥺🥺🥺
Zindagi ae zindagi
Gham na de ae zindagi
Na jalaa haathon ko yun
Chhune de koi khushi
Kismat ne yun chhoda humein
Sheesha bana ke toda humein
Zakhmon se hai saansein bhari
Zakhmon ko thoda seene de na
Jeene de na… jeene de na
Zindagi tu jeene de na
Jeene de na… jeene de na
Zindagi tu jeene de na
Pal pal har ik pal sehma hai kyun
Har lamha kyun hai daraa
Chand aasmaan pe lagta hai yoon
Khanjar hai dil dhara (x2) play in BG😭😭
~~~~~~~~~~~<<<~~~~<<<<<<~~~~~~~~~~~
Soon they reached Taneja Mansion like a life less body they both went inside.Leela and Rt or others presenting their they see twinkle and Kunj thinking they will give them good news doctor must be rescinded this reports.they all look at them Leela went towards twinkle.
Leela:Twinkle beta everything is fine na my ammar is absolutely that reports are wrong na tell I know doctor tell this only.. twinkle look at Leela with ocean of tears. Tear drops shed from twinkle eyes.This making Leela and Rt shocked.Bol na twinkle what happened to my son bol na loudly.Suniye ji your twinkle didn't say anything what happened to our ammar asked her na. She too started weeping.
Yuvi:kunj bata na what doctor said actually.. Leela started shaking twinkle.
Leela: bol Na.
Twinkle:in broken voice ma….aa. It's a true ammar ko cancer hai she closed her eyes Leela take her step back in shocked. Her mouth got open.
Leela: what did doctor conformed this..
Twinkle:haaaa maa doctor conformed this humhare ammar ko Leukemia blood cancer hai.she falls down on her knees Maa mere ammar ko yeh kya hogya.Kunj standing in side totally his body freezes.
Leela:nahiiii twinkle. Twinkle get up and look at Kunj.
Twinkle:kunjjj this doctor is not good how can this happens to ammar 😭😭.. her started screaming Rt get shocked to see twinkle condition.If anything happened to my son how I'll survive I'll kill myself. She about to kunj held her hand and stop twinkle let me go kunjj..
Kunj: kaha ja rahi hai are you become mad sit here.
Twinkle:nahi I can't sit here.. mere ammar.
Ahaha..😭😭. Kunj cupped her face.
Kunj:shhh twinkle this is better truth we have to digest it. When you do this who will handle ammar haa. It's very tough for us but what we can do.
Twinkle:she pushed him. Haa it's easy for you to say because you don't feel what I felt right now my pain you don't know kunj.
Kunj:what I can't feel your pain even I'm too in same pain which you bear.He is your son even mine too.
Twinkle:I don't know anything I want my ammar fit and fine that's it if something happened to him I'll not leave anything specially you because this all happened because of you if you not come in our life this not happened here my ammar fighting with cancer.I don't have strength to lost him kunjj I have only him where I'll go if something happened to ammar.She cuddles herself and crying horribly Rt console Leela. Kunj went in side he holds the pillar and thinking about ammar his face coming in front of his eyes and doctor words echoing his ears like a sound of drumsticks.Yuvi went towards him. Rest his hand on his back tears effusing from kunj eyes fully.
Yuvi:kunj don't worry have faith on babaji he'll do everything fine.Kunj look at Yuvi he breaks down his control fully.He hugged Yuvi tightly.
Kunj:Yuvi what happened to my ammar in some seconds 😭😭haa I never thought this will happen to him. Yuvi docter said he had blood cancer 😭how babaji give him such big disease my son.
Yuvi: kunjj I can understand your pain right now you have to be strong see twinkle think about twinkle and Leela aunty they see ammar from starting their pain is very big if you become weak who will handle them.You wanted your son fine look at me he cupped his face.You are fighter even your son too like you kunj our tears can't change this fact don't become ammar weakness kunj he is very small to bear this pain did you remember na aditi how much we both encouraged her how can you become weak today kunj don't be. We'll do everything to save ammar.he wiped Kunj tears. Kunj again hugged him.
Kunj:nahi Yuvi you aren't at my place.just now I get happiness in my life but this babaji didn't see me happy everytime he gives pain whom I can't see at least he thinks about my small soul. Ammar wake up and screaming in pain like anything twinkle and Kunj get shocked they all run upstairs goes in room.Twinkle and Kunj rushed toward him ammar crying in pain.
Ammar: mamma😭😭😭..
Twinkle:haa what happened my baby he hugged her and crying like anything.
Twinkle rubbing his back but ammar suffering like a fish who come out from water.Everyone feels so bad to see ammar like this. Kunj sit beside ammar.
Kunj:ammarr shh don't cry. Others went down can't see him.
Ammar:papa😭😭. This pain..ahaha..
Kunj:haa come to me he takes him on his lap.I know you having pain.I have
medicine your pain will go quickly okay..
He takes out medicine and give to ammar. Still he cry badly.twinkle and Kunj consoling him due to medicine dose he falls in sleep.Both twinkle and Kunj seeing ammar who suffering in pain even in sleep as well.they both can't see him like this. They cry like anything twinkle went in side sit on floor cuddles herself tightly and sobbing loudly Kunj went towards her and sit beside twinkle he pulled her in his embrace.She cuddles him and cried lot.
Twinkle:Kunj yeh Kya hogaya humhare ammar ko.😭😭.. Kunj too started crying he hugged her and weeping the sound of hissing of kunj and twinkle echoed loudly in whole room Rt and Leela or Yuvi see this from window they both Mother and father crying for their baby in each other's embrace.
Leela:ji why babaji did this.
Rt:Leela please at least we can't become weak think about twinkle and Kunj they are ammar parents what they bear right now they know only.After so much pain we got our ammar twinkle is very cared about him.this storm is very big for her.
Leela:ji Meri hi beti Kyu.. I was happy now at least babaji give her some happiness Kunj come back in her life but this unbelievable pain come in my kids life.
Yuvi:Leela aunty please don't. Rt uncle is right right-now twinkle and Kunj needed our support inside their hearts they fully break down this news is not very small for them and us too. Give them strength don't make them weak.When twinkle didn't do anything wrong with anyone why will babaji will do anything bad with our ammar haa.Let them cry as much as they wanted it they only become each other's support system in this situation. Destiny wanted this only come with me he takes Rt and Leela in room.Kunj drenched twinkle shoulder fully in his tears drops she caress his nape hairs.
The hardest part about being a parent is watching your children go through something really tough and not being able to fix it for them.Whole night passed way in crying.!!!
@Morning outside rain going on fully.
Water slightly coming from window.
Twinkle and kunj sleeping in each other's embrace fully their face become dull in one night dry tears marks print on their cheeks.they both wake up together and look at each other.Than ammar who sleeping peacefully they get up and went towards him and sit beside him caress his hairs see his body become red.Twinkle kissed on his face over all while kunj take his hand and smell kissed on palm.Tears drip down from their eyes.Kunj take deep breath.He held twinkle hand take her in balcony.
Twinkle: kunjj.
Kunj:Twinkle sit here. he makes her sit he to sit opposite to her.See twinkle now whatever happened that we can't deny neither changed it, so we have to understand and accept this fact I know twinkle it's very very hardest thing for you specially you are his mother. Listen to me carefully twinkle don't ever show him what happened to him.
Twinkle: Kunj you do something na cancer isn't very small disease people lost in this.
Kunj covered her mouth..
Kunj:don't ever say this twinkle.Nothing will happen to him I'll not let anything happen to my son it's my promise to you we'll do our best to cure this cancer and our ammar will be fine like before but for this you have to be strong.Our journey is very difficult Twinkle from both of us anyone become weaken that it's hard for ammar as well he is very small.Kunj
Wiped her tears.
Twinkle:Kunj.i don't know anything I just want my son fine.i can't live without after so much pain and struggles I get him.I have him only in my life.you'll not let anything happen to ammar.
Kunj:haa don't worry we are here for him.
They went down and get freshen up.
Twinkle: ammar still sleeping.
Kunj:haa let him sleep he will feel good don't disturb him I'll come later.
Twinkle: okay. Kunj went twinkle sit in side Leela and Rt bring food for twinkle. They sit beside her Leela tore morsel for her.
Leela:Twinkle beta have something please you didn't have anything from last night.
Leela: Maa I don't wanna have anything even my ammar too didn't have anything from last night na how can I have even mere mood bhi nahi hai.
Rt: Leela we know beta still think about ammar at least if you don't eat anything that means he'll get fine na.
Fuzail:yes di don't worry about rockstar he gets fine soon.He sits in front of him on his knees hold her hand. Did you remember di when he is very small chotu sa he used to ill you always become sad and take whole house on your head but our chotu ammar laughing.He is fighter.
Twinkle:but fuzu this time my ammar is fighting with very big disease. He takes plate from Leela hands and take morsel near her lips she denies and went from there.
Fuzail: diiii..
Rt:let her she needs time..
Scene turned at Sarna Mansion.Kunj was sitting in tension playing with his fingers. Usha come.
Usha:kunj why you sit in tension.. let's go out today.
Kunj: Maa please you go..
Usha: Arey why. Kunj get up and look at Usha.
Kunj:Maa please at least understand problems of situation.
Usha:again that twinkle did anything on my son haa her black magic.Everyone come there. First she now her that so called son whom she gives your name.
Kunj:Maa shut up In roar way.. here my son in this condition you talk totally rubbish haa don't you know what happened to him.
Usha: haa so what he isn't my son, so I'll think about him maara toh nahi na woh.
Kunj:MAA closes his fist in anger..please Maa don't force me to do anything bad which I don't wanted later I regretted. Keshi maa ho aap yeha aap ke apne bête ka beta Iss halath me hai he suffer from cancer.. Tears coming out from his eyes and you talk this about my son.. he went from there..
Bebe:Chii usha at least for kunj sake stop speaking this bitter words maa bolta hai tujhe.
Usha:me Maa hu uski bebe..walk out.
Kunj went in garden and see his dadi was there he went towards her sit on grasses rest his head on her lap.Twinkle was on terrace she come near railings and her eyes went on kunj and dadi they were in garden seeing fully from terrace.. dadi caressing Kunj hairs.
Kunj:dadi see na what happened this in some seconds I was so happy that you come back and I got my son my family is complete now I'll to stay with you and ammar but see my destiny always did this all with me when I born my family breaks.
First that baby lefts us than she ! everything is finished after you too how papa survived only he knows and I'm who burning in revenge fire from childhood dadi but when I met with ammar I got my life back when I come to know he is my own son I got reason to live I'm unlucky today he is in condition just because of me only dadi. Tears falling down on her lap.Why only me dadi I never hurt anyone apart from twinkle that also in misunderstanding.He raises his face and look at her his face drenched in tears.He sits on table hold her hands tightly she looks at him.Now I don't have strength dadi to lose anything already I had.You always told me and yuvi that god never hurt good ones why my small baby what he did I can't see him in pain.dadi looking at Kunj she blink her eyes she cupped Kunj face and wiped his tears with her duppta and caress his hairs.
Dadi:don't worry kunj in low voice
everything will be fine.I'm here na you always tell me I cry but see today you cry like a baby hahu😛.She makes puppy faces which make kunj slightly smile.Kunj rest his head on her chest while she ruffles his hairs.Dadi closed her eyes and something coming in front of her eyes but all blacked..
Twinkle:I can understand kunj we both are suffering from same pain.she went downstairs.
Kunj: Yuvi you stay with dadi don't leave her okay.
Yuvi: kunj I'm taking dadi to Daee jaa place if you don't mind..
Kunj:why I'll you can. Till than I'll see ammar okay.
Yuvi: haa you go there and be strong don't show your tears to twinkle and ammar.
Kunj: yeah I'll. Kunj went to Taneja Mansion he directly went in twinkle room see twinkle sitting beside ammar he look at twinkle. He went towards them and take seat beside ammar.Aww good morning my baby.. Kissed on his cheeks. You sleep till late becoming your mommy sleeping beauty ammar giggles out.
Ammar:haha 😂. Ammar get up and sit there.
Twinkle:how's you feeling now ammar.
Ammar:good mamma..
Kunj:great let's get freshen up (quickly) than we'll have my ammar favourite foods.
Ammar: paka Papa.
Kunj:Paka.he jumped in kunj Arms twinkle and Kunj take him in washroom twinkle filled water for him. She takes out his clothes ammar hide his private part with his tiny hands 😛😛.
Ammar:mamma😣😣. Don't na.
Twinkle:Arey what happened let me give you bath..
Ammar: But closed your eyes.
Kunj:acha bachu..
Twinkle:haa.Both twinkle and Kunj give him bath together he laughs while taking bath they get too happy to see him.
Ammar playing with water and soap bubbles.He maks twinkle and Kunj wet.
Ammar uff baby..
Kunj:haa ammar.. twinkle apply soap on his face he closed his eyes and screaming slightly..
Ammar:mamma water please.Twinkle pour water in kunj hands he wash ammar face.He open his eyes and it's become little red kunj blow in his eyes slowly twinkle admire kunj..
Kunj:now fine.he nodded his head in yes kunj pinched his nose he giggles they both pour water on ammar fully. Twinkle bring towel she wrapped him under towel fully and Kunj carry him they went out of the washroom.
Ammar: mamma so cool cool.🥶🥶.
Kunj:my boy calm down he take him near bed while twinkle bring ammar clothes from wardrobe she went to bed.Pulling towel but ammar catches tightly. She gestured him he leave kunj giggles sham sham ammar he hiding..😋..
Twinkle:kunjj.Ammar stand properly she wiped his wet body they see all red bruises and red spots on his body over all. Both look at each other with wet eyes. Twinkle apply some cream on this.Ruffles ammar hairs.Kunj helping her make him wear his clothes than Kunj make his hairstyle.Ammar get ready fully he give kiss on twinkle and kunj cheeks.they went downstairs Leela bring milk for ammar he look at twinkle and Kunj with roar face..
Leela: now drink this milk my baby.
Kunj: haa like a strong boy.
Ammar:no papa you told me you give me all my favorite foods but what is this..
Kunj: haa my baby I'll give first you drink this than we go somewhere after whole day we enjoyed. Twinkle look at Kunj he gestured her..
Ammar:okay he quickly drink milk twinkle give him medicine ammar watching cartoons.And Kunj beside him pressing his hand he feeling little pain.while Leela and Rt or twinkle standing in side and see them.
Leela:babaji is too great in this toughest time at least ammar father and your husband is with you twinkle..
Twinkle:Maa I didn't understand anything I already lost my baby once now I can't till now I didn't forget that incident.babaji quickly snatch my happiness from my hands he didn't give me chance to react and now this time too as well..
Leela:Twinkle puttar have something.
Twinkle:please Maa.I'll come she went in her room. Kunj see Leela and Rt sad he went to them.
Kunj:what happened MAA and Papa I please don't become sad right now ammar and twinkle needs us if we get weak who will handle twinkle specially. Leela look at Kunj with tears eyes.
Leela:kunjj puttar 😭😭.. Kunj give her side hug..
from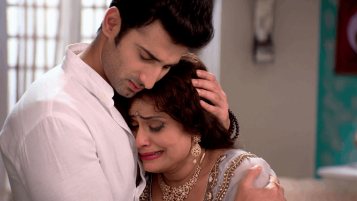 Kunj:Maa don't be I can understand your pain.He grown up in your hands since the day when he come in this world I see him less but you both more.
Rt:kunj is right Leela.
Leela: you see twinkle Kunj she didn't have anything from last night.
Kunj:acha where she is..
Leela:in her room..
Kunj:I'll see her but you both see my son. Rt and Leela nodded their eyes in yes. Kunj bring food plate from kitchen and went to twinkle room. He entered in room see twinkle reading ammar report he went near her and stand beside twinkle keep the plate in side and take report from her hands.kya dekh rahi hai.She look at Kunj with numbers of tears eyes..
Twinkle:kya dekhu gi babaji didn't left anything for me now. Kunj fold the report and keep it in drawer..
Kunj:sit Meri Maa make her sit and take her hand in his hand. Wiped her tears and kissed on her forehead. Jitna sochi gi And dekhi it will give you more pain understand just think nothing happened to ammar be like me I'm so strong in sad tone.
Twinkle:I know how much you are strong just pretending to be strong inside from your heart what you felt that I can see and read your eyes.He joint his forehead with twinkle.
Kunj:see how much you understand me still denying didn't love me I get one more proof of our love twinkle.So what I'm pretending I'm not like you girls I'm boy na even my ammar too will not cry like you.
And twinkle if you leave food you think this will make ammar fine no twinkle for him we both have to be strong he'll not fight alone we both too along with our ammar.
Don't make my baby weak please I don't want My ammar get to know about this so it will be not good Twinkle you don't show him please.if he breaks down than it's very hard for him to face this disease we know he hide everything from us from many days he feeling uneasy and this blood and all's. He tore small bite and take near twinkle lips she open her mouth and eat.That's like twinkle tears falls down.
Twinkle: He will be fine kunj.
Kunj:yes just faith on babaji we have to starts his treatment very soon twinkle I talk to doctor he call us in hospital he wanted to some check up of ammar.
Twinkle:okay kunj why not we take him to out of India for his treatment.
Kunj:you leave this on me I'll provide best doctors of this world for my ammar didn't leave anything in his treatment he get best to the best treatment you don't worry you just happy and make ammar happy and rest of things I'll see okay.twinkle give him smile.She take small morsel offer Kunj. No I'm fine.
Twinkle:I know you didn't eat anything.
Kunj: I had my breakfast twinkle you have.
Twinkle:when you can't speak lie than why you try.If ammar mamma needed energy even his sadu papa as well.She take near his lips he open his mouth and eat from twinkle hands happily both feeding each other's and have the food.
Kunj:you get ready I'll call twinkle okay.
Twinkle: okay
Kunj: and doctor needs your pregnancy reports as well.
Twinkle: why..
Kunj:that I don't know twinkle he want to see everything. Kunj said this and went down while twinkle get confused.
Twinkle:if I show my pregnancy reports Kunj will get to know about twins baby.No I can't I'll tell doctor.she take the reports and went downstairs. Twinkle and Kunj all set to go.
Leela:kunj call us please.
Kunj:haa I'll. Now let's go ammar.
Ammar: yeah he run outside.
Twinkle: Arey ammar stop..
Kunj:Twinkle let him don't tie him..
Leela:kunj is right twinkle let him do everything.
Twinkle:Okay bye MAA and Papa.They both went outside and see ammar standing twinkle and Kunj hold his hand and sit in car Kunj starts the car they drove off.ammar sitting on twinkle lap he doing masti while twinkle caressing his hairs.Soon they reached the hospital doctor call kunj in best cancer hospital twinkle look at hospital name.They come out of the car and went inside twinkle and Kunj see cancer patients ammar get confused.
Ammar:Papa why we come here.
Kunj:for your check up
Ammar:but I'm toh fine na.
Kunj:yes you are fine still.They sit in side waiting for their turns one boy come his whole body become white and Grey blade-head.twinkle clutch kunj hand kunj went to asked about Doctor their number come kunj and twinkle went inside along with ammar Doctor was sitting they take seats..!!
(Ammar doctor name is ajay Kapoor..)
Ajay:hi ammar and Mr and Mrs Sarna.
Kunj:hi doctor..
Ajay:ammar hows you feeling now.
Ammar:good doctor..
Ajay:kunj reports I told you.
Kunj:yeah kunj twinkle.Doctor call nurse.
Ajay:ammar you go with nurse she'll give you chocolates..
Ammar:okay mamma and papa don't go.
Kunj:haa nurse take ammar.Doctor takes deep breath..
Ajay:so twinkle and Kunj I don't want ammar get to know about this.reports. Twinkle give to doctor. Doctor seeing twinkle reports and some Ammar..
Doctor:so you had complications in your pregnancy.She nodded Kunj look at her. It's quick serious and you continue this and give birth to a baby that is very hug..
I see ammar report he is very weak from starting.And more over he had low blood issues.
Kunj:Doctor now you tell me what we'll do.
Ajay:kunj don't think this disease cures in seconds it takes mixmim time period.I'll do ammar CT scan first..
Kunj:sure.. they went in CT scan room nurse changed ammar clothes twinkle see him and feel so bad. Ammar went to kunj and hold his hand to see this all.
Ajay👨‍⚕️: come Ammar.
Ammar: papa😭😭.. I'll not go..
Kunj:papa is here na come he lift and place him on CT scan machine..
Twinkle:Docter. In worried voice.
DR,Ajay:don't worry twinkle it just check ammar whole body nothing happened. Twinkle and kunj hand ammar hand.
Doctor starts the process of CT scan.
Slowly the machine moves through the gantry while the x-ray tube rotates around the patient.Twinkle and Kunj seeing ammar they never thought one day they will see ammar like this.Doctor seeing in monitor.After long process of CT SCAN at last end kunj take ammar in his arms.
Dr Ajay: kunj you wait in my cabin I'll come in some times let see what will come in his CT SCAN Reports you do one think go down in garden.
Kunj:okay doctor they went in garden many cancer patients was in garden their condition is very horrible even elders or kids too there.They sit in side twinkle and Kunj changed his clothes there.
Ammar:what is this papa.
Kunj:nothing ammar..
Ammar:Papa shushu..
Kunj:acha twinkle you sit I'll come he take ammar in washroom while twinkle seeing that small kids who suffering from cancer.
Kunj come back with ammar. Ammar play in ride while kunj went near twinkle kya soch rahi ho.
Kunj:yeh hi we are not parents see this kids even they are too like us who suffering.
Twinkle:Kunj if they didn't get fine what about our ammar they met with one lay her daughter too cancer patient.
Lady:even your son have cancer they said yes. Even my daughter too passed from years.
Twinkle: how she is now I mean.
Lady: doctor doing their best but still my daughter is Same now she is in last stage of cancer doctor hands up their hands. Lady daughter call her she went while twinkle look at Kunj.
Twinkle:Kunj did you heard what she said.
Kunj:haa twinkle but.. just than nurse come and call them they both went and leave ammar with nurse down only.Doctor with reports of CT SCAN their hands is freeze downs
Twinkle:now what come in his reports doctor.
DR AJAY:what we expect that only twinkle.
But one good thing.
Kunj: what doctor..
Dr Ajay:ammar is in his first stage of cancer so we have enough time.Ammar needs bone marrow.
Kunj:bone marrow after this he will be fine.
Dr Ajay:absolutely kunj. Did ammar have any sibling.Twinkle remember her baby girl.
Kunj:no doctor ammar don't have any sibling we have only one child is ammar only.Twinkle gulp the pain.
Twinkle:yes doctor.
Dr Ajay:but I saw in reports.Okay fine he don't have any siblings but your and Kunj bone marrow will be match him than problem is solved.
Twinkle:than please doctor so fast..
Doctor:haa than let's do your and kunj bone marrow test.
Seeks information about patient's medications and any allergies; then a consent form is signed by the patient authorizing permission to obtain bone marrow samples.
After sometimes later doctor call twinkle and Kunj for biopsy.
They wear hospital clothes.And lay down on their stomachs they were awake doctor didn't give anything kind of sleeping dose to them. The bone marrow test process is little pain full.Doctor come and taking their bone marrow simple doctors Using a specialized hollow needle, a bone marrow core is removed. This is a small, solid piece of the bone marrow. This sample will be sent to the pathology lab for examination.While during this test kunj and twinkle feeling so pain after this doctor dressed their wounds and let them stay in room for sometime both look at each other's.
Dr Ajay: kunj and twinkle this reports take time to come so.
Kunj:still try fast.. after sometimes later kunj and twinkle meet with doctor.
Dr Ajay: I call one of the best doctor he is coming soon India he'll handle ammar case.
Kunj:hmm they went and see ammar who playing happily their whole day went in hospital and tests..
Ammar: ale MAA and Papa you come finally.
Twinkle:yes my baby..
Ammar: now remember na my promise papa.
Kunj: haa they sit in car and left.
At aditi [email protected]
Everyone sitting and thinking about kunj.
Aditi: right now BF is in pain.
Daee jaa: he is coming here message me.
Yuvi:acha.. Romir playing with dadi. Soon kunj and twinkle or ammar reached at aditi place.
Twinkle:why we come here kunjj.
Kunj:aise hi.Come ammar they went inside everyone sees them.
Yuvi:ho finally you bro ammar run to Romir.
Kunj: haa they sit with them.
Aditi: where are you till now.
Twinkle: in hospital.
Yuvi: what doctor said kunj.
Kunj:he just takes our bone marrow test now toh let's see if our bone marrow match with ammar than he'll be fine very soon.
Daee jaa:that's very good news.
Kunj: did you give dadi her medicines Yuvi?
Yuvi:yes she takes today didn't do any drama 😛😛..
Kunj:great my dadi is very good.he pulled her cheeks.
Romir:ammar See now I have three dadi.
Ammar: haa But he isn't your dadi she is my papa dadi😛😛..
Daee jaa:so what she is your badi dadi.
Romir and Ammar playing twinkle watching them with wet eyes everyone looks at her.
Aditi:Twinkle he will get fine.
Twinkle:I wished this only. Ammar come to kunj he having nose bleeding. His hands full drenched in blood. Twinkle get worried.
Kunj:Twinkle calm down it will happen don't you forget haa.Kunj wiped ammar nose.Aditi console twinkle. After sometimes later they all sit for dinner ammar see his all favorite things he gets happy..
Ammar: aww 😍😍..
Kunj:happy na..
Daee jaa: I make this for you in a very healthy way if not than your papa will not leave me..
Kunj:aap bhi na.Aditi feeding Romir While Yuvi to dadi and Kunj and twinkle ammar they happily having their dinner.Ammar drinking water more than food.Ammar first have your food than water okay.
Yuvi:one time kunj didn't give his mind to anyone today saw him..
Daee jaa: he isn't come in anyone he is his own son so😛😛..
Yuvi:calling my soon noise pollution. What about your son kunj..
Ammar: Papa I'm not noised pollution hai na. I'm not cried like this Romir..
Kunj:haa you are not now finished your food.
Romir:noise pollution is that witch hiya. Both laugh out.Kunj handling ammar tantrums twinkle see this get so happy.He chocked badly and puke all food out on kunj lap..
Ammar: so sorry kunj rubbing his back.
Kunj:it's okay..Kunj take him in washroom clean himself ammar too.after dinner ammar started breathing heavily.Twinkle and Kunj ignore they don't to show him anything.Yuvi you take dadi back I'll meet you soon. Kunj patting on ammar he tries to sleep.
Ammar:But you have to sleep with Me.
Kunj:you sleep first. After sometimes later twinkle and Kunj too left they went to Taneja Mansion it's quite late Leela and Rt went in their respective rooms twinkle went to them tell them about ammar and whatever doctor told them while kunj take ammar in room he slept already he places him on bed.Twinkle entered in room. Okay twinkle I'm going if you need me call me anytime.
Twinkle: haa if he wakes up than..
Kunj: woh toh hai twinkle. He takes her hands and cupped twinkle face with one hand.Twinkle ab toh at least think about us I can't leave ammar in this condition.
Twinkle:Kunj what I'll do now my life always play game with me…I don't know anything mujhe bas mera beta chahiye ek dam fit and fine. You remember what that lady said I don't want to lose him.. you didn't understand my pain she started crying.
Kunj:what you want haa tell me sab toh kar raha hu which he needs.Bola I'll give my 100 percent twinkle but you have to wait and patience too.He'll wake up.Now go and sleep.
Twinkle:I can't stay with you but at least you can stay with ammar here.
Kunj:when I want you you can't stay with me I know you didn't like me around you just for ammar you do.
Twinkle:did you left anything for me asked yourself first your pain than our separation now this huge think about me once where in these years I stay happy no kunj.
Kunj:Phir bhi mujhe nahi maaf kar shakti.
Twinkle:tumhe maaf karna mere liye very tough I can give you rights of ammar father but can't give my husband rights our relations connected before Ammar but our fate he become last connected of our relationships..
Kunj:I know twinkle but till when he is we are one no one separated you from me no
Matter we can't stay in one roof but our heart beating for each other's.Now nothing important for me than ammar health. Goodnight he said and leave from there.
Twinkle:pyaar kaha hai Kunj. I know my pain you toh don't know anything.Yes ammar was had his sibling.We don't have only one child Kunj.My another baby die 😭now I can't Lose him.she takes out baby girl pictures. You were here for a moment
But left a lifetime of love..
LOSING A CHILD IS SOMETHING YOU CAN NEVER IMAGINE BEFORE OR AFTER IT HAPPENS…. 💔💔💔💔💔💔
twinkle cuddles the photos and cried lot while thinking about ammar that fear of losing a baby already this Make her scared now I can't suppose to lose ammar.My baby girl toh die kunj at same
Day when she born.. she went to ammar and lay down beside him and sleep.
At Kunj room he lays down and tears escaping from his eyes.
Kunj:don't know what babaji wanted from me. I have to do anything for ammar didn't let anything happen to him he takes ammar and twinkle photo frame and kissed on it and cuddles and sleep took over them.
(FIkAR BATA RHI HAI MOHABBAT ZINDA HAI.FAASLO SE KEHDO GUROOR NA KAREN..)
Like this one week have been passed way kunj and twinkle totally busy in Ammar they make him busy in games and all's didn't leave for a second.Their last hope depending on their bone marrow test reports.New day with a new hopes🌅🌅.
Twinkle and Kunj went office ammar was in school Kunj send caretaker with him too see him.
Kunj sitting in his cabin he tries to do work but his mind just stuck on ammar same happening with twinkle as well.Leela kept pooja for ammar health.
Kunj:today bone marrow reports will come out why I feel so bad he leaves the seat and throw the files in side. He closed his eyes and thinking about his bad nightmare. Yuvi entered in see kunj he rushed to him.
Yuvi: kya hua.
Kunj:Yuvi I'm getting very negative vibes see na last time too. If something happened to my ammar what I'll do twinkle already broken by me now this no no Yuvi.
Yuvi:clam down kunj. Why you think negative Kunj..
Kunj:you didn't understand me Yuvi.How I'll live without ammar you know na years back i already lost my own..
Yuvi:shh kunj I know everything don't think everything same thing happened. We know what happened to her due to that lose she isn't with us.
Kunj:ammar is twinkle life Yuvi.This all happening because of me If I was with her than today this all not happened.
Yuvi:just wait for bone marrow reports.
Yuvi handle Kunj and make him drink water.Later kunj call doctor and asked about reports.He went to twinkle and tell her about doctor..
Twinkle:are you okay na..
Kunj:hmm are you coming with me..
Twinkle:haa wait one minute she takes her phone and both Kunj and twinkle left for doctor. Both crossing their fingers their heart beats is so fast Their body become cold fully. Doctor who was waiting for them only he calls them. Doctor ajay come.
Dr Ajay: first meet with doctor Mittal.. doctor come as soon as Twinkle see doctor she gets shocked to see the doctor as well doctor to. He took step near her..
Dr Mittal: twinkle…
Twinkle: doctor uncle you are..
Dr Ajay: meet with doctor Mittal he come from London specially for ammar case. Twinkle looking at doctor with wet eyes.
Mittal: Twinkle you are here everything is okay.
Twinkle: no doctor uncle for whom you come he is my son only.. doctor get shocked by this twinkle hugged him..
(So guy the doctor is same doctor who do twinkle treatment at her pregnancy time a good guidance treat twinkle like his daughter same age of Rt..)
Mittal:shh first don't cry come he makes her sit.What happened doctor Ajay told each and everything about ammar.He felt bad because he very aware of twinkle pain.Doctor what's the process.
Dr Ajay: sir we did ammar father and mother bone marrow test wait I'll bring the reports he went.Doctor Mittal look at twinkle.
Mittal: who he is??
Twinkle:he is my husband..
Mittal:ho.. if you cry I'll not do your son treatment get it..
Twinkle: please don't say this only everything is in your hand only you are the one. my ammar comes in your hands first time.
Mittal: haa twinkle.. Doctor bring ammar all reports and bone marrow reports as well.He check ammar reports.it's very major case.let's see your bone marrow reports first. First he check twinkle and look at twinkle.
Kunj: what come doctor her bone marrow match with Ammar's..
Mittal: sorry twinkle bone marrow doesn't match with ammar they both closed their eyes now last ray of hope depending on kunj reports..
Twinkle:abhi kunj ki bhi toh hai na.. he slowly takes out reports and see give look to kunj and twinkle hold his heads.
Kunj:doctor please say something na..
Mittal: uff twinkle I never seen this sorry to say but even Kunj too not match with ammar.. they get shocked.
Twinkle:how can doctor at least with kunj he is his blood still.
Mittal: it's not necessary twinkle sometimes it can't be matched.
Kunj: now what doctor as per you ammar needs bone marrow na..
Twinkle: Any other way..?
Mittal:Twinkle bone marrow is last and ammar needed bone marrow at any cost.
Your doesn't match.
Twinkle: any other people bone marrow..
Mittal:not at all Twinkle only his blood ones which usually parents and siblings.. and ammar don't have that..
Kunj: means there is no other way expect than bone marrow.
Mittal: yes kunj.. he think..
Mittal:But is not last way if your doesn't Match so what if ammar have any sibling his bone marrow will match surely..
Twinkle:from where we get his siblings doctor..
Mittal:Twinkle if you give birth to a baby now than his bone marrow will used. Twinkle get shocked by this..
Twinkle: baby.. what..
Mittal:yes twinkle it's last way to save ammar.
Twinkle: no doctor baby..
Kunj: yes doctor I mean baby..
Mittal:what I'll do now I told you what way we have. Agar aap ka dusra bacha ho jaye toh it will be good..The doctors suggest for Kunj and Twinkle to have another child as the bone marrow of siblings are always a match. Twinkle and Kunj come together to have another child.They both freezes.
Twinkle get up and run from there.i know kunj it's hard but this is a last way to save ammar. Kunj went from there didn't find twinkle.Twinkle reached Taneja Mansion while crying everyone was there only they just wait for bone marrow reports.all get shocked to see twinkle Kunj come behind her.
Yuvi: your and Kunj bone marrow match with ammar na..
Twinkle: nahi Yuvi our bone marrow doesn't match with ammar all get shocked.
Leela: now what twinkle.twinkle look at Kunj. Doctor Mittal come with kunj Rt and Leela see him and get surprised..
Twinkle: MAA and Papa see na doctor uncle what he saying he can't save my ammar.
Mittal:Twinkle only you and Kunj can save him I told you. You both have another baby for ammar this only last way. All get surprised.
Leela:means doctor..
Mittal:means Leela twinkle aur kunj ko ammar ke liye ek dusra bacha peda karna padega..
Twinkle:it's not easy.. 😭😭😭..
Mittal:I know but what I can I do.Your husband is with you now.
Twinkle:I can't.. she run upstairs.. Kunj didn't say anything..
Twinkle:no baby 😭😭. Kunj Leave from there he don't have words.Ammar come back from school he feel dizzy doctor Mittal meet with him. Doctor words running twinkle mind.
Kunj sitting in darkness Yuvi and Aditi went to him.
Aditi: kya hua BF.
Kunj: kuch nahi just thinking about life it's so complicated man.
Yuvi: yeah kunjj.. what you think about doctor.
Kunj: I can't say anything Yuvi it's sound easy but it's not.
Yuvi: kunj what so difficult in this haa. Can't you both leave your pain and past in side think about your son…
Kunj:you mean I'll go to twinkle tell her about baby no Yuvi.did you think she'll get ready to give birth to another baby of my haa for that you know we have too. She can't stay with me and you think she'll come together with me.nope Yuvi…
Aditi:you are right it's not easy for her but this about ammar kunj. If you have another baby so ammar will be fine..
Kunj:I can't aditi After what I have done with her. He left the room.
Yuvi:this both doesn't understand babaji give one more chance to them come together.
Aditi: right its power of their true love that anyhow, and he put situation in front of them…
Twinkle crying and thinking about ammar than what doctor tell her.
Twinkle:I can't do this how I'll do.Me aur kunj nahiiii…
One of the greatest titles in the world is parent, and one of the biggest blessings in the world is to have parents to call mom and dad.
______________________________
Boom 💥 😂😂. So now you all understand everything why you all so worry about ammar hehhe 😛😛😝.. 
let's see did twinkle get ready to have another baby to save ammar what will be kunj and her reaction.. 
How was the episode???
Hope you all like this episode..
Give your views please didn't happy to see your respond 😣😣.. 
the toughest situation comes in front of twinkle one side her son and other side her own self.. did ammar disease cab connected twinkle and Kunj and bring them back together??? Stay turned here many more. No proof. 🙏🙏🙏🙏.. 
Bye love you all.. Allahafiz🥰🥰🥰