ISS PYAAR KO KYA NAAM DOON -TWINJ: EPISODE 20 revelation
Episode:20
😭😭😭😭😭😭😭😭😭😭😭😭😭😭😭😭😭😭😭😭😭😭😭😭😭😭😭😭😭😭😭😭
Kunj eyes went on ammar father Column his eyes freeze there only he didn't move his eyesight here and there slightly as well.Tears falls down from his eyes and land on name.Kunj don't know how to speak up. He is short of words.
Kunj:….FATHER NAME IS…K..U….NJ….😱SARNA… Kunj Sarna what.. how can ammar father name is Kunj Sarna means my name what nonsense is this..he shut the diary I have to find each and everything what nonsense twinkle created.
At Taneja [email protected]…
Twinkle:ammar take your medicine baby.
Ammar:first I wanted to meet with my dost.
Twinkle:ammar who is your dost haa what dost dost..
Ammar:he is my dost..I'll show you he brings his phone and show twinkle Kunj and his all pictures twinkle eyes get freeze that means ammar dost is kunj only she was shocked like anything..
Leela:what happened beta??
Twinkle:MAA and papa ammar ka jo dost hai na woh koi aur nahi kunj hi hai..
Rt:what.. aaj tak humara ammar kunj ke saath ta from so many days and we don't know.
Twinkle:here I'm tried to do kunj stay away from ammar but papa and MAA.he was with ammar only most of the time.for that dost ammar always doing request to meet with him he was only kunj maa.everyone looking at each other's.Everyday ammar and Kunj meet with each other's and we don't know about this.. Leela give smile.
Leela:see Itself babaji meet them. Fuzail and twinkle or Rt look at Leela in a surprising way..
Fuzail: means maa..
Leela:Matlab yeh fuzu at end of the day how hard we try to keep away ammar from kunj itself they meet and become friends we see ammar craziness for his dost.We all wanted ammar never meet with kunj even Kunj too now see. End of the day father and son meet with each other's all get shocked after Listen Leela words twinkle looking at Leela.
Twinkle:maaa.
Leela:Twinkleee you don't deny this fact. Beta I'm not saying you forgive kunj but this is truth na kunj ammar ka baap hai.
Twinkle:tears escaping from twinkle eyes nahi hai MAA woh uska baap.. kesha baap. Haa why you saying this haa you know what he had done with me.
Leela: Twinkle I can understand puttar but this even you too know ammar is kunj son.
Rt: Leela stop so what if ammar is kunj son what he had done for his son haa he toh don't know about his son. He had one son also didn't you heard what he saying in hospital that ammar is vikram son.
Leela:I know but he give blood to ammar also.
Twinkle: bas MAA I don't care about this. Even I can't stay in this house also too.. don't know why you bring me here..
Rt:don't worry beta we'll go back to our house just some days.(Now Taneja's staying near Sarna Mansion that Kunj don't know because after accident they shifted here due to problems in their presented house is in under work.. )
Twinkle:hmm.. she went in her room and look at ammar who sleeping peacefully.
She sits beside him and kissed on his nap he sleeping on his stomach.So this Kunj is his dost Babaji why you do this.Ammar and Kunj nadi ke woh do kinare hai jo ek saath bahte toh hai phar mil Nahi shakte hai
I'll not let you come near to my son. We are in front of each other's Kunj.Twinkle get up and went near window and see Kunj room balcony there she spend lots of time today her all moments turn into memories..
Kunj knowing about ammar father identify Kunj was totally block he don't know what to say and what to do he have to find everything. He was standing at Abeer house.
Kunj: I'll ask her first and clear each and everything. He went inside Abeer house. And Abeer and Mehar get surprised to see Kunj there..
Mehar:Kunjjj
Kunj: Mehar where is twinkle??
Mehar: at her home Kunj.
Kunj: I went there but she was not there.
Abeer: they shifted to near your house yesterday only Kunj. What happened are you okay.
Kunj:till now I have to asked her something in anger. He went from there while Abeer and Mehar get shocked to see Kunj expression.
Abeer:let's go Mehar to twinkle before Kunj reached there.They both left. Itself Vikram as well. Abeer and Mehar reached Taneja Mansion before kunj and they run inside Leela and Rt see them.
Rt: what happened you both here at this time.
Abeer:yes where is twinkle.
Fuzu:in her room..
Kunj driving the car he got Yuvi call he pick up the call.
Yuvi: kunj where are you haa.
Kunj: why..
Yuvi: what happened are you okay na you sounding sad haa.. bata. What are you doing.
Kunj: I'll tell you afterwards first let me too knows truth.
Yuvi: kunjjj where are you going tell me you are out of your zone.
Kunj: I'll not leave that twinkle Yuvi. He said and cut the call..
Yuvi: shit this kunj..
Aditi: what he did..
Yuvi: aditi we have to stop kunj before he does something wrong.
Aditi: But where he is..
Yuvi:I'll track his location na.yuvi track Kunj location he and Aditi sit in car immediately and following kunj.. Kunj stop his car in front of Taneja Mansion and he come out of the car. He having ammar identity card and school diary.Anger clearly visible in kunj eyes.He take steps towards Taneja Mansion.Vikram Itself come Taneja Mansion with his wife. Twinkle was confused to see abeer and Vikram their face expression is so scaring. Kunj entered there everyone turned and see kunj who coming to them only.They see kunj and shocked why he come here.
Vikram:kunjjj.he look at Vikram than twinkle.
Twinkle: why you come here haa..
Kunj:I'll tell you. Aditi and yuvi come while running.
Yuvi:kunjjj lets go from here please..
Kunj:I'll go Yuvi but first let me asked her something..
Yuvi: see we'll talk to her but not now he try to take him Kunj jerk him..
He went near twinkle looking at her with anger eyes that clearly showing in his eyes.
Kunj: where is ammar??
Twinkle: why it's none of your business.
Kunj:let me meet with him..
Twinkle:don't dare to think to go near my son get it Kunj Sarna..
Kunj:why.. I'll go to him what you'll do it haa. What ammar full name is twinkle Taneja.Vikram looking at twinkle he knows.
Twinkle:why.. leave from here kunjjj..
Kunj:I'll go but first give me answers of my questions.This Vikram saying he is not yours husband and you aren't his wife even most shocking part ammar not his son. All shocked and looking at Vikram.
What is this all?? Twinkle take deep breath.
Twinkle:so what.. why you have any concern with this..
Kunj:I don't have any concern with this at all but what nonsense and rubbish things you creating with that I had problems. This man telling me fake story so I'll come to in his words haaa really.
Aditi: kunjj..
Kunj:no Aditi today I'll not stop.Everything went beyond limits.He telling she is his wife what she doing with him.
Rt:you stop We don't need to give you any kind of explanation.Yes Vikram is not twinkle husband who told you he is now tell me.
Kunj: acha great than what is this he showed ammar school identity card. If ammar is Vikram son than his surname should be ammar Vikram Taneja na. Twinkle and all looking at identity card in kunj hands haa bolo na..
Rt:haa toh..
Kunj:But not he don't. And why he is ammar Sarna. Twinkle shocked to listen this today what is this all happening.
Yuvi: whAt..
Kunj:yes Yuvi ammar isn't Taneja but Sarna how he come Sarna from where..
He throw the identity card in side.
Twinkle:it's my wish if I used Sarna surname. Why you poking your nose Kunj Sarna. He laugh out sarcastically. Went near to her and hold her both shoulders.
Kunj:because in this all my name is coming.
Abeer:you are not one Sarna in this world.
Kunj:look at this diary.. wait I'll tell you.
Kunj look at Taneja's face.. Arey why you all looking so tensed haa. So see he open the diary first page. And reading mother name is twinkle Tanejaaa. And father name is twinkle and other closer their eyes because they know what will come next. Kunj stop and look at his name just.
Yuvi:what is father name….
Kunj:ammar father name is Kunj Sarna in loud voice..twinkle taken step in backwards.Aditi and yuvi shocked like anything.
Yuvi:Kunj Sarna what.. Kunj hold twinkle tightly from her both arms.
Kunj:ab bol twinkle… why you using my name haa. Don't you have any shame haa. Kish haq se tune Ammar ke baap ka naam yeh diya Kunj Sarna haa. I need an answer.: Twinkle looking down.
Twinkle:I'll not give you any explanation.
Kunj:kish ka bacha hai ammar bol vikram na Phir yeh sab kya hai..
Twinkle:kishi ka nahi hai woh mera apna bacha hai bas.. Kunj asked Vikram.
Kunj:bol Vikram you both have relationships na so now why you both doing this.
Vikram: I'm saying you truth kunj ammar is not my son but of… twinkle gestures him..
Today I'll not stop twinkle. Kunj needed to know each and everything. So listen kunj. Why ammar is sarna because he is your own son but not of my.. Aditi and yuvi shocked by this.. Kunj started clapping.
Kunj:what a actor man..
Twinkle: why you doing this drama he just telling you none sense. Tears escaping from kunj and twinkle eyes.You played with my feeling years back today also after doing this all. But today I'll not let you play with my feeling. I love ammar more than my life and today I'll not hate him after knowing about him that he is your and his son nope.Bata twinkle mujhe sach..just than Kunj pa zara come with some papers.
Zara:sir papers.. Kunj look at her immediately snatch the papers from her hands.
Kunj: wait I'll shut your mouth off and this rubbish story too you both wait and see.After this.
Yuvi: what is this kunjj.
Kunj: see Yuvi what this twinkle think she used my name haa. And I'll not say anything to her I have proof. And I'll proved her wrong as well.
Yuvi: means what is this kunj..
Kunj:this is a DNA reports. Twinkle shocked after Listen this and just looking at DNA reports after see reports kunj get to know about ammar being his son..
Twinkle:leaveee from here..
Kunj:why you getting so hyper twinkle Taneja ha. Just wait na.Kunj take out DNA reports from envelop.Everyone just looking at Kunj in shocking way.Twinkle looking at Rt and Leela. Kunj open the reports. Kunj reading loudly..!
DNA TEST REPORTS (PATERNITY TEST)
PATIENT NAME:AMMAR.NAME OF THE RECEIPENT:KUNJ SARNA.TWINKL TANEJA.
BLOOD GROUP: MATCHED. ✔️
DNA 🧬 STATUS:MATCHED✔️
THE ALLEGED PATIENT (AMMAR )IS BIOLOGICAL CHILD OF MR KUNJ SARNA AND TWINKLE TANEJA.
PATIENT BIOLOGICAL FATHER IS KUNJ SARNA THE TEST IS POSITIVE✔️..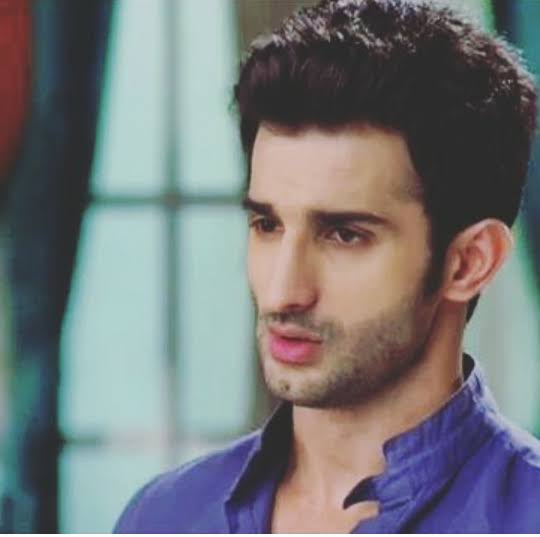 Kunj again and again read this. Than he see another DNA test reports which is vikram and twinkle which was NEGATIVE.✖️
Kunj was freeze for a moment he rubbed his eyes and than see DNA TEST IS POSITIVE. Everyone see kunj. Kunj reaction making Yuvi and Aditi shocked.
Yuvi: kunjj kya hua..
Kunj:yu:…..vi..DNA TEST IS POSITIVE.
Yuvi: what 😱😱. He can't hold the reports which falls down from his hands Yuvi take and see the reports.get hell shocked. Kunj snatch the reports and look at twinkle.
Kunj:how can this is possible twinkle I'm ammar BIOLOGICAL FATHER. He said in loud voice. Bol na damn it answers me this.
Vikram: see kunj now ammar is your own blood not my but of yours.
Kunj:bol twinkle what is this yeh DNA reports. Please I'm begging you what i vikram is saying this and reports too is it true.
Twinkle: in anger nope why you believing on this DNA reports.Once you didn't why today.Tears escaping from kunj eyes.
Kunj:not today tell me please.this all making me confused like hell.he hold his head
Abeer:everything is crystal clear kunjj. This DNA REPORTS saying you clearly ammar is your son you are his father.
Twinkle: nahi hai mere bache ka baap stop this.
Vikram:Twinkle tell him each and everything.
Twinkle:what I'll tell him vikram today.Kunj shaking twinkle holding her from shoulders.
Kunj:please give me answer in yes and no please Twinkle.. I'll become mad..
Twinkle:go to the hell.
Vikram: I'm saying you truth kunj.
Kunj: I wanted to hear this from your mouth twinkle. Bataaaaaa…
Twinkle: haaaaaa ammar tumhara bacha hai. Kunj jerk immediately as soon as he heard this from twinkle mouth the ground slipping under kunj feet's.
Kunj: what… no no you all making me fool. Ammar mere bacha keshe ho shakta hai. Yeh DNA reports maybe be wrong and you people too. He is my son how.
Leela: he is your son kunj. Kunj don't know how to react.
Vikram:Listen today Kunj Sarna each and everything years ago whatever happened everything is rubbish.You all take my and twinkle Relationship in a wrong way abused our pure friendship. That all those pictures are faked she is innocent Kunj she never ever cheated you. You are a culprit didn't believe on twinkle truth. She is not twinkle vikram Taneja but she is twinkle Kunj Sarna.That ammar is ammar Kunj Sarna.You asked why he is Sarna because he is your blood.This DNA reports is true you can't deny it.Kunj started breathing heavily.Kunj can't stand on his feet's Yuvi and Aditi hold him.
Yuvi: kunj handle yourself. Kunj face drenched in tears.
Kunj:breathing heavily.keshe he is my son how can this is possible.
Aditi: what do you mean by this.. Kunj wiped his tears and rushed towards twinkle.
Kunj:no more puzzles twinkle.Did you think this is joke haa.
Twinkle:yes I know this not joke so why you ask me this.Happy he is not your son go now away from him and me.I can't say this he is your son you didn't deserve this.
Kunj:mere bacha keshe ho shakta hai. We don't have anything.
Twinkle:good when you know this and live in this truth see the door and leave.You didn't remember anything kunj. Understand this all isn't truth and your fake truth is true.
Kunj: I'll ask ammar this. Where he is.
Twinkle:don't dare no one is worse than me. Please go😭😭😭..Kunj thinking.Go and try to remember than come to me. Woh raat.. Kunj falls down on his knees.Kunj closed his eyes and try to remember.
Kunj can't take it anymore. He had asthma problems aditi and yuvi see kunj.
Yuvi:kunjjj. He holds side table….
Kunj:Yuviiiiii… he tries to get up with lots of difficulties. Kunj run from there and went to Sarna Mansion he directly went in his room goes in balcony.
Kunj:ammar mera beta keshe babaji.. than something click on kunj mind woh raat.. Kunj closed his eyes and remember each and everything. He was hell shocked his mouth got open it means its truth he is my son ammar mera apna beta hai. Tears escaping from kunj eyes like anything he was hell shocked. Kunj went in room and see ammar photo frame keeping in side he took it. Yeh mera apna bacha meraaa beta. Beautiful smile come on kunj face. Twinkleeeee he rush to Taneja Mansion everyone sees kunj.
Kunj: where is twinkle.
Rt: why you come here again.
Kunj:tell me please I need to talk to her.
Leela: she is in her room. Kunj immediately run to twinkle room. He entered in room and see twinkle standing in side crying.
Kunj:Twinkleeeee.. she saw him get up immediately. He went near to her. Twinkle..
Twinkle: why you come here again..what you wanted more..
Kunj:I remember everything twinkle. He pulled her towards him. Yeh mere aur tera bacha hai..
Twinkle: nahi hai yeh.
Kunj: woh raat that night we become one. He is the existence of that night. Tears falling from their eyes rapidly.
Twinkle: very soon you remember this haa Kunj Sarna how. She grab his collar.What happened that day if I told you he is your son you didn't believe it how.??
Kunj:that DNA Reports saying I'm his biological father. Me hu iss ka baap.
Twinkle:nahi ho tum Iss ke baap yeh shirf mere bacha hai I'm his mother and father. Now you remember so you get ready to accept him your son what happened that day.Tumhare jesha baap hone se acha koi baap hi na ho kunj. You just say we don't have any thing between each other's than why you come to me that night why you make me yours.Shaking him.That night I give myself to you.What you have done with me haa in returns. That day I told you na you'll regret lot abused my son your son blood you abused kunjj..kuch yaad nahi tumhe.
Kunj:I'm sorry it's very lame twinkle. I didn't remember anything.We become one. Kunj look at ammar who sleeping in side.Mere apna bacha mere apna khoon.
Twinkle:you forget this all.Like same you forget that night. Chale jao yeha se kunj.
Kunj:I'll not go anywhere. He cupped twinkle face.Twinkle I understand your side. I'm wrong I know I'm very bad. But yeh humare bacha hai.
Twinkle:don't said this from your mouth you didn't deserve Kunj Sarna.Koi yeh tumhara beta veta nhi nahi shirf mere twinkle ka ha. That night was worse night of my life. I trust you type of man and give you myself what I get haa this humiliation.
Tum toh kuch Bhi yaad na ta kunj While crying.Humara life ki beautiful night. You make nightmare.
Kunj:please twinkle. 😭😭.
Twinkle:I'm idiot I got my punishment. You didn't think once whatever comes in your mind just thinking.I'm vikram wife his baby Mother not kunj I'm your wife mother of your baby. I was pregnant with your baby that time: when you leave alone and throw me out of your life😭😭😭.. He always asked me about his papa what I'll tell him that his papa toh thinking you abused blood. Kunj covered twinkle mouth..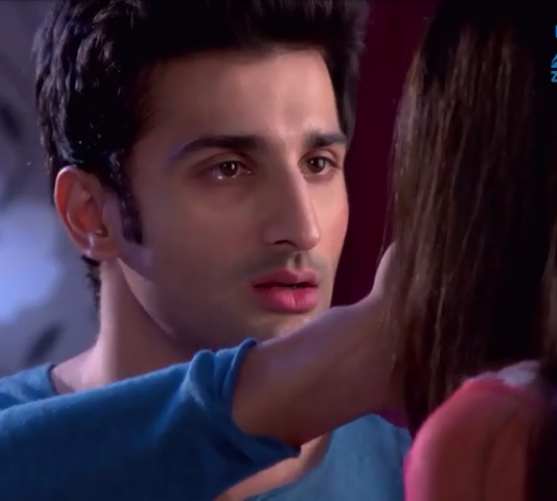 Kunj:don't said this..😭😭😭.. ammar started blabbering in sleep. Twinkle hold kunj hand take him down..
Twinkle: take your friend Yuvi..
Kunj:Twinkleeeee.
Yuvi:kunj stop this all things.
Kunj: Yuvi ammar is my son woh bacha mere apna beta hai. Yes Yuvi he look at Kunj surprisingly.
Yuvi:Matlab you accept this.
Kunj:yes Yuvi this all is truth. This DNA reports and you always thought na ammar Carbon Copy of me why because he is my part.
Yuvi:But you and twinkle..
Kunj:forget this I know.
Rt:waha Kunj Sarna today you remember everything haa. Make my daughter pregnant and leave her on that time when she need you most.Today you accept this he is your son even though he is your blood but you are not his father he is our baby not yours what you have done it for my ammar till now you are unaware of your baby did you come to my daughter asked her once that. In publicly your mother and you said you don't have any husband and wife relationships with my daughter.Aaj tumhe aapna bacha.
Kunj:I know but I don't know about this baby. Twinkle in anger grab his collar.
Twinkle:you don't know that why you do this all with me. When you all putting allegations on me that time your own baby was in my womb Kunj.calling me so much never thought once if I never cross my limits with you how can I with others that also with my own bestie Vikram.I never look at with that feelings always understand him like my brother but your mother and you all make our pure relationship dirty.Yuvi and all look at twinkle feeling bad for her kunj who crying like anything in deep shocked. I was one week pregnant when your mother call me pr*stitute. That day also abused my son. What did I told you'll regret one day lot the day is arrived today Kunj Sarna.what she said he is ganda khoon so woh ganda hai toh phale unka aapna beta ke khoon ganda hai. Fine you didn't believe on me believe but on that fake pictures good. Yeh DNA reports twinkle take in her hand.
Waha Papa see kunj is ammar biological father, and he is his child.. she read loudly. Now you believe on this. When I give you this that time toh you didn't believe it.She tore the DNA reports and throw it on kunj face today I'm denying these reports are fake.Ammar is not your son.He is naajaayaja baby. Keshe hua yeh naajaayaja baby Kunj Sarna ka before him you are naajaayaja Arey I didn't sleep with some other man. You are my husband we are husband and wife na how come my baby is impermissible Kunj.I take 7 Vows with you.But Their mistake is not but when his own father saying this what I'll expect from others Kunj.When my husband saying this all.He didn't remember anything.What my innocent soul does with you haa. Without his no mistakes he suffers lot you know what when he saw any kids with their father always feel sad because he doesn't have fathered he had father but his father don't want him he toh don't know uska apna Iss duniya me ek bacha bhi hai.
Baap hone ke baad bhi mere ammar bina baap ke raha he craves for his father. Everyone celebrates Father's Day why not he haa.Always making cards for his father whom he never seen till now. When he come to know about you what will happen his own dost is only his father. I'll not give you ammar father tag.You are nothing of him.grab his collar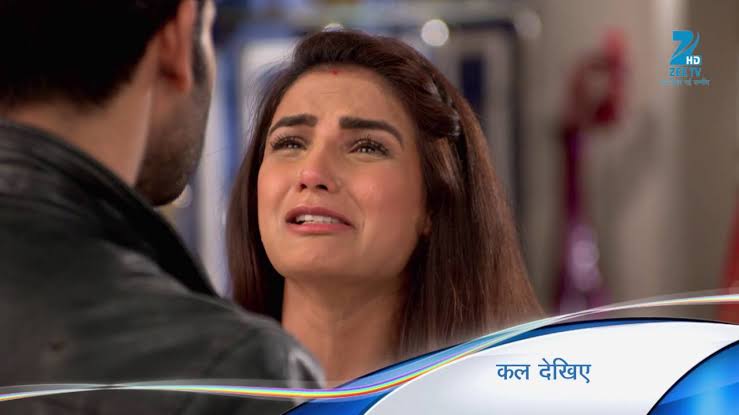 Kunj:aise mat bol twinkle me uska baap hu.Woh mere beta hai. I'm accepting everything I didn't deserve it but I don't know about this even you never try to tell me once.
Twinkle:she wiped her tears okay you don't know. For what reason I'll tell you. Haa did you left any reason.On those fake pictures you all abused me like anything if you get to know about baby than did you all do aarti of my baby abused my unborn baby.That day your mother speak so much but you didn't say anything.Why because he is not your son na.When you call my baby naajaayaja so you don't have any relationship with him.Hear today good you get to know ammar identity fine.End of the day this will come anyhow.Today I'm saying you kunj.Don't come to near my son ever fit in your mind he is not your son he born without father stay in this years like a no father baby he'll stay his whole life too.I'll not let your shadow falls down on my son.kunj get shocked,
Kunj:nahi twinkle you can't do this.I'll not stay away from ammar.You can't do this I'll not let you do this.I'm begging you.You can punish me but don't do this.Before I don't know he is my son that time I can't stay away from him how can I .now woh tera beta hai toh mera bhi hai equally.
Twinkle.Waha see MAA and papa equally.
Kunj:ek baar toh mujhe milne de apne bache se..
Twinkle:never forget this he is your son. Kunj hold twinkle hand pleasing her.
Twinkle:stop it kunjjjj.Nothing is left between us.
Kunj:I'm sorry for my sins twinkle 😭😭.I have no idea about this my son is in front of my eyes everyday I meet with him.
Twinkle:your presence is bad for him.Now only my son is save.Kya pata you Itself falls him down to take revenge from me. Kunj shocked tears tore from his eyes.I disallowed you calling you my son father. From now Only I'm telling you last time kunj.You are nothing for me and ammar that night with my mangalsutra our relation break down fully nothing is left between us but my bad fate always make me stand in front of you but not today.If I had power to erase your name and your blood from my ammar nerves.Like you erase us.Till now you live in your false truth now too congratulations.Arey how can a Cheater son become your son not at all I'm a cheater na kunj. So he is too like me. I and my parents taught him this only my parents taught me to cheat peoples as you said it before you tell me what your parents taught you.Tell me your upbringing you see you all point out on my parents upbringing than I'm the one, and they are most who do upbringing of ammar. You people think me toy but I'll not let anyone play with my ammar feeling like a toy he is my everything if anyone tries to harm him than I'll forget everything. Aur rahi baath ammar ki I'll take him so far from you you'll never see his face.
Kunj:no you cant take him from me.I'll take my son. I'm your culprit that I know I'll not say uff to you.You were right at your place.I never try to harm him whether he is yours and Vikram son for me and someone others as well what I felt for him only I know. I made a mistake, now I'm living with the consequences. I regret it, I really do. And I'm sorry. But I can't leave ammar how can I twinkle. At least think about me.
Twinkle:why I'll think about you did you think about me haa.Kunj Sarna Arey I beg in front of you lot.What did you do with me throw me like a paper.Now this twinkle throwing you like same.Always matured ones Said think before speak I told you many times but you never whatever comes in your mind you speak. I'm the girl who can sleep with anyone just for money ka kunjj.
KYa pata if this baby is not Vikram'S as per your thinking maybe some other one baby. I'm toh character less girl na. Everyone is speechless.I was mad behind your love.How much I suffer that you don't know kunj. Never complained you for anything what you wanted always did that never asked you back anything.If your mother and family Insulted me always leave it why just because of you.She clutch his shirt. Kyu Kyu kunj tumhare pyaar me mujhe shirf dard hi mila hai.
Kunj:me Tere se pyaar kar ta Twinkle karta hu that you know.Aur me ammar se bhi aaj se nahi from that day when I saw him first.
Twinkle:yeh kesha pyaar hai Kunj Iss pyaar ko me kya naam doon. Haa.Everyone had tears in their eyes.
Ek baar puch ke toh dekh te mujse haste haste I'll tell you each and everything but before me you imagined it everything in your mind that I marry to Vikram and my baby is his baby. Arey kunjj after whatever you have done it with me I did what you like it. You know kunj you wanted whenever we had baby boy your wish is you kept his name is ammar because you loved this name. And I promise you that I'll no matter wherever we are. If I know my promise even you too do promise to my MAA whom you always give respect more than your own mother. How you forget your promise kunjj that you'll never leave my hand in my life but when I needed you most you leave me alone in middle of hell where I'm all alone and I had my family with me but I wanted you most kunj.In these years you never try to find me how's I'm.And why today you bring this all reports what about me when I did same.
I come to you kunj but you call me I'm cheater what about you after me next day only you find your love in maya how? Is it your love.In these years I suffered lot kunj.😭😭😭😭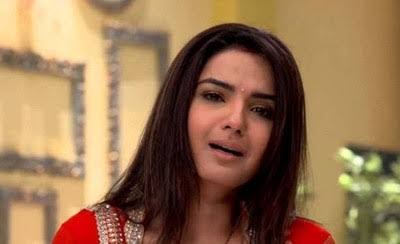 Now you say you are his father equal right on him see my this baby brother he is very smaller than me.He was wake up for my baby many nights today also. And my MAA and papa take care of my baby like their own babies Arey I toh was ready to abort this baby they don't wanted. In this baby I always find you inside him which always fresh my Wounds till now also. I always showered your anger at my ammar why because he is your son.!! My papa and MAA keep me like a princess, and they always said my prince will come and make me his queen and my life will be more beautiful. But my Prince toh just break me down like anything.I forget you are my prince and my papa is my king you can't keep me like my papa.He never makes me cry and you give numbers of reason to cry.
Today you got to know he was your son so suddenly you become good. Remember my one line kunj your wife is weak but not ammar mother is weak I'm very strong mother.In your whole life you'll regret on your deeds.I don't have any issues with you.This baby god give me.Till now this world know me baby from my name further too.Everyone born they have maama and Papa beside but when my babies born they had just me and me.This father word not exist in my son life.God will see each and everything You snatch reason from me to live kunj.I just alive because of my son.Because already he had MAA only if I'll be too than he toh become anath.Kunj just listening twinkle he knows she is right at her place whatever she saying it..
Kunj:Twinkleeee please Ek last time mujhe ammar ko dekhne toh dede I'll not do anything promise.
Twinkle:sorry kunj I can't. Ammar wake up in middle of sleep he gets up and finding twinkle than he went downstairs.
Ammar:in sleep mamma😭😭😭.. Kunj eyes went on ammar who coming down his eye little closed it.
Kunj:ammar…😭. Ammar come down and stand open his eyes. Look at twinkle and others than his eyes went on kunj.
Ammar:ale dost you sach me na.He rubbed his eyes.Kunj just admiring ammar today being a father.Tears dropping from his eyes what he had done it that so unforgettable.Ammar went to kunj.While Kunj is in shocked still he can't believe who was standing in front of him this little baby whom he thought about adopt he was his baby.He just stays numb.Ammar shaking him with his hand. Dostttttttt..
Twinkle: fuzail take him from here.. fuzu went to ammar hold his hand about to taking him.
Ammar: let me meet with my dost first dost. Kya hua.. why you crying..
Twinkle:fuzu😡😡.. blood started oozing from kunj nose suddenly due to over stress today he got many shocked in one go.Can't take it anymore and control as well too. His guilt Make him like this. He had no guts to see in ammar eyet here are no doubts that he is not twinkle culprit but more ammar's. Ammar started crying to see kunj like this..
Ammar: dost talk to me na 😭😭. He push. Fuzail and hugged kunj legs. Dostt.
Twinkle hold ammar hand and give him to fuzail and send him from there. Kunj about to falls down Yuvi and Aditi hold him.
Kunj:what I have done it..noooooooo..
Aditi:BF handle yourself kunj walk out from there like a lifeless body..😭😭😭. Twinkle falls down on floor and cried lot. Mehar hug her tightly.
Mehar:Twinkle handle yourself please.
Twinkle:Mehar what happened just in few seconds he knows everything.
Abeer:Twinkle don't think about him.You have to be strong. Don't cry this truth will come out one day in life good today.
Aditi:yes twinkle I don't know what is truth behind this all but whatever I see now and understand you are right at your place and talking about my BF.he really loved your son like anything.You know what twinkle when he can love someone baby this much think about this now how much he'll love his own baby.
Yuvi:sorry twinkle for this… yuvi left..
At Kunj room he entered in room like lifeless body today he get to know the biggest  truth of his life.. twinkle baby was his son and twinkle is innocent. He fells down on floor crying like anything cuddles the cushions and screamed it breaking the things..
Kunj:mere bacha babaji what I have done it. My baby is in front of my own eyes I didn't recognize him.Even can't see twinkle truth. Whom people abusing he is my blood they all abusing my baby not vikram baby.What I thought about it for twinkle.yuvi and Aditi come to kunj.. and sit beside him..
Yuvi:kunj handle yourself.
Kunj:Yuvi..😭😭😭. He hugged him tightly.Mene yeh kya kardiya.That time I throw twinkle out of my life when she carrying my baby in her womb.She was pregnant with my baby.
Yuvi:kunj you toh always saying na you and twinkle don't share any kind of relationship like a husband And wife so how baby come I mean hope you understands. Are you so sure ammar Is your son and how you come to know about this all kunjj.
Kunj:yes Yuvi he is my baby only.I know I said this.But god decided for me this.We didn't share husband and wife relationship right.Kunj closed his eyes.
At twinkle room fuzu give ammar his medicine he doze off.Twinkle sit beside ammar and sobbing slightly.Together they both went in flashback..
2 weeks before this all things happened.
All family members went in chinki and gautam engagement there usha taunting twinkle Lot and humiliate twinkle lot.She can't listen more so started crying leave the engagement party and went to Sarna Mansion kunj get to know about this he too went behind her. Twinkle entered in room she started throwing things here and there kunj come and see her..
Kunj:Twinkle what is this haa.. while throwing things twinkle get hurt on her finger. Kunj see this immediately take her finger in his mouth twinkle look at him.. are you mad what are you trying to do it.
Twinkle: Kunj leave me alone please.
Kunj:I'll not leave you get it..
Twinkle: this mahi and mummy ji didn't down good with me.. 😭😭kunj.. he cupped her face.
Kunj:I know twinkle this why you listen them leave them.I'll see them at morning don't cry. Twinkle push him and see alcohol bottle keeping in side which yuvi left it their room. Twinkle take the bottle and started drinking kunj come and try to stop her. Twinkle leave this it's an alcohol.
Twinkle:haa I know let me drink today. He snatch the bottle from her.He started drinking like this both drink whole bottle.
She crying loudly and went in balcony and locked herself in balcony closed the door. Kunj banging the door.
Kunj:Twinkle please open the door weather is not good see rain will be happening at anytime. Twinkle standing under rain and crying. Kunj open the door and see twinkle went to her. Chale. He too drenched in rain. She went in side didn't listen kunj he make her turned to him and cupped herself and look at in her eyes she too. She push him. He didn't listen her just lifted her in his arms and went in room and twinkle looking at Kunj. Kunj place her on bed.While placing her on bed both just look at each other's Kunj hairs rain water droplet falls on twinkle lips. She turned her face to other side and cried.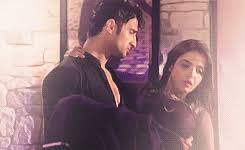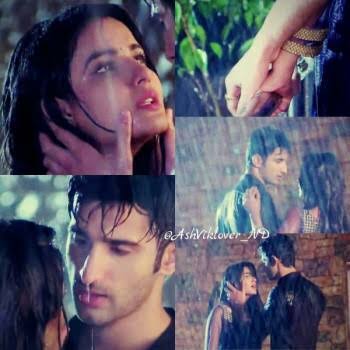 Twinkle:nobody loves me here😭😭.
Kunj:Twinkle i love you lot. She pulled him at her. He was on her while twinkle beneath him.Both looking at each other's.Just blinking Their eyes. Kunj look at twinkle face.He tucked her hairs and without wasting anything's Kunj locked his lips with her.Both kissing each other's it was their first kiss.The night turned Make twinkle and Kunj one Soul They both give themselves to each other's their love witness is these moments and god and most this moonlight which coming on them.But someone is bystander of this.
Next day twinkle wake up and find herself in kunj Arms and naked as well to see this all she understands and blushed. Kunj who sleeping beside her his face nuzzles in her side neck. She composed herself and went in washroom.When Kunj wake up and get ready Twinkle didn't tell kunj anything just blushing.She thought kunj would be talk about what happened last night between them. But kunj didn't remember anything. She thought he maybe. But their happiness others can't digest it so their evils eyes caught their happiness burned it like ash😭😭.
Both come out of flash back.
Twinkle:you didn't remember it what you done with me. I never asked you anything why you do this with me I was toh so happy finally I become yours fully and you too no matter in what circumstances.
Kunj:Yuvi and aditi😭😭. She is right at her place I make her my But didn't remember the most beautiful night of our life I don't know.how stupid I'm.I lost my everything.
Yuvi: bas don't cry look at me intentionally you didn't do anything. Kunj I thought you once go to twinkle one time and try to asked her but you come to in your words.
Kunj:nahi Yuvi I went to twinkle. Her house is locked and watchman tell me they went from here so I went to chinki to think maybe she knows but she told me twinkle leave from here never come and leave letter for me that in this clearly return it. She going from Amritsar with his love vikram I was shattered down.
Twinkle:I come to you kunj what I saw chiii. Taneja's left for airport but at airport twinkle heart crying she wanted to meet with kunj and wanted to in formed she is pregnant with his baby.She run from airport alone fuzu behind twinkle. She reached Sarna Mansion her eyes went on her room balcony and see man and maya kissing each other's she get shocked by see and break down. And fuzu come and take her.
Episode freezes on twinkle and Kunj crying face ammar between them..
_____________________________________________
How' was the episode finally truth come out in front of kunj 😂😂😛😛.. 
Let's see what will happened next.. 
how ammar will get to know kunj is his father.. 
give your comments thanks for your comments guys I'm overwhelmed by your love and response just showered me like this only sorry late didn't got time to post. 
I have to finished all stories quickly don't worry 😂😂heart attack maybe come😛. 
I'll end it on a proper way.. loving 🥰 my all three stories aww even I too my all three ff readers ❤️❤️❤️❤️
Bye love you all. 😇😇allahafiz