ISHQ MEIN MARJAWAN 2 : #RIANSH ISHQ KI BAAZI (Episode 3)
When your eyes meet ,That's not love at first sight. It's when you can't bring yourself to look away. For you've captured the loving sold embodied through their eyes. It's when the task of looking away is too mighty. For you fear when you avert your eyes the magical moment will be a thing of the past. The eyes will carry on with their life and the love you could feel so much will be no more. That's love ❤ at first sight. 
HELLO PEOPLE, THIS IS THE 3RD EPISODE AFTER A LONG TIME. SOO READ AND ENJOY. AND PLEASE IF YOU ARE A SILENT READER THEN I REQUEST YOU TO JUST DROP '👍'  IF YOU LIKE MY POST. NOW LET'S BEGIN-
(The same night) At A.S. Mansion
Rupali had prepared coffee for all the people. They were sitting in lawn and enjoying family time.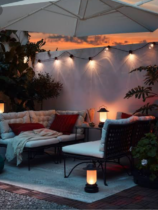 Riddhima reached her place, after changing her clothes she headed towards the lawn. They chit-chatted for a while then Riddhima beginned telling all the events that took place at the party. Then she told about VR. Her father knew who vansh was and always desired to have partnership with him. He was delighted to know that they met. After talking she went to her room and started listening to songs and was thinking about vansh, then suddenly a thought popped up that she hasn't talked to kabir. She quickly video-called him.
Riddhima (In the cutest way possible) : Sorry Mr. Kabir, I got late in calling you.
Kabir: Let it be. How was the party?
Riddhima: It was awesome, Sejal had worked so hard for it and I was flawless mann.
🔼Riddhima being a chatterbox went on for like 9-10 minutes and described everything in detail then she said :
Riddhima: And you won't believe whom I met there. Baba was telling that he's a great businessman and I think he really likes vansh.
Kabir: Who vansh?
Riddhima : Vansh Rai Singhania. Seriously use bohot Gussa aata hai. This was my first thought about him but then we danced then I realised that this man has some charm and I misunderstood him.
Kabir (Shocked) : What? You met VR and you danced with him.
Riddhima: So what I made a mistake toh dance compensation tha. Tu shock kyun hogaya (Why are you shocked).
Kabir (Angrily): Are you mad? Don't you have brain or if you have it can't you use it. What was the need to dance with him. He is a complete stranger to you. You don't know how dangerous and heartless he is.
Riddhima: Ye kaise baat kar rahe ho tum? (How are you talking)  It was just a dance and who are you to judge him. I told you na my first thoughts about him were also like yours but you see he proved me damn wrong. Now chilllll ❄🌼🍦🍹. Once you will get to know van……….
Kabir  (interrupted) : Riddhima stop it now. I'm warning you, stay away from vansh. He is not a good man. I'll be waiting for you tomorrow near the lighthouse. Bye, Goodnight.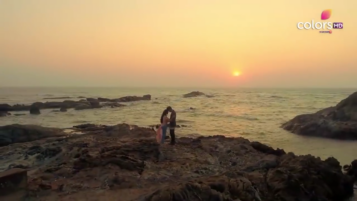 [This is a peaceful place so here he'll be able to confess properly.]
And he ended the call.
Riddhima was upset by kabir's behaviour. Then she again started thinking about vansh. She thought to herself-
Riddhima : I have never been so attached to a stranger. What's this happening. Chal Riddhima tu toh soja nahi toh kal phirr late jaayegi . And she slept thinking about vansh.
(Kaafi impression jama liya ladke ne 😉)
AT V.R. Mansion 
Vansh was restless he was longing to meet Riddhima. He ordered Angre to get any clips that he find from the party.  And Angre by luck got their dance clip. Vansh played it on television and his heartbeat was increasing. He was witnessing the loveliest moments of his life. He was on cloud nine by now. Dadi was eavesdropping and just got inside and spoke :-
Dadi: Ladki toh bohot pyaari lag rahi hai. Aur tune pakad toh aise rakha hai jaise kisi Aur ko use chhoone bhi nahi dega.  Naam jaan sakti hoon?
Vansh ( highly embarrassed and blushing 🙈 ) : Dadi Angre played it forcefully.
Angre ( was already smiling) : Dadi, he ordered me to bring the video clip.
Dadi: oye-hoye aisa bhi koi hai jiske wajah se vansh sharma jaaye. Nazar na lage. But what's her name?
Vansh: Riddhima, Riddhima Sethi. She is a professional photographer. Siya's favourite she must have told you about her. She is very successful. Her office is near Versova Beach. Her best friend is Sejal who's a event planner.
Dadi: vansh, break laga. Maine sirf naam pucha tha. And I believe you really like her.
Angre : Like? Kya dadi he loves her. In the party, in the car and before your entry he was continuously talking about her and wanted to meet her. Jab ki today is the first time he met bhaabi. Ohh nahi Riddhima mam.
Vansh gave death glare to Angre.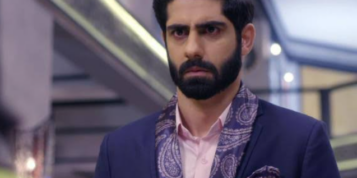 Dadi: Vansh waise toh you always avoid discussing about marriage. But with high hopes today I ask you. Do you want to marry this girl?
Vansh gave the most prettiest and priceless smile ever and hugged dadi and said :
Vansh: If you are forcing too much toh phirr kar hi leta hoon. After all how can I deny such a sweet lady.
Dadi: toh chatt mangni patt byaah ho jaaye.
Vangre agreed brightly. 😁
Dadi called out everyone in the hall. Everything was revealed and now Anupriya and ajay with everyone decided to visit the sethi's.
Ishani : Bhai ke chehre pe already marriage ka glow aa chuka hai. I'm sure Riddhima bhabi's family won't deny this alliance. Let's hope for the best and keep our fingers crossed.
Chanchal chachi : Toh chalo mooh meetha kiya jaaye. After all vansh agreed for marriage. But ladki ki mooh dikhayi toh karwao.
Angre played the clip on television.
Everyone was surprised that vansh ko itni pyaari kudi mil kaise gayi. But little did they know that they were already arranged in the stars.
You don't find love, it finds you. It's got a little bit to do with destiny, fate but what's written in the stars. ❤
Everyone then moved to their rooms and vansh also slept while thinking about Riddhima. ( Ladki bhi kuch kum nahi hai sab pe ek hi baar mein impression jama baithi )
.
.
.
Sorry people, In 3 episodes I completed 1 day. But this won't be repeated in further updates. Actually I elaborate things a lot because I talk a lot. But in next episodes i'll wind up soon. Thank you so much for reading 😊 and showing so much love on previous posts. Please drop down your views or any suggestions in the comment section. Thank you jii 😀 I'm grateful for the readers.