Shobna : What are you saying Sambhdan Ji ?
Jhanvi : Mmh….Whatever Maaji decides we follows it .
Shobna ; She is your daughter in law ,how can you send her away ?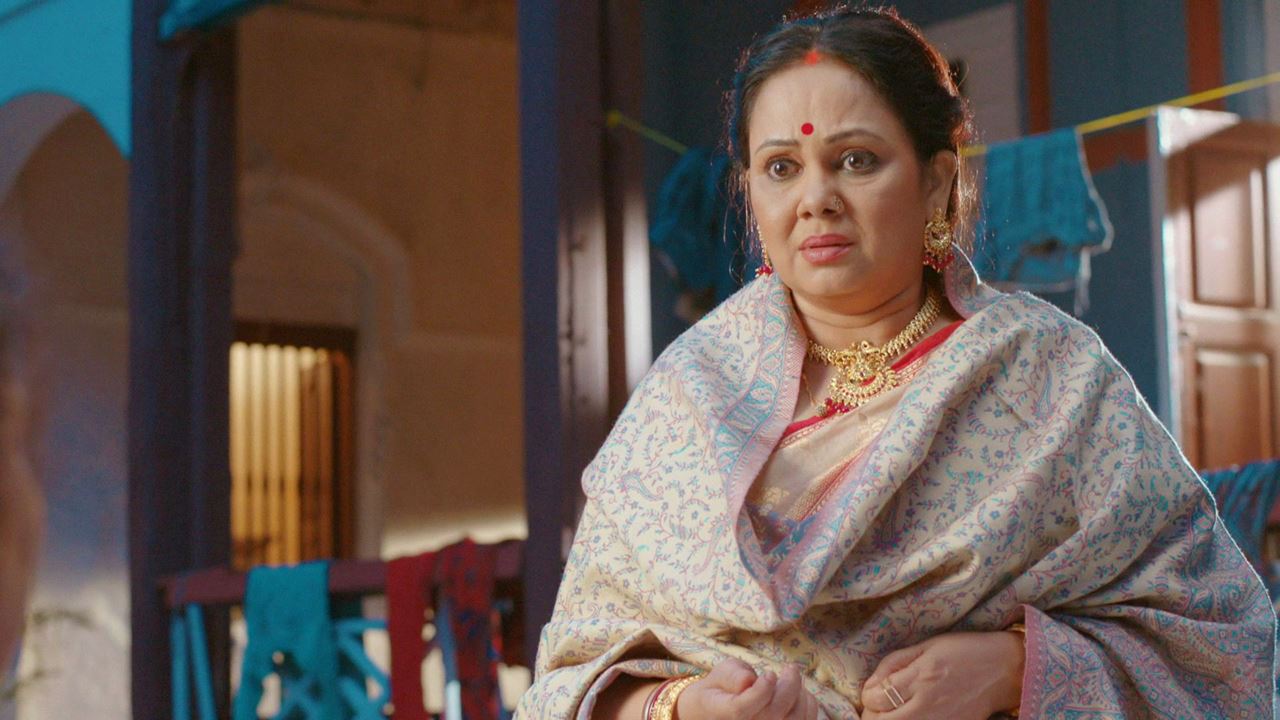 Tej : Oh Really if you can keep your daughter away from the proper parenthood of her parents then how can you expect that we also won't do the same ?
Baljeet : She is our bahu and she should get her all rights in the proper way . First thing is she had to get the attention and care of her parents and after that only a daughter becomes a daughter in law. We can't keep Pranati being unmarried at our home . Tej has one more son , Omkara who is elder than Reyansh. We have to think about him also and when we will say Reyansh done a register marriage to the girl's family what will they think about Omkara ? They will ask hundreds of questions and we can't answer them one by one. And even if we did Omkara's marriage with the consent of both families , groom and bride also it will hurt Pranati a lot. May be she won't openly tell anything , but her inner soul will be paining severely as she will think why her marriage wasn't occured at that way ? Remember, Without the participation of parents from both sides a marriage is totally invalid.
Jhanvi : Yes Maaji. These people are not able to see their daughter's pain. For them their ego , their individual rifts are higher . Oberoi family's marriages have always happened with the blessings of parents and elders from both sides. If you both won't arrive together then we will not conduct wedding . The choice is yours – You want to see your daughter's happiness and her marriage Or you want to see her isolated from both families ?
Shobna : Why you all are telling this to me only ? What about him ?
Tej : Him ? Who is that him ?
Shobna : Pranati's so called dad .
Baljeet : We will talk with him too. But I thought being a mother your heart will melt and may be there are chances for good things. But I was wrong . Any ways we are leaving. Hope to see you with your husband at your daughter's wedding . Namaste!!
Tejvi and Baljeet walks from there. Shobna sits in chair and involve in deep thinking.
Baljeet : Tej How was my performance ?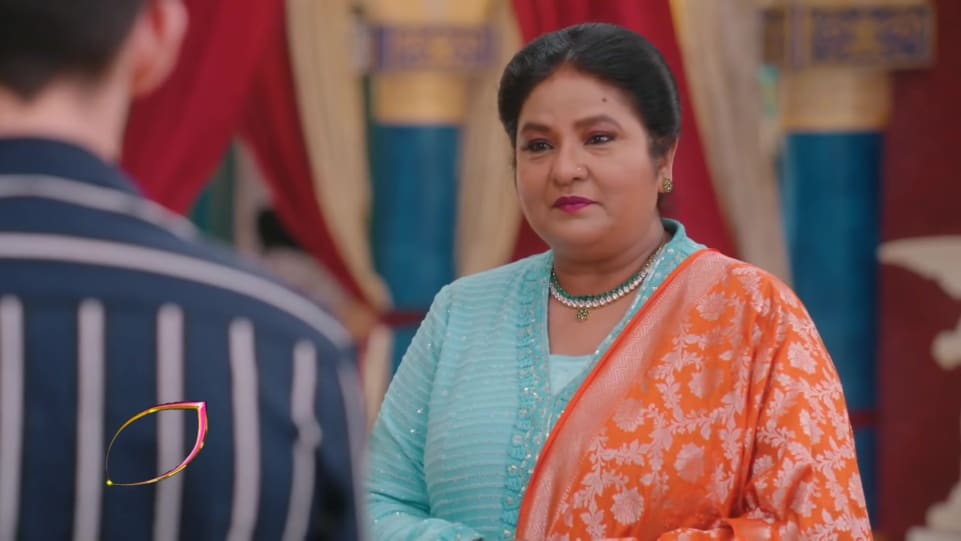 Tej : Maa, I felt you are over acting lady. Itna drama ? Seems like you was acting in ekta kapoor show
Jhanvi : Tej , Maa did the best. See the impact. Shobna Ji has started thinking again on her decision. And may be things will work.
Baljeet ; Of course. Now the turn is for Pratap.
Tej : Okay let's go to there also.
Baljeet : We won't go there. But our plan execution will be done there
Jhanvi : But how ?
Baljeet : Jhanvi , should I need to tell each and everything. I will explain it later. Let's go home.
Tej : Yeah
AT A PARK
Spandana ; Are you sure it will work ?
Gauri : Spandana Krish jeeju really used to like it whenever didi played the song in this viloin.
Spandana : Krish, Gauri and me were used to love those leisure times when we goes for violin classes during college days.
Gauri : That's why I am saying, May be a magic can happen. Please
Gauri goes to a corner and started watching them . Omkara was also present there.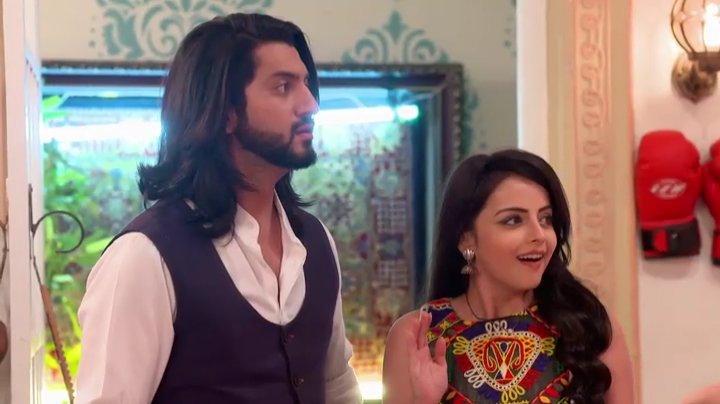 Spandana started playing a rhythmic tune at Violin .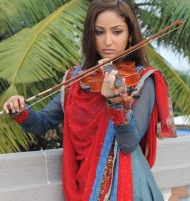 Seeing her like these slowly Krish smiled .
Krish started singing the tune which Spandana played ….Pal pal dil ke paas tum rehti ho
Jeevan meeti pyaar
Yeh kehti Ho…..
Spandana imagined lovable moments with Krish while he was singing
https://www.youtube.com/watch?v=eWW8K3UMyZk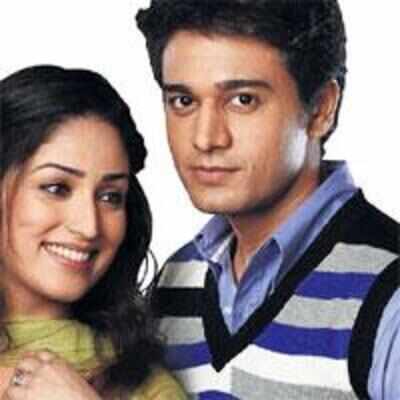 Krish came near Spandana
Krish : Hi Spandana
Spandana : Krish do you remember me ?
Krish : What yaar ? How can I forget you ?  By the way woh nahi aayi
Spandana : Woh !!
Krish : Your roommate in hostel Ra….Ra….
Spandana : Rajni!!
Krish ; Where is she ?
Rikara and Spandana were shocked when Krish asked this
Spandana : Krish !! Rajni is your ..
Krish ; Tell her to bring my book . She hasn't given it back. Spandana we are getting late. Classes will be starting . Come  and sit at that bench
As soon as Spandana sat in bench Krish turned behind and whispered in her ear
'My pocket money is over. Can you please give me some money ? I am going to buy flowers for Rajni. "
Spandana recalled her college days and realized that the same thing has happened earlier.
Spandana thought ; That means now Krish is behaving like as if he is in college and he used to buy  Tube roses  for Rajni daily during those days. Even many times he has borrowed money from me saying that this week his mom doesn't send money order or pocket money is finished so and so.
Krish : Spandana make it fast. I have to be in class before the Professor's arrival. Please give money yaar.
Spandana handovered some money and Krish became happy,
Krish : Thanks yaar.
Krish started walking from there. Suddenly he feels like Rajni was standing near the pool
Krish rushed towards there but suddenly she became invisible. Krish felt Gauri's presence everywhere and finally he felt like Gauri was running towards roadside and Krish followed without realizing a car was about to hit him. Suddenly Spandana pushed him to a side and they both fell down
Spandana hugged him and cried loudly
Spandana : Krish !!! Thank god you are safe.
While Krish was confused what was happening with him.
Omkara ; Gauri we should go there.
Gauri ; No Omkara. Seeing me may be Jeeju can again misunderstand that I am Rajni didi only. He have to deal with this reality. Spandana saved jeeju and proved that her love is pure for Jeeju.
Omkara : May be , But Krish's condition….
Meanwhile Krish felt dizzy. He was about to faint. Spandana managed him to sat at the bench. Rikara rushed near there and saw that Krish has fallen asleep.
Gauri ; That's the impact of medicine, Spandana. Don't worry. You saved Jeeju's life today. Thanks a lot
Spandana : I am getting worried for Krish. When will he become fine ?
Omkara : That day may be he can call you as his class mate , friend only.
Spandana : No problem. I have already accepted that I can never be his Rajni. And I won't demand any thing from him.
Gauri : And what about your love ? At least after recovery you should confess your feelings to Jeeju
Spandana ; Never . I won't say anything because if I started telling about love then he will get to know that I loved him right from college days and I have hidden it from him it will hurt him  a lot. I don't want that.
Omkara : But Spandana what about your life ?
Spandana : See this is a garden of roses. We may pluck plenty of roses from here for various purposes. May be for garlands, for bouquets , for decoration, for worship and so many things. But the particular red rose which a man gives to his girl while proposing can't be the same like other roses. I am like those roses who were part of the bouquet when Krish used to offer them to his darling wife Rajni. I got that much space and it's worthy for me .
Omkara : But Spandana
Spandana : Please….
Rikara leaves the place looking them sadly.
Meanwhile Omkara gets a phone call from Dadi.
Omkara ; Dadi wants to meet us
Gauri ; What ? You mean Omkara …
Omkara : You and me , Mom has told about us.
Gauri : But Om now
Omkara  : Let's go and see what's happening there.
Rikara goes to Oberoi house 
Baljeet : So she is your girl Gauri  , Hey naa Omkara
Omkara ; Ji dadi
Tej ; I am superhappy now. My two sons have bought amazing bahus . Maa I want to dance at their wedding , why can't we fix the wedding right now ?
Jhanvi : Yeah , my both sons will be happy
Baljeet : One minute. First we have to clear all the tensions. Now Omkara beta you have to clearly tell me what's the problem ? Now only Pranati and Reyansh have opened up their feelings. We are aware about their tensions.
Gauri : Dadi after knowing truth will you accept me ?
Baljeet : Beti you just tell me truth . My grandson likes you and he is going to live with you ,that's important.
Gauri and Om explained all things happened in between them and about Krish's condition.
Tej : Gauri beti how is the treatement going on ? Is he showing a sign of progress ?
Omkara ; Dad seeing his condition we can't say anything, The way he behaved today with Spandana seems some times he is forgetting everything and some times he remembers everything.
Gauri : I have a hope that may be Spandana's care will turn everything as better. Some times where medicines fails beloved one's love and care wins.
Jhanvi : We are with you Gauri. We will wait for the right time.
Gauri : Thank you so much Aunty.
Omkara : Mom, where is Pranati and Reyansh ?
Tej ; Beta we told them to go for an outing. Both of them will spend time with each other and also it will make them happy
Gauri ; That's good.
Baljeet : I actually need a help from you and Omkara.
Omkara : Sure dadi .
Baljeet : You both need to execute a plan .
Gauri : Plan!!!
SCENE SHIFTS TO PRATAP'S HOUSE 
Shobna arrives there and knocks the door. Pratap opens the door and looks her
Shobna : I need to talk with you
Pratap : Me also . See who has arrived
Shobna gets stunned to see Gauri and Omkara.
Shobna : Reyansh !!
Pratap : He is not Reyansh, He is Omkara , Reyansh's elder twin brother. He is having long hair whereas Reyansh won't have long hair.
Shobna ; Yeah , they told he has brother.
Omkara : Are you Mrs. Shobna ? Pranati's mother ?
Shobna ; Yeah beta
Gauri : Now only you can save my relationship. Until and unless you both agree to be together in Reyansh and Pranati marriage our marriage will never happen.
Shobna and Pratap gets shocked
AN : I AM DAMNBUSY THESE DAYS THAT'S WHY NOT ABLE TO UPDATE THIS ONE IN TIME. WILL BE READING FF'S AND UPDATING ARTICLES ONCE I GETS FREE TIME. SORRY FOR THE INCONEVNIENCE GUYS AND SORRY FOR GIVING A SHORT UPDATE ONLY AS I DIDN'T GET  ENOUGH TIME.