hello readers..how are you all? Sorry for posting after 5 days..i couldn't post as i had fever..from now it will be regular as iam fine. Please do continue your support..
Kartik:dadi…
Akhilesh: no one should object our decision. Naira's dance academy will not be opened here..
Naira cries and kartik notices it and gets angry..
Kartik: but what's the reason? It's her dream from childhood..why shouldn't she open the dance academy? Do you all think that a wife should only work on home sacrificing her dreams? She must..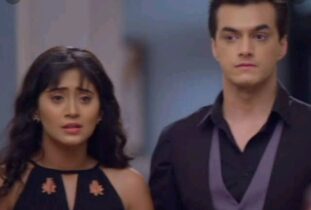 Dadi:arrey..bas..bas Kittu. You always speak without hearing fully..see how you became obsessed for your wife at first day atself.
Kartik and naira gets embarassed and looks each other..
Kartik:it's not like that.. she is my best friend and i always support her and will always support her dadi.
Manish:we know and we are also supporting her as usual. It's just she need not open dance academy in udaipur and she shall open it in mumbai as you will take her there in some days…
Kartik realises that he is professor in Mumbai and kaira stare each other..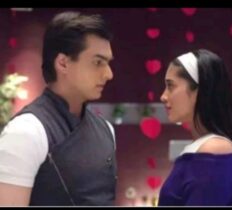 Swarna:why are you both feeling awkward? Did you forgot that you are professor in Imperial College kartik? And when you go back to Mumbai then you should also take your wife with you right..that's why we told.
Surekha:so that both of you can work together and live together there..
Sumitra:haan..by the way naira..you was crying thinking that we objected your dreams right? We just thought to pull your legs for sometime that's it..we are always there to fulfill our children's dreams and wishes.

Naira gets emotional and hugs everyone in happiness..
Naira:thank you so much..i..i never thought..
Manish:we will accept your dreams right? We are always there to support you and your dreams.. don't worry. Ok..now go and discuss with your obsessed husband and friend.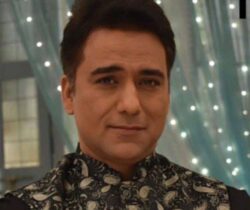 Everyone laughs and goes while kartik feels awkward and naira comes to him..
Naira:kartik.. don't feel awkward.
Kartik:no..iam not feeling. I just thought how did i forgot about my own job in mumbai.. being with family in annual occasion i really forgot my job.
Naira laughs and pinches his cheeks..
Naira: you are so cute kartik when you joke..
Kartik gets angry and turns his face away..
Kartik:you only know to make fun of me..
Naira holds her ears and Apologizes..
Naira:acha.. sorry..sorry.. please don't get upset..
Kartik smiles and..
Kartik:it's okay..now i will book two tickets for flight to Mumbai on next week. College is reopening next week so we shall go to Mumbai on this Sunday and i will also arrange for a building for your dance academy there…
Naira gets shocked and gets worried..
Naira in mind:kartik..i don't want you to live with me sacrificing your love. If i open in Mumbai then when we get divorced it will be difficult to handle dance academy in mumbai. I will talk to you about this matter tomorrow as i dont want any mishups now..
Kartik:what are you seriously thinking naira?
Naira:no.. nothing.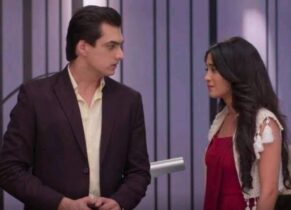 Kartik:ok..go and change your dress and come. It's time up for dinner..
Naira:haan..
Veer thinks about the drug packet he saw on bani's car yesterday and gets restless..
Veer in mind: i can't get in peace..what shall i do?
Suddenly he gets idea and calls someone..
Veer:he ram..
Ram:hai veer..what's up you called suddenly?
Veer:i know you are expert in technologies and its related things and i need a help in it..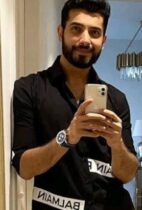 Ram:tell me veer..i will surely help you.
Veer:i will give a number and you keep on tracing the number and make my number to get the view of it so that i can notice it everytime..
Ram:sure veer..but why this? Did anything happened?
Veer:iam not sure..but please do it.
Ram:sure veer..
After sometime ram send the tracking app to veer and veer could see where bani is currently there through tracing using tracking app..
Veer:thank you ram..
Ram:it's my pleasure veer..
They cut the call and veer notices bani in home and gets relieved..
Veer in mind:now she is in home only but i will watch carefully to know what's she is doing and what's happening..
By the way bani sees the time and immediately she goes out taking her car and she takes the rest of the drugs from daksh's house and goes towards Lake park..
Suddenly veer notices a red signal moving towards somewhere and gets shocked..
Veer in mind:bani is going somewhere..shit i missed for few minutes but it's okay i will follow her now.
Veer goes and takes his car and starts following the red signal(bani's location) shown on app..
Veer in mind:hope i find out the truth and solve the problem.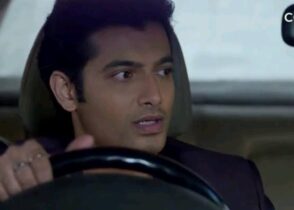 Bani reaches Daksh place and she goes to daksh..
Bani:Daksh..as you asked i brought the whole drugs from your house.now take it and leave Shanaya..
Daksh:as you say..
Daksh takes all the drugs and send it through his men to some hidden place and asks his men's to bring Shanaya..
Veer gets shocked seeing a red signal (bani's location stopped on Lake park)..
Veer in mind:that means bani is now in Lake park..i will go now immediately to find what she is doing there.
Veer speeds up his car while daksh's men's bring Shanaya fit while bani gets shocked seeing Shanaya happy..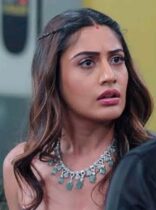 Bani:Shanaya..are you fine?
Shanaya:yes iam fine bani..infact you are the one who is going to suffer.
Bani gets shocked..
Bani:sh..sh..Shanaya?
Daksh laughs evilly and..
Daksh:she is my girlfriend and she was just acting as if she was kidnapped to fulfill my wish..i mean to bring all those drugs here and also to take revenge on you.
Bani gets very shocked and stares Shanaya while Shanaya holds daksh's hands and laughs..
Shanaya:foolish bani.. don't you remember before 2 years you put Daksh and my father in jail?

Bani:yes i did because they both brutally harassed a girl of our college and you was also supporting me right?
Shanaya:what to do bani? I dint had any other option to unsupport you that time as everyone will frame me as bad and that's why i was acting to be supporting you and finally i got a chance to take revenge…
Bani:but don't you know what they did was bad?
Shanaya:i don't care bani..i just love my father and Daksh that's it. Whatever happens to them i wont spare anyone even though they do crimes…and i only killed saaransh to help Daksh by hitting him.
Bani gets shocked and angry..
Bani:you..you are you a girl?chi..how cheap to support evils?

Daksh:my dear..now get ready to face your reality for making me and mr.om arrested.. hey Jagan and ratan just tie her up and take her to our godown and threw her phone away..
Jagan:yes sir..
Jagan and ratan catches bani and throws her away and they kidnap..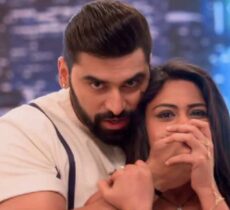 baniwhile Daksh and Shanaya smirks and goes behind..
SINGHANIA HOUSE:
Mishti thinks something seriously in her room lying on bed..
Mishti in mind: tomorrow is rehearsal..i should put a nice dress..so which dress shall i put?

She gets up and looks for dress in her cupboard and thinks..
Mishti in mind:i have many beautiful dresses..i will put and check which dress looks more stunning.
Mishti goes and wears a black modern dress and checks before mirror..
Mishti in mind:i don't know how i look myself? To whom shall i ask? If i ask my family they will surely tell everything is beautiful only..it's better i ask my friends.
Mishti takes phone and thinks whome to call and she smiles seeing abir's name..
Mishti in mind:for quite some days..iam having nice time with Abir rather than others so i will ask him.
Mishti video calls Abir and Abir picks up her call and gets stunned seeing her in that dress..
Mishti:hai..Abir..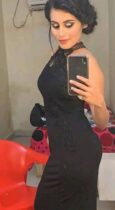 Abir doesn't respond as he got stunned seeing her..
Mishti:hey abir..what happened?
Abir still doesn't respond and so she shakes the the phone distracting abir..
Abir:hai..
Mishti:what happened suddenly? I've heard only phone getting stuck but first time iam seeing you getting stuck..
Abir smiles and..
Abir: because of you only..
Mishti: because of me? Why? What did i do?
Abir: because you look such beautiful even my mind lost its power to hold on..
Mishti gets happy..

Mishti:hey..wow..thank you so much Abir. Then i will put this dress atself for tomorrow's ramp walk rehearsal..iam sure everyone will get stunned.
Abir gets shocked and he recalls Mishti telling him about pair and feels insecure..
Abir in mind:if she is putting this dress for ramp walk tomorrow then her pair may misuse her as she looks so hot on modern dress.
Abir:hey stop..if this dress is for rehearsal then it's not nice.
Mishti gets shocked..
Mishti:what? Now only you told that i look beautiful in it..then what happened suddenly?
Abir: actually you are beautiful but this dress is not suitable for ramp walk as modern dress have became common nowadays..so you put differently.
Mishti:i think you are right..then wait I'll change some other dress and show you.
Abir:acha..
Then Mishti comes wearing a pink crop top with a pink skirt wearing a band and shows it to abir..
Mishti:tell me how is this?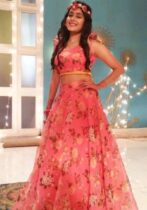 Abir sees her and loses his breath and falls on the bed holding his heart..
Abir:ohh my godd..i never saw such a fairy tale even in cartoons..you are so beautiful.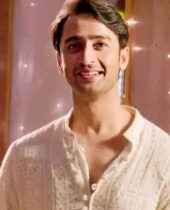 Mishti smiles..
Mishti:then i will put this dress for ramp walk rehearsal na?
Abir scans her and makes a face..
Abir:no..you are beautiful in this dress also but this dress is also common..i have seen it in many ramp walk shows..so..
Abir in mind: this dress is also looking hot as it's not fully covered..her pair should not see her like this orelse he may get attracted towards her.
Mishti gets shocked..
Mishti:ohh..then again i will change and come..you wait on call.
Mishti goes and changes to traditional design skirt and short top with shawl around and comes and shows to abir.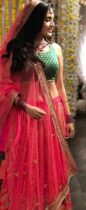 Abir smiles seeing her..
Abir:wow you look beautiful but again this is not suitable for ramp walk.
Abir in mind:she looks so beautiful but again this dress is not covering her whole body..i can't let anyone getting attracted towards her. So i should choose carefully.
Mishti: what happened to you? You are rejecting as if you are going to be the judge.. you have rejected almost every dress and now i have only few.


Abir: don't worry..my selection will be best for sure..i will surely select one dress soon.
Mishti:acha
Mishti goes and changes into fully covered saree and comes and shows to abir while Abir gets mesmerized seeing her..
Mishti:how is this? Is it suitable for ramp walk?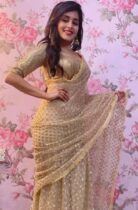 Abir doesn't respond as he is mesmerized and Mishti gets irritated and shouts making him come out of his thoughts..
Abir:ohh sorry..you are so so so so so so so beautiful and also it's beast suitable for ramp walk tomorrow.
Abir in mind:this saree is perfect as it's covering fully. Now no one will dare get attracted easily.
Mishti smiles..
Mishti:thank you so much Abir for selecting a dress for me.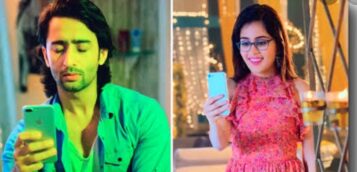 Abir:it's my pleasure..
Mishti:ok..bye iam cutting the call as i have to eat dinner.
Abir:ok bye..
They cut the call and Abir realises something and lies on the bed thinking about Mishti..
Abir in mind: what happened to me suddenly? Why should i  reject those nice dresses? Why did i feel insecure when she wore such dresses? Iam really getting mad nowadays…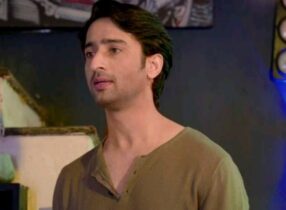 Abir ignores his thoughts and gets into some work..
Aditya and Keerthi are seen walking on road and aditya takes keerthi to a cliff end..
Keerthi:ad..Aditya..what are..are you going to do?
Aditya holds gun at her head and..
Aditya: going to kill you..i have warned you to obey me but you have crossed the limits again. You was enjoying with your boyfriend..
Keerthi gets scared..
Keerthi:adi..Aditya.. please leave me.. please trust me.. he he just gave my bracelet back that's it.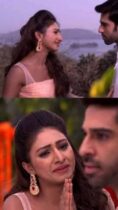 Aditya:no..i wont believe you. Iam fed up of tolerating you in my life..now it's better to kill you.
Aditya was about to shoot and Keerthi screams where naksh pulls her aside from middle of the road who was just day dreaming..
Keerthi falls above naksh and they both meets with an eyelock..
They break their eyelock when the bird's sound are heared and they get up..
Naksh: what's wrong with you? Why were you standing at middle of road and screaming?
Keerthi:woh..nothing..

Naksh:i can sense something wrong with you. You are not as cheerful as you were before marriage. Tell me do you have any problem?
Keerthi:no..no iam fine?
Naksh:pakka?
Keerthi:haan..pakka.
Naksh:ok..come I'll drop you at your house.
Keerthi:no.. actually Aditya went to mumbai yesterday suddenly after pooja and he called me today and asked me to come to airport as he is returning and that's why iam going there..
Naksh:it's ok..come I'll drop you atleast in airport.
Keerthi worries..
Keerthi in mind:i got escaped from Aditya yesterday as he went suddenly to Mumbai and i don't what he is going to do as he couldn't show his anger for talking with naksh yesterday and if he sees again today..then iam gone.
Keerthi:no..no naksh. Iam going with my mother in law..
Naksh:then where is she?
Keerthi:she..she told me to wait here and that's why..i..i was waiting and by mistake i was standing in middle of road.
Naksh:ok..ok then i will stand till she comes..
Keerthi gets shocked..
Keerthi: no..no naksh you go. She will come in some minutes..


Naksh in mind:why is she so tensed and worried? Maybe she would have fought with Aditya and that's why she is giving excuses to meet him alone refusing me..
Naksh:ok..fine stand safe and iam going.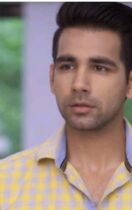 Keerthi:ok..
Naksh goes and Keerthi too goes after naksh goes..
EPISODE ENDS..
pRECAP,:-  bani in danger. Everyone gets tensed . Naksh sees Aditya troubling Keerthi. Naira feels bad..