Hey guys,this is Pavithra here.. This is an OS by me on my favourite couple,my Avneil.. My dearest Avneil.. I am writing something on Avneil for the very first time.. Hope u guys like this one..
___________________________________________________________
A girl was seen flipping pages through a diary,her diary.. (Near a window)..
The girl reads a diary entry of 2-3 years ago..
Girl: Dear Diary, I am writing with great pain.. He loves someone else. He loves Diya.. Diary, I was too sad after knowing this. I love him madly.. And he loves someone else.. What shall I do? As Diya is my best friend,he may ask me to fix it up.. He will do that very soon. And I can't do it.. So,firstly I have to forget that I love him. So… Be friends with him now. Don't love him.. But I will always have u in my heart.. Bye,Diary…
Yours lovingly,
Avni…
So the girl was Avni..
Avni's eyes became teary..
Avni: it happened just like I have said.. He asked me and now we all are working for their marriage which is just 1 week away.. And after that I am gonna loose him forever..
Then suddenly someone comes in.. It was Avni's boyfriend and fiancée – Sidharth..
Sidharth: Avni,come on.. Its time.. Lets…
He stops when he sees avni crying.. He goes to her..
Sidharth: avni.. You are crying? (And cups her face)
Avni wipes her tears..
Sidharth: Kuch tho bolo,Avni…
Avni: Just got a flashback of my past..
Sidharth: Its okay.. Come on… Otherwise we will be late..
Avni: oh! Coming…
****
It was night.. Avni and her friend was sitting around a table in a garden. Lights were around them..
Girl 1: so,at last our work for them is over..
Girl 2: Yes,finally…
Girl 3: Avni,where is she?
Avni: Went with him..
Girl 1 & 2 together: Romance!! (Laughs)
Avni sighs..
Suddenly one girl and boy comes..
Girl 1: here comes our romance babies!!
Boy laughs and winks at the girl..
Avni: I have little more work..
Girl 1: Isn't it over?
Avni: Just the accodomation things…that's all.. I will be right back.
She goes .
The boy was in black top and jeans.. And the girl in a white top with printed overcoat and jeans..
Girl 2: Neil,Diya.. You both make a cute couple..
So the boy was non other than our Neil.. And girl was Diya..
They say thanks…
Later,they discuss about the marriage..Neil gets a call and excuses..
He talks in call near the swimming pool.. Avni comes to him..
Avni: Neil,you were here? I was looking for you…
Neil signs 1 minute as he was talking in phone.. He turns and talks.
Avni looks in the notepad in her hand…
He cuts call and turns..
Avni: Ha,Neil.. We have a buffet and we .
Neil: Avni,Avni…
Avni continues to say things..
Neil: Avni.. Stop it..
Avni: huh? Kya hua?
Neil takes a deep breathe.
Neil: Avni, how could you sacrifice your love?
Avni: What?
Neil: And I know you love me.
Avni folds her hands against her chest.. Avni remained silent looking down..
Neil: what? (Shakes her)
Avni: yes,I loved you.. Not now.. But in my past.. I correct you..
Neil: but how..
She signs to stop..
Avni hold her hands..
Avni: Please,don't talk about it and please don't make me remember those times…
Neil pulls down her hands
Neil: we have to talk about it .
Avni: Why?
Neil: because there is another story to it..
Avni: what story?
Neil: Even I love you.. And still I love you.. I don't love Diya..
Avni: What?
Neil: Yes,I started this drama just to get close with you.. But I failed each time.. And now I am trying to love Diya..
Avni was shocked.. She couldn't say a word.. She turned back.. Almost crying.. He hugs her from back and they boh cries..
Neil: I love you,Avni…
Avni: I loved you,Neil.. But now I have moved on… And my marriage will be coming in a year.
Neil: I know. We can't unite.. It's sure.. Its just that we should know the whole story of our love..
Suddenly Avni's phone rings.. It was Sidharth. A selfie of Avni kissing Sidharth on the cheeks popped up.
Neil sees it.. Avni tries to hide it.. Neil breaks the hug..
Neil: Oh! Yes.. I forgot about Sidharth.. You both will make a lovely couple.. (tears rolling down his cheeks)
Avni turns .
Avni: Neil,please.
She wipes away her tears .
Avni: its all over. Forget this.. Try to love Diya OK?
Neil smiles.
Neil: so simple huh? I will never forget you..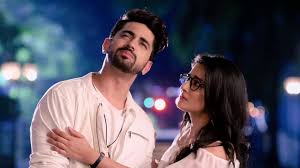 They hug tightly..
Sidharth calls again . avni takes call..
Sidharth: Avni, where are you? Your father called and said you haven't reached home yet. He thought you were with me..
Avni: Actually, I am with my friends at the usual spot..
Sidharth: I will come and pick you up.. And I can meet your friends too.
Avni: OK! That's cool…
Her tears were still there..
She looks at Neil who smiles at her..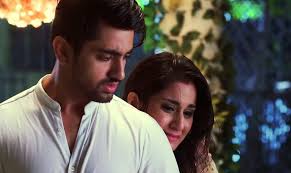 ****
Sidharth arrives…
Avni goes to the parking area..
Avni: Glad you came!
Sidharth: You should be glad na!
Avni: Naughty.
Sidharth: Give me a hug yaar
Avni hugs him..
Sidharth: Now feeling much better!
They arrive where everyone was sitting..
Avni: So,guys.. Meet Sidharth..
Sidharth: hi everyone..
Girl 1 : heard about you so much..
Girl 2 : Avni's fiancee right?
Girl 3 : Avni, you are lucky yaar..
Avni introduces everyone to Sidharth..
It was Neil's chance..
Avni hesitated..
Avni: Sidharth.. And this is..
Neil cuts her…
Neil: I am Neil,Neil Khanna..
Sidharth: oh! Ya! You are the bri… Oops! I mean the groom,right?
Neil smiles.
Avni looks at Sidharth and Neil.
****
The day before Neil's and Diya's wedding..
Neil calls Avni. Avni takes the call..
Avni: Ha,Neil.. Bolo..
Neil: I want to talk to you about us..
Avni: I told you. Its all over. Its impossible for us to be together now.
Neil: But.
Avni: No but.. You will be my favourite always.. And I know its the same for you. So won't you do what I say? So,Neil. Enjoy your life..(controlling her tears)
She cuts call..
She sits on her bed and cries remembering their long lost love story..
***
Wedding day. .
Neil and Diya was in the mandap..Guruji was doing the rituals and chanting mantras..
Avni: At last, everything is over.
Girl 1 : Yes, really happy .
Avni thought.. Yes, everything is over.. Even our love..
Guruji: its the muhurat..
Avni gives Neil a thumbs up standing away with Sidharth,controlling her tears. Neil smiles faintly..
Before he put the mangalsutra ,he looks at Avni who was ready to cry. She stood against Sidharth who held her.. That look of his made her cry…
Neil looks at Avni and puts the mangalsutra and sindoor to Diya..
Neil (in mind): me acche tarah se janthe hai ki me galath kar raha hai.. I am spoiling Diya's life.. I will treat u as my wife,Diya.. For me,Avni is my wife.. I will love u just like I love avni.. And will always be with you.. I love you,Avni and will always love you.
Avni and Neil looks at each other….
Avni (in mind): I have loved you truly.. And will love you.. But by doing that I will be wrong with Sidharth.. U will be in my heart always. You are my neilu.. And I am your Avni.. Forever…
They keep looking at each other…
Hamari Adhuri Kahani plays…
___________________________________________________________
Hear ends a sad story of Avneil.. Hope you guys liked this one.. Actually, today will be 1 year since I have started to see NK.. 1 year with them.. But they will be no longer with us.. Will miss you Avneil.. And I can't find any other word to say that I can't live without you..Will miss Nk too.. love you avneil???
Ignore the spelling or grammatical mistakes. Ignore the short forms, if any.. Sorry for only two images..Do let me know what you think of the story by dropping in a comment. Don't forget to hit the like button. I want all your love and support… Thanks for reading…
Bye..
By,
Pavithra..