HO GAYA PYAR TUMSE…let's feel it… MISHBIR MEETS (shot 15)
A cafe is shown. Two girls are sitting in a booked table.
Kuhu's face is shown.
Kuhu:I never thought you will do this with me .
Mishti(smiles):you have promised!
Kuhu:#my mistake and makes a face.
Mishti:you just have to talk normally nothing else.
Kuhu:just! What if someone got to know?I will be gone.
Mishti:No one will know.
Kuhu:but it's a…
Mishti:awesome idea!
Kuhu: I feel tensed. You can talk?
Mishti:if I talk,then there is chance to get this alliance fixed. But if it's you on my place, I am sure alliance will be broken.
Kuhu:what!am I that bad?I have 8 BF with 1 serious! I am serious about that one guy so serious!
Mishti smiles teasingly.
Mishti continues convincing her…
Kunal reaches a market area. Searches for abir… abir is standing and calls out him.. kunal runs towards him.
Kunal: bhai kya hua? I was tensed.
Abir:kuch nahi!
Kunal: message that…
Abir: I need your help!
Kunal: what about danger?
Abir:ladki!
Kunal:what?
Flashback rolls….
Mehul takes abir for lunch. Yashpal is waiting for him at the restaurant . They starts having food.
Mehul signals bapuji to tell. Bapuji asks him to.
Mehul:can you do me a favour,beta?
Abir:ha,sweetheart!anything for you…
Mehul:get married fast…
Abir coughs and looks him and dadu.
Mehul:we have seen a ladki she is perfect for you. Just meet her.
Abir about to say something.
Dadu: anything for you sweetheart!
Abir:blackmail!
Mehul:we have been straight. But you keep giving excuses. But this girl is perfectly for you.
Mehul and Yashpal convinces abir.
Back to reality….
Kunal: papa was saying a meeting for the date!
Abir:it's just a meet up.
Kunal:whatever! How can I help you? Do you want me to help you in judge bhabhi ji?
Abir:bhabhi ji!?
Kunal:from the incident,it's clear that papa is really planning for your marriage. So I should practice calling.
Abir twists his hand.
Abir: I don't want a marriage now!
Kunal: fine!but leave my hand.
Abir: promise me that you will help me!
Kunal: yes always
Abir leaves his hand. Kunal shakes his hand and looks at him.
Abir:just do one thing! Go meet,talk,break and come back.
Kunal: I couldn't get you.
Abir explains his plan.
Kunal: what! You want me to go as you and broke the alliance.
Abir: it's very simple for you,my nanko…
Kunal:what if the girl likes me, I'm more hotter than you!
Abir: if you talk to her,she will get to know you and she herself will backoff.
Kunal:no! I am tensed.
Abir:it's already time. Go…
Both walks towards cafe where Mishti and Kuhu is sitting.
Mishti:he will be here anytime!let me leave.
Kuhu:no, be here!
Mishti: sit ,don't foil my plan.
Kuhu:how will I identify him?
Mishti:badipa told me that they have booked this table,so they will know.
Kuhu:what if they have seen you?
Mishti:then,why should he ask for a meet up?
Kuhu: it's also logic.
Mishti:I will be in the table nearby. Calm down.
Kuhu: ha!
Mishti: all the best.Mishti hugs her and kuhu smiles.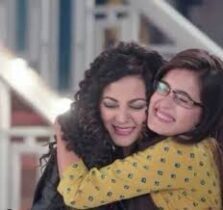 Mishti goes to the table and sits keeping an eye on kuhu's table.
Abir:look there, that's the booked table.
Kunal: what if the girl have seen you already?
Abir:you are not that stupid,nanko?
Kunal:it can be handled by you easily?
Abir:but it's mission broking…
Kunal:but…
Abir:go now! She is waiting… just talk and come back..
Kunal enters cafe. Abir looks on.kunal takes a deep breath and moves towards the table.
Kunal:excuse me?
Kuhu is nervous and turns. Bekhudi plays… both are lost in their eyes….#kuku meeting
Mishti:what is kuhu doing like this?
Abir:nanko…
Someone passes by hitting kunal. Kunal realises and smiles at her.
Kuhu:please sit!
Kunal goes to sit beside kuhu.
Kunal:sorry!I thought college!
Kuhu:fine. Kuhu smiles.
Mishti:why kuhu is smiling so much?
Abir:feeling like he is going to fix this alliance!
Kuhu: tell something…
Kunal:girls first!
Kuhu:I don't get anything to talk.
Kunal:speaking with boys for the first time?
Kuhu:not like that… I have 8 BF with! Oh
Kunal smiles.
Kunal: even I have some GF…
Kuhu and kunal is having some good time together.
Mishti gets a pic from Badima and before downloading she gets a call.
Badima:I have sent a photo of the boy.
Mishti:ha,okay!
Badima:you both should not get confused,okay?
Mishti:okay,
Badima cuts the call. Mishti takes a look on the pic.
Picture loads.
Mishti gets shocked. It's abir in the pic.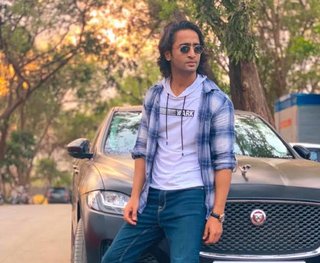 Mishti:This is the same khadoos.oh!God, who is kuhu talking to then?
She looks at kunal. Mishti looks around to find abir. She can't find him and looks at the pic.
Mishti (thinks): Badima will get to know if I didn't meet him today? Oh! Where can I find him now?
Waiter: madam,are you waiting for him?
Mishti nods.
Waiter: The same guy was waiting outside the cafe looking in.
Mishti thanks him and walks out .
Mishti:(thinks) did he left without finding me on table?
Stupid mishti!
Mishti walks around searching abir. Abir is shown holding balloons in his hand and walking.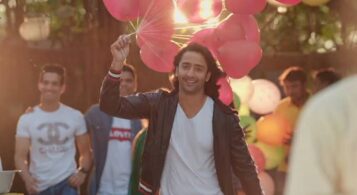 Mishti is in front of abir searching abir. Some bike rushes beside her.she turns back, abir holds her.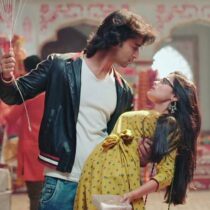 They have a eyelock. Sweet bgm plays…
Abir:choti motu…
Abir smiles.
Mishti: I am Mishti…don't call me choti motu again…
Abir:you didn't say your name,so I called a nick name.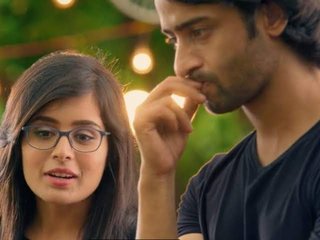 Mishti:is it necessary to know the girls name?
Abir:yes… for me!
Mishti:(thinks) he send a proposal just for a trip together!
Abir (mindvoice): why is she getting angry on me?
They both looks each other.
At the cafe…
Kuhu:really!?
Kunal:yes! I am too fan of King khan.
Kuhu:same here. High five !
Kunal and Kuhu smiles.
Kunal: we are somewhat of same kind,right?
Kuhu: yeah… !
Kuhu (thinks):what are you doing? You have come to end this alliance. You are joining it!
Kunal:I want to do something! What the hell did I say now?
Both speaks together.
Kunal:girls first!
Kuhu:not everytime! You speak now…
Kunal:but not here. Let's move to that side…
Kuhu nods and both moves.
At roadside…
Abir:what's the meaning of this killer look?
Mishti: kuch nahi! (Khadoos in mind)
Abir:by the way,why did you leave me alone that day?
Mishti:I leaved you alone but you didn't…
Abir:I really got worried as there was no other taxi!
Mishti:taxi or ladki?
Abir: why do I feel like you are having a double meaning in your words..?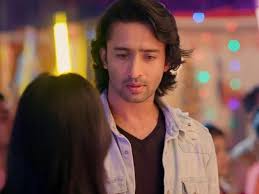 Mishti:did you feel like that?
Abir nods…
Mishti:may be it will be like that…
Kuhu and kunal reaches aside…
Kunal: you are very good looking,vibrant,educated…. but I can't marry you…
Kuhu:(thinks) this is what I was thinking…
Kunal: I fell in love with a girl long ago, still I love her… but my parents can't understand my love… I hope you can…can't you?
Kuhu nods…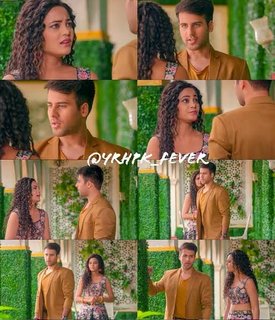 Kuhu (mindvoice): does he has also seen that movie?
Kunal:please say no to this alliance! I can't say to my parents…but you can right?
Kuhu:I understand, I will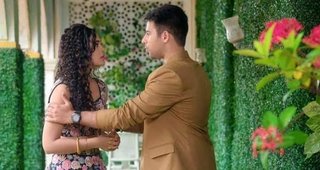 Kunal(thinks):thank god is she that idiot?
Kuhu:let me leave… it's already so late…
Kunal:it was a nice meeting with you…I hope you will do something
Kuhu:yeah… smiles…
Kuhu leaves smiling and kunal smiles seeing her…
Kunal:bhai, kaha hai? I got his alliance finished.
Abir and mishti has been silently walking.
Mishti (thinks): what are you doing? Badima will get angry… I will talk now..
Mishti:what are you doing with these balloons?
Abir:I saw a girl selling,so bought it…
Mishti:oh…
Abir:do you like balloons?
Mishti:ha, why not?
Abir:not to burst,to play?
Mishti:why would I burst?
Abir:for your angry mood, you will be feeling like bursting it…
Mishti:don't you feel yourselves that you are irritating others?
Abir:do you know something I irritate the one whom I loves more..?
Mishti looks at him. Abir realises what he said… both looks each other.
Mishti:I think we have met and talked enough. Let me leave
Abir: May I get a taxi for you?
Mishti:no!I can manage…
Mishti walks away.
Abir: hey choti motu stop?!
Mishti stops and looks at him.
Mishti:kya hai?
Abir walks towards her.
Abir:take this… extends balloons towards her…
Mishti:it's your's you can keep it…
Abir: for the loving memory of our meet!
Mishti smiles and takes it…
Mishti: thank you for the gift…khadoos…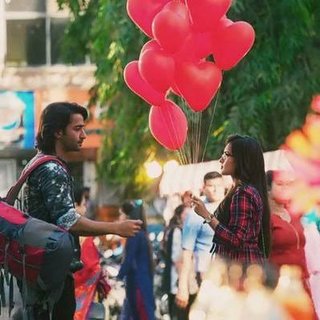 Abir:khadoos!
Mishti:even you didn't said your name to me! So nick name…
Abir: how does this nick name suits me?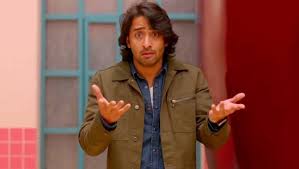 Mishti:like yours suit me…
Mishti smiles and leaves.
Kunal calls out abir. Abir turns towards him.
Kunal:bhai,everything is okay.
Abir:really!?
Kunal: you just go and say yes for the marriage!
Abir:kya! You said that…
Kunal: relax ,the girl will broke this marriage, you are in safe zone!
Abir: meri nanko! I am so proud of you!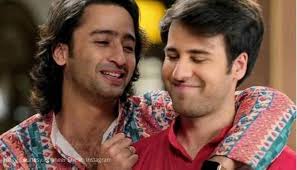 Kunal:proud se kuch nhi hoga!
Abir:then?
Kunal:shopping, party,credit card!
Abir:go to college…
Kunal:bhai….!
Abir: got it blackmail! Come…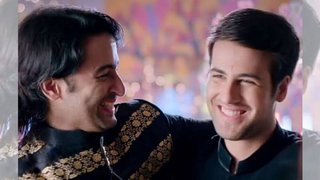 Mishti is searching for kuhu…
Mishti: her work got waste!
Mishti gets kuhu's message.
"I have done everything just go home happily!
#mission completed.
I have some works pending at college.bye"
Mishti:idiot!
Hello friends…. i can't upload it in morning as i was busy (it's my birthday today)
Hope you like MISHBIR,KUKU meeting….
Please do comment if you have any suggestions….
Have a good day…