Friendship turned into a love story #Riansh Episode 97
The episode starts with Vansh lifting sleeping Riddhima and gets her to their room.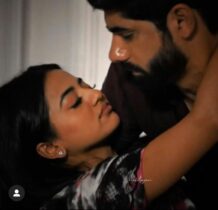 She was sleeping like a cute little girl.
She wasn't aware of anything around her.
She was just sleeping deeply from the tiredness that she has faced it while trying hard in practicing with those artificial legs.
Vansh has putted her on bed.
He was getting so close to her while she was sleeping.
He was sniffing her and smelling her fragrance.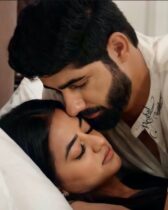 He was relaxed being that close to her.
Vansh to himself: I'm so proud of you sweetheart. You have worked and still working on yourself so much to get up again. I'm so happy that our arrive to Sameer's house from 3 months has given you that courage. I was sure that my Riddhu will never give up. I know that God very soon will make you get up and stand like you used to do. I love you so much sweetheart.
Afterwards, Vansh has slept behind Riddhima.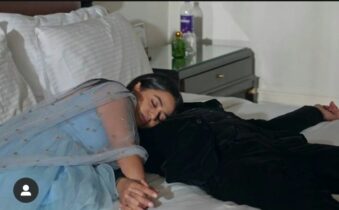 They were sleeping so calmly while being in the arms of the other.
At the same time, Sejal was calling Vyom video call at this late night.
They weren't feeling sleepy so they were enjoying talking with each other.
Sejal was being so happy at every moment she spent it with Vyom.
Everytime she gets closer to him, she gets to know that he is the best partner for her.
Both of them were wanting to discuss about the marriage that got postponed because of what has happened with Riddhima.
But Vyom decided to open up about this topic at this video call.
Vyom( on the video call): Sejal.
Sejal( on the video call): Yes Vyom. Say. I feel that you want to say something serious, right baby?
Vyom( on the video call): Yes darling. I'm so happy that you are able to feel about me before even saying a word.
Sejal( on the video call): Of course my love as I'm not that dump. At the end, I'm Sejal Rai Singhania the sister of the master mind Vansh Rai Singhania.
Vyom has smiled from Sejal's cute attitude.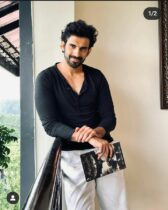 Vyom( on the video call): That's my confident girl. Okay so listen to me as it is a serious matter.
Sejal( on the video call): Say. I'm completely listening to you.
Vyom( I'm the video call): We need to talk with your family again about marriage Sejal. I can't wait for more time. I want to make you mine forever. I want you to be my wife as soon as possible. I really can't wait more. I love you and I want to spend my whole life with you.
Sejal( on the video call): I love you too Vyom. I love you more than you could imagine, but Vyom you know what has happened with bhabi. I don't know if it will be good to open about such stuff now or not.
Vyom( I'm the video call): I do understand what are you saying Sejal, but trust me I didn't have thought about opening about this topic until I started to see improvement in bhabi's state. I start to observe that she is overcoming this sorrow. So why not to open up about our marriage now? I think that no one will refuse.
Sejal( on the video call): But Vyom I'm….
Vyom( on the video call): There is not buts and all those stuff. I will come to VR mansion tomorrow to discuss this matter with Vansh and I'm sure that he will be very happy with that. I want to make you my wife very fast Sejal and I will not accept any excuses, am I clear?
Sejal has smiled from Vyom's desperate insisting on marrying her.
She was happy to oversee this love and care that he owns it to her.
She was happy and she was hoping that everything could be fine and no one could refuse the marriage to happen now.
Sejal to herself: I just hope that none of bhai and bhabi could feel bad for deciding to get married now. I will can't make them be upset from me and I could destroy anything just for them. I just hope that everything could pass in the way that I wants it.
At morning, Riddhima has waked up before Vansh.
She has found him sleeping so close to her in a way that made him not sleep in that comfortable way.
Riddhima to herself: Aww!! How he is so sweet like that?! He has kept sleeping in that uncomfortable way just to be that close to me?! I'm so blessed to have a husband like you Vansh.
She has putted her hands around his neck in a surrounding way.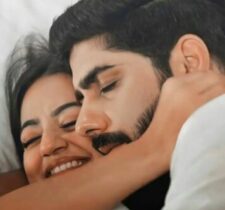 She was smiling so much while being that close to him and while seeing him that protective.
At that moment, Vansh has waked up.
He was staring at Riddhima so deeply after he has waked up.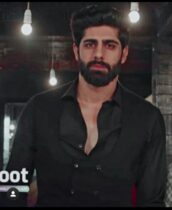 Vansh: Interesting, very interesting! I could observe that the wife is much naughty at that early morning. What is in your intention to do at that early morning sweetheart?!
She has looked at him in a cute and surprised way.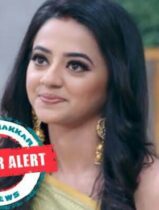 Riddhima: Oh really?! Look who is talking?! As you are the one who never miss any moment without doing such stuff!
Vansh: And what is those stuff that I do? Come on say.
Riddhima has got shy.
Vansh has smiled at Riddhima while seeing her that shy.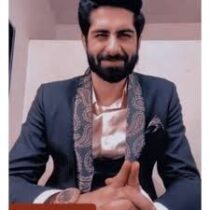 Vansh: Interesting, very interesting! Mrs. Rai Singhania is shy! Impressive!
He has got closer to her.
Then he has kissed her in her cheek a very romantic and cute kiss which was making Riddhima smile.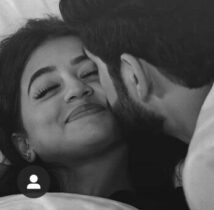 Vansh: This is just the trailer of what I could do from my naughty behaviours. If you want more, I don't mind.
He has winked at her.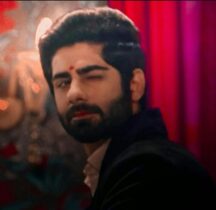 Then he starts getting closer to her in a very cute way.
Both of them were very happy being that close to each other.
They were smiling and being so relaxed.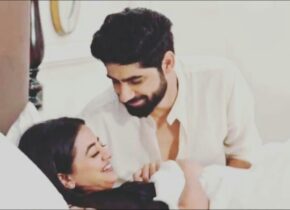 Afterwards, Kabir and Ishani were being with Uma helping her in preparing some stuff for Ragini.
Uma: We need to take care about Ragini so much nowadays as she is near to enter the 7th month pregnancy and she must to be very careful and we have to take care of her.
Ishani: Don't worry mom. We are doing our best to take care of her and also Angre is being with her as much as he can.
Kabir: Also mom is being with her now while Angre is doing some business work so she don't feel that she is alone.
Uma: Yes. This is the most important thing. She mustn't feel alone at all. The pregnancy isn't an easy thing at all. It causes so much changes in the woman's body. The most thing that is very noticeable in the pregnancy and its changes is the mood swings so we have to be careful from it and be with her as much as we can.
Kabir: Yes aunt you are right. Angre has told me an incident of her mood swings before. She has waked up at late night and making him wake up as well and then she starts crying without any reason so yeah I could understand what you are saying.
They have all laughed after Kabir has finished those words.
Uma: Okay so I will go to give Ragini this soup and you both follow me.
After Uma has left, Ishani was going to follow her when Kabir has stopped her by holding her closely to him.
He was putting his hands around her waist to make her very close to him.
Kabir: Where are you going Miss Ishani Rai Singhania?
Ishani: Didn't you have heard mom?! She has said to follow her.
Kabir: Yeah I have heard her, but we also need some quiet time just for each other and I will never miss this precious moment that I spend it with my love Ishani.
He has came closer to her.
Then he has kissed her in her cheek.
She has got so shy and her cheeks turned red.
Kabir has smiled seeing Ishani that shy.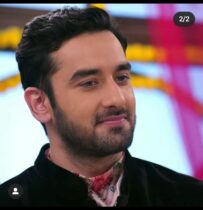 He has putted his hand on her cheek in a nock joking way.
Kabir: My Ishu looks so cute while her cheeks are that red! Looking like a lovely strawberry. I love you so much.
Ishani: I love you too.
At this moment, Kabir has shocked Ishani with his decision.
Kabir: Ishani, we need to do the serious step in our relationship very soon. I don't want to wait more. I want to get married to the only girl that I have loved her in my whole life a true love. Do you marry me Ishani?
Ishani has got shocked when she has seen Kabir laying on his knees and proposing her.
She was happy and surprised at the same time.
Ishani: Yes Kabir I accept it. I want you to be my husband. I want to live with you the rest of my life.
They have hugged each other and they were very happy.
At evening, Vyom has came to VR mansion.
He has greeted Angre who he has seen him walking in a hurry.
Vyom: What has happened bro? Why you are being in that hurry??
Angre: Ragini Vyom. Her mood swings is just high!! I didn't imagined that pregnancy cause those mood swings! This mood swings will drive me crazy!
Vyom has smiled.
Vyom: Chill bro. Try to handle her. You know it isn't an easy thing on her. Just be with her.
Angre: I'm doing my best. Anyway, I have to leave now as I have to get her an ice cream now otherwise I will not sleep at the room today.
Vyom( laughing): Okay okay so go fast.
Afterwards, Vyom has met Vansh.
After some time of Vyom giving so many introductions, he has told Vansh that he wants to get married to Sejal.
Vyom was worried that Vansh could be angry on him, but what has happened was totally the opposite.
Vansh was happy and smiling.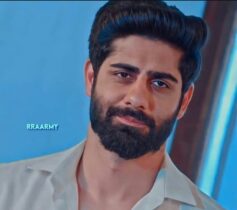 He has came near Vyom and he has hugged him.
Vyom: Aren't you upset or angry?!
Vansh: Of course not bro. I'm so happy for you and for Sejal. You are the perfect partner for my sister Sejal so why I will be upset?!
Vyom: I mean because what has happened to..
Vansh: You mean Riddhima and her accident?
Vyom: Yes.
Vansh: Life goes on Vyom and Riddhima herself knows that. She starts to overcome this sorrow. She will never be upset from such a decision of yours and of Sejal. She will be happy and she will enjoy a lot. Actually, she needs such happiness. So your marriage with Sejal will give her this happiness. But there is something that I will not accept it.
Vyom starts to get worried.
Vyom: What is that bro?
Vansh has got up from his place.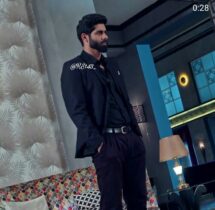 Then he has came near the door and he has caught Sejal who was trying to act innocent.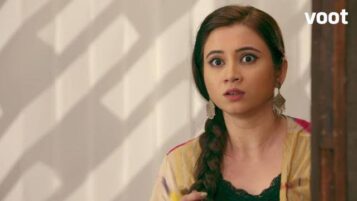 Vansh: I will not accept this spying girl. You will never stop this habit Sejal?! I could observe that you are hasty to know your bahi's decision, Am I right or am I right?!
She was shy and she was just smiling.
Then they all start to smile and celebrate.
At the same time, Riddhima was still practicing and trying to use the artificial legs.
It was very hard on her.
Still she wasn't able to handle it even after all those trails.
But she wasn't giving up.
Everytime she starts to feel weak, she remembers Vansh and his support.
Then she starts to get the strength again.
After so many trails, Riddhima got succeeded in standing and walking a little bit with the artificial legs.
Finally she got able to use the artificial legs a kind of similar to the normal legs.
She was very happy.
She was smiling so much and she was being in so much happiness.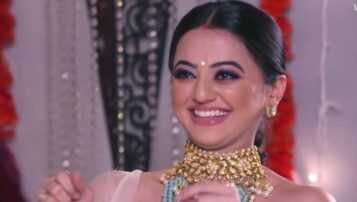 She wasn't believing herself while she was walking with the artificial legs.
She wasn't believing that she got able to stand and walk again.
Her happiness was very very high.
Riddhima to herself: I can't imagine my eyes! I'm really walking!! I'm walking and standing after all those times! Thank you so much God. Thank you for this blessing. Thank you God. Thank you for making me walk again even if it will be with an artifact leg I'm really satisfied and happy. I have to surprise Vansh. I'm sure that he will be very happy and he will get shocked.
Precap: Vansh has got worried when he has seen a message from Riddhima telling him that her happiness has got spoiled and she will never try the artificial legs again and she will totally give up.
The end of the episode. I hope you like it. Just tiny episodes left and this ff will be ended. I hope I could always keep entertaining you all. Thank you so much guys for making succeeded in reaching to my target on the previous episode. I hope that you all could make succeed in reaching to my target on this episode. My target is the same. My target is to reach to 40 comments( excluding my comments). I hope that you all could make me reach to my target so I could be encouraged to update the next episode. The upcoming episode will be published depending on all of yours respond. The next episode will be published when you all could make me reach to my target on this episode. I hope that you all could make me reach to my target so I could be encouraged to update the next episode daily. I know that you are all very supporters and you all will help me in reaching to my target. So please guys keep supporting me the way you are doing. Please guys don't forget your feedback in the comment section below.