FAMILY- THE BOND WHICH NEVER BREAKS. CHAPTER 22
Zoya and Maya comes to hall at the same-time.. following them after a few minutes.. Arjun & adi also..
Dadi : So.. what is your decision..
ADI LOOKS AT ZOYA.. WHILE MAYA LOOKS AT ARJUN..
ZOYA & ARJUN NODS THERE HEAD.. LEAVING.. ADI & MAYA SHOCKED..
EVERYONE DINES FOR DINNER.. WHILE ADI GRABS ZOYA ASIDE..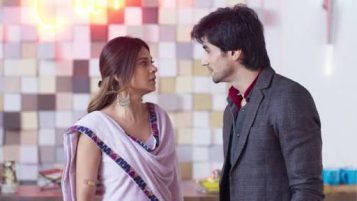 Adi : Why did you agree for this???
Zoya : That.. was my decision Mr. Aditya … If you are not willing to marry me.. then just go and say it yourself..
Adi : I can't believe even after knowing.. i can't never love you.. why are you marrying me..
Zoya : Maybe.. because.. i wanna know the reason..
ZOYA GIVES ADI A FAKE SMILE & WALKS AWAY..
ON THE DINNING TABLE.. MAYA & ARJUN WHERE SITTING NEXT TO EACHOTHER..ALL THE MEMBERS WHERE TALKING ABOUT THE THINGS GOING AROUND..
ARJUN HOLDS MAYA'S HAND.. SHE LOOKS AT THER..
Maya : What are you doing.. Arjun..
ARJUN TAKES HIS.. HAND FROM HER..
Arjun : Sorry..!!
Maya : Why do you wanna marry.. a ment… i mean me.. why..
Arjun : Because.  i love you.. and i know.. you love me to
Maya : Yes.. of course i do.. but i don't wanna spoil your life…
ARJUN HOLDS MAYA'S HAND AGAIN..
Arjun : Shhhuh.. Maya i don't wanna talk about this anymore…
RAGINI SEES THEM..
Ragini : What are you two murmering at..
MAYA & ARJUN GIVES A FAKE SMILE..
Shivu : Zoya.. aur adi bhaiyya.. where are they..
ZOYA COMES..
Dadaji : Come child.. have your breakfast..
Dadi : Shivu.. she is not zoya for you now.. practice to call both of them bhabhi..
ALL LAUGHS..
WHILE ADITHYA WAS FURIOUS ABOU ZOYA..
CHAUHAN MANSION..
VIKRAM WAS SEEN SO MUCH ANGRY & THEY BOTH WHERE HAVING AN ARUGMENT..
Radikha : How.. can even decide her marriage.. its not a good decision at least we should ask her permission..
Vikaram : Oh.. comeon.. i am her dad and i know what exactly.. is best to her.. and can't you understand  if this marriage.. will happen i will get a huge investment to my business.
Radikha : Its always business for you ..business in everything you see . For god sake she is not a statue.. she is our daughter she also has emotion .. i will not get her married to that alcoholic..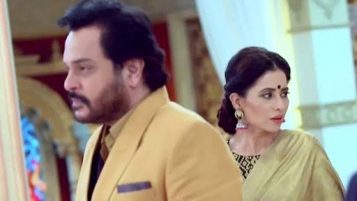 JUST THEN GEETHANJALI & LAKSH COMES DOWN..
Geethu : Mom.. Dad.. you two started again..
Laksh : Leave it .. di.. they can't sleep until they fight. . ..
Gethu : Lucky!!!!
Lucky : But what exactly happened today
Vikram : Geethu.. Our business patners.. Mr. Mallik.. he put a proposal if front of me and i agreed to it
Geethu : What kind of proposal?????
Radhika : To get you married to his alcoholic son..
Lucky : What…. Dad how could you we all know that he is a …
Vikram : But he can give us better profits.. as our company is having a great loss at this time…it will be a good thing.. What do you think Geethu.. can't you do just this for your father…
Geethu(was a little shocked) : I. i wi..will think about it. .pls..gi..give me some …. time..
SHE RUNS BACK TO HER ROOM.
Lucky : No.. di.. Please..
RATHORES..
VYOM WAS IN HIS ROOM.. POSSING INFRONT OF HIS MIRROR.. WHEN PREETHA & SHRISHTI ENTERS..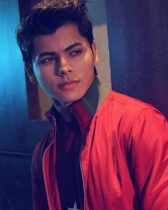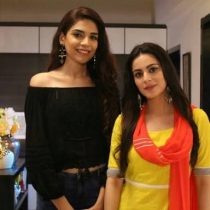 Preetha : What are you doing Vyom..
Vyom : Oh… crap… didn't i tell you guys..knock on my door before entering..
SRISHTI GOES AND HUGS HIMM…
Srishti : I don't know about.. the foors.. one day.. i will know you .. down.. and that to promise..
Vyom : Oh.. comeon patner… you can't knock me down… I am your little brother..
Preetha : Oh.. yeah.
Vyom : Didn't Ritik bhai.. came..
PREETHA NODS NO..
Srishti : As dad.. have given him the duty of family business.. he took it too seriously .. even i don't see him sometimes..
Preetha : By the way.. why were you possing infront of the mirror..
Vyom : There is a girl in my class.. and she said..  i am ugly.. i mean how.. could she..
PREETHA & SRISHT TARTS LAUGHING…
Vyom: Not again please…
JUST THEN PREETHA'S PHONE RINGS.. IT WAS A NOTIFICATION FROM RITVIK…
PREETHA READS IT..
Preetha :All at the coffee shop in 1 hr..
Sakshi : So i think bhai.. has planned something..
KHURANA MANSION
RAGINI & SHIVANYA WAS READY TO GO OUTING WITH ALL HER BROTHERS AS IT WAS A SUNDAY AFTER ALL
Dadi : Take Maya & zoya along with you guys..
Adi : But there is no need of that..
Dada ji : Of course.. there is they both have to understand others also as we are a joint family..
Dadi : But only if you two are willing..
Jhanvi   Yeah.. sure we don't have a problem at after all
IN JEEP…….
adi : So to where..
Aarti : To the park…
Shivanya : You are not a kid to go and play in the park..
Aarti : Not that … park.. i meant the one near the Red wet coffee shop
Sam : But that's only for couple's right..
Karan : And we have coupkea right!!!
Ragini : Abhi … bhai why are uou silent..
Abhi : Nothing???
Arjun : I know.. he is sad ..  as he have to go to Rajastha  next week..
Aarti (holds Abhi's cheeks) : Mumma's boy will miss his mom..
THEIR JOURNEY CONTINUES..
CHAUHAN MANSION
GEETHU WAS IN HER ROOM THINKING WHAT TO DO.. SHE SUDDENLY COMES OUT AND WALKS TO LUCKY'S ROOM..
AND ENTERS WUTH OUT KNOCKING..
Lucky : Do you need anything.. ???
Geethu : I am feeling suffocated.. can we just go anywhere if you are free
Lucky : Yeah.. di you wait outside.. i will be there in 10 minutes…
THEY ALSO GOES..
INSIDE THE CAR..
lucky : Where should we go??
Geethu : Any coffee shop.. i think i need a coffee now..
Lucky : Don't worry.. i know a better pace..