EQUATION FOR SIMPLE AND SWEET LIFE [FIVE SHOTS FOR RUMYA- PART 1]
THIS ONE IS DEDICATED TO ALL RUMYA LOVERS….SPECIALLY FOR UFF, FENIL, AYESHA, CHAVI,JEEVITHA, PRETTYPREETHI, CHAITHU, KHUSHILOVESRUMYA, IT'SMEPRABHA,AM KI DEEWANI, SHRADDHA, RUBY MARNY ,NIKITAJAI, SHRADDHA AND YASHU……THOUGH I SAID IT'S AN OS I AM SPLITTING THIS ONE AS FIVE SHOTS AS TIME LACKING IS AN ISSUE FOR ME……SO GUYS, HERE COMES THE MUHARAM GIFT FOR YOU…..
@ Oberoi Mansion [ Prinku's Room]
Priyanka : Sowmya, you can't do this……You can't leave home ……Pls stay here….
Sowmya : Prinku, I have decided it……Pls allow me to go……
Priyanka : Sowmya , you are my well wisher cum friend……..At that right I am asking you, is there any problem ?? Pls share it and we will try to find out solution…..
Sowmya : I told you naa there is nothing to worry……It's my own decision……How long I can stay here ??
"You are my sister……And this is your home and you have full rights to stay here……" [sowmya turns back and finds shivay before her eyes…..]
Sowmya : Bade bhaiya, Though dadi said this and you all accepted me as a member of this home, still I think I need to leave……Pls……
Shivaay : Why ? Did any one said anything to you ?? Mom, dad, bade paapa, badi maa……[sowmya nods her head in sign of no] Om……
Sowmya : No bade bhaiya….Bade baal waale bhaiya is really sweet……He is so caring…….
Shivaay : Then it can be one person, none other than my chote bhai Rudra…..Am I ??
Sowmya : Mmh…….No, I mean why rudra will say something to me ……
Shivaay : Sowmya, you can pretend to be a liar , but the tears in your eyes , they can't lie……I will make that rudra to…
Sowmya [interrupts by holding shivay's hand] : Pls bade bhaiya……Don't say anything to him…….Pls……
Shivaay : I think he has did something unfair to you………And I will make him to realize his mistake……
Sowmya : No, though that was bitter whatever he told at the end while speaking was right…….I stayed here as dadi insisted me that I can be here until I finishes my graduation…..But I have to realize that I am a guest who stays in this home and a guest can stay upto some time only, not always……..
Shivaay : You really feel so, sowmya ?? You remember what Om said at raksha bandhan, you should never feel that you are lonely as om and shivay are your big brothers…….And you always calls us like that only, then why you need to leave ??
Sowmya : Bade bhaiya, I have informed my mom that I am shifting to college hostel…….She will be coming soon to pick me………
Priyanka : Sowmya, did we made any mistake ?? And if it is been happened from rudy bhaiya, we will talk with him……And I assure that everything will be sort out soon….
Shivaay : Yeah, prinku is right…….
Sowmya : Believe me this is my sole decision and pls allow me to leave happily…..I don't want any kinds of talks over this…..pls…
Shivaay : Fine, is it your final decision?? [sowmya nods her head] Okay then I will tell Khanna to make arrangements….[shivaay walks away]
Priyanka : Bhaiya, how can you agree this…Bhaiya…listen to me….[prinku runs behind shivaay]
As they left the room, sowmya starts packing things……..Her mind flashed with certain words….."You are a cheater, sumo , I hate you "……..Sowmya shut her eyes for a while and leaned back at the wall…….
Scene shifts to flash back……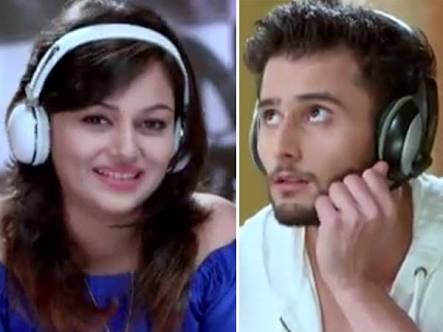 Rumya have put head phones on their ears……Rudy makes the face of "cry baby "……Sowmya is at the radio station as she is the RJ of program " EQUATIONS FOR SIMPLE AND SWEET LIFE" and she presents this one in the tag "LOVE ANGEL" only……
Sowmya : Hello friends, You are switched on to " EQUATIONS FOR SIMPLE AND SWEET LIFE" live program with me LOVE ANGEL…….Friends, life is so much simple naa, it's we who makes it as much complicated only, by getting tensed over issues, by making simple things as bigger, isn't it ? Any ways whatever be the tensions, you can solve it as for all you need is to know the right equation of life only…….And me love angel, aah…..Here comes our first caller…….Let us see what sort of equation he need ??
Sowmya : Hello, welcome to the show……..You're so lucky that you became the first caller……May I know your good name pls ??
The caller starts weeping ……Sowmya : Hello, hello why are you crying ??
Caller : What should I do now……..All I need is to cry only….
Sowmya : Listen mr. cry baby……
Caller : What ??
Sowmya : I am sorry, as you didn't said name and you are weeping only, I named you like that……Sorry…What's your name.?
Caller : Ru……..Amar……
Sowmya : What ?? Ru..Amar ? this name is so strange…..
Rudy's mind voice : I am finished…….What a stupid name you said there, rudy……..Think something else…..
Sowmya : Hello, hello mr. Amar……..Can you hear me ??
Rudy's mind voice : Amar ….nice……I can fix it …..but just like rso means romantic singh oberoi, I need to fix something in my name which will turn as romantic……rudy turns his eyes here and there and suddenly his eyes turns towards the tv channel where movie "maine pyar kiya " was running …..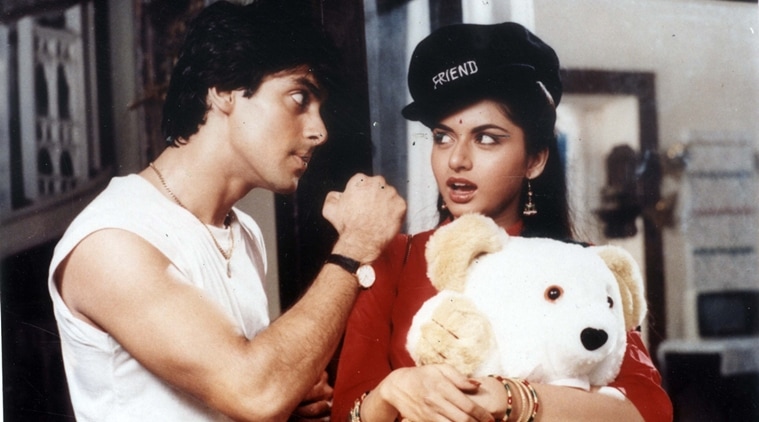 Rudra : Idea…….
Sowmya : What ??
Rudra : Nothing……You asked my name naa, My name is Amar Prem [ rudy tells in sallu style]……
Sowmya : I see, then why you said Ru…Amar ?
Rudra ; Woh woh….my tongue slipped , that's all…..
Sowmya : By the way amar prem, your name is so catchy…….I liked it……I am sure you like name you might be a dashing hero, won't you ??
Rudra : Oh Thank You Love Angel……..[rudy imagines himself as hero……
 Kukkad Kamal kaa " plays at the back ground…
Sowmya : Amar Prem you didn't say why you cried ??
Rudra : Love Angel how should I tell it [ makes puppy faces
Sowmya : Mooh se!!!
Rudra : Love Angel!! Don't make fun of me…….
Sowmya : Okay, okay……don't cry…..Now tell me what's the matter…..
Rudra : It's a serious issue, you will get hyper tensed after hearing this one…….
PRECAP : ACCEPTING THINGS IS BETTER THAN TO CHEAT OTHERS…….