Ek Bhram Sarvagun Sampanna Review: Intriguing tale of intense revenge
Ek Bhram Sarvagun Sampanna is the new release on Star Plus. The show brings a mysterious revenge tale of the lead protagonist Jhanvi Mittal, an ideal bahu of Mittal family. Jhanvi has lost her family at an early age, and holds Prem Kishan Mittal responsible for her family's destruction. She expresses her revenge streak. She has her crime partner, holding all her secrets and planning, her younger sister Ishani. Jhanvi wants to destroy Mittal family by slowing breaking down the strengths and then shattering it completely, so that Mittals never cope up with the huge losses. Jhanvi starts targeting the family by using the weak link, her mother-in-law. She aims to burn the family's relations by distancing their hearts. Jhanvi is assumed to be a perfect bahu, which she isn't. She has hidden motives behind harming the members of the Mittal family.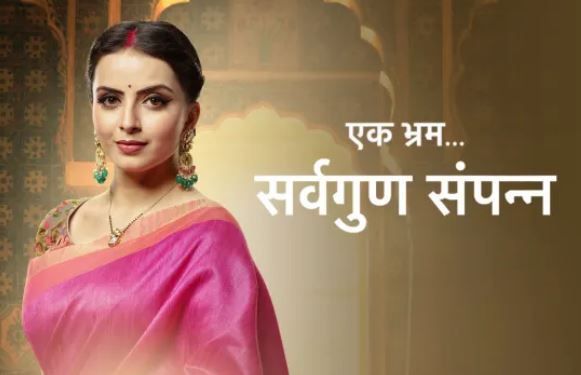 Main Characters:
Jhanvi Mittal: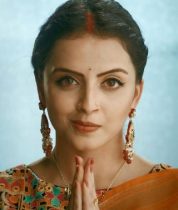 Jhanvi appears as a perfect bahu, a clean hearted, understanding, sensible and supportive person with much esteem. Jhanvi has hidden intentions of hatred and revenge towards Mittal family members. Jhanvi just has one true relation left in her life, that's her sister Ishani. She isn't the normal typical bahu. She is strange and wicked for her own reasons. Jhanvi displays herself as someone, who holds all the desired virtues. She is known as a loving, caring, responsible and emotional person. She is none of such. She is filled with anger, negative feelings, and revenge.
Prem Kishan Mittal: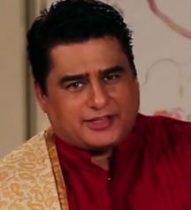 Prem is a strong-minded, ambitious, money-driven industrialist. He is much famous in the society. He wants to keep his name and pride high. He is much respected in the business circle. He has all his hopes from his sons Dhruv and Kabir. He finds Jhanvi an ideal Bahu. He doesn't love his wife and often criticizes her. Prem has hidden many crimes committed in the past. Prem just wants success at any cost. He can't tolerate his family ruining his name. He finds Jhanvi the strength of the family. He feels she is the problem solver. He doesn't know her real side, that she is the problem creator as well.
Kabir Mittal: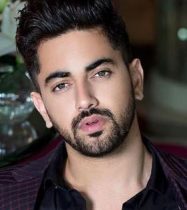 Kabir is a smart, sensible and bold man. He is an army man. His dad wants him to join the family business. He respects his family a lot. He takes his life's decisions on his own. He isn't on good terms with his dad. He is much wise when it comes to business. He gets emotional when its about relations. He believes in Jhanvi a lot. He marries his friend's widow Kavya. He is good at heart and wants to get Kavya her deserved respect. Kabir wants to take care of Kavya and her son Ayush. He takes a stand for Kavya's dignity. Kabir gets distanced from his family, because of Jhanvi's manipulations.
Kavya Mittal: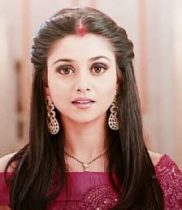 Kavya is Kabir's wife. She is simple, focussed, positive, dignified and a strong individual. She was already married to Vyom, Kabir's friend. Being a widow, she accepts Kabir's proposal for the sake of her son Ayush. She becomes the second Bahu of Mittal family. She doesn't get accepted by the family. She gets acceptance by Jhanvi, who promises to make a space for Kavya in the family. Kavya will be learning Jhanvi's truth. She will pose as a positive force against Jhanvi's evil. Kavya loves her son Ayush a lot. She develops respect for Kabir because of his loyalty.
Cast:
Shrenu Parikh as Janhvi Mittal
Zain Imam as Kabir Mittal
Tanvi Dogra as Kavya Mittal
Tina Ann Philip as Ishani Vyas
Ishaan Singh Manhas as Dhruv Mittal
Ayub Khan as Prem Kishan Mittal
Anuj Sachdeva as Vyom
Vidhaan Sharma as Aarush Mittal
Manju Sharma as Chanda Mittal
Anshul Pandey as Jay Mittal
Parikshit Sahni as Mr. Mittal – PK's father
Purva Parag as Suman Mittal
Aanchal Agrawal as Sonali Mittal
Karan Mehra as Mr. Vyas – Janhvi and Ishani's father
Story So Far: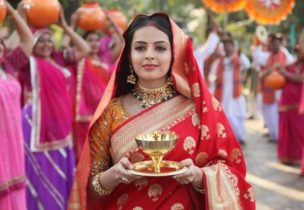 The story begins in a mysterious way, when a parcel comes for PK Mittal. Ishani prepares for her engagement. She enjoys her excitement and awaits Kabir. Jhanvi is introduced as an ideal bahu of Mittal family. She is awaited by the entire family. Prem Kishan is happy that Kabir is coming back after six years. Prem gets to see the parcel. He sees his effigy, shot in the forehead. He wants to know who is threatening him. Jhanvi finishes the puja by completing all the rituals heartily. She gets her message recorded for Kabir. She is happy that Kabir is getting married to her sister Ishani. Prem doesn't care with the unknown enemy's threatening. Jhanvi drops the Radha Krishna ritual pots. She pretends that she doesn't want any bad omen to occur.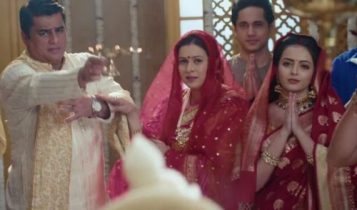 Jhanvi carries off the duties of an ideal bahu well. She makes Prem and his wife Suman continue the puja. Prem shows his discomfort and hatred towards Suman. He makes Suman prepare the prasad, as per the customs. Jhanvi feeds the Brahmans and pandits. She adds a fish in the vegetarian food and shocks the pandits. The pandit raises objection and take it as a big insult from Prem. Jhanvi takes the blame on herself and acts like saving her mum-in-law. Suman tells them that she didn't make this mistake. Pandit swears to never forgive Prem, even when Prem apologizes. Jhanvi succeeds in shaming her in-laws. Kabir comes home and surprises the family. They get too happy to welcome him home.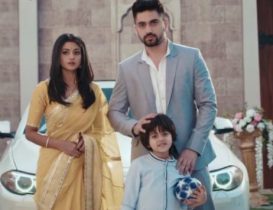 They receive a shock when Kabir gets his wife and son home. Kabir tells them that he has married Kavya. He introduces Kavya and Ayush. He can't explain much to the family. He breaks Jhanvi's revenge dreams. The family gets upset with Kabir for breaking Ishani's heart. Kabir tells them that he didn't know anything about Jhanvi's plans. Prem gets angered that Kabir is at fault. Jhanvi tells Prem that it was her dream to get Kabir and Ishani married. She defends Kabir and tells him that everyone will accept Kavya. She becomes an ideal Bhabhi for Kabir. Kabir finds his mum much upset. She makes him swear that he won't leave her again. She wants him to marry Ishani and manage Prem's business. Kabir asks her if she is fine. He sympathizes with her. Jhanvi breaks Kabir's marriage news to her. Suman refuses to accept Kavya.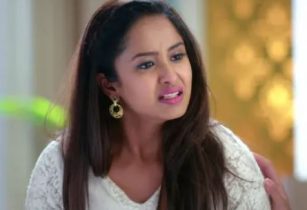 She asks Kabir to get away with his wife. Kabir wants to know why is Suman so ill all of a sudden. Jhanvi tries to handle all the work. Kavya wants to take help from Jhanvi. Ishani expresses her hatred towards Kavya. Jhanvi finds them fighting. Jhanvi takes Kavya's side and slaps Ishani. She does a perfect bahu's drama and shows wrath on her sister. Ishani tells Jhanvi that she has always supported her in all the plans. Jhanvi stops Ishani from revealing their revenge plans. Ishani gets heartbroken. She hates Jhanvi for supporting Kavya. Ishani too pretends to commit suicide. This brings tension in the family. Prem doesn't want the news to spread out during the times of elections. Prem wants Kavya to leave his house. Kabir tells Prem that Kavya won't be leaving the house. Prem blames Kavya for all the problems.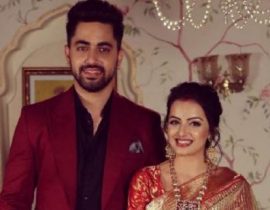 He wishes Kabir to understand his responsibilities. Kavya finds the family breaking down because of her. Jhanvi ignites the fire and then acts like a peace maker. Kavya and Ayush leave the house. Jhanvi informs Kabir that Kavya and Ayush aren't at home. Kabir looks for his family. Jhanvi learns Ayush's truth, that he isn't Kabir's son. She gets glad knowing Kavya is a widow. Kavya's former husband Vyom was Kabir's good friend. She tells Ishani that she knew Kabir and Kavya's story and plotted everything to put Prem in guilt. She wants to distant Kabir and Prem to reap benefits. She wants to ruin Mittal family and dances in a baraat, being delighted that her plan is working. She recalls Prem's crime of ruining her family and childhood. Jhanvi wants revenge for her dad's death.
Our Take: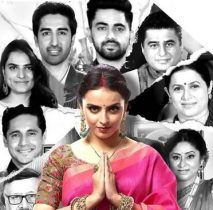 The show has been in the news with a big stream of promos, just before the release. The hyped expectations couldn't get fulfilled completely. There is not much freshness in terms of the concept. Same old concept is presented with a twist, that the main lead is introduced as a grey character. The revenge plot which begins later in typical shows, begins as the base point of this show. Characterizations aren't much unique. They are predictable and offer nothing interesting. Ayub's character of Prem Kishan Mittal would remind his similar character in Ek Haseena Thi. Shrenu's character of Jhanvi is written well. There is much highs and lows in her character.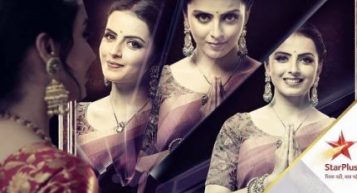 Shrenu is very much convincing in her looks, portrayals and dialogue delivery. She surprises in every episodes. She masters with her expressions. Her switches between good and bad roles are well sketched. Zain Iman and Tanvi Dogra make a wonderful onscreen couple. They play their roles in a subtle way as per the script demands. Supporting cast is fairly good. The show's USP is the lead, Shrenu. She shines in her superb grey charactered act. Storyline pace, visuals, sets, costumes are very much apt. The rich family description of Mittal family brings visually appealing scenes.
Overall:
Shrenu pulls off the show in a convincing manner. The suspense factor keeps up the interest. Jhanvi's unpredictable and sharp character makes the story more intriguing and watchable. Something different from the regular daily soaps.
Our Rating:
3 out of 5
Feel free to post your reviews in comments below. All off-topic comments will be deleted.