Hello friends so sorry for not updating for the past few days. Was so busy so I was able to manage only one article a day. Please keep supporting me through the comments. Let's go to episode now.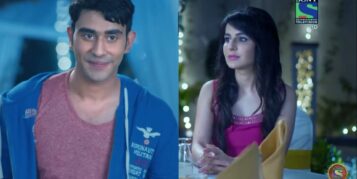 Neil and Natasha are travelling in the bike. Natasha sees that there is speed breaker on the way. She fears that Neil may race upon it like rogues to make her collide on him but Neil slows down his bike and crosses it without making Natasha collide on him. Natasha likes his behaviour.
In sometime they reach the Gujral office. Natasha gets off the bike and hands over the helmet to him. Neil gives his broadest smile as he takes her leave.
Natasha: Neil
Neil who was turning his bike turns to look at her. He raises his eyebrows questioning her "What"
Natasha: Go safe…and lets meet later. Bye
Neil smiles again and : Bye Natasha.
The scene freezes on their smiles.
Scene shifts to Sona's cabin in hospital. Dev hasn't picked up her call since morning.Sona is Angry,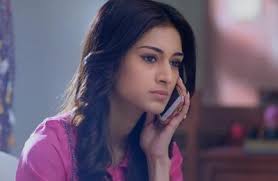 her colleague Kajal comes in
Kajal: Yeh doctor bhi na sadu kahika
She notices that Sona is not paying attention to her. Kajal shakes Sona and brings her to senses
Kajal: Sona…what happened ?
Sona: Men always take women for granted as soon as their relationship gets sure
Kajal: What are you saying Sona
Sona: It's hardly a day since we got engaged. He has started to ignore my calls
Kajal: Arrey Sona..when was your last convo with Mr.Dixit
Sona: Today morning
Kajal bursts into laughter. Sona stares at her.
Kajal: Sona….I thought he didn't talk from yesterday. But now you said he spoke to you morning maybe he is busy with some work. He will call you soon. Don't worry.
Kajal walks away. Sona packs her handbag and comes out.
She goes to her scooty. Just then she hears a horn and turns to see Dev's car there. Driver Nelson gets out and goes to her
Nelson: Mam I'll take this scooty home you please go with sir
Sona: No thanks Nelson I'll go myself.
She starts her scooty, Dev realises the situation and runs to her.
Dev: Sonakshi I'm sorry..I. Couldn't attend the calls as I was in a meeting
Sona: You could have sent a message atleast
Dev: I know I was wrong..I'm sorry…please come with me….
Sona smiles at Dev's cute face. Considering this as yes Nelson takes her scooty with him while Dev escorts her to the car.
Sona: Where are we going?
Dev: A coffee date with my fiancée
Sona: Oh wow…by the way my fiancée will join us if we call him
Dev: Sure mam please call him too…I will be pleased to meet Mr.Kargosh
Sona: Huh?
Dev: Fiancée of Ms.Kargosh will be Mr.Kargosh
Sona laughs and: Like Fiancée of Mr.Obodro is Ms.Obodro
Dev and Sonakshi reach the coffee shop.
Dev gets them coffee and they start sipping it and talking a lot.
meri duniya mein tha
main apney hi dhyan mein
kuch toh badal gaya
hai mere aasmaan mein
aisa ye kaisey kyun kya ho gaya
kuch khoobsoorat sa dil ko ho gaya
pehli dafa hai ki mujhmey tu chalka hai
mere rangon mein kuch
dhang hai terey jaise bhi
kuch rang pyar ke aise bhi
kuch rang pyar ke aise bhi Plays in the background and scene freezes.
PRECAP: ITS DEVAKSHI SANGEET.
HEY GUYS DO TELL YOUR VIEWS ON THIS EPISODE IN THE COMMENTS BELOW.