Desire to the Throne_A Saga – Episode 12
Hi everyone!!!!
Scene 1
Swastika meet Rana at the temple.
Swastika: Where did you went that day? I told my husband everything. We were waiting to see you.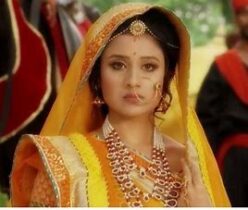 Rana: I went because, I don't want to create any misunderstandings.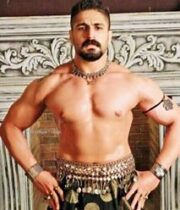 Swastika: It's ok. Now you need to come with me to the palace. Everyone will be surprised.
Rana: No, I can't come. I'm leaving.
Swastika is shocked seeing his behaviour. She silently follows him and finds his new home.
Swastika (to herself): I will come with everyone.
She leaves.
Rana: Ma, I'm becoming mad at Swastika. I know she is my brother's wife. But this crazy love is making me bad.
Ma: No Rana, don't encourage yourself with these thoughts. Wipe her out of your heart. I will marry a good girl for you.
Rana cries lying on his mother's lap.
Scene 2
Swastika sees Subhadra mixing something in the milk.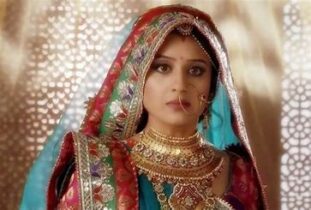 Swastika hides.
Subhadra thinks that today is the end day for Panchali. She takes the milk and goes to Panchali.
Subhadra sees Panchali, Avantika, Bhoomika and Nakshatra sitting together.
Nakshatra: Subhadra come in. We were waiting for you and Swastika. Sit with us.
Swastika comes there.
Nakshatra: Swastika come and sit with us.
Bhoomika: We called you four to speak something very important.
Panchali: What ma?
Nakshatra: We know that you four are not getting good along with each other's husband's wives. Swastika and Swastika are at loggerheads and Panchali and Subhadra is at loggerheads. But remember one thing, you are all bahus of this family. You need to be united. If you are like this, then all bad things will start to happen. Our husband's other wives are our sisters. Consider them like that. We know that it will be tough, but there is no other way.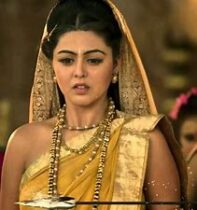 Bhoomika: Yes, even we shared the same husband. But look at us. We are united. So be united and be friendly with each other.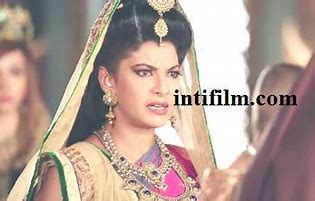 Nakshatra: Promise us that you four won't do anything wrong that causes shame to this family.
Everyone promises with a heavy heart.
Nakshatra and Bhoomika smiles.
Bhoomika: Subhadra, for whom did you bring this?
Subhadra (with fake smile): I brought this for Panchali didi.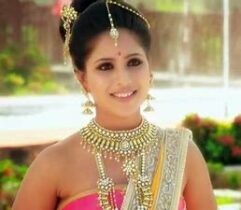 Hearing her words, everyone are surprised.
Panchali and Nakshatra gets happy.
Panchali: Atlast, you accepted me. I'm so happy.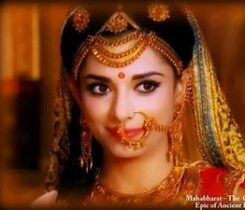 Subhadra smiles…
She gets the glass and goes to drink. But Arjun comes in a hurry and shouts her to stop.
Everyone are shocked.
Nakshatra: What happened?
Arjun: Don't drink this milk.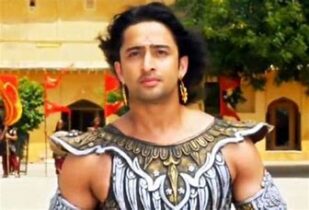 Panchali: Why? Subhadra has brought this with love.
Arjun: This is not with love but with pure jealousy and evilness.
Sunaina, Urvi, Karn, Adithya and Surya come…
Bhoomika: Arjun, please tell us clearly.
Arjun shows a small glass box.
Sunaina takes that and gets shocked.
Sunaina: This is a poison.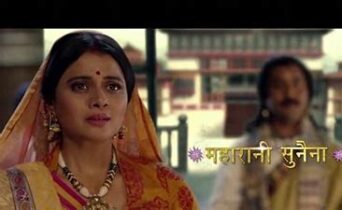 Everyone are shocked.
Arjun: Subhadra mixed this poison in this milk.
Subhadra: No, I didn't do anything.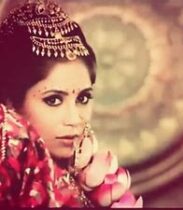 Nakshatra: How are you saying that she mixed this?
(FB STARTS)
Arjun comes and sees Swastika standing and goes to her.
Arjun: What happened? Why are you standing here?
Swastika: Bhai, thank god. You came here. See Subhadra. She mixed something from that box and took the glass.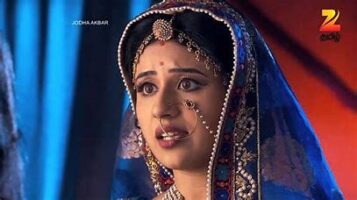 Arjun: Come, let's see what it is.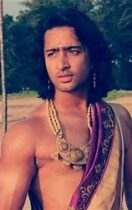 They both go and see it as poison and gets shocked.
Meanwhile, a servant comes and calls Swastika so she leaves. Arjun goes behind her.
(FB ENDS)
Bhoomika: Subhadra, just now we spoke to you about family unity but you broke our trust.
Subhadra acts and cries.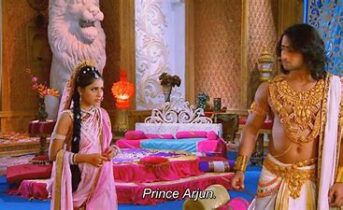 Subhadra: I did wrong. Please forgive me. Panchali didi, Ma and Aryaputr forgive me.
Nakshatra: Forgiveness for you??? You broke my trust and pride completely Subhadra. Don't you have any courtesy for the baby. That child is your husband's child. So, it is your child too. You should have taken care of Panchali, but instead you tried to kill her. I'm not going to forgive you.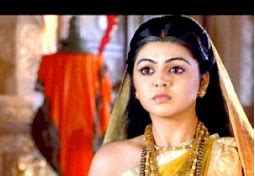 Arjun: From today, I'm not going to consider you as my wife anymore. Ma, let's send her to her father's place.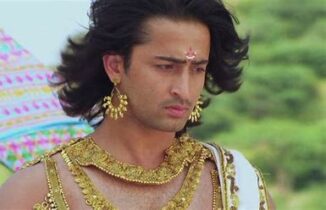 Subhadra is shocked.
She cries seeking forgiveness.
Panchali being kind heart,
Panchali: I'll forgive you. You need not go to anywhere.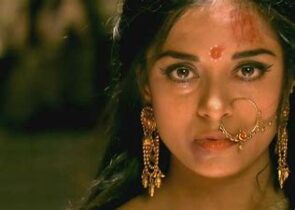 Everyone are surprised seeing the kind nature of Panchali.
Surya: Pamchali, I made a mistake by saying that you don't deserve sitting on the throne. But the truth is, you are the most deserved to be on the throne. After Sita's wedding, Arjun coronation will take place and Panchali will occupy him.
Sunaina too agrees with him.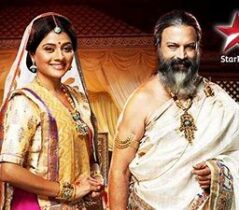 Arjun is happy. He smiles looking Panchali. But she is worried thinking about Subhadra.
Nakshatra: Subhadra, leave from here. Don't ever come in front me.
Subhadra leaves.
Sunaina: Swastika, thank you. Today you saved Panchali and also our child.
Bhoomika: Yes Swastika, you did a good job.
Nakshatra folds her hands and thanks her.
Swastika: Please don't thank me. Panchali is like my sister. I won't let anything harm her.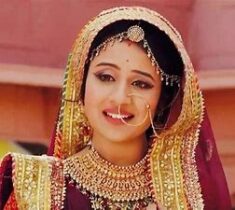 Panchali smiles and hugs her. Avantika smiles seeing that. Adithya feels happy and proud of Swastika.
The children leave.
Sunaina: Didi, did you remember pandit's words that 1st bahu will be treated equally to god.
Nakshatra: Yes, I do remember. Bhoomika, its high time. Accept Avantika and her child. According to Pandit's words, her child will bring good fortunes to our family and kingdom.
Bhoomika: Didi, even I was thinking but if I accept Avantika then Swastika will feel bad.
Sunaina: Definitely not. Swastika is a gem. She won't think like that.
Bhoomika agrees and goes to Avantika's room. She sees Adithya talking to Avantika's tummy.
Adithya: Baby, today your badima did a good job.
Avantika: Yes baby, she saved your other badima and your little sibling.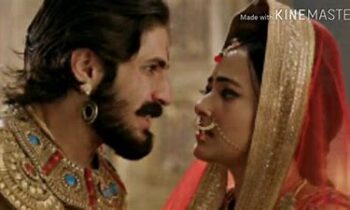 They both feel the baby kick.
They smile…Seeing this, Bhoomika thinks that they both are so loving together and they make a happy family.
She goes in.
Avantika: Ma…
Bhoomika bless Avantika and gives her shagun. Both Arjun and Avantika are surprised.
Bhoomika: I'm sorry for not accepting you and your child. But from today, you are my other bahu.
Avantika gets emotional and hugs her.
Bhoomika: Let me also talk with my grandchild.
They three happily talk and enjoy!!!
Scene 3
Adithya goes to Swastika's room. He sees her sleeping.
He kisses her forehead.
She wakes up.
Swastika: When did you come?
Adithya: Just now. Sorry for disturbing you.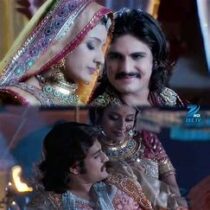 Swastika: No, not like that.
Adithya: I'm so proud of you. Sorry for not understanding you before and hurting you.
Swastika: Please don't speak like this.
Swastika feels tired.
Adithya: What happened? Now a days, you are becoming so tired?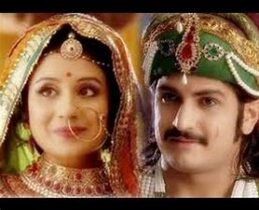 Swastika: I don't know.
Adithya: Ok, come let's sleep.
Swastika and Adithya sleep together. Adithya pats Swastika's head and they both sleep peacefully.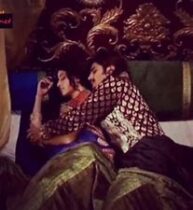 Avantika comes and sees them together. Her pregnancy hormones make her feel jealous.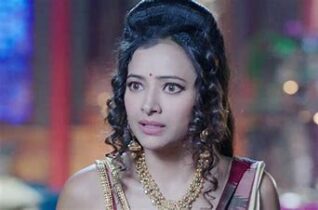 Avantika: Why I am feeling jealous? I should be happy now. This is what I dreamt and expected. But now what has happened to me?
She runs and goes to her room. She cries.
Avantika: Something is happening with me. This is not me. I won't think like this. I should be happy for my sister. Why am I like this? Seeing him with her makes me go crazy. I can't leave my husband. Why am I thinking in both opposite ways?
She gets angry and throws things in her room and is confused about her. She gets scared if something has happened to her.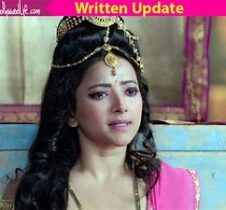 Scene 4
The next day!!!!
Surya, Sunaina, Nakshatra, Bhoomika along with Dasharat and his queens discuss about the wedding with Pandit.
All the children come there.
Ram and Sita excitedly waits for the wedding date!!!!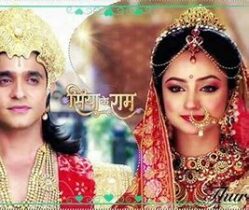 Just then, someone come and call Arjun.
The soldier gives him a letter which shocks him. Seeing him, Karn and Adithya goes to him. They too get shocked seeing the letter…
!!!To be Continued!!!