Kaira Destined To be Together Forever Episode 4
Kartik leads Naira to the bench nearby. She rests her head on his shoulder and he holds her
Naira: Kartik I wish maa
Kartik: Everything will fall into place soon. You dont worry
Naira: Why should I when you are with me? Patha hai Kartik I was so upset till today but now you have come as a new hope
Kartik: Ill never leave you anymore. Its a promise my jaan
They have some good time
Kartik : Baap re it's getting late..you have to have your food on time and sleep on time. Ill take you home
Kartik drops her home and rushes to Goenka house. As he enters Ashi jumps on him
Aashi: Hai Kartik its been so long since I met you
Kartik: Hey Ashi its good to see you back yaar
Swarna gets happy to see them
Manish: Swarna you go and take rest
Kartik: Haan maa
Swarna: You be with Aashi Ill go
Swarna walks in
Aashi: I heard about Naira from Surekha chachi..she must be upset right. But Kartik dont leave her for Maa. Maa is angry and once her anger calms down she will forgive Naira
Kartik : I can never dream of leaving Naira
He tells about his plan
Aashi: Ill be there with you in this Woh actually..Kartik..dont get me wrong…Swarna maa called me to marry you..she ..she wants…
Kartik is shocked
Aashi: Kartik I could not deny her invitation as I knew that she was upset. But I cannot marry you…because you are my friend. Ill help you and Naira to convince her
Akhil: Till then you …
Kartik: We will put up an act Chachu..in front of maa as per plan
Luv Kush: We will help bhabhi too
Kartik gets happy. The scene freezes 
Its Kartik's room mid night
Kartik misses Naira terribly and is unable to sleep.
Kartik: I guess I have to go there
Kartik sneaks out like a mouse. He walks down the stairs and is caught by Manish
Manish: Betaaaa
Kartik: Papa woh…pani pani
Manish: Kitchen is in that direction. What are you doing here?
Kartik: Woh,,sorry I forgot
Manish holds his ear
Manish: Im your papa…dont try to cheat me..you are going to meet Naira right?
Kartik: Papa chodiye…haann….
Manish leaves him
Manish: Go carefully. Dont wake up all of them
Kartik: Ill not papa
Kartik gets out. Meanwhile Naira is missing Kartik. She is not upset like the previous the day but she is not happy like a normal day. She closes her eyes and hugs her pillow to go to sleep just then she feels a hand on her and opens her eyes to see Kartik.
Kartik: Missing me?
Naira hugs him tight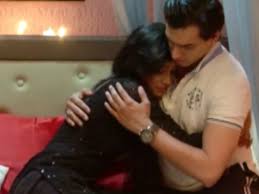 Kartik: What happened Naira?
Naira : Nothing 
Kartik: Now sleep. You have to sleep on time and wake up on time
Kartik makes her lie down and puts her to sleep by caressing her head.
Its next morning when Kaira wake up in each other's embrace
Naira: Kartik..get back soon..maa will be searching 
Keerthi comes in with two coffees
Naira: Bhabhi you knew that he is here?
Keerthi: Haan
: I told. I only opened the gate for bff. And he climbed to your window
Kartik : Thank you pretty lady
Keerthi: Kartik..Aashi has told that you are put for a jog to maa so you better change to a jogging outfit and then go
Kartik: Okay..
Kartik rushes down.
Devyani: I made Kachori for you
Kartik: Ill have it once I come back
All : Come back?
Kartik: Aur kya..paternity leave
Naira: That can be taken in last few months if you want to..why now? 
Keerthi: Even maternity leave will not be from first month Kartik
Kartik: Arrey she will have morning sickness in this time. I have to be with her..aur mahina kya I dont want to miss even a second
Naksh: But maa
Kartik: Ill tell her that Im going to office and come back here with files. Do work and be with Naira
Kartik rushes out saying this
Naksh: Wait a minute
He pours water here and there on him
Keerthi: Naksh..?
Naksh: Arrey sweat yaar…
Naira: What will be do about the car?
Mishti: I have an idea
Kartik: Whats it?
Mishti: Ask Driver to pick it from the street start. You park it there and jog your way home
Kartik: Super
Kartik leaves. Everyone except Naira laugh at this morning filled with lies. The scene freezes 
PRECAP: KARTIK's BAG OF LIES