Desire to the Throne_A Saga – Episode 11
Hi all!!!!
First of all, so sorry for not uploading the episode on 10.02.2021.
Before entering into the story, I wish to clarify something. It might be boring for you people but I'm in a situation to tell this.
I'm a working professional currently work from home. So, meetings and work are scheduled from morning 9 and sometimes it goes beyond 6-7pm. Some days, I have meetings even at 9pm. For past 2-3 months, I'm really busy and couldn't find time to upload series as my dad was hospitalized, I had GATE exam and so on. After the exams, I have told that, I'll be updating this episode on 10.02.2021, but unfortunately, I had meeting till 8pm and my eyes and health was fully drained as I was working with laptop from morning. And also, this is a periodic novel, some parts are referred from novels. So, for that, I need to read that once again. I couldn't find time for that. So, I thought of continuing it from 13.02.2021. I could write anything for other two ffs as one is a remake and other is just a normal new age story. But that won't work in this case. I couldn't update this info about updating on Saturday as author's note since it is clearly mentioned in the guidelines of instant approval. But I got many personal messages which were so vulgar and so hurt seeing that. And yesterday I got a comment on my other ff critizing me as shit work. I couldn't take this more so I posted this. I'm happy that you people love this ff a lot and you can't wait for this but you should understand the author too. I'm writing here just for my relaxation and to give the ended serials a new dimension. And all my episodes will be more than 8 pages in word document. Currently, I'm writing 3 ffs. And all my ffs are multi starred ffs. So, I need to write for all couples. It takes more time seriously. Every day, I'm finding hard to upload. Even, I thought to start a new ff featuring an apartment love story which was my dream story. But after so many bashing comments, I'm thinking to quit TU by giving quick end to all the series. So, kindly forgive me. I'll try my best to upload on time. Thanks!!!!
Recap: Swastika meets Rana…. Swastika and Adithya reconcile…. Subhadra has insecurities with Panchali…. Mala's truth is out…. Surya's family gets united…. Everyone decides to make Arjun as the king…. Dhasarat along with his queens and sons come to their palace….
Episode 11
This episode is dedicated for Siya ke ram fans!!!
Scene 1
Surya: Maharaj, what a surprise? Please come in.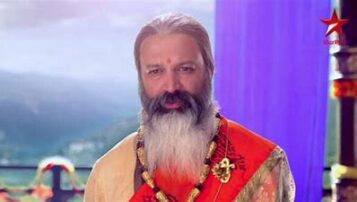 Sunaina welcomes the queens.
Dasharat: we came as we couldn't wait more for the wedding.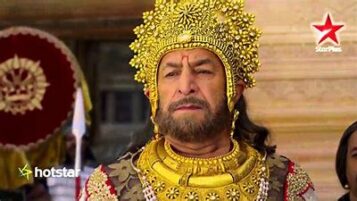 Kausalya: Yes, we are very eagerly waiting for the wedding.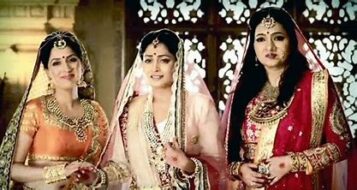 Kaikeyi: We won't go without Sita from here.
Sunaina: Even, we were thinking of Sita's wedding.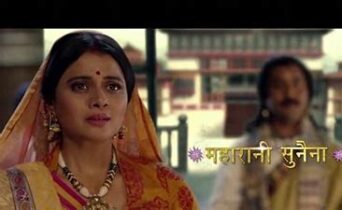 Dasharat sees Avantika…
Dasharat: Avantika, why did you left the kingdom without informing us?
Everyone are shocked.
Sumithra then tells about her stay there.
Sumithra: Swastika, how are you? I'm so sorry, I couldn't come to your wedding.
Swastika: It's ok chachiji.
They hug each other. Swastika and Avantika hug their brothers and all share family hug.
All smiles.
Nakshatra: Urvi, Swastika and Panchali take Sita and her sisters in.
They take them and leaves. While leaving, Sita looks at Ram and blushes.
Ram too see her and smiles.
Surya: First, you all rest. I will call our guruji tomorrow and will fix the wedding date as soon as possible.
Nakshatra and Bhoomika take the queens in. Arjun and Adithya takes Dasharat in.
Surya, Sunaina and Karn have a talk.
Karn: Papa and Ma, we need to make this wedding a grand one.
Sunaina: I'm thinking something.
Surya: What?
Sunaina: From these girls childhood, I always thought of them to our gods Sita and her sisters. Even now look at the alliance. They are also four brothers. I feel that history is repeating. Why can't we make our other girls also to marry Ram's brothers.
Surya: This is also good idea. But we need to ask our girls wish as well.
Sunaina thinks!!!!
Scene 2
Sita sits near a Lotus pond and talk to her pet deer and parrot.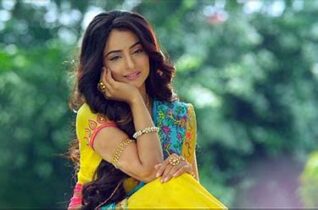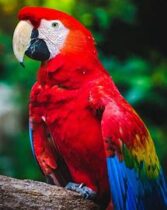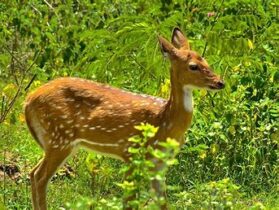 Sita: Rathi (name of her deer) and sugar (name of the parrot), you know what, I'm very happy today. I have finally seen Ram today.
She blushes. Seeing her, Rathi jumps in joy. Sugar screams Ram…Ram… (parrots do talk and repeat words)
Sita: Sugar, you became so naughty now a days. Always teasing me with his name.
Sugar: Ram…. Ram….
Rathi too make her face like teasing Sita.
Sita: Why you both are doing like this.
She then sees Ram's face in the pond and gets shy. She asks Rathi and Sugar to go. They go to other side and looks at them.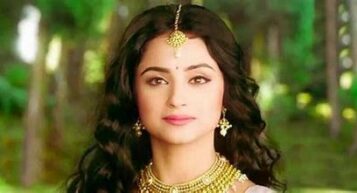 Sita gets up and looks down.
Ram: Sita, I have come from far to see you, but you are looking down.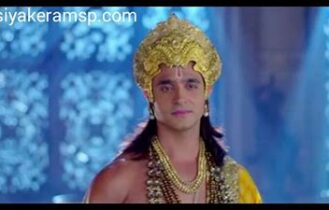 She smiles.
Ram lifts her face.
Ram: You are so beautiful and divine.
Sita's face gets pink by blushing.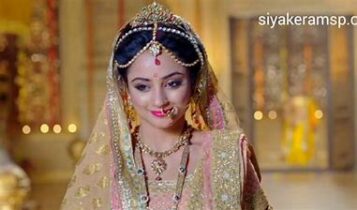 Sita: Come here, let's sit.
They both sit under a tree.
They both stare with love at each other for sometime.
Ram: Why are you not talking anything?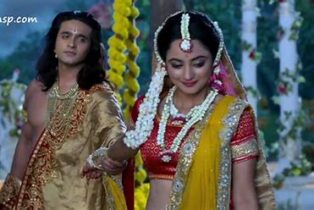 Sita then takes her letters from a hole in the tree.
Ram: Oh, is this a secret place?
Sita: This is my happy place. I always come here whenever I feel happy or sad or angry. I have kept all our letters safely here.
Ram: Don't worry. Here after, we don't need letters. I will go from here only with you.
Sita gets happy and lies on his arms.
Sita: You know, I'm so happy. This is the best day of my life.
Ram: You are mine Sita.
Sita blushes again.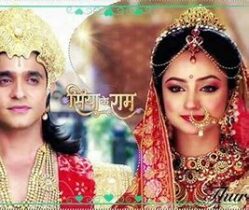 Ram: You keep blushing everytime.
Sita: You make me do that.
Ram smiles and hugs her.
Scene 3
Sunaina: Mandavi, Urmila and Shruthakirthi…
Mandavi: What ma?
Sunaina: You three have work.
Urmila: What work?
Sunaina: Where is Sita?
Mandavi: She went to Lotus Pond.
Sunaina: Urmila, go and call her now.
She leaves.
Sunaina: Mandavi, you go to our guest palace and look at the arrangements.
She too leaves.
Sunaina: Shruthakirthi, here is the pooja plate. Go to temple and give this jewellery.
Shruthakirthi: Ok ma.
She too leaves.
Urmila goes calling as Sita di….
On the other side, Lakshman comes calling as Ram bhai. They both collide with each other.
Urmila and Lakshman look at each other. He falls for her at the first sight, but she gets angry.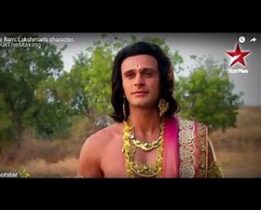 Urmila: Ouch…. where are you keeping your eyes? Oh, did you fall in my beauty?
Lakshman decides to tease her.
Lakshman: What me falling for you???? No way…. Do you know about Persian princesses beauty? You are no match to that.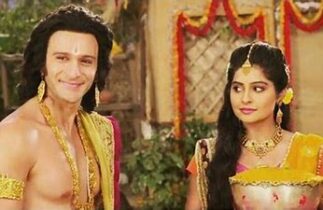 She gets angry.
Urmila: Then, why did you come here? Go to them.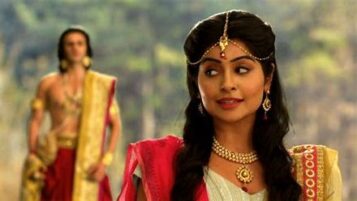 Lakshman: I came here for my brother's wedding. And not to see you.
Urmila thinks that he is rude.
Urmila: Whatever. Leave me the way.
She pushes him and goes.
Lakshman: I will make her fall for me. Crazy girl.
He smiles and leaves.
Scene 4
Mandavi goes to the guest palace. She sees no one except the servants.
Mandavi: Dasi, does no one here?
Dasi: Prince Bharat is in his room.
Mandavi goes to see him.
Mandavi sees Bharat drawing the landscape. She admires it and goes near him.
Bharat sees her and smiles.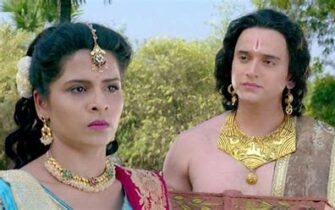 Mandavi: I'm Mandavi, Sita didi's sister.
Bharat: I'm Bharat.
Mandavi: I know. What are you sketching?
Bharat: Your kingdom is so beautiful. I love art. So, I'm drawing this.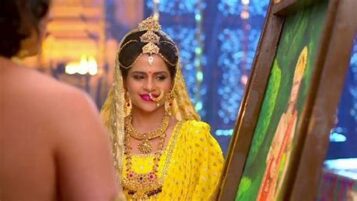 Mandavi: Your art is too good. But where are the others?
Bharat: Ram bhai went out. Lakshman went to search him. Shatrughan went with mothers to the temple. Papa went to see the kingdom.
Mandavi: That's good. I came here to look at the arrangements. Is everything ok?
Bharat: Everything is too good. Ah, Mandavi?
She sees him in a different way?
Bharat: Why are you looking like this?  Shall I call you by name?
Mandavi: You can.
Bharat: Can I get some colours?
Mandavi: Here we will use only natural colours. They will be long lasting.
Bharat: Yes, I know that. But I doesn't know that technique. Even I heard about paintings of Ajanta caves. The art won't get spoiled even after 1000 years.
Mandavi: Yes, I know that secret.
Bharat: Really?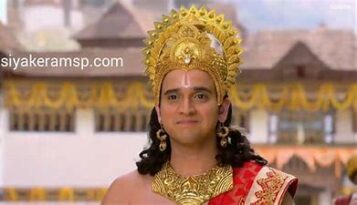 Mandavi: Yes, I'm very much interested in painting. So, we sisters stayed at Ajanta caves for 2 years and learnt all the techniques.
Bharat admires her.
Bharat: Will you tell me the secret and teach me the techniques?
Mandavi: I will try….
Bharat: Please???
Mandavi smiles and tells ok.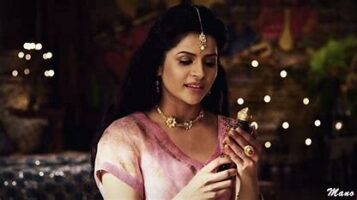 Bharat: Ok, then our class will start from tomorrow.
Mandavi: Ok. Now, I will mix you some natural colours. You can use them.
She mixes the colours. Bharat looks at her with love. He thinks that she is the perfect girl for him.
They both spend some time together by painting.
Scene 5
Shruthakirthi prays in the temple and goes to sit in the temple's lake.
Shatrughan comes to temple with his three mothers.
They pray…
Shatrughan: Ma, you be here for a while. I'll go and look at the places nearby.
Kausalya: Ok, but be careful.
Shatrughan nods and leaves.
The three queens sit and hear Mahabarat story.
He comes near the lake and sees Shruthakirthi.
She too looks him. They both identify each other.
Shrithakirthi always wished that four sisters to get married with four brothers. So, she feels shy seeing him. He too smiles seeing her and thinks that she is too beautiful.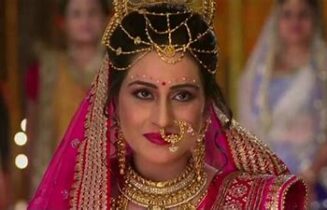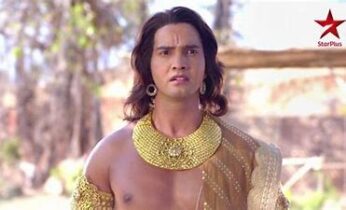 Shruthakirthi: Did you come here alone?
Shatrughan: No, I came with ma. They are listening to the story. Did you come here alone?
Shruthakirthi: Yes… come sit.
They both sit.
Shatrughan: Did you all got surprised seeing us?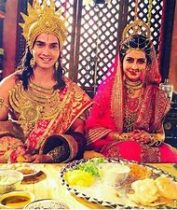 Shrithakirthi: Yes.
Shatrughan: We came here as you people didn't inform anything about our proposal.
Shruthakirthi then tells him about Mala, Avantika, Swastika and all the things that happened in their palace.
Shatrughan: Oh sorry. Leave everything. Now, it's all for good.
Shruthakirthi smiles and they both talk for a while!!!
Scene 6
The ladies sit and talk with each other.
Just then Panchali goes and vomits. Swastika cares her.
Nakshatra and Bhoomika are worried.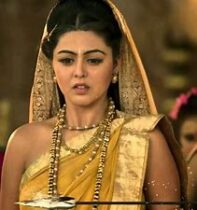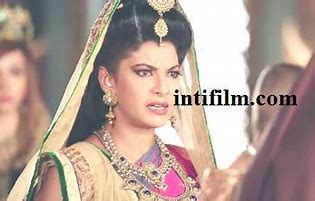 Panchali looks at them and smiles.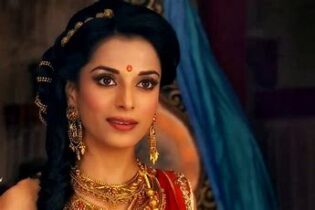 They understands that she is pregnant. Subhadra is hell shocked….
Swastika and Urvi happily hugs her. Avantika too wish her.
Nakshatra, Sunaina and Bhoomika bless her.
Sunaina: Arjun is our favourite little boy. Now that little boy is going to become father.
All smiles.
Sunaina orders the servants to call all the men.
After sometime, Surya, Adithya, Arjun and Karn come to them.
Arjun sees Panchali resting in the bed and worries.
Arjun: Ma, what happened?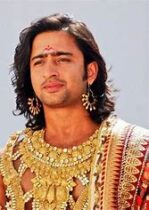 Bhoomika feeds him sweets and tells the good news. Everyone feel happy and congratulate him.
Arjun is happy to the core. He goes near Panchali and kiss her forehead.
Nakshatra: Let them spend some time alone. We will go out.
They all go. Subhadra fumes seeing them together…
Arjun: Panchali, I'm so happy. Thanks for giving the best feel in the world.
Panchali cries in happiness.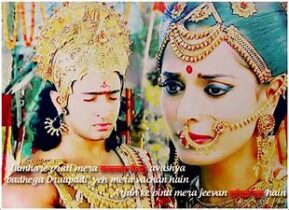 Arjun kisses her stomach.
Panchali: I want a baby boy who has all your warrior skills and he should be better than you.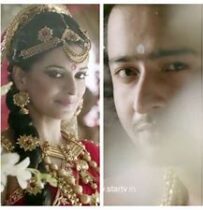 Arjun: No matter what the baby is. It may be girl or boy but I will love him/her unconditionally. This is our symbol of love.
Arjun and Panchali smiles…
Scene 7
Urvi: Avantika and Panchali didi is pregnant. We will soon have 2 babies in our palace.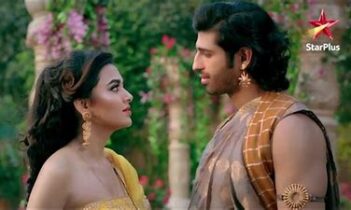 Karn: Thanks, Urvi.
Urvi: For what?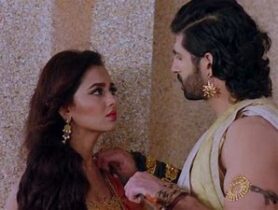 Karn: For not pressurizing to have baby now.
Urvi: We will have babies when these two turns 1 year.
Karn: That will be good.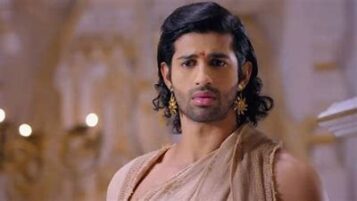 They both hug and share a kiss.
Urvi: Now, you go and see the work. I'm going to Panchali didi. Let's have these cuddles at night. Now leave.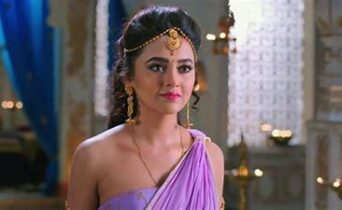 Karn: Ok my queen.
He leaves. Urvi smiles…
Scene 8
Arjun comes to Subhadra. She gets happy.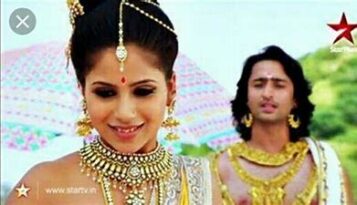 Subhadra: Come in.
Arjun: I came here to tell you something.
Subhadra: What?
Arjun: I got to know about your rude behaviour to ma and Panchali. I'm warning and pleading you not to repeat that as Panchali is pregnant and that will hurt her and baby as well.
Subhadra gets angry.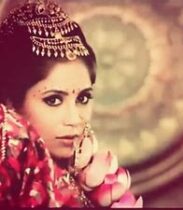 Telling this, Arjun leaves.
Subhadra: Always Panchali…. I won't leave this. I will do something to kill her baby…
She thinks!!!!!
Adithya come to Swastika…
Adithya: Where are you going?
Swastika: I'm going to temple. I'm so happy today. Panchali is pregnant. So, I'm going to do special pooja in temple.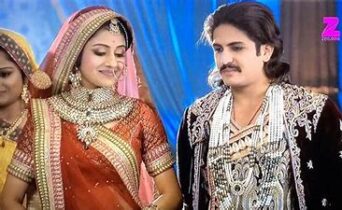 Adithya: Ok, do consider your husband too.
Swastika: Don't touch me. I'm going to temple, right?
Adithya: Whose permission do I need to touch my wife?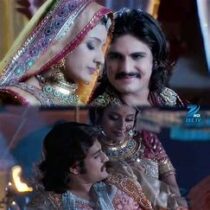 He hugs her…. She then smiles…
Swastika: Ok fine, I will come soon from the temple. Then you can show your love.
Adithya: Ok fine…
Swastika kiss him and runs…Adithya smiles.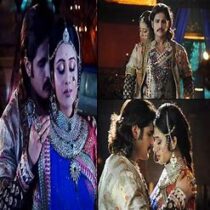 He goes to Avantika with food.
Avantika: Me and your baby was expecting you and you came correctly.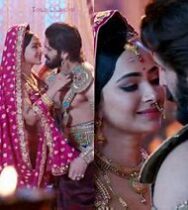 Adithya: I know…
He feeds her and they spend quality time….
Swastika reaches temple and meets Rana……
!!!To be Continued!!!