Dangerous Ishq -Arya FF (Chapter 3)
Maya was hugging Arjun … she was quite scared and her eyes were red and teary..
Arjun cupps maya's face..
Arjun : Maya.. is everything.. fine why are you beaving like this.. what happened..???
Maya : The. there…is..so..someone.. in.. our..room..
Arjun : What??? Let me see…
He goes to there room and checks..
Arjun : There is no one here
Maya : But..it was here.. it grabed me.. and i..
Arjun goes near maya and holds her..
Arjun : Shh. shhh.. maya its all your imagination. and i know why your are imaginig things…
Arjun was about to kiss her…
Maya : Arjun olease belive me… there is something in this…
Arjun looks around and sees the god's idol
Arjun : Look your saviour is here to save you…He won't let anything bad happen to you..
Maya : Its not funny..
Arjun : Of..  course..its not..As you are the one who keeps telling me that god will help us and all..
Maya : But..
Arjun : I don't want anybdisscussion about it.. now.. (He hold her close) Now go and get ready.. you promised me something…
Maya fakely simles and goes to get ready..
Maya's pov : There is something..in this house which is not at all normal..but what will i do..how will i ..make him believe.. i think..i should talk to someone about it …Maybe that lady..she was little worried when i told her..where i am staying..
She hears a knock on door and comes out of her thought..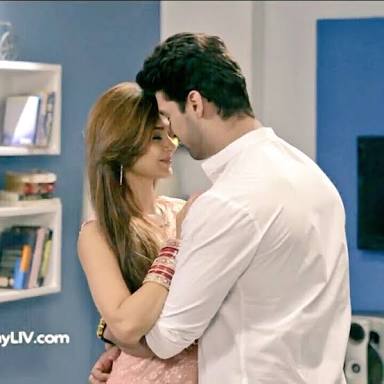 Arjun and maya dances on Tum hi ho song…
NEXT DAY…………..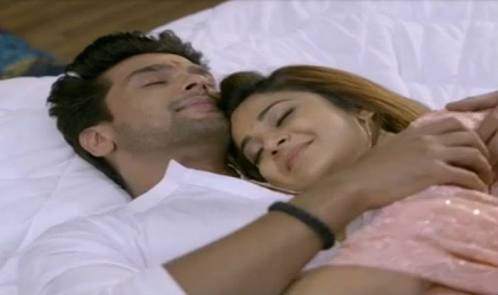 Maya gets up and goes to her bathroom.. she washes her face and looks into the mirror.  which was blurred.. she moves her hands through the mirror.. and makes it clear.. And goes out.. its shown that a shadow is following..
She prepares food all the while the shadow was following her..
Arjun suddrnly rushes to his offoce without telling Maya..And maya sees him.. she follows him and calls him.. but till that he left..
Maya : Arjun!!! stupid.. he went without informing…Hmm..
She goes to her room and sits in front of her laptop …. Incoming call from Home.. displays on screen.. she picks up..
All : Hello.. Maya..
Maya(tearly) : Hi..
Vandana : Lo…your daughter has started her emotions..
Jhanvi : You are telling like arjun is not at all emotional..
vandana : But he is not emotional as maya is
Ayaan : Mom.. auntyji.. We are talking to Maya bhabhi then why are..you.. both arguing ..
Maya : Let them..actually i was missing all these..
Ayaan : You are always missing someone.. where is bhai.. he is nowhere to be seen..
Maya : He went to office..
Arjun : This early…???
Maya : Umm…
Just then the screen gets stuck and none was able to communicate..Maya continuously checks her laptop…
Vandana : What happened ayaan
Ayaan : I think signal week hai..
Jhanvi : I think we should go there oneday and surprise them..
ROSE VILLA..
Maya tajes her bag and walks out from her house.. searching for that women she met in the market…
She searched till evening but was unable to find her… So she goes back to the house..
She gets shocked when she sees the door is open and runs in..She finds arjun who was sleeping in couch..
A smile of relife comes at her face.. she goes and kiss him in his cheeks..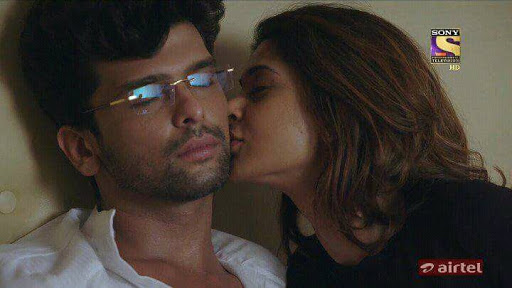 She removes his glasses from his face and she goes..
Maya suddenly seez that the frie which she put on before the god's idol is off…so she puts it again..
NIGHT…
Maya was arranging the dinning table while arjun comes..
Maya : What happend to you this morning..you went without even informing me..
Arjun (with no intrest in the conversation) : I had an important meeting..
Maya : But.. what was the problem informing me..
Arjun : Wht are questioning me…am i not allowed to do anything with your permission..
Maya : Don't get angry i was just asking.m
Arjun this time gets angry and throws the plate which was infront of him… and goes..
Maya was shocked.
ArYa's room …..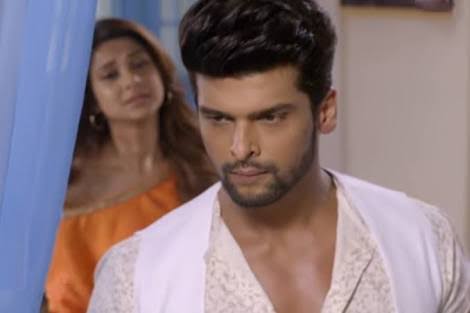 Maya : Arjun what was..that… why are you behaving werid..
Arjun : I am not behaving werid ….i am normal
Maya : Is there any stress in office ..  tell me..
Arjun : Its nothing.. just leave me alone.. for sometime…
Maya : Please..
Arjun : So..stop enquiring people about this house don't you believe your husband..look there is nothing wrong in this house..
Maya : Arjun…there are some doubts in my mind and i should clear it..
Arjun (angry) : That means you won't listen to me.. huh..
arjun hold maya on her shoulders…and he pulls maya away..and she gets her head hurt..
Arjun without any hesitation walks outside Maya was unable to underatand what just had happened..
After sometime Arjun comes in and he was shocked to see Maya sitting on floor crying..
Arjun rushes towards maya…
Arjun : What happend maya..how did..how did you got hurt.. are you okay..maya say something..
Maya continuously looks at arjun in shock not being able to utter anything..