Being with my so called kidnapper again # chapter 16 (last)
Hello peeepies aagyi me..
So guys i am here with the final episode of my most loved story..
Baki baate baad me..pehle story pdh lo..
Don't believe blindly ….u are bind by emotions not blind by emotions
Scene 1
3 months later..
A lady is seen singing lullaby to a little girl in a mansion at night
She reveals to be..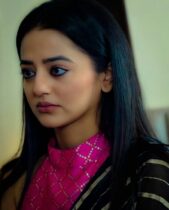 Riddhima's pov
"I am missing him momo" pari said sadly
"He is with u always baby..here" i said pointing towards her heart..
How can i say to her that i am missing him more like hell..
Its been 3 months without him…
I was so shattered when angre said he is vansh not vihan..
I closed my eyes to remenice down the memory lane
Flashback starts
3 months ago..
"Van…vanshhh" i whispered looking towards his body ..
My whole body was trembling in fear..he..he was my vansh all the time ..
"U are lying right..plz say u are lying.." i said to angre almost in a pleading tone..
"Not here bhabhi.. let's move" he said and supported me to get up..
He took me and pari with him along with vansh's body..
My heart was still not ready to believe my vansh has left me forever
"Van..vanshhh" i shouted as soon as angre's man took vansh's body away from my sight..
"Bhabhi.. relex.." angre said assuring me ..
I made pari sleep as soon as we stepped in angre's home
Angre took me to his room and i sat on bed with angre sitting near my leg on floor
"I want only truth angre.." i said defeatedly
" 5 years ago when u got a call about bhai's accident amd u went to jungle ..it was all planned by bhai only.." angre said sighing deeply
" But why😭😭..why he did that" i cried and angre squeezed my hand lightly
"He got to know about your father and his evil intentions..
Your father threatened him that he will reveal his identity and true colors to u..
Bhai didn't want u to hate ur father when he knew that how much sensitive this topic was for u..
He didn't want ur heart to be broken by ur own dad..so he decided to keep u away from that devil..
He could have said u directly but he didn't want u to get broken by ur own dad..
He decided to hurt u by his own name so that it won't hurt u that badly..
He wanted to protect u all the time from ur dad.. that's why he took u to that isolated jungle.." angre completed and more guilt engulfed me..
My vansh always wanted to safeguard me..
"But why vihan's drama…" I asked in a broken voice
" To mislead ur dad..in case he got to know ur location
He used to be vansh for outside the world and vihan in front of u so that nobody can doubt where are u..and ur dad won't be able to track u..
But when ur dad got ur location he tried hard to save h..but u ran away paralysing him..
I gave him antidote and came to ur rescue on his saying..he loves u so much bhabhi.." he completed and i burst into sobs..
" I failed angre..i lost him..how fool i was not to identify my own husband in this years..
He loved me.. protect me..and what i did.. betrayed him.. I deserved that bullet but he took that for me..
I lost him.. angre 😭😭..he is dead because of me only.." i cried hard this time..
"Bhabhi..wo🥺" he said squeezing my hand..
Flashback ends
"Momo..momo…where are u lost.." pari asked shaking me..
"No.. nothing baby.." i said ruffling her hairs..
"My birthday is gonna come..what gift i will get from u momo" pari asked impatiently
" U will get the bestest gift ever..and i promise all ur miseries will end with that gift..
And always remember your dada loves u so much" i said kissing her forehead and she drifted into deep slumber leaving me wide awake
I covered her with duvet and left the room..
"Hello.." i said on a call coming outside in the garden
"Missing me SWEETHEART" a husky voice came from other end and i felt my whole body relexed just by his voice..
"Vansh…." I said with a cracy voice and my tears threatened to fall from my eyes..
" Dare u to cry sweetheart..u know na I don't like that tears in ur eyes" vansh said lovingly
"Then why are u away from us..come back na.. it's been 3 months without u..u know how it feels when pari said her dada died in front of her eyes..
I wish i could tell her that u are not dead.." i said and this time tears flowed from my eyes like a river
" I didn't want to do that death drama in front of u both..but that was necessary to show the world that vihan is dead now …
I had to erase my one identity from the world." he said in a serious tone..
" Then why are u away now..come back na" i plead with tears..
" I promised u na jaan..i will come back on our baby's birthday..
I want to start a fresh life with u both.. moreover i don't want pari to remember anything about me being vihan..
I just want to erase that name and his memories from your lives.." he said seriously
" But vihan was u only..then what's the need" i asked instantly
And i really don't understand what he wants exactly
" I know i was vihan only..but i just don't want that name again in ur lives..
So i will come back as vansh and only vansh..with the original vansh..
Then we will live our life peacefully" he assured me and i smiled thinking about our future
" I love u vansh.." i said and hanged the call..
Pov ends
Vansh's pov
I love u too SWEET-HEART" i smirked and hanged the call..
"Only mine", i whispered kissing her wallpaper on my phone..
You are still to naive to understand ur devil husband sweetheart..
"And u..i hope u are resting well in heaven.." i said mockingly Looking at the picture hanged on wall with garland in front of me..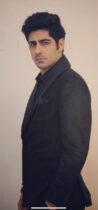 Tch…tch..poor vihan..what u thought that i will let u take my sweetheart away from me..
I just sended u to keep her safe because i had to handled that bastard dad of her in this years..
But u didn't love ur life..u layed ur eyes on my jaan…
Your mistake was only that u loved my jaan..my life my wife..
I badly wanted to chop u off when i got to know u slept with my jaan..u loved her like i used to do..u touched her like i used to do..u saw her in that state which was always my right
But i wanted her to be mine and only mine..
I didn't want her to feel that she betrayed me by loving another man..
Now u are out of her life forever..
For her..i am her vihan only..she loves me and me only..
U did a sin by loving her..and see u lost your life poor vihan..
How cleverly i send angre to give antidote to u and made u come to rescue my jaan..
When u got shot..i executed my plan B..i asked angre to tell riddhima that vihan is vamsh only..
I could have killed u easily but you know na i love more thrill in my life..
And yeah… about my jaan..i will surely punish her for loving someone else than me..but in my way.
"You know what i mean" i said seductively caressing her pic..
YOU ARE MINE..MINE TO LOVE.. MINE TO HURT SWEET-HEART..
Pov ends
Phewww!!!And finally guys we are done with the story..
Hope u all like the plot..
I am sooo greatful to u guys for supporting me till the end and showering immense love on me..
I know u all are sad that the story is ended now but i must say every journey has its destination..
But but but!! I have a little twist here..i have a surprise for u all which i will give very soon..
Till then.. comments tapka dena