Beauty of Heart is Love (RiVanya) SS Part 6

Warning: A non-numeric value encountered in /mnt/nfs/home/ftpusers/tellyu/public_html/wp-content/themes/publisher/includes/func-review-rating.php on line 212

Warning: A non-numeric value encountered in /mnt/nfs/home/ftpusers/tellyu/public_html/wp-content/themes/publisher/includes/func-review-rating.php on line 213

Hello guys, thank you everyone who read and like this FF. Thank you Jasmine and Sarvesh.
---
CONTINUATION:
AUSTRALIA, RIVANYA HOUSE:
Ritik is crying after reading message from Yamuna.


Shivanya: what are you saying Ritik? Yamuna aunty is your mom. But
Ritik gave his mobile to her. She read the message.
Dear Ritik, there is one thing which i hide it from you. You always used to tell that you has feelings for me which you had for your deceased mother. Also, Rishi is also look like you. So, you completely accept me as your mother. But, truth is I am your own mother, who carried you 9 months in my belly and gave birth to you. You may think, whether it is true or not. Or why i hide it from you till date or why i am revealing this now. There is a reason for hiding this truth from you. Because, i won't blame destiny to separate us. Because i am the one who gave you to your mom with half heart. But not for money. Definitely not for money.
Your dad died in the accident when i came to know about my pregnancy. There is no one for us. I was fully shattered. I struggled for money. I used to work in small company. I can't able to work also, due to weakness. During delivery time, i can't able to go to hospital. I screamed in pain in road side. At that time only, one couple take me to hospital. They helped me till my delivery. They look at my babies with longing eyes. I thanked them. There is nothing to give to them by me. They expressed their sadness of not having child. So, only i gave you to them. Because, atleast you will grown well. At that situation, i didn't know how i will brought up two kids. Atleast i will be happy, that one of my child is growing well. I promised them that i will never come infront of you. But i used to see you on your each birthday. That unknown gift is given by me.
Yeah, i am the one who told to Rishi that you both are lookalike because there is seven peope in the world, who look alike. But that's not true. Because, i don't want to break my promise to your parents. But why i am revealing this now is that i don't want Rishi and you to live like orphans after to my death. Yes, i am counting my days. I am blood cancer patient, who is in final stage. Atleast, i wish to hear once you calling me ma after knowing truth. You no need to beleive me blindly Ritik. You can take Rishi to any hospital and can do DNA test. I want you, Rishi, Shivanya and Lavanya to live happily.
Shivanya is speechless. She beleives it. Because, she knows Yamuna for years who cares for Ritik like his own mother. She itself misunderstand them to be real mother and son so many times. Now Yamuna itself revealed it.


Ritik(weeping): i wish to see my mom now itself. (He behaves madly by rushing out of house) Mahir, i have to meet Mahir now.
Shivanya: Ritik, wait.
She rushed behind him.
Ritik(enter Mahir's house): Mahir…Mahir.
Bela: what happened Ritik? Mahir is out.
Ritik: Bela, please ask him to come home. I have to go to India.


Bela(shocked): what? Ritik it's not safe.
Ritik: i will take any risk to see my mom.
Bela: mom?
Shivanya explained her everything. Ritik is restless. Shivanya gave him water.


Shivanya: Bela please, call Mahir now. Sorry to say this. We won't stay here anymore. You guys helped us lot, but now situation
Bela(hold her hand): i can understand Shivanya. I will tell Mahir to manage in office and book tickets. Don't worry. Be safe.
Bela called Mahir. Shivanya sit near to Ritik and hold his hands. Still his eyes filled with tears.


He hugged her.
Bela: Ritik, only day after tommorow you can go. Currently flights are cancelled due to some alien problems to India and some other countries.
Ritik (shouts): what? No, i want to see my mother now itself.


He cried like a baby.


Shivanya too cried to see his condition.


Bela felt sad. Shivanya tried to calm down him.
Shivanya: see, Ritik. You can see Yamuna aunty in video call. You can speak with her. Right
Ritik(smiles little): Right. (He searched his pocket) my mobile, where is mobile?
Shivanya: here it is.
She helped him to make a call.
---
INDIA:
It is afternoon. Rishi is not in home. Lavanya is sleeping. Yamuna receives a call. She smiles seeing it. She went to another room and locked it.  She picks it.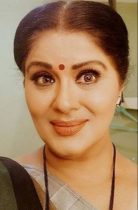 Yamuna (emotionally): beta


Ritik(emotionally): maa
Both are in tears.
Ritik: i will come soon to see you ma. Flights are cancelled.
Yamuna: beta, relax. I don't want you to become tensed. Before you come here i will make Shivanya's dad to accept you as his son in law. Beacuse, i want you to live in danger free environment.
– to be continued.

Warning: A non-numeric value encountered in /mnt/nfs/home/ftpusers/tellyu/public_html/wp-content/themes/publisher/includes/func-review-rating.php on line 212

Warning: A non-numeric value encountered in /mnt/nfs/home/ftpusers/tellyu/public_html/wp-content/themes/publisher/includes/func-review-rating.php on line 213