Beauty of Heart is Love (Rivanya) SS Part 4
Hello guys, thank you everyone who read and like this FF. Thank you Jasmine.
---
CONTINUATION:
Next day, early morning Rivanya reached Australia.
Ritik: We will call Rishi later, he might be sleeping.


Shivanya: Yeah, when you call Rishi, ask him to arrange someone to look for Lavanya.
Ritik: hmm.
Voice: hey Rishi, i'm here.
Ritik: hey, Mahir.
Both hug eachother with wide smile. Bela hugs Shivanya.


Behir and Rivanya are college friends.
Bela: not even called us for your wedding. You just informed us that you are married and coming to Australia.
Mahir: if they didn't decide to come to Australia, they might not inform us also.
Shivanya:it's not like that yaar.
Ritik: no one will marry like this. Full of tension until landing in Australia.
Mahir: let's go home.
Ritik: whether you find any home for us.
Mahir: yeah, near to our home only, also i arranged job for you in our company itself.
Ritik: job? I never think about it. Because we are not going to stay here for so long.
Bela: why?
Ritik: because we have to go to India for Rishi, Sumi ma, Yamuna ma and Lavanya.
Shivanya: we will bring them to us Ritik. Definitely, mom won't come. Atleast Rishi and Lavanya.
Mahir: whatever, you join the job. You can resign it whenever you wish.
Ritik: thank you, Mahir.
Mahir: no thanks and sorry between friends.
---
Rivanya stand infront of their new house. Behir left them in Privacy. Ritik open the house and come to Shivanya. He take her in his arms and step into the house.


Shivanya: Ritik leave me.
Ritik: whether i take you for leave you.
Shivanya(blushes): Ritik please.
He take her to the bed room and drops her in bed. He lie beside her. Both fell asleep due to two days of travel in train and flight.
---
Morning, Yamuna helps Lavanya to observe their house. She grasps everything quickly. She tried herself to come to living room.
Rishi: Good morning.
Lavanya: Good morning.
Yamuna gave coffee to them.
Rishi: shall i know about you? Because Shivanya madam never said about you.
Lavanya: there is nothing big about me. I was sent to blind orphan school when i was 5 yrs old. I was stayed in hostel until i complete my degree. My mom used to meet me every weekend. My sister will come occasionally, because my dad won't allow her. After to my degree, i was prisoned in our guest house. When my Sister eloped with her lover, my dad forced me to marry the pilitician's son to whom which my sister was engaged. First i agreed because i had hope that man will deny after knowing i am blind. But he agreed to marry me. So, my mom saved me from him. I hope my mom should be fine as well as my sister.
Even though she didn't tell anything clearly, Rishi understood about her. They were waiting for Rivanya call. Because Rishi don't know their new number.
They receive a foreign call. Rishi picked it and in one breath he told about Lavanya and her presence with him.
Shivanya jumps in happy. She connected them to skype.
She saw her sister after long time, tears fall from her eyes.
Shivanya: Lavanya.
Lavanya struggles to touch the screen of mobile. Rishi hold her hand softly and make her touch her sister.
Lavanya: shivu didi(with tears) why you left me and mom? I am longing to meet you. (Yamuna get sudden cough and she went inside.) Didi, mom also denied to be with me. I am alone now.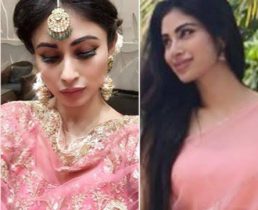 Shivanya(cries): Don't cry baby. Soon, me and your jeju will take you and Rishi's family to us. Rishi is good man, he will take care of you nicely. Yamuna aunty is so sweet, you know. Wait, where is Yamuna aunty.
Yamuna is in restroom. She is washing her blood stained fingers. Rishi knocked the door and aske her to come and speak with Rivanya.


Yamuna: Ritik beta, shivanya. How are you? Please be safe na.
Ritik: we are safe ma. Soon we will take you all, here. It will be safe to all.
Yamuna nods with tears.
---
Ritik: are you happy now?
Shivanya: i am happy. But what about mom?
Ritik (hold her by waist): she will be fine. You told na, she is brave.
Shivanya: she is brave. My dad also good person only until i am 5. But this society changed him to be status lover. So, only he hide my sister in fear that her blindness will affect his status. Hope he will change soon.
Ritik: he will change, once he realise the meaning of love.


Shivanya smiles. Ritik trail the kisses from her neck to lips and he started kissing her lips passionately.
– to be continued.