Alone Vs Together – OS Episode (Truth Revealed)
Hi friends, for some FFs I will keep it to OS episodes, as I have lots of FFs that's why. This is final and OS episode of Alone Vs Together. Hope you like it!
Recap: Veer returns from his trip
Episode starts
Veer's home:
Kriti: Priya …. yeh kya ke rahi ho?? Prakriti to kal milne ayi thi?
Priya : Woh chachi I have to tell you the truth now
Veer: She means to say that Prakriti had business meetings so she was in Rome as well..
Kriti: O-ok?
Priya gets a video call from her best friends, Jiya, and Diksha. She goes to her room
Priya : Jiya… Diksha..?
Diksha: Priya , tum ne chachi ko kaha?
Parallel scene:
Living Room
Kriti: I'm going to make cold coffee for Priya .. Veer chahiye tumhe?
Veer: No Prakriti I'm fine.. thanks for asking jaan..
Kriti: Prakriti? (now murmuring) jaan..?
Veer: Sorry.. I meant Kriti.. woh-
Kriti leaves to make Priya's cold coffee and then goes to Priya's room
Priya's room:
Priya : no diksha.. yaar this is-..
Jiya: But Priya … bata na padega.. you need to tell chachi that your chachu is cheating on her?
Kriti: Priya ..?
Priya : Chachi..?
Kriti calls everyone to Priya's room and calls Prakriti as well.
Prakriti comes
Divya: Prakriti.. tumhari himmat bhi kaise hui aisa kuch karne ki?
Prakriti: Di! I -.. fine- I want revenge from Kriti .. that is why I did this!
Kriti: What??
Prakriti: she knew I liked Veer, still she married him.. and has a daughter… Mishti
Veer: Prakriti didn't come for business meetings in Rome.. we married privately  and were there for-
Ansh: Honeymoon? Bhai how can you do this…!
Jahnvi: Rajveer.. how can you do this?
Manish: Priya ya fir Mishti ke saath.. – if anyone did that to our daughters..  kya karoge tum? Will you just say.. oh fine.. I did it.. you do it too..?
Veer: Mishti aur Priya ki baat alag hai!
Manish: Out of my house.!
Rajveer stands still
Manish: NOW!
Rajveer leaves
Scene Freezes
The next morning:
Divya/Ansh room:
Divya: An-
(Ansh pulls Divya closer)
Divya: Ansh… yeh kya kar rahe ho.. Priya aa jayegiii!
Ansh: At least Prakriti ki tara to nahi hai na.. nahi uska boyfriend hai ya-
Divya starts to cry
Ansh: Divya…?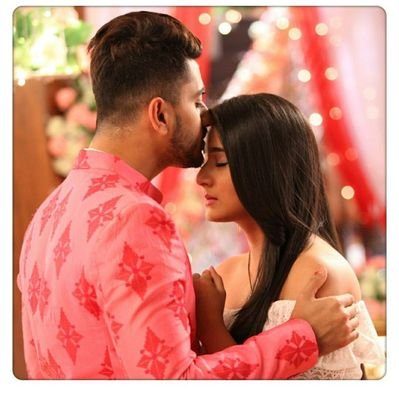 Divya (crying) : I'm sorry…
Ansh: Kyu? Galti mujhse hui hai.. mujhe nahi kehna chahiye tha.. I'm sorry..
DivyAnsh are still in their hug when Manish and Jahnvi come
Manish: Ansh..
Jahnvi: Divya..
They break their hug
Ansh: Mom.. papa..?
Jahnvi: Ansh… Manish ke saath bahar jao.. Divya ko dekh nahi sakte tum..
Ansh moves in front of Divya..
Ansh: Kyu Mom?
Jahnvi: Forget that for now… but we need to tell you something..
Kriti comes too
Kriti: Kya hua papa.. I mean.. –
Manish: You can call me papa
Jahnvi: Priya is not your daughter (looking at Divya and Ansh) and Mishti is not your daughter (looking at Kriti)
Manish and Jahnvi tell them everything (details revealed later on)
Jahnvi: So you are not married .. Ansh and Divya..
Manish: You were made to believe you were married and had a daughter so Rajveer could-
Ansh: So.. that's why we can't see each other?
Manish: Haan.. so Divya.. you will go to Kriti's maika.. and stay there..
Scene Freezes
(Few days pass and functions take place and finish as well. The wedding date arrives)
Kriti's maika:
Divya is getting ready
Divya: Thank you aunty.. for doing this..
Payal: Divya.. tumhare parents ne Prakriti aur Rajveer ka saath diya.. to ab-
Ashwin: We are your parents..
Divya: Maa.. papa.. Kriti di..
Kriti: We won't miss you that much..
Ansh's house:
Ansh is getting ready and is talking to his friend, Aman, on his phone.
Aman: Bhai tell me one thing.. why are you both remarrying?
Ansh tells him everything
Aman: okay.. so where is Priya .. where is Mishti?
Ansh: They turned to be siblings, they are with their biological parents..
Aman: Oh ok.. shaadi mein nahi ayege?
Priya and Mishti's parents (Shivani and Vivaan) come.
Vivaan: Kyu nahi ayege?
Ansh: Priya hai.. you are here.. Mishti..?
Shivani: Woh Divya ke saath hai… we have decided it will be boys vs girls today… all ladies on Divya's side.. and all-
Ansh: Men on my side.. nice plan.. so Shivani ji… Akshita.. bye!
Aman: Bye.. I will talk later.. 
Ansh: Bye..
As he cuts the call, Rajveer comes in..
Rajveer: Mujhe milne se pehle shaadi?
Ansh: Rajveer? why are you here.. go!
Rajveer: I came to say sorry… she left me already… I said sorry to Kriti and everyone.. they forgave me.. you do too?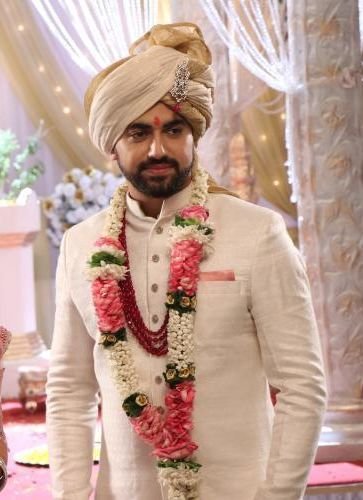 Ansh: Forgive you? Never Rajveer.. but I will let you be part of wedding.. since you are my brother..
Rajveer: Thanks!
Ansh: It is girls vs boys.. ladies on Divya's side and men on-
Rajveer: your side.. I'm sorry again… just forgive me
Kriti comes
Kriti: Kardo maaf ise… lekin-
Rajveer: Agli baar nahi..
Ansh: Fine.. kardiya maaf.. Veer bhai ko..
Rajveer: Kriti.. tum ladki wali ho.. to yahan kyu ho.. baraat ajayegi..
Kriti: I came to give you your wedding outfit.. we are also getting married..
scene Freezes
The next morning:
KritVeer and DivyAnsh have married
Living room:
Jahnvi: Finally.. we are a happy family now..
Manish: Haan.. we are glad you learnt your mistake Veer
Veer: She left me the moment she saw some guy named Aman.. and-
Ansh: you learnt your lesson..
Everyone smiles.
Scene Freezes
3 months later:
Jahnvi and Manish are playing with a 5 year old Akshay (Kriti and Veer's son) and 3 year old Akshita (DivyAnsh's daughter)
Ansh and Veer are at their Home Office, working on new jewelry designs. Divya and Kriti are helping them.
Ansh: Bhai… this is sent from an international artist.. but-
Veer: Deny karo.. we need wedding jewelry designs.. not what occasion this if for..
Scene Freezes
The End.
I hope you liked this FF!