HAWAYEIN | S-02 | E-38 – SHIVIKA KI SHAADI SAMPANNA
HAWAYEIN | S-02 | E-38 –

SHIVIKA KI SHAADI SAMPANNA
---
---
PREVIOUS EPISODE –
https://www.tellyupdates.com/hawayein-s-02-e-37-vaibhavs-chapter-closed
---
---
SOME DAYS LATER…..
---
@QUEENS BANQUET HALL
@DRESSING ROOM
Anika is sitting near the dressing table as a bride !…She is donned in a beautiful embroidered bridal outfit…sparkling diamond jewelleries and light makeup…her hairs are bunned !…
Anika thinks "Kuch hi saalo mein kitni badal gayi meri zindagi…aaj pure 5 saal baad meri shaadi horahi hain sso ke saath…aakhir kaar aaj mere saare sapne pure honewale hain…aaj mein bilkul khidkotod mehsoos kar rahi hoon"…(Everything changed in my life just within some years…today i am finally getting married to sso finally my dreams are fulfulling today)
She smiles and was about to put the veil on her head but someone holds her hand and its shivaay in a lovely white sherwani with printed design…pagdi/turban with a designer broach !!…
Anika "Omg sso…what are you doing here !!"…
Shivaay "Aaj tum bilkul khidkitod lag rahi hon !"…(Today you're really looking awesome) ?
Anika "Pata hai…aur aap bhi !"…? (I know and same to you)
Shivaay emotionally "After so many obstacles…finally we are getting married today…i am so happy anika !!"…
Anika "Mmm…control your emotions…i dont wanna spoil my makeup !!"…
Shivaay "Tumhe make up ki chinta kabse hone lagi"…(From when you started getting tensed for makeup)
Anika "Jabse aap rone lage !"…? (From that day when you started crying)
Shivaay "Mind you shivaay singh oberoi ronewalo mein se nahi rulane walo mein se hain"…(Sso comes in that section who dont cry but make cry)
Anika "Haa haa…i know…ab pls yaha se jaaiye warna zaroor koi aajayanga aur bolenga !!"…(Pls go from here else someone will definitely find you)
Gauri enters suddenly !…
Gauri "Shivaay !…What are you doing here !!"…
Shivaay "Anika wow…kya mimicry tumne yaar gauri bhabhi ki"…? (What a mimicry)
Gauri "Its me only shivaay !"…
He gets stunned and flees from there without saying anything !!!…
AniRi laughs "??"
Soumya too enters…
Soumya "Chaliye anika devrani ji…aapki shaadi kaa mahurat nikla jaa raha hain"…(Lets go anika devrani ji)
Gauri "Haa chaliye !"…(yah lets go)
Anika nods smiling !!…
……………..
Avilasha, Gauri & Soumya brings Anika downstairs !…
Everyone looks at anika's ravishing dressing !…
The whole banquet is decorated with orange, pink, white decors, candles, lights and lots of beautiful things !…
Vaidehi comes to anika and adores her !!…
Vaidehi emotionally "Tujhe kisi ki nazar naa lage…naa meri naa tere papa ki"…
Anika "Mumma…over emotional mat hona abhi"…?
Vaidehi "Chup kar…shaadi hain teri aaj !!" ?
Parimal "Maa sahi keh rahi hain…bilkul rajkumari lag rahi hain tu"…? (Your mom is correct today you're just looking like a princess)
Anika hugs her parents alongwith avilasha !!…???
……………….
Anika & Shivaay sits on the mandap and finally the wedding starts !!…
Pinky "O my maata…mujhe toh bohot bhoonkh lagi hain"…? (I am so hungry)
Jhanvi "Tumne abhi abhi 2 plate golgappe khaye pinky !!"…? (you already had 2 plate of golgappas)
Pinky "Kyun naa khaou mere bete ki shaadi hain !" ? (Why shouldnt i…its my son's wedding)
Dadi laughs with jhanvi "Pinky control karna sikho…har waqt kha kha"…??
Pinky "Mummy ji" ?
Jaimala starts…
Shivaay & Anika gets up and starts garlanding each other !!!…
OmRu teases "Shivaay tu haarna mat anika se…wanna choro kaa gulaam kehlaye gaa" ?? (You dont lose shivaay else you will be called wife's slave)
Shivaay puts garland first !!…?
Gauri shouts "Arey jaldi jaldi varmala complete karo aagey aur bhi hain"…??
They finishes the ritual and after some time kanyadaan starts…
Vaidehi & Parimal does Anika's kanyadaan ! ??
………….
After some time, Both starts taking oaths and goes for wedding rounds !! ❤❤??
Everyone pours flower petals on them !!!…
Ayaansh deliberately pours flowers avilasha !! ??
She blushes !! ☺
Shivika completes taking all the Oaths !…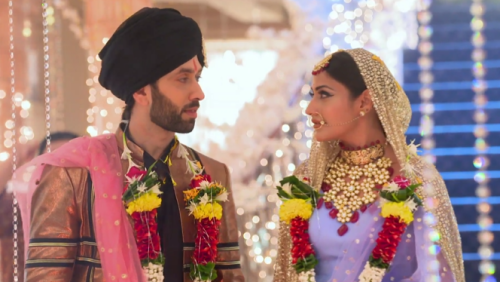 Priest "Ab inko mangalsutra aur sindoor pehnaiye !"…(Now put the nuptial thread and vermillion)
Shivaay nods yes and puts the mangalsutra on anika's neck and fills vermillion/sindoor on her hairline !!…
Priest "Shaadi sampanna !!"…(Wedding completed)
Rudy "Pandit ji you should say like"…
Everyone cheers "Shivika ki shaadi sampanna"…???
Shivika looks at each other's eyes and smiles ! ❤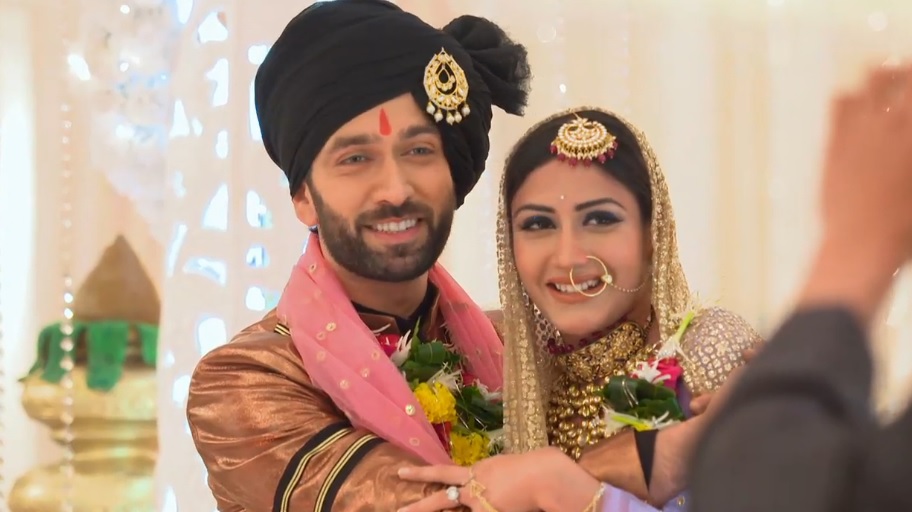 ---
---
PRECAP –
WEDDING NIGHT/ SUHAAGRAAT ! ????❤?❤
---
---
Hey everyone…❤?❤?❤
Pls do share your comment on today's episode…
I hope you all liked the episode…
If yes then pls do like and i will see you in the next one…
Till then take care…
Lovesss
Riana