ep 2
Guys I m back  ,and thanks  for  those awesome  comments  and sorry  about short updates I will try to make ep long ,note that on Saturday and Sunday there won't  be any update sorry about that  so now without any chater pater let's go onnnnnnnn
After they all had their lunch  pragya asked prachi to get fresh and have some rest .
The next morning
Prachi got up and started getting ready for her first day at college
After sometime prachi went down and asked pragya
Prachi: maa where is rhea I want to leave for college
Pragya :beta she already left
Prachi: ok where is aryan bhai
Disha : ahh! That boy is still sleeping 😴  wait I will wake him up
Prachi  : no chachi I m already  late I will go by myself
K byeeeee
She prayed 🙏 God and left
In college
She meet her bestie  shahana
Prachi : hey! 👋 hi
Shahana : prachi where were u
Prachi : Arrey wo….
Suddenly  a crowd  of girls  was rushing  towards  them they stepped  a bit backwards and prach's leg hit something  and she was about  to fall her book 📖 and papers 📃  were floating in air all students  were  staring at her  girls  were jealous  cause prachi found herself  in a guys 👦  arms  they had a eyelock  it was all like a fantasy
Shahana shouted omg 😲 😍 ranbir kolhi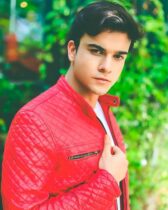 The eyelock breaked
Prachi:sorry
A college  👧  : ohh! Sorry ,girls  like u a really  cheap and these ur cheap  trick u act so brilliantly  r u actor or what ?
Prach: excuse me  miss…
She was about to say something  when  someone  interrupted
Hey ! Hi bro! Sup
It was aryan
Ranbir: hey dude
Prachi: aryan how dare u 😤 I'm  not going  to leave u
Ranbir and his group stared at them
Aryan: what have I done
Prachi : ohh! Really what u have done not you ,u both
Aryan: what
Shahana  was starting  at aryan
Ranbir : dude ! Dude from when did ur choice became  like this
Aryan and prach : like this
Ranbir: I mean like her
Prachi : excuse me  now u will teach  me  how should I talk to my brother  , aryan who is he
Aryan: prach ! Prachi he is my bro , my dude , my best friend  u know ,and what were u talking  what have i dare to
Prachi: and not ok ! For getting  up late and for not coming  with me to college
Ranbir and Prachi  got into a argument
Shahana  interrupted  Prachi! Prachi  our class time  let's go
Ranbir to aryan : she is such a chikchik
Prachi to Shahana  : that 👦  (ranbir)is a headache
That's  for it today  guys I hope u like it if u do leave a comment  below  and even suggest  me  byeee