Hi guys, actually I loved Dev's track so much that I couldn't resist writing this horror ff, hope u enjoy it
Outside a big lavish house, three vehicles, two jeeps and one corolla arrived and halted. The first jeep's door opened and a young couple stepped out of it with two kids, one girl and one boy. The couple gazed at the house and the kids too did the same. "Saransh bhaiya, ye ghar kitna pyara hai na, hum yaheen rahengay kya?" she asked excitedly. "Haan pyaara toh hai lekin darauna hai, hum toh yahan sirf chill karne aaye hain, as far as I know Ruhi choohi," he said to her. "Darauna kiun hai?" she asked curiously. "Kuchh nahi, chhor, mumma, papa, hum andar jaaein?" Saransh said to Ruhi and then to their parents.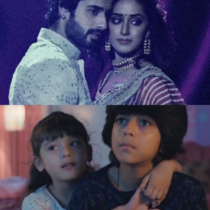 "No bacha, not right now, we all will go together," their mother said. "Aray Preesha, they're tired," said their father. "Yeah right, bacho'n, andar baith jao, hum jab samaan nikaal lein tab bahar aa jana," Preesha said. "Okay mumma," Saransh and Ruhi said in unison and the duo sat back inside the car while Preesha and Rudra took out their luggages. The second jeep's doors opened and a middle-aged couple with two children, one adult boy and one teenage girl came outside. "Wow, Dev bhaiya, ye ghar kitna sundar hai na?" she asked.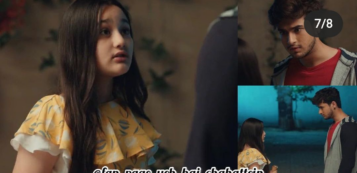 "Yaar mujhe toh abhi se bad vibes aa rahay hain," Dev said and Alia frowned at him. "Kiun bhai?" she asked. "Yaar is ghar ki shakal toh dekh, bilkul ek monster ki shakal jaisa, woh dekh, upar wali windows ko dekh, jaise evil eyes, ye jo main door hai, aisay jaisay ke mouth, as if it's waiting for its prey," Dev said and she turned to the house and again looked at him. "Haan, ho sakta hai aisa he ho, aur aisa bhi ho sakta hai ke iske mouth se abhi ek truck niklay, aap ko kha jaaye aur dakaar tak na maaray, ha ha ha ha, kya bhai aap bhi na, how funny, he he," she said joking on him.
"Tujhe kiun mazaak soojh raha hai?" he asked glancing at her. "Aur main bhi aap se yahi poochhoon toh? Ke aap ko mazaak kiun nahi soojh raha hai?" she asked smilingly. "I am serious yaar, mujhe achha nahi lag raha," he told her. "Bhai please, aap ko ab koi wapis jaane de ga nahi, bhai please stay, stay for me your little sisso, I promise to share my room with you if you're so much scared," she said cutely and he moved his gaze from the house towards her.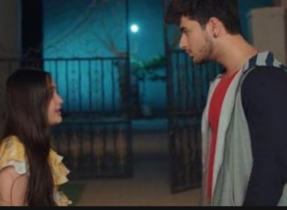 "Okay okay, lekin kya tu mujhe bacha le gi bhoot se?" he asked. "Bhai, kya ho gaya aap ko? Koi bhoot nahi hai, aray hum saath rahein gay, enjoy karein gay, aur hum 2 akele thori hain, mumma hain, papa hain, Preesha aunty, Rudra uncle aur Saransh Ruhi… Aray? Ye log phuss bum abhi tak gaari mein hain? Main in ko abhi yahan laati hoon," she said and went towards Saransh and Ruhi's car. Dev kept gazing at the house extremely uncomfortable.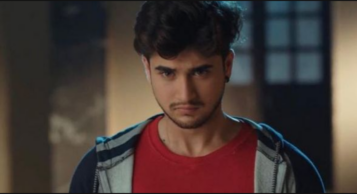 His parents were unloading their luggages and gazed at him. "Dev, beta please help karo," his mom said but he was just too lost looking at the house. She slapped her forehead and his father went to him and shook his shoulder, Dev startled. "Kya hua? Aray aao aa kar help karo, aisay darr rahay ho jaise koi bhoot dekh liya, chalo," he said and took him to the backside of the car. "Itna kya darr gaya? Are you okay?" his mom asked. "Aray Revati, aisay he darra ho ga, apni dhunn mein tha, thora hila diya toh darr gaya," he told her.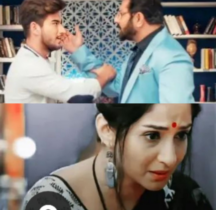 "Rakesh, ek second na, beta Dev tum theek ho?" she asked and he nodded instantly. "Papa main nahi darra tha, aap ko darranay ki koshish kar raha tha, par aap toh darray he nahi," he said and pretended to be sad. "Haan, kya bolta rehta hai woh tu? Mera naam bhi Shin Chan ho, main shararat se bhara. Main darra tha bas nahi darrne ki acting ki aur tujh ko he prank kar diya, hahaha," Rakesh said and laughed. Dev also laughed. "Mujhe toh kuchh samajh nahi aata tum baap betay ki yeh mastiyaan," Revati said smilingly.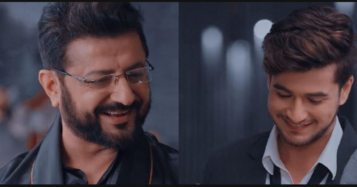 "Mom aap ke paas Alia hai na, hum ko bhi us ki aur aap ki baatein samajh nahi aati, aap log kehte ho na dono, aap usay sonchiriya aur woh aap ko sonn pari, woh bhi samajh nahi aata na, can you explain?" Dev asked jokingly, she shook her head laughingly and Dev and Rakesh shrugged. Corolla's door opened and a young couple stepped out and got out their luggages. "Thakk toh nahi gayi Ridz? " he asked. "Nahi, drive tum kar rahay thay Vansh, tum toh nahi thakkay na?" she asked and he shook his head and he kissed her forehead.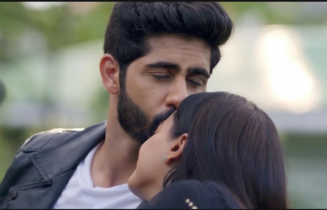 Alia got Saransh and Ruhi out of the car. "Kya tum log? Car mein baithay ho ab tak? Aao chalo, Dev bhaiya ko dekho, darr ke baithay hain faaltu mein, reason suno gay toh khud ko bhi hassi aye gi, chalo woh he batayein gay," Alia said smilingly and took them to Dev who was helping Rakesh and Revati happily. Alia was shocked, just some time ago he was so uncomfortable and now he was all smiley. "Dev bhaiya, aap theek toh ho na?" she asked and he turned to her. "Haan, kiun mujhe kya hona tha?" he asked creasing his eyebrows.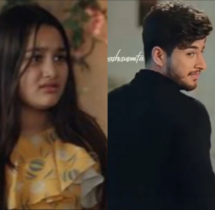 "Mom dad, ek minute haan," she said excusing herself and took Dev away at a side. "Kya bhai? Aap thori der pehle is ghar ko ajeeb tareekay se dekh rahay thay, ajeeb baatein kar rahay thay, ye ghar monster jaisa dikhta hai, windows eyes hain, main door mouth hai, what not," she said reminding him. "Ohhh that? Yaar woh bola toh sahi lekin haan darra hua bhi tha, lekin mom dad se baat kartay kartay bhool gaya ye sab," he said. "Achha theek hai, meet Saransh and Ruhi," she said and he bent down towards the siblings duo. "Hi Saransh. Hi Ruhi, " he said extending his hand for a handshake and both the kids shook their hands with him and smiled at him. "Dev bhaiya, aap darr kiun rahay thay?" Ruhi asked. "Main darr raha tha? Kab?" he asked looking at Alia. "Alia didi ne kaha aap faaltu mein darr rahay ho aur hum reason sunein gay toh hum bhi hasein gay," Ruhi told him. "Aray Ruhi, tum ko pata hai na meri aadat hai mazaak karne ki, mazaak kar raha tha," he said and went away to Revati and Rakesh and got busy again. The trio looked on.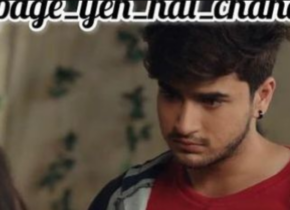 Riddhima and Vansh got out the luggage and walked towards the others mouthing a hello. Finally everyone were ready with their luggages and so they locked their cars and unlocked the door and stepped inside. "Wowww, beautiful, hai na baday bhaiya?" Ruhi asked excitedly. "Haan, bohat ziada," he replied. Alia tapped on Dev's shoulder, he startled again and turned to her. "Kya hai? Ab kiun darr gaye? Ya mazaak kar rahay ho? Ruhi aur Saransh ko jhoot kiun bola? Woh baat kiun nahi boli?" she asked creasing her eyebrows. "Yaar becharay bachay hain, darr jayengay," he said and she chuckled.
"Achha, toh main bachi nahi hoon kya?" she asked. "Ho na, kiun nahi ho? Aaj yahi bahadur bachi apnay pyaaray bhai ke saath rahay gi aur protect karay gi, hahaha," he said and laughed. "Vansh, ajeeb sa feel ho raha hai, ghutan ho rahi hai," Ridhhima said to Vansh. "Don't worry, kuchh khao gi peeyo gi toh theek ho jao gi," he assured and she smiled slightly. The three families parted ways to choose their rooms. Saransh and Ruhi chose the middle room on the upper side. Dev and Alia chose the room adjacent to Saransh and Ruhi's room. Preesha and Rudra chose the corner room downstairs. Revati and Rakesh chose the room adjacent to Preesha and Rudra's room and Vansh and Riddhima chose the room upstairs adjacent to Dev and Alia's room. Riddhima was sleeping when she was woken up by a girl's voice calling her. She woke up and startled. "Ragini?" she said and sat up, Ragini sat in front of her. "Ridhima, suno, kiun aai Vansh ke saath yahan? Aray tumhari jaan ko khatra hai, bhaag jao yahan se," Ragini said holding her shoulders, Riddhima jerked away her hands and pushed her away and stood up. "Chali jao tum yahan se," Riddhima said angrily. Ragini stood up and held her hand between her hands. "Ridhima, jin ko tum apna maanti ho, woh tumharay apnay hain he nahi, aray dekho gaur se, aankhein kholo apni, sach jaan lo, sab tumhare khilaaf hain, apnay pyaar ke jaal mein baandh rahay hain tumhe, aisay he aik din maar bhi dein gay," Ragini said and Riddhima pulled her hand away. "Nahi, tum mujhko maar do gi, tum mere khilaaf ho," Ridhima said cryingly and pushed her. "Ridhima, dekho mujhe, meri aankhon mein dekho, tumhe lagta hai main tumhare khilaaf hoon?" Ragini asked cupping her face.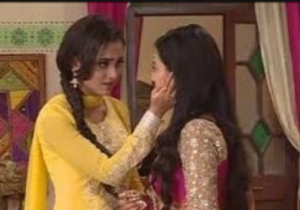 Riddhima pushed her violently and Ragini fell on the floor and eyed her angrily. "Teri itni himmat?" Ragini asked and stood up and strangled her, Ridhima coughed. "Vansh! Vansh!" she called out between her coughs and suddenly fell unconscious. Vansh came in the room with food for Ridhima and got shocked seeing her unconscious. He rushed to her after keeping the food away and picked her in his arms and placed her on the bed. He touched her forehead and she was burning in fever. He went outside and collided with Preesha. "Bhabhi woh, Riddhima, behosh hai, usay bohat fever ho raha hai," he said in a go.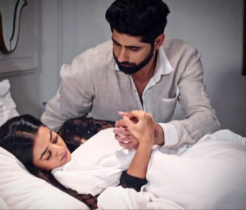 "Tum jao uske saath raho, main bas abhi aai," she said and went, Vansh too went back to Riddhima. "Oh God, I think all those attacks began to happen again," he said and rubbed Ridhima palms. Preesha came back with ice cold water and bandage and sat by Riddhima's side. She dipped the bandage in the ice cold water and placed it on her forehead. Vansh looked on worriedly and then switched on the AC. After sometime, slowly Ridhima began to gain her senses and suddenly panicked.
"Riddhima, it's okay, it's okay, kuchh nahi hai," he said and she sat up and hugged him crying hysterically. Vansh hugged her back and Preesha went from there. "Vansh, woh yahan phir se aai thi, woh mujhe maarne wali thi, usne mera gala dabaya, Vansh woh mujhe nahi chhoray gi," she said in a choked voice. "Riddhima, relax, nahi aaye gi woh, nahi maaray gi tumhe, main hoon na, nahi aaye gi," he said calming her down and caressed her hair as she buried her head in his chest. "Achha suno, I brought something for you," he said and broke the hug and brought food for her.
"Tumhara favorite wala sandwich, wohi jo main tumhare liye humesha banata hoon," he said and made her eat. She smiled and she too made him eat. He placed the leftover sandwich between them and they both ate from opposite sides and as it finished, their lips touched and they shared a passionate kiss.
************************************
Preesha came back to her room and saw Rudra not sleeping. "Kya hua?" she asked. "Neend nahi aa rahi wifey," he told her. "Kiun?" she asked. "Pata nahi, ajeeb feel ho raha hai," he said. "Aray I know kiun ho raha hai, kiun ke romance gayab hai na, deedaar tera milne ke baad he chhoote meri angraayi, tu he bata de kiun zaalima main kehlaai," she said and sang encircling her arms around his neck. He smiled. "You know how to make me smile, right?" he asked smilingly. "Koi shak?" she asked and he shook his head. "Ab toh koi nahi na aas paas, ab toh hum hugs kisses jo marzi kar saktay hain," he said and hugged and kissed her. "Bas itna he romantic hona tha kya?" she asked jokingly and he nuzzled in her neck and they lied down slowly.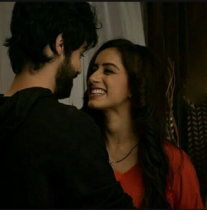 They got intimate and suddenly Preesha fainted. He looked at her closed eyes and shook her a little calling her name again and again but she didn't wake up. He got worried and called the doctor immediately. The doctor arrived and checked Preesha. "Everything is normal, I am prescribing some medicines," he said and went. Somewhere, someone was sitting near touch me not plant and laughing evilly. "Ab jab tak ye chui mui nahi uthay ga, tu bhi nahi uthay gi, tu behosh rahay gi, lekin main tujhe phir behosh kar doon gi," she said and laughed evilly.
************************************
Alia and Dev were sitting in one room. "Alia, sunn, yaar please paani la kar de na yaar, mujhe darr lag raha hai," he said. "Bhai, ab toh main room bhi share kar rahi hoon phir bhi?" she asked. "Yaar Alia please ja na," he said and she stood up and went to get water for him. Suddenly the lights flickered and he felt two hands on his shoulders. He startled as the hands caressed his face and back and slowly the hands lingered on his chest and pulled him close in a hug.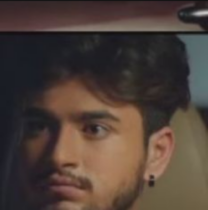 He touched the hands and pushed it away and began to run but he felt his ankle getting grabbed and he fell on his tummy and his head banged a little on the floor. He looked behind and found no one. He moved back on the floor in fear and again felt the hands on his shoulders.