Warning: A non-numeric value encountered in /home/ftpusers/tellyu/public_html/wp-content/themes/publisher/includes/func-review-rating.php on line 212

Warning: A non-numeric value encountered in /home/ftpusers/tellyu/public_html/wp-content/themes/publisher/includes/func-review-rating.php on line 213

The last phase of the show Mahakumbh on Life OK has become very entertaining as well as informative. The Garudas are set on finding Amrit and protecting it from evil powers. The journey has become very exciting as the show has got great characters from Hindu mythology in the fictional format. Shivanand meets Ashwathama near the first door. Ashwathama shares his past with Shivanand. Rudra visits the cave and saves Shivanand and Tiwari from Ashwathama. Ashwathama tells Rudra that they both are the avatars of Lord. Charles transfers his powers to Rudra, thus sacrificing himself. Rudra succeeds in defending Ashwathama's attack. Leela's father Vrish narrates Raja Bali's history. Leela fears Dansh's life to be in danger. Dansh fights with Raja Bali. Rudra assures the others that Raja Bali will calm down after sunrise. Vrish dies while saving Dansh.
The Garudas face several hurdles while searching for the Amrit. They reach the illusion city. Thapadiya Mai gets into trouble at the illusion city. The Garudas set out to find the Amrit and protect it. Raja Bali challenges Rudra that he will acquire the Amrit. Thapadiya Mai fights with Raja Bali and manages to rescue Dansh and Rudra from him. Katherine is worried about Mai and hates Dansh for his misdeed. Shivanand asks Katherine to focus on the mission. Dansh decides to kill Katherine and Rudra fights with him. Dansh pretends to be innocent before Leela and stabs her. Dansh tells them that they need the only Naag left with them. Maharishi Kripa enlightens the Garudas about the Amrit while Dansh boasts about his power in his ego. The Garudas set out to reach their destination to get the Amrit. Maharishi conducts several tests for the Garudas. Rudra gives the right answers to his questions. Maharishi Kripa is impressed with Rudra's intelligence, but Rudra fails to answer his last question.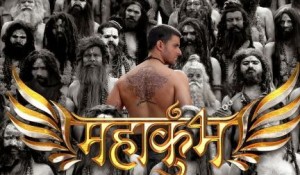 Dansh makes a mistake and they all face the problem. Shivanand helps the Garudas to qualify the test. Bhairavi is worried about the victims of the calamity. Dansh refuses to support the Naagvansh Mahaguru Dakshak. Dansh attempts to attack Katherine. Katherine strives to escape and searches for Rudra. Shivanand, Tiwari and Rudra are worried about Katherine. Vibhishan rescues Katherine from Dansh and wants to punish him. He attacks Rudra for stopping him from punishing Dansh. He tells Rudra that he has passed in the test by showing humanity. He informs Rudra that Dansh is not the only surviving Naag, and Dakshak will be found at the last door. Rudra takes revenge and kills Dansh. Rudra gets wounded and Tiwari sacrifices his life to heal Rudra. The Garudas proceed and meet Makardhwajh, who shows them a place of desires. He asks them to walk ahead by getting rid of their deepest desires of their loved ones. While Shivanand and Rudra does not fall for their desires, Katherine runs back hearing Charles' voice. Rudra and Shivanand proceed to next door and Katherine loses out being left alone for her mistake. Would you miss Mahakumbh on Life OK? Let us know in this poll.

Warning: A non-numeric value encountered in /home/ftpusers/tellyu/public_html/wp-content/themes/publisher/includes/func-review-rating.php on line 212

Warning: A non-numeric value encountered in /home/ftpusers/tellyu/public_html/wp-content/themes/publisher/includes/func-review-rating.php on line 213